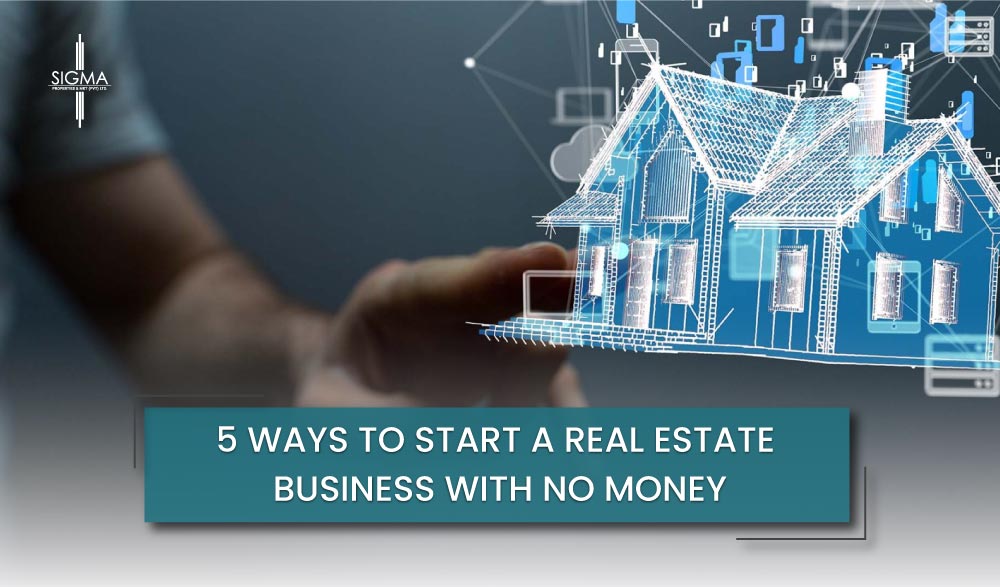 Ways to Start a Real Estate Business with no Money
One of the most popular inquiries we get from new real estate investors is how to get started investing in real estate with no money down or very little financial outlay. Many people think that you need a lot of money to get into real estate. Well, having more money available would surely make getting into the real estate market easier. Fortunately, beginning a real estate firm with little or no money is not impossible. Many people want to invest, but they have not saved a significant amount of money due to low earnings or high expenses. Although you should keep some cash on hand at all times, it is entirely possible to get started without a large sum of money in the bank. So let us delve into the ways to start your real estate business.
1- Purchase a Property for Resale
If you do not have any money but want to start a real estate business, you might sell property on behalf of developers. The market is constantly flooded with new housing and residential projects. To sell their properties, you must contact the developers and sign a contract. You may find these developers on the internet. You advertise and sell the developer's properties using this technique, earning a commission on each finished contract. The commission or share varies for every project and is also determined by the type of property sold. Naturally, commissions for selling luxury houses are significantly greater than commissions for the budget of sale properties, so you may wish to focus on high-end properties as well.
2- Purchase a Home as an Investment Property 
You can buy a residential property with no money down using a bank loan. You can live in it for at least a year or more, then move out and turn it into a rental property. Keep in mind that building equity through real estate investing extends to the homes you already own. Furthermore, the standards for a down payment and credit score for a primary dwelling are always less strict than those for an investment property. As a result, living in your investment properties first is a terrific strategy to avoid the higher lender lending requirements for real estate investment properties.
3- Request Seller to pay your Closing Costs
In many real estate deals, the seller will pay the buyer's closing fees to encourage a sale. However, you'll almost certainly have to pay the whole asking amount or close to it as a trade-off. It is appropriate if your rent covers all of your bills while also providing you with a bit of monthly cash flow. If total mortgage payment (including taxes and insurance) is equal to or larger than the rent, you can adequately charge at the full asking price, seek another deal. Rental properties should always have a positive cash flow to cover vacancies and maintenance.
4- Form a Joint Venture with an Investor 
Having a real estate investor as a partner can open up doors to new possibilities for your real estate business. So, if you find a great investment property but do not have the funds to close the deal, you might be able to discover someone willing to invest money and assist you in concluding the sale. People wish to invest in real estate but do not have the time or do not want to deal with all of the administrative and managerial tasks that come with it. You can team up with such an investor to realize your ambition of owning a profitable real estate firm while the investor benefits from a hassle-free real estate investment.
Negotiate the conditions of the collaboration with the investor. These types of partnerships are suitable for dealing with rental or fix-and-flip properties. You may start your real estate firm without worrying about cash if you have good managerial and administrative skills. All you need to do is choose the perfect partner to handle your business's financial needs.
You may also like Real Estate Sector Analysis in Pakistan. 
5- Devise a Strategy for Generating Leads
Lead generation is critical to the success of any company. The real estate industry is no different. To gain more business, you need a steady flow of leads, regardless of your role in the real estate industry. Whether it's a mortgage lender, realtor, or even a house flipper, having a lead pool is crucial for any real estate business. The percentage of leads that turn into real business deals is relatively low. Therefore, every real estate agent anticipates receiving more and more profitable tips. So, if you do not have any initial funding but still want to get into the real estate industry, becoming a lead facilitator could be an intelligent solution.
You can serve as a conduit between the buyer and eager real estate brokers and realtors. You can always start producing leads at a local level to be effective in this line. You can also utilize your contacts to see if anyone in your network or neighbourhood is looking to buy, rent, or sell a home.
The following are possible steps to take in a lead generation business:
First, locate clients or agents who are seeking a property and compile a database of those interested.
Then look for buyers on the internet.
Sell your leads once you've identified your clients. The location and quality of a lead determine the cost of the lead.
Conclusion 
The real estate sector contains a lucrative business. Even if you do not have a limited budget or no money, you can get into this line of work using the above methods. But bear in mind that entering the world of real estate is merely the first step on the road to success. Your company growth and success are mainly determined by your dedication and ability to find possibilities and act on them. Sigma Properties is here to lend you a hand in building your real estate business with no money.
You may also like Where to Invest in Pakistan Real Estate 2021.