1947 Housing Islamabad
With the tremendous shift in Pakistan's population, massive real estate developments have been constructed to satisfy the world's standard of living. However, it is difficult to attain with 1947 Housing Islamabad; it is no longer. The apartment complex is superbly located in Pakistan's capital, Islamabad. The goal of 1947 Housing Islamabad is to revive Pakistanis' traditional way of life while incorporating modern conveniences. It is a magnificent housing project that includes commercial and residential properties that are outfitted with high-end amenities and services. With the 1947 Housing Scheme, you will enjoy a modern lifestyle at a low cost. Hence, 1947 Housing will be a spectacular endeavor that combines our traditional legacy with modern amenities.
Location:
When investing in the real estate business, it is critical to consider location. It has a significant impact on the price's rise and fall. The housing schemes located in a peaceful place play an important role in attracting investors to the complex. Fortunately, 1947 Housing Islamabad is close to the Islamabad-Lahore Motorway (M-2) and other massive forthcoming ventures in Islamabad. To provide residents with an idealist lifestyle, 1947 Housing Islamabad is a perfect housing plan to live in if you wish to experience a quiet atmosphere with a fierce vibe. The enterprise is 10-minute drive from Islamabad International Airport. Its easy access from the twin cities is the icing on the cake.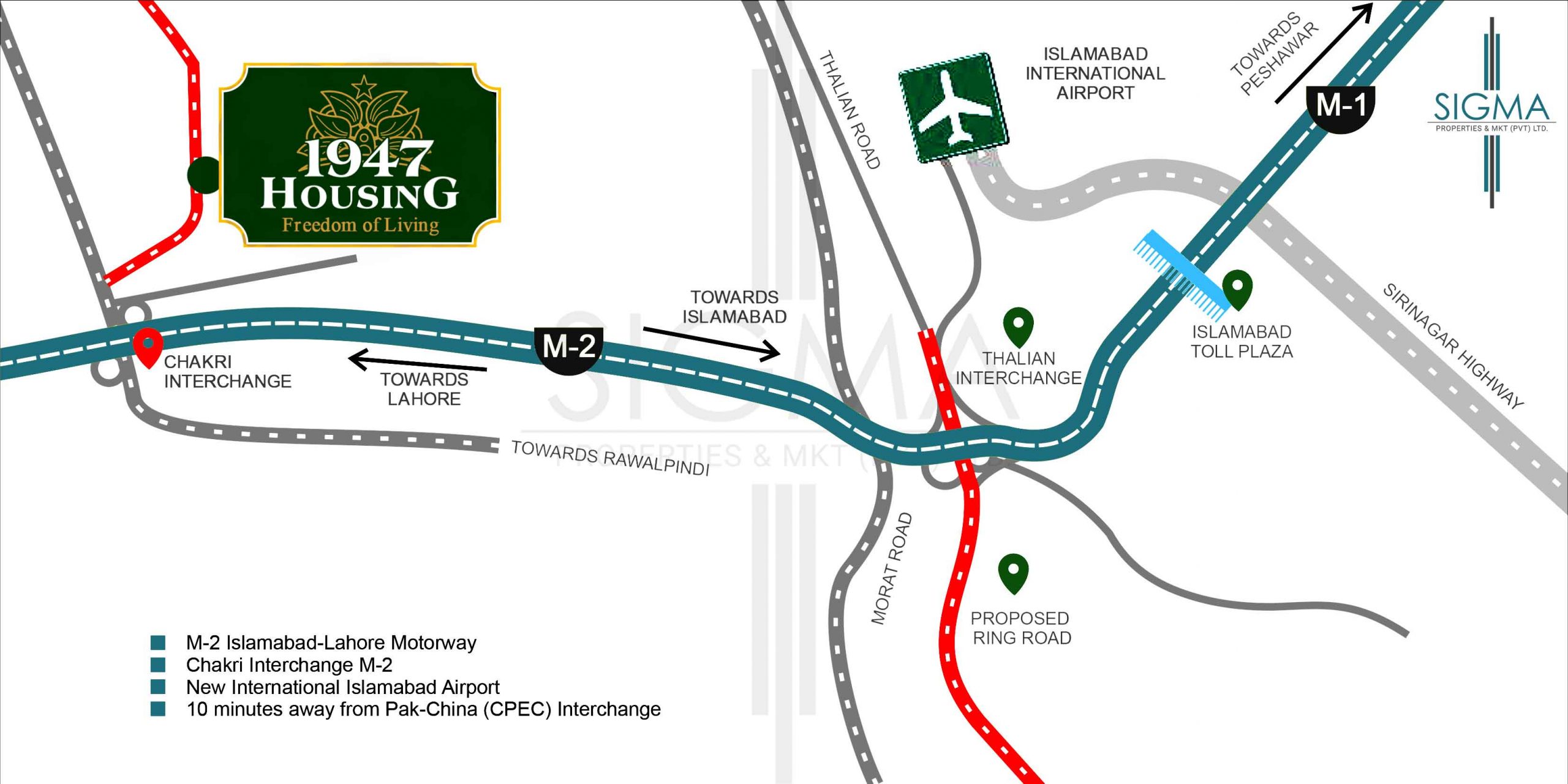 Payment Plan
Aside from its wonderful location and exceptional characteristics, the 1947 Housing Scheme offers an affordable and reasonable payment plan tailored just for its precious investors. Payment plans play an important role in the real estate sector. In a word, a wonderful payment plan is a secret to society's appeal. It makes investing opportunities available to a wide range of people, even those earning the minimum wage. The plot size 05 Marla booking starts at 109,000/-, whereas the plot size 08 Marla booking starts at 170,000/-. If you are looking for a complex with high-end amenities and services, as well as a tranquil environment and a lively feel, the 1947 Housing Scheme is an excellent choice. A 10,000 processing charge is required, with the remainder of the payment can readily be completed in line with the installment plan.
1947 Housing Islamabad
Book Your Plots at the Best Prices! Now you can book residential plots
for sale in 1947 Housing Islamabad.
Get Your Plot Today At Discounted Rates
The 1947 Housing Schemes Offers Plots in Following Sizes
05 Marla
08 Marla
10 Marla
01 Kanal
If you're searching for a charming place to reside, the 1947 Housing Scheme is the place to be. It is in a desirable location and is outfitted with world-class infrastructure and amenities. Most importantly, the payment plan is optimally constructed with allocation and possession fees. After you have paid the allocation and possession fees, you will be the owner of the property in the 1947 Housing Scheme. The owners sincerely believe in the race of modernism, and we Pakistanis have lost the allure of our forefathers. Nevertheless, since the Masterplan is influenced by antiquity, this residential complex allows you to relive history. It is the essence of modernism fused with antiquity. The endeavor will revive the ancestral heritage prior to division while incorporating modern-day conveniences. Even the payment plan for the 1947 Housing Scheme is intended to fulfill the expectations of the common Pakistani resident.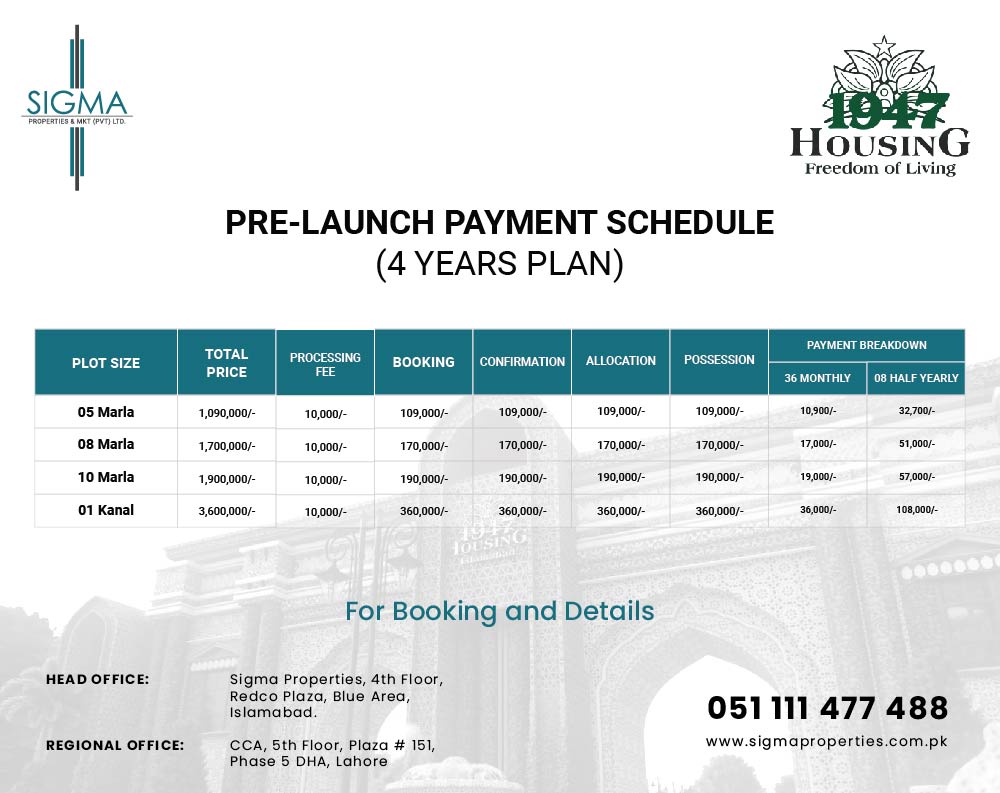 1947 Housing Islamabad Amenities:
Aside from its exceptional location, the 1947 Housing Scheme has key facilities designed by renowned planners. The developers of the 1947 Housing Scheme worked hard to create a Masterplan. Its outstanding Masterplan is a compelling reason to invest in the 1947 Housing Scheme. The capable and reputable designers have worked carefully to create a flawless Masterplan with enticing and central features. The 1947 Housing Masterplan promotes long-term development and provides insight into growth. It includes educational institutions for the benefit of residents' children, magnificent parks for recreation, walking zones for residents to enjoy fresh air, huge mosques for religious purposes, and emergency health units. The housing scheme strives to provide exceptional amenities to inhabitants. Every essential component will be created within the construction, eliminating you to go outside. Some of the beguiling amenities are mentioned below.
Community Club

Health Care Units 

Central Library

Aesthetically Pleasing Architecture

Enormous Jamia Mosque

Graveyard

Educational institutes
Community Clubs
The major function of a communal center is to provide residents with a central location where they may gather for festivals, celebrations, and normal maintenance talks. Having a platform to interact in the neighborhood allows you to participate in discussions. Most importantly, it disseminates your thoughts, message, and voice to others, allowing all residents to collaborate to better the community. Interestingly, the Masterplan of 1947 Housing Scheme includes Community clubs which will serve as a centralized place for residents of society to gather for events or decisions having a profound effect on society.
Health Care Units
 The accessibility of good Health Care Units is undoubtedly the most critical aspect of 1947 Housing Islamabad. The developers built the Masterplan of the 1947 Housing Scheme with the occupants' warmth and convenience in mind. The emergency does not wait for anybody, it just appears, and it is "Do or Die" at that same instant, which is why the designers opted to build hospitals nearby to make it simpler for you to visit hospitals. Furthermore, the exceptional hospitals would be well-equipped with the finest physicians and equipment. Thus, 1947 Housing Islamabad will provide its inhabitants with first-rate medical care.
Central Library 
Reading books is the finest form of education one can get. A life without books is like making lemonade without lemons. Aside from the unquestionable relevance of books in our lives, their value is also considerable. The books broaden our horizons and shape us into intelligent beings. The 1947 Housing Scheme decided to build a central library in the residential complex. Most housing complexes do not contain libraries, but with the 1947 Housing Scheme, you will receive the greatest education from libraries and educational establishments.
Aesthetically Pleasing Architecture
Who doesn't relish witnessing a beautiful area that is magnificently endowed with a tranquil ambiance blended with a heated air? The 1947 Housing Islamabad is comprised of the finest Masterplan with visually pleasing architecture. Structures are being developed with specialist skills and cutting-edge equipment to achieve a high match performance at the end.
Enormous Jamia Mosque
The Mosque is much more than simply a tower; it plays a vital part in the lives of Muslims. It reminds him of his faith and belief every time he sees it. And anytime he hears the sound of prayers coming from the Mosque, he feels God is inviting him in to pray. In a nutshell, mosques play an important part in the lives of believers, which is why the planners included the massive Jamia mosque in the 1947 Housing Islamabad Masterplan. They urge people to remain faithful to their faith and pray five times a day at a mosque.
Graveyard
Death is imminent. Our faith encourages us to believe in an afterlife. This life is only meant to attest us to Allah, but we join the real-life he desires for us after we die. We can't stop our loved ones from dying, but we can regularly cherish the precious memories we shared with them by visiting their gravesite. The magnificent 1947 Housing Islamabad Masterplan contains a cemetery. Even, you don't have to worry about the graveyard's sanitation because the creators will take care of it as well.
Educational Institutes 
The importance of educational institutions cannot be overstated. They play an important part in molding you into a better person. Thus, the developers have concentrated on creating excellent educational institutions for your children and their future.
City Filled with Emotions
Muhallah, a true feature of Indian Subcontinent life. Muhallah was a city filled with emotions. Neighbors used to share one other's obligations, share each other's joys and sorrows, and encourage each other. In times of need, the residents of Muhallah were always there for one another. While living there, one felt protected and safe. This was one of Muhallah's most attractive and distinguishing features. However, due to western intrusions, Muhallah lost its allure. It lost its integrity and changed its way of life. The 1947 housing society, on the other hand, aspires to replicate that paradise for its people. Every Muhallah will feature a spectacular mosque, grocery, health care facility, trained and skilled physicians, and educational facilities. Every requirement of life will be just a step away.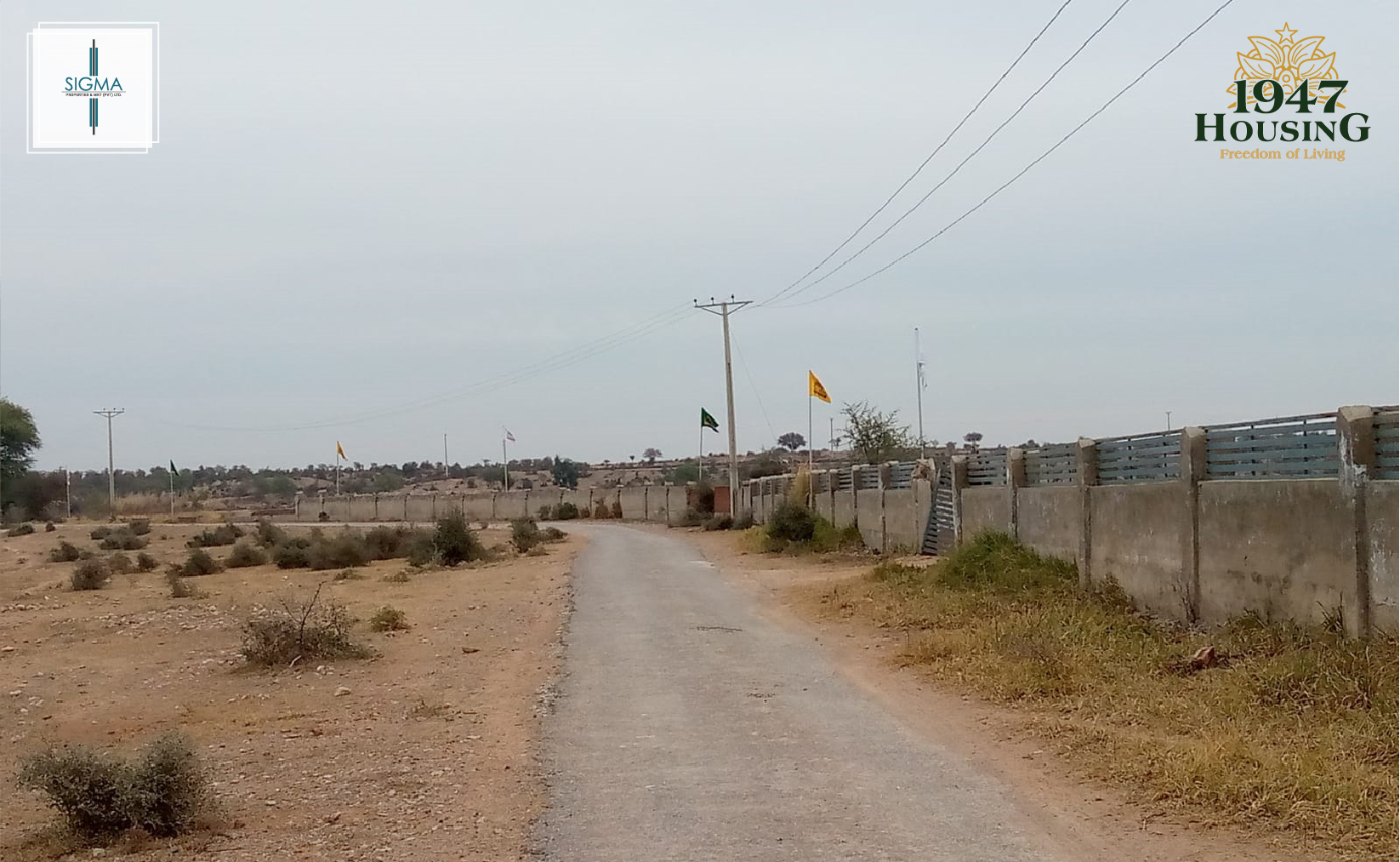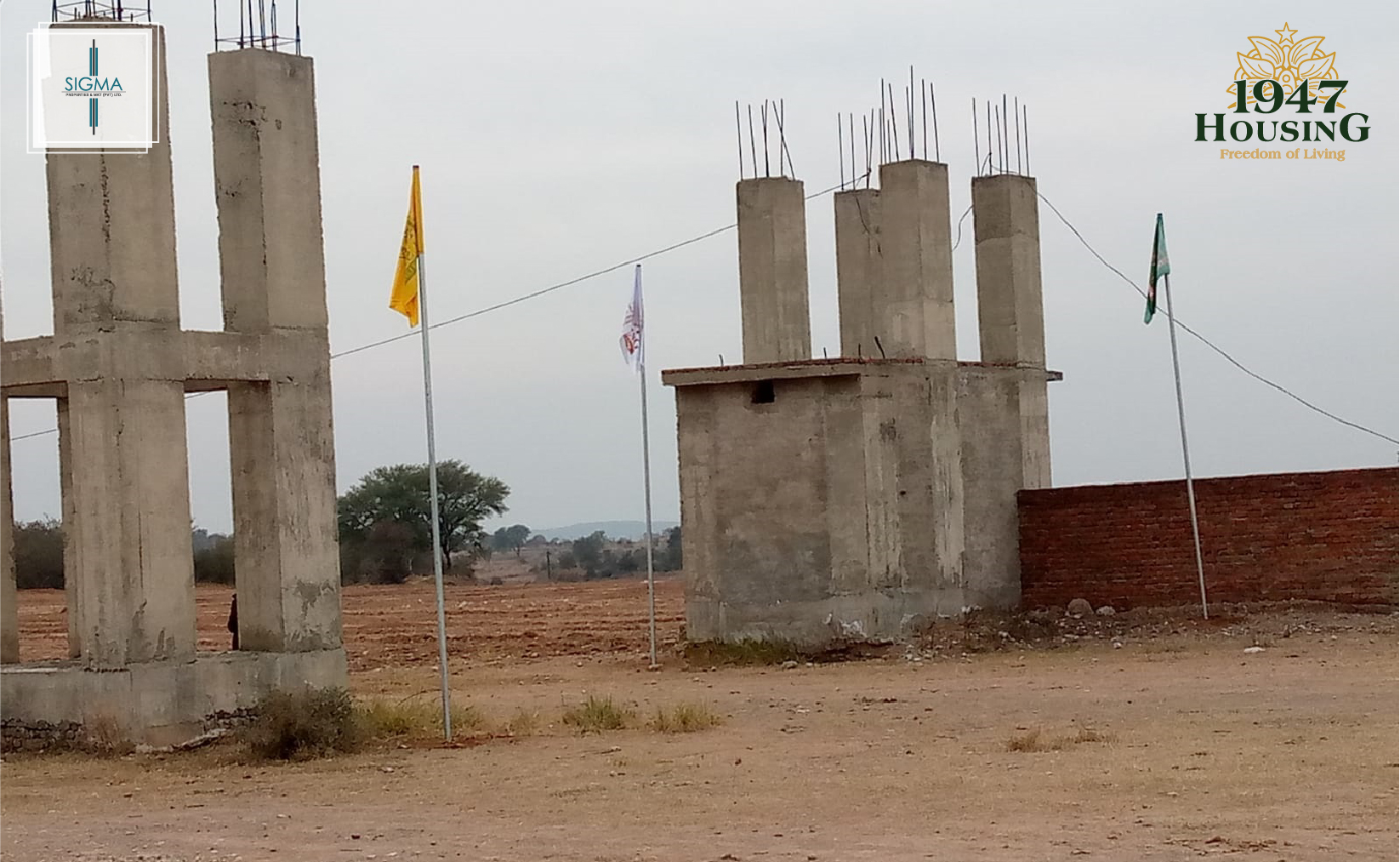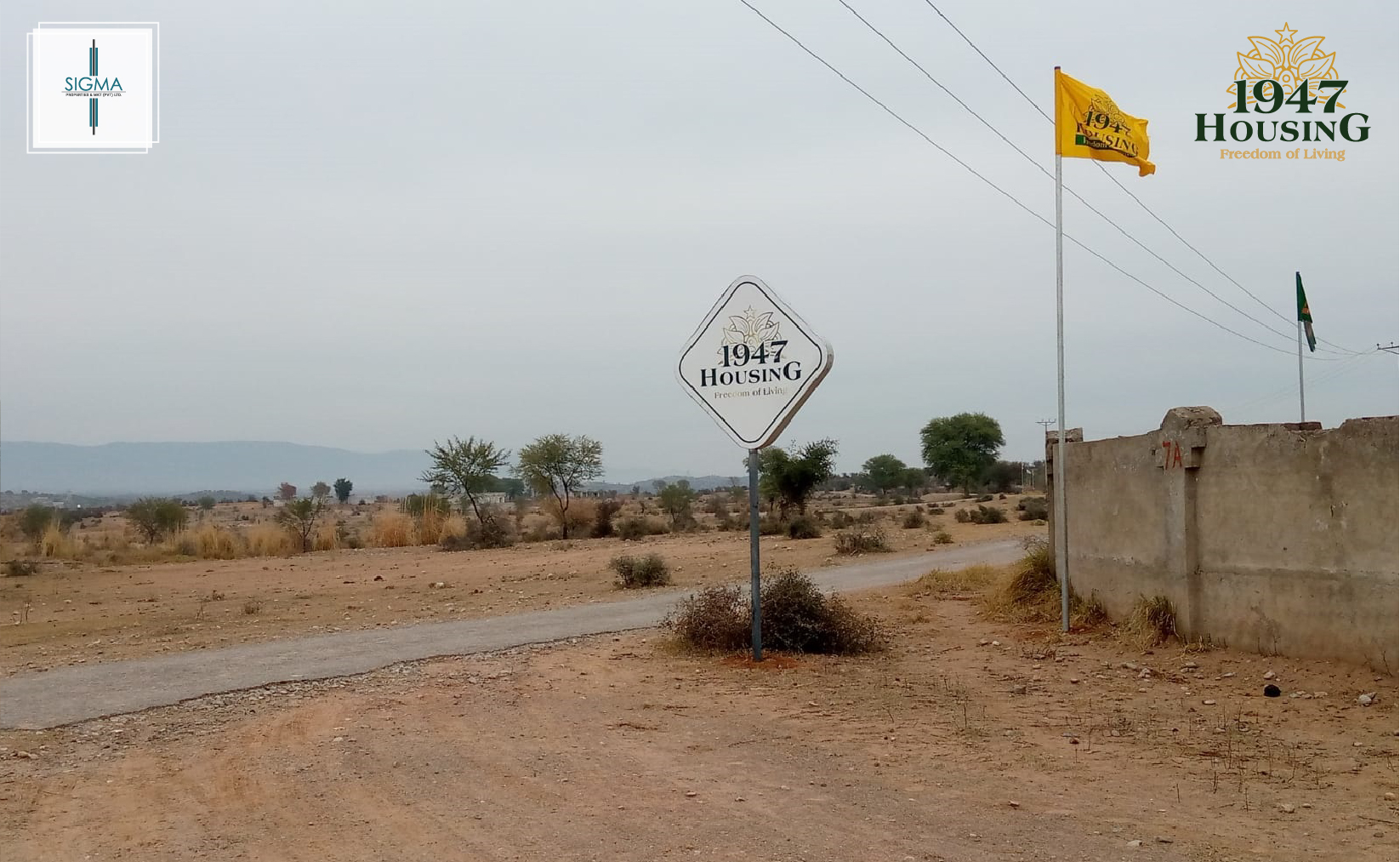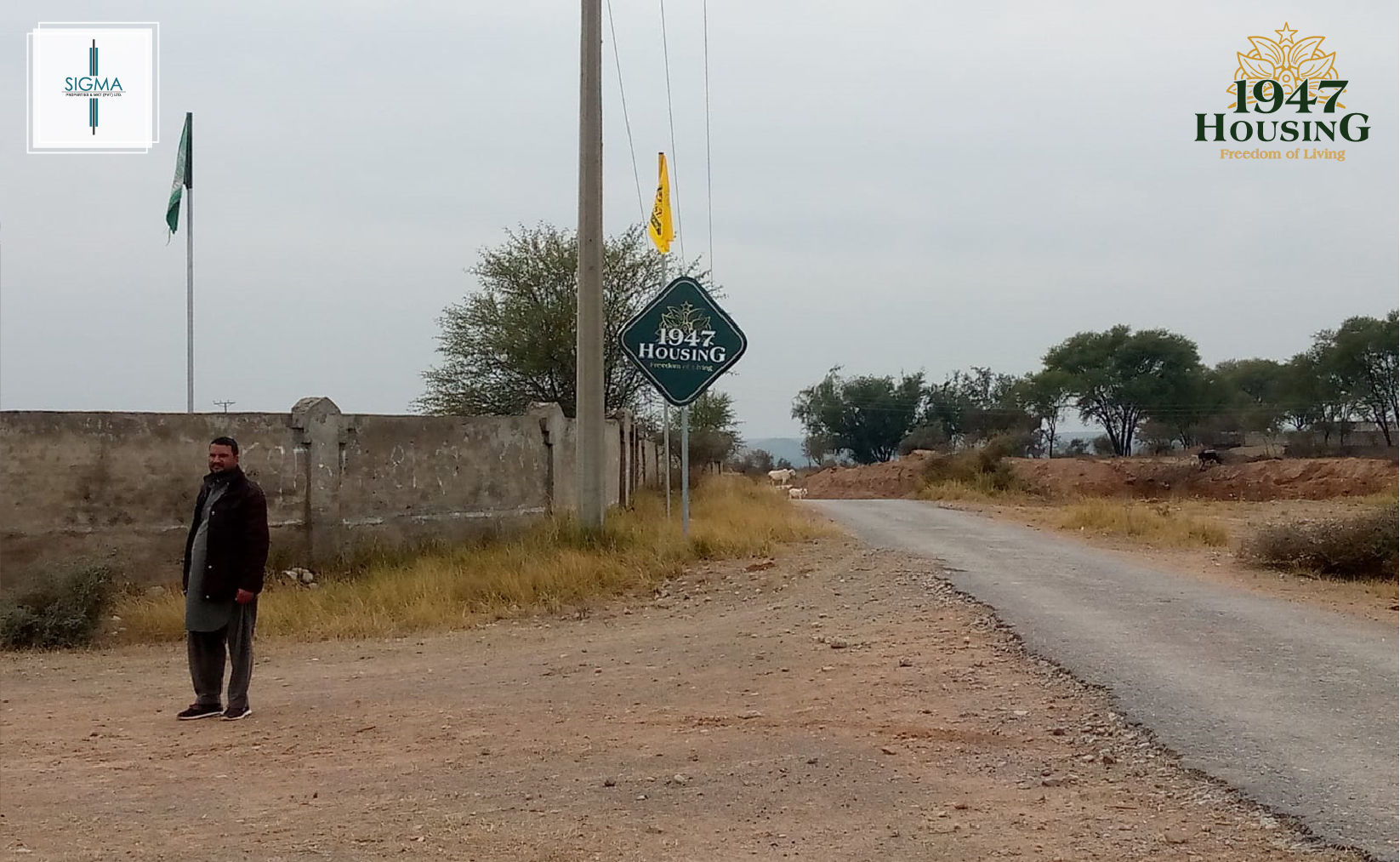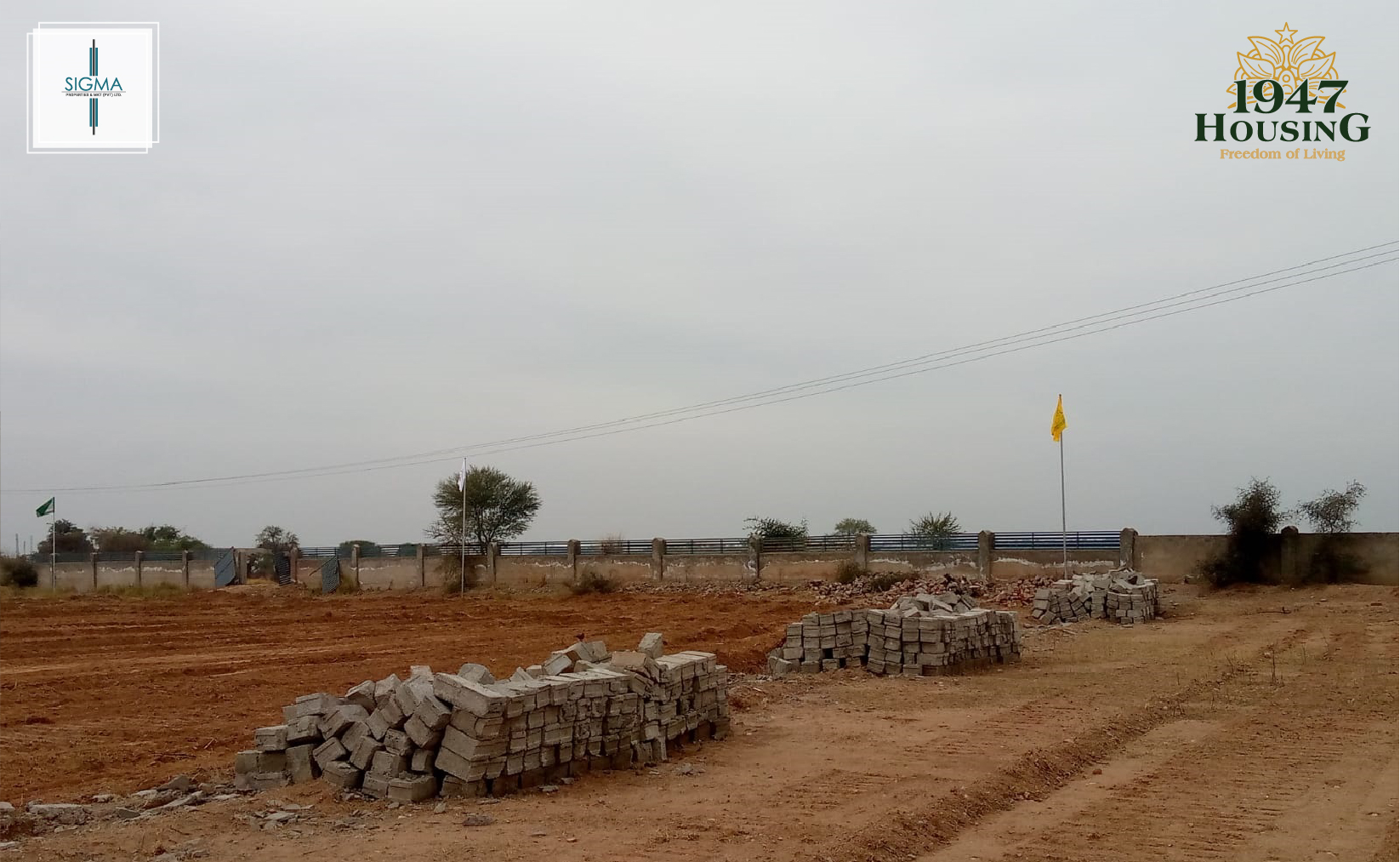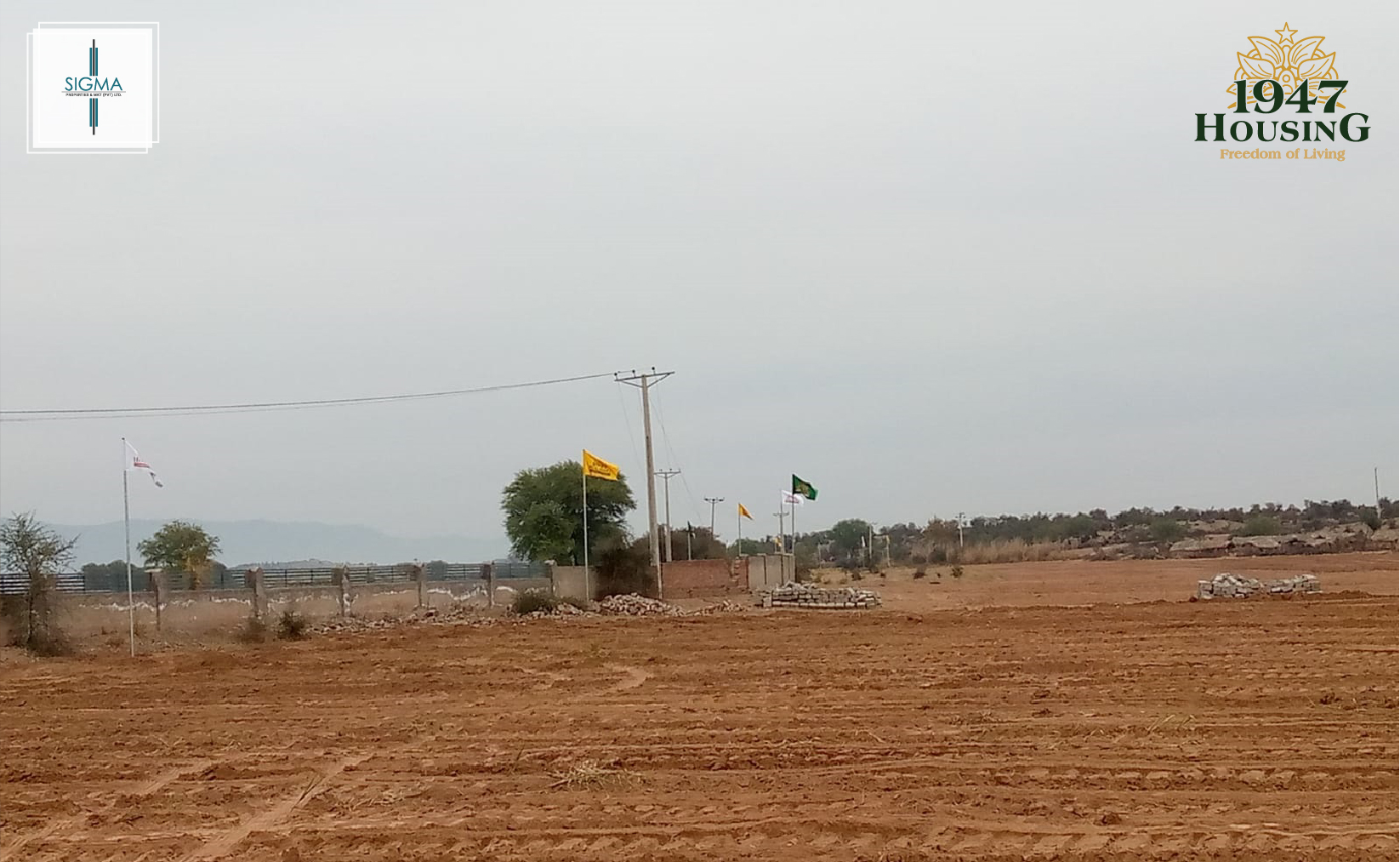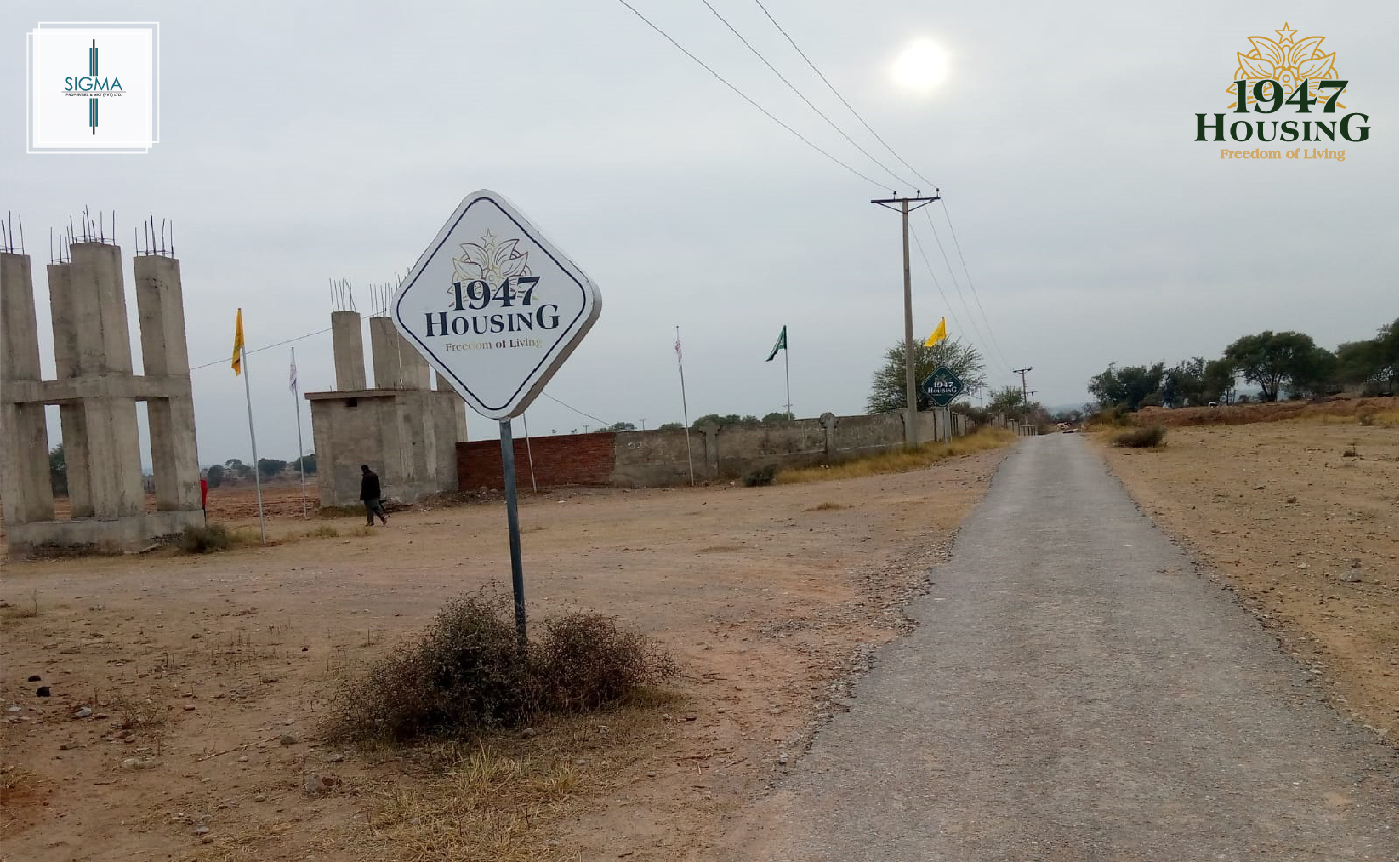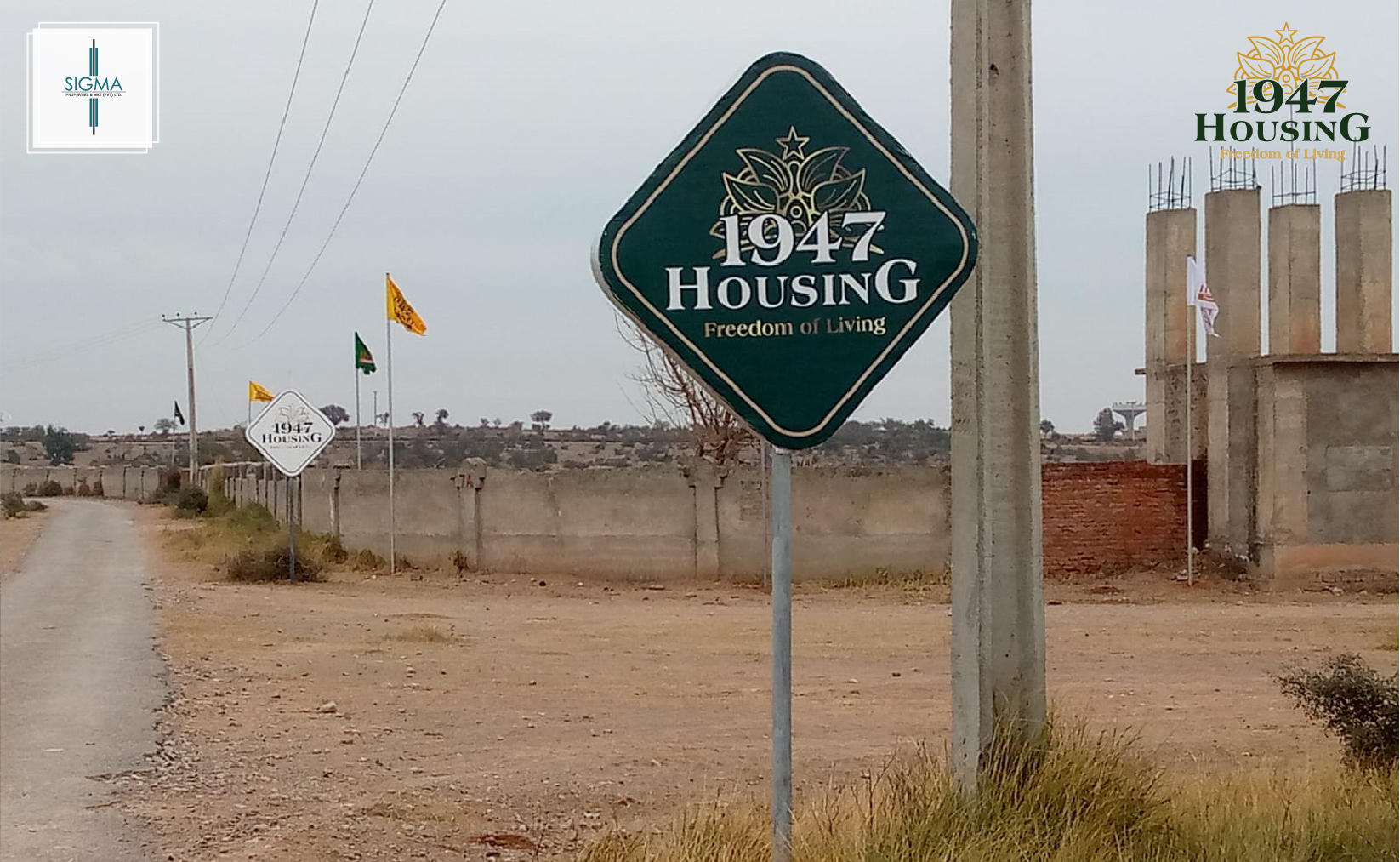 Q1: What is different in 1947 housing Islamabad?
A1: 1947 housing is the only housing that offers you plots of your choice without waiting for the balloting process.
Q2: What is the NOC status of 1947 housing?
A2: 1947 housing will soon receive its NOC from a legal authority.
Q3: What is the location of the housing society?
A3: 1947 housing Islamabad is located near the M-2 motorway, and also, it is close to Islamabad International Airport.
Q4: Can I buy 5 marla plot?
A4: Yes, five marla plots are available in the housing society.
Q5: What are the plot sizes in the housing society?
A5: You can buy 5, 8, and 10 marla plots in 1947 housing Islamabad.
Q6: What about 1 Kanal plot in 1947 housing society Islamabad?
A6: 1947 is the only housing society in Islamabad that offers you 1 Kanal plot at very affordable prices.
Q7: What is the price of 10 marla plots?
The price of 10 marla plots is Rs1,900,000. For further detail, read the payment plan section.