Park View City
Park View City is another essential jewel of Islamabad, a contemporary housing society with a view of the Margalla Hills as its proximate cause of popularity. It is designed to provide the ultimate lifestyle that is dreamy and unreal with breath taking views of the Botanical Garden. It is being referred to as the "investor's paradise."
Owners & Developers
Park View City is one of the outstanding projects of the Vision Group. Aleem Khan, a senior and active member of PTI, is the owner of the Vision Group. It is one of their first projects in Islamabad.
Vision Group
The vision group was formed in 2012 and has since completed a number of ground-breaking real estate ventures. In less than a decade, vision group has dominated the Pakistani real estate market and established itself as one of the most reliable and trustworthy development companies. The company prioritizes the features in accordance to a lavish living, by integrating elegant aesthetics and modern functionality. Park view is an epitome of natural beauty striving for excellence by being one of the most ebullient lodging societies in the region.
Projects By Vision Group
The vision group completed many successful ventures, including architectural masterpieces and urban landscape projects in the cosmopolitan cities of Pakistan.
Following is the list of the unmatched projects by Vision Group
Abdul Aleem Khan Foundation
Park View Icon located at I.I.Chundrigar Road-Karachi
Park View City in Islamabad
Park View Corporate Centre at Mall Road-Lahore
Park View Signature Apartments at Gulberg-Lahore
The National School
Park view villas at Multan Road-Lahore
Master Plan
The following map of the master plan of the lodging society shows the position of the blocks in the society: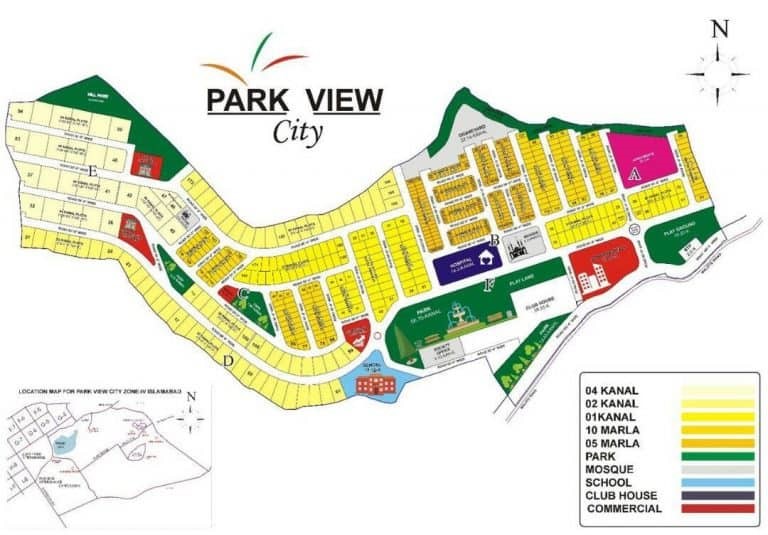 Park View City Islamabad
Book Your Plots at the Best Prices! Now you can book residential plots
for sale in Park View City Islamabad.
Get Your Plot Today At Discounted Rates
Location Map
Park View City is ideally located opposite Bahria Enclave, just 15 minutes from Serena Hotel Islamabad, 5 minutes from Bahria Enclave and Bani Gala, and a 1-minute walk from the lush green botanical Garden, as shown on the map. It is located 8 kilometers from Chak Shahzad via Park Road and Kurri Road on the way to Kashmir Highway, Lehtrar Road, and Islamabad.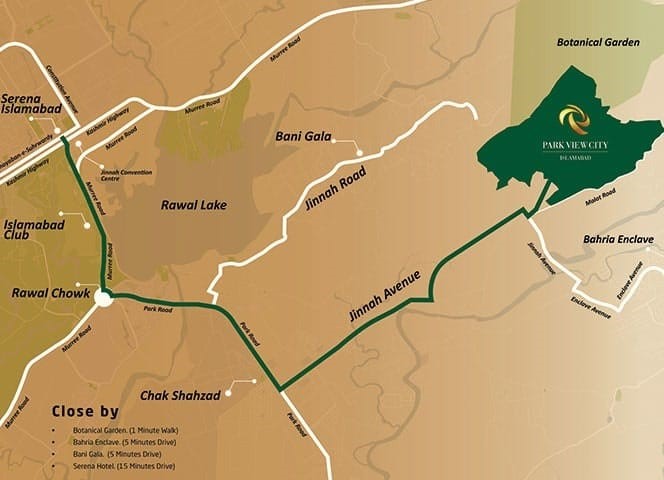 NOC & Planning Permissions
On 1st June 2018, The NOC Of Park View City Got Its Approval From CDA Along With All The Necessary Planning Permissions. You Can Verify The Complete Information Of Its NOC From The Official Website Of (CDA).
Project Details
Blocks A, B, F, J, and K consist of 5 Marla plots whereas 10-marla plots are offered in the Blocks A, B, F, H, and I. 1-Kanal plots are available in (B, C, E, F, N, and M)Blocks, (D,P)Blocks offer 2-Kanal plots in the society.
Residential Plot Sizes
5 Marla (26"x 50"), 8 Marla (30"x60"), 10 Marla (35"x70")
1 Kanal (50"x90"), 2 Kanal (75"x120")
Commercial Plot Sizes
6 Marla (35"x40"), 8 Marla (40"x45")
Total Area
The land of 1200 Kanal spans over many residential and commercial blocks, where the society owns an attraction to all or any norms of society.
Residential Plots
It is designed to provide a perfect place for families who want to live in a family-friendly neighbourhood and a secure place with futuristic vision and lush green views.
5 Marla Plots
A and B Block
A and B Blocks are our developed ones with the basic amenities available 24/7. These blocks are ready for possession and only a few plots are obtainable with an annual payment arrangement.
A developed block with progressive infrastructure is your dream come true with additions like lakes, parks and gyms. This block can be accessed from Gate 2.
10 Marla Plots
A and B Block
A and B Blocks are our developed ones with all the basic amenities available 24/7. These blocks are ready for booking and some plots are available with a one-year payment plan.
Enjoy a life of luxury, lead a cheerful and healthy life at Park view society. Our 10 Marla options are for those who wish to travel an additional mile. Get pleasure from these premium plots enclosed by lovely lush green hills.
F Block
Perfectly located with beautiful and mesmerizing views, your 10 Marla house would be a dreamful place to live. Enjoy the green lush hills enclosed by the greenery of botanical gardens.
H Block
This is our most treasured and premium block in Phase 2. It is adjacent to downtown and at a 2 minutes' drive from the main Boulevard making an ideal location. H Block contains an annual payment plan with possession accessible on a down payment.
Enjoy a pleasant lifestyle equipped with the top-notch amenities in these spacious houses.
J Block
Adjacent to downtown with stunning views of the lake at Park View City Islamabad. J Block includes a 2-year payment plan.
Easy entrance from the main boulevard and downtown and our 10 Marla options in J block guarantee you the life you desire. A plot size of 35×70 in J Block is available for our most valued customers.
1 Kanal Plots
A and B Block
A and B Blocks are our developed ones with all the basic amenities available 24/7. These blocks are ready for possession and really few plots are available with a one-year payment plan. A perfect possibility for leading a luxury life and enjoying family time along with it. If you require many rooms or have a big family our 1 Kanal plot is that the most suitable choice for you. Allow yourself to be satisfied with the multiple facilities such as those provided by the clubs and community centers, cinemas, mosques, zoo and lots of additional ones at this premium location.
F Block
Feel the winds of Margalla and spellbinding sunsets from your balcony. It is situated at a hill top with the wonderful sight of the botanical gardens. Book your plot now in this premium locality.
H Block
Our most treasured and premium block in Phase 2. It is adjacent to downtown and at a 2 minutues' drive from the main Boulevard. H Block contains an annual payment plan with possession accessible on a down payment. How can one say no to such attractive options? Get a 1 Kanal plot and enjoy the scenery of the green mountains and spellbinding sunsets with our downtown lights.
J Block
Adjacent to downtown with stunning views of the lake at Park View City Islamabad. J Block includes a 2-year payment plan. The lush green view of mountain and downtown lights from your balcony. This mixture of urban and natural life-style is difficult to come by. Don't wait up and pick your favorite plot in our J block now.
2 Kanal Plots
D Block
Enjoy the cool fresh air of summers and also the city covered with fog in winters from your balcony. An exclusive 1 Kanal plot category with premium facilities is a dream come true.
Commercial Plots
It is planned to provide an ideal place for families who need to live in a very family-friendly neighbourhood and a secure place with futuristic vision and lush green views.
3.5 Marla Plot
Park View City is now proudly offering the limited plots of 3.5 Marla on instalments in block K. These plots can be booked on a 20% down-payment and also the remainder of the amount can be submitted in 30 easy monthly instalments. So, why wait? Book your plot now, you won't get something higher than this.
6 Marla Plot
Park View City downtown will be the primary Downtown in Islamabad. It includes a 300 Kanal stunning lake within the centre with lush green hills. This downtown is going to be home to famous, known brands and eateries.
8 Marla Plot
The 8 Marla commercial plots are well-chosen ones in the market attainable at the best value. The front of these marvellous plots will be facing towards the lake, which will provide you with a perfect view. So you can enjoy your cup of tea with a beautiful view of the lake and hills.
Discount Price
On the lump-sum payment, the lodging society is giving a 5% discount on the overall price. This means that if you pay in full for every plot in Park View City without taking advantage of the above-mentioned instalment plan, the society will give you a 5% discount.
Park View Homes
Nothing beats the feeling of returning to your superbly created home after a long day. A house is an inventive heaven. The peace anyone needs to make, think, and act require the comfort of a home.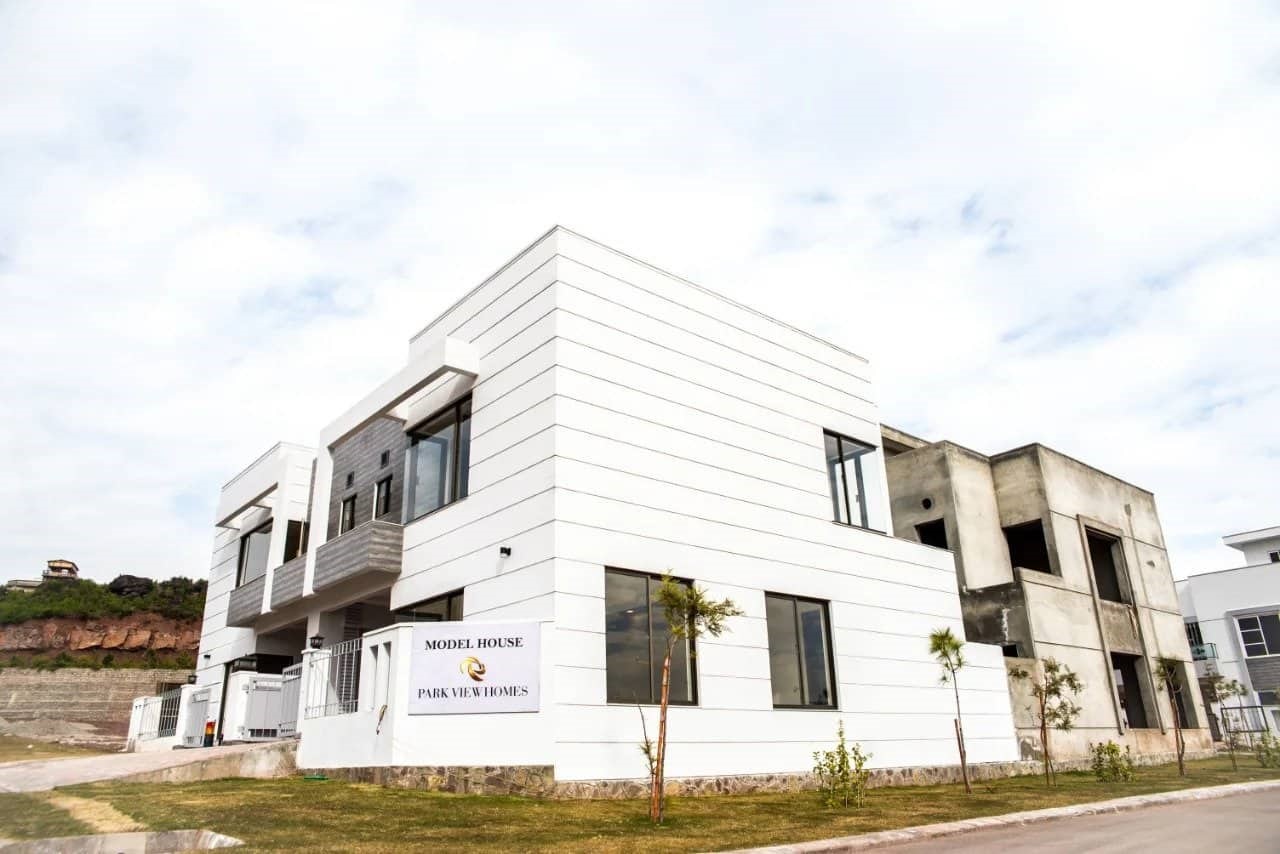 Overseas Block
Park View City is an exceptional lodging society that has fulfilled the requirements of everybody, from residential and commercial properties to classic flats to Park View City Islamabad Villas and currently, the recent addition to the prestigious project is the Park View City Islamabad Overseas Block.
The Overseas Block is going to be launched soon and rest assured it will fulfil all the necessities of international standard housings. This block is specially designed by the planners with the living manner of the Overseas Pakistanis in mind, they will feel no difference between living in the Overseas Block and abroad.
Location
Overseas Block in Park View City is situated in the foremost prime space in Park View City close to Gate 1. The block is close to the commercial downtown of the project and can provide its residents fruitful investment including elite living.
Unique Features
Shopping Malls
A Dubai Based Town
Hospital
School
Zoo
IMAX Cinema
Community Hal
Turkish Model Mosque
Gated Community
Amenities
24/7 Supply of Electricity, Gas and Water
Educational Facilities
CCTV Security
Parks
Playgrounds and beautifully designed green areas
Shopping malls
restaurants and Entertainment centers
Sports complex
Health center
How to Book a Plot in Park View City?
The initial prices offered in Overseas Block will be available on a 3-year easy installment.
In order to book your plot contact our personnel at Sigma Properties. The required documents are,
Copy of your CNIC
Copy of your CNIC of your next to kin
2 passport size photographs
The booking amount can be paid in the form of pay order, cash or a direct transfer of cash in the company's account.
The booking starts with a 20% down payment.
The exact position of the Overseas Block will be disclosed in a month or two, but it is the most beneficial and productive investment at this time. The plots are available at the most affordable rates, and the potential for growth is enormous. If you're looking for a safe place to put your money and provide a safe atmosphere for your family, look no further than Overseas Block.
Why Park View City?
Park View City is a project of brilliance with a clear vision to provide unsurpassed facilities. Every establishment in the society has been built with a unique viewpoint and practicality in mind, in order to provide an ennobling living environment for its inhabitants.
Modern Infrastructure
Park View City will consist of the present-day technological advancements alongside Mother Nature giving it a mystical outlook overall. The first-class paved roads, turning or twisting or linear will leave it known that privilege is being provided. The educational institutes, hospitals and commercial hubs will be a marvel of specialized engineering.
CDA Approved Society
The Park View City is approved by the CDA, which is a compelling advantage for the residents. The citizens of Pakistan target the CDA covered sectors and this lodging society is already on their list.
Gated City
The lodging society is a gated city, providing the security and privacy the dwellers ask for. There is a boundary wall engulfing the entire project within itself. The neighbouring societies are not covered this extensively while Park View City has separated the side that is close to the forest as well.
Park View City Apartments
The Park View City Apartments will be the true example of world class technology and amenities. These luxury apartments will be fully equipped with a fitness center, swimming pools, laundry facilities, convenience stores, and much more on the premises of these apartments.
Park read town is an unimpeachable society with unmatched amenities and clean vision. Park view city offers state of the art amenities to its residents for higher and opulent living.
On-Going Market Trend and Price Index
For a long time, the demand for prices in Park View City has been consistent. The vast majority of those who have purchased plots in the society are end-users who have invested in the society for residential rather than investment purposes. The project's success stems from its alluring venue, facilities, and affordable prices.
Two years ago, the price of a 5 Marla was nearly 43 lac, but after a six-month revision, a substantial increase of 7 to 8 lac was observed, and prices have continued to rise in tandem with development work. A 5 Marla residential plot is currently being sold for around PKR 57-58 lac.
Due to the simple tradability, demand for 5 Marla and 10 Marla residential plots, as well as 6 Marla commercial plots, is higher.
Pros and Cons
Pros
State-Of-The Art Residential Place
Spread on a land of 7000 Kanal, having residential and commercial blocks, the Park View City is creatively designed to be ultra-modern and beautiful. Living in this lodging society, you will experience the true essence of a modern approach to life.
Fit for Overseas Pakistanis
The Pakistanis living abroad have a comfortable lifestyle. They do not like excessively noisy places and pollution. They appreciate modernity and progression. Thus, the Overseas Block of the Park View City is best for them as they will get to live exactly like they were living abroad.
Botanical Garden
There will be a Botanical Garden inside the Park View housing society giving it the competitive edge which the neighbouring societies do not have. Not only will the Botanical Garden enhance the beauty of the project, it will bring modernity and tranquillity in one place.
Uninterrupted Utilities Provision 
The residents of the Park View City will enjoy a life free of load shedding of electricity, water and gas. Water is accessible at just 50 feet below ground level, and the Gumrah River, which runs through the area, ensures that the society has an adequate supply of water. Each house in the society is designed to have an underground water storage tanker to store the plentiful rainwater that falls in the city.
The society also has a plan in place to build its own dam for the storage and use of water, and construction on this dam has already begun.
Cons
Expensive in Contrast
The opinion of some of our clients, is that the Park View City has set prices that are out of their budget. But then, the provision of the best comes with these prices.
FAQ's
Most frequent questions and answers about Park View City
What is Park view city?
Park view city is a modish and sumptuous Housing scheme in Islamabad, Pakistan.
Where is Park view city located?
Park view city is ideally settled in zone IV on Malot Road close to Bahria Enclave within the Capital city of Pakistan, Islamabad.
Who is the owner of Park view city?
This newfangled housing society is a project of Vision Group. The vision group is closely held by Aleem Khan, a senior member of PTI.
Is Park view city Islamabad legal?
Park view city is a completely legal housing scheme with NOC and designing permission is approved from CDA.
What plot sizes are available in Park view?
You can book 6 to 8 Marla commercial plots and 5, 8, 10 Marla, and 1 to 2 Kanal Plots within society.
Does Park view city have an instalment plan?
Yes, society is providing a 2-year easy installment plan for the convenience of its investors.
When will be the possession of plots in Park view city given?
The possession of plots within the developed blocks of the society is granted to its investors and for the remaining blocks, the possession is going to be granted after the balloting.
Which facilities does society provide?
The housing society can give all the essential and modern facilities to its residents which includes water, electricity, gas, hospitals, security, shopping zones, schools, fitness centers, botanical gardens, sports, cinemas, and far additional.
When will the construction work of main boulevard begin?
The construction work of the main Boulevard has begun already and a 200 ft. The wide road is constructed from Kurri Road to the society to create a well-favored carpeted pathway through the foremost gate to within the society.
How much profit will I get on my investment in Park view city and
Park view city is one of the foremost sought-after outs and supreme housing societies within the area, it's a wonderful investment chance for residents seeking a good return on their investment in a very short period of time.
When will the plot be transferred to my name after the booking?
The society can issue you a transfer letter once the clearance of the dues is done in 1 to 2 days.
Can overseas Pakistani book a plot in Park view city Islamabad?
Yes, it's an awfully great chance for overseas Pakistanis to take a position in this society and that they will do so by sitting at their homes
What is the procedure of transfer of plot in this society?
The plot transfer procedure is quite uncommon in Park view city because it can't be done through the regular transfer and register methodology. It is disbursed through the society's transfer office with total transparency.
How soon will society have all the facilities?
Society is working on putting in place all the general public facilities within the project so the residents will start benefiting from them.
Why is Park view city is highly priced compared to other societies?
Considering the Location, NOC, the amenities the society is giving its investors, Park view city isn't that pricy.
How can I book my plot in Park view city?
You can easily book your plot by simply contacting us @ 051-111-477-488
or visit sigma properties @ Sigma Properties, 4th Floor, Redco Plaza, Blue Area, Islamabad-44000, Pakistan