NOVA CITY ISLAMABAD
The Nova City Islamabad is a forthcoming and emerging real estate housing project in the federal capital. It is brought to light besides the CPEC route, Fateh Jang Road, and Rawalpindi Ring Road. Its location has got easy access from GT road, Rawalpindi Ring Road, and CPEC route. It is a splendid real estate project that aims to provide the ideal luxury and unique lifestyle to its residents. Located in Islamabad, a vertex of natural beauty and contemporary architecture, this project has become people's first investment choice.
Nova City Islamabad is the most contemplative real estate project within the jurisdiction of CDA, Islamabad. According to property insights, shortly, Nova City will have top-notch investment potential. Moreover, the housing project is getting much popularity among the investor community due to its scenic views and agile infrastructure.
Owners & Developers
The forthcoming property venture, named The Nova City, is owned and developed by the Nova City Developers. This development company is famous in the real estate industry as developers because of its upper-class infrastructure and development plans. Now, it is expertly working on The Nova City to create a triumph.
Nova City Housing Society Location
Location is always the priority when it comes to buying property for either investment or residential purposes. That is why Nova city, Islamabad, has paid particular attention to choosing a suitable and accessible location for their housing project.
Nova city, Islamabad, is located between serenity loaded with the modern infrastructure that means the society is all set to provide consequent calm to its residents. It is just a few minutes away from New Islamabad International Airport. Furthermore, Nova City also appreciates a closure to the proposed novel Rawalpindi ring-road. Instead, the society plans to open a dedicated gate at Ring Road to become more accessible from almost every direction of the city.
NOC and Approval 
The NOC of Nova City is yet to be attained by the apprehensive authorities. The NOC is the primary concern of any housing society and for the investors. It is as the approval of NOC
legitimize a housing society and develops a relationship of trust in the community and developers.
As the NOC is approved, the developers will officially launch Nova City housing society Islamabad with its full glory. The marketing phase of the community is also not undertaken due to under-process NOC.
Main Entrances and Access Roads
This scheme has the primary entrance access from the Rawalpindi Ring Road, and behind the area is joined with the CPEC Route. The main entrances of this scheme are on Bongo Kanial road.
It is right above to CPEC Ring Road Interchange. Also, this city is accessible to the Lahore-Islamabad M-2 motorway, so this housing scheme offers a primary living residence.
It is in between the center of twin cities and easily approachable from both Rawalpindi and Islamabad. The approximate time to reach Rawalpindi and Islamabad from Nova City is almost 31 minutes and 26 minutes. Many famous destinations are near this real estate vicinity.
The neighboring places and landmarks near the Nova City, Islamabad are:
Fateh Jhang
CPEC-Ring Road Interchange
New Islamabad International Airport
Mumtaz City
Rawalpindi Ring Road
Eco Housing
Expo Centre
ASF Flats
Top City-1
Attock
N-80
Rawalpindi
Islamabad
The Nova City Islamabad
Book Your Plots at the Best Prices! Now you can book residential plots
for sale in The Nova City, Islamabad.
Get Your Plot Today At Discounted Rates
Master Plan of Nova City Islamabad
As the project is in the before release phase and not yet fully revealed, the details about the master plan of the society are very much deficient. As enlightened the developer has informed in the prelaunch phase, Nova City is just offering the residential plots. The officials have not yet disclosed the blocks in the society. We only have access to a limited knowledge that expresses that society is all set to continue the formal sale of land, but this will take some time as we all know that these are government errands and take longer than expected. In the pre-launch phase, society put forward residential plots only of sizes 5 and 10 Marla and 1 and 2 Kanal. They are not offering any commercial properties for booking as of now. The point in consideration is that the beginning stage is that society will dedicate a more significant proportion of their land to theme parks, safari, and 5-star hotels. And also, transportation systems, communication networks, sewage, water, and electric systems of the society are planned, designed, and developed by the high-end team to certify nothing lesser than best for its residents.
Nova City Housing Society Islamabad Payment Plan
Nova City has only put forward its residential plots for sale. Nova City, Islamabad's payment plan has been kept workable and appropriate to serve people from every section of society. By paying an amount equal to 10% of the total amount called down payment, the booking is confirmed. 10% confirmation charges are to be paid within 45 days of initial payment. If an individual fails to deposit a confirmation fee within 45 days, the plot's booking stays accountable to cancellation, and only 75% of the principal amount will be payed back. Additionally, the payment schedule is chunked so that it can be easily affordable by every section of society. The total price of the plot can be paid in 40 easy installments which means 80% of the total amount, and it directs that any person from the salaried class can easily buy land for his secure future.
The payment plan of the initial phase of Nova City, Islamabad for plot sizes 5 marla, 10 marla, 1 kanal, and 2 kanal is given below:
Nova City New Payment Plan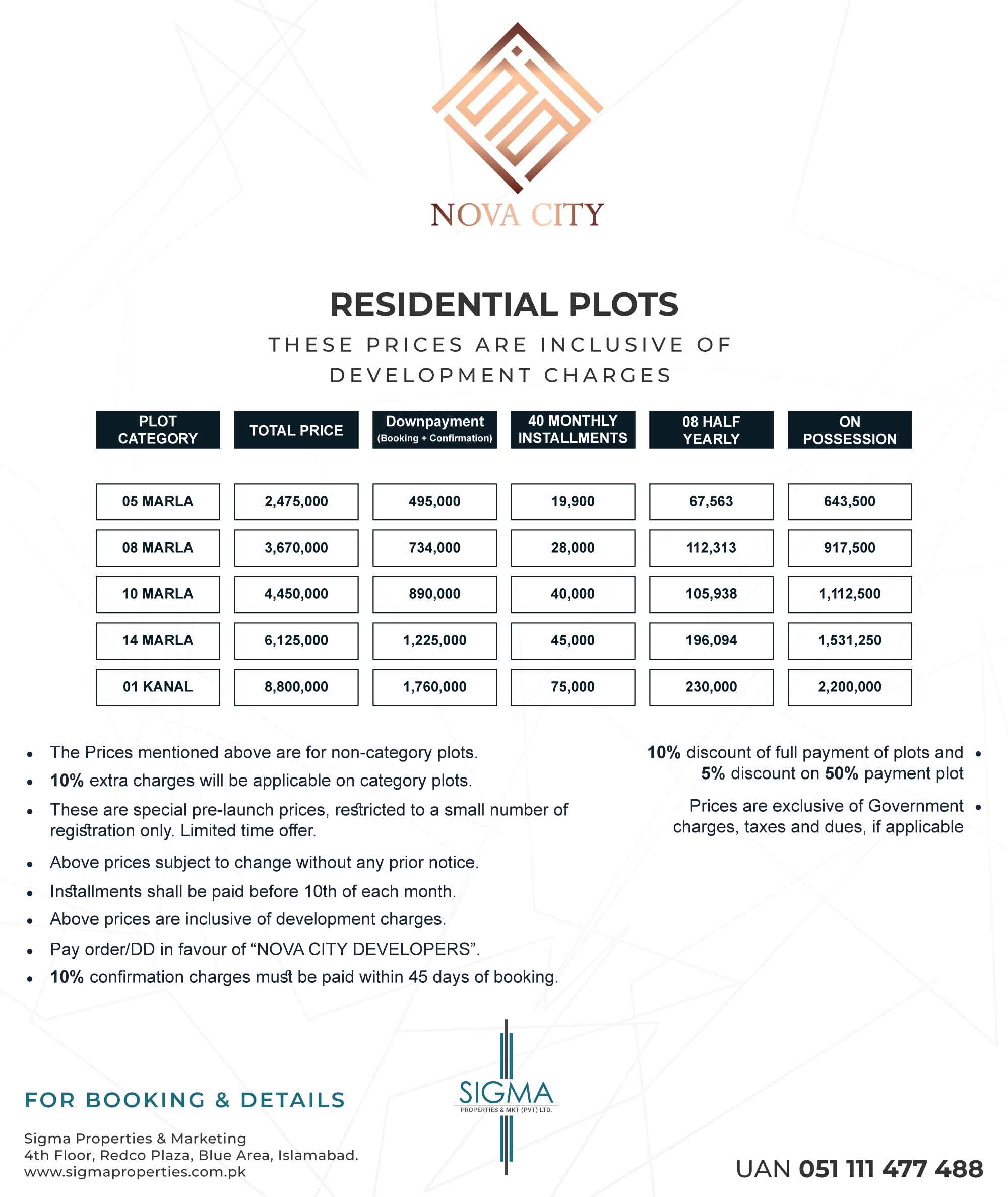 Investment in Nova City Housing Society
The question that arises after knowing about the society is why one would invest in Nova city, Islamabad?
The first thing is, investors only look up to the greater Return on Investment (ROI) rates while investing. Nova city, Islamabad, appreciates the accessibility of Rawalpindi Ring Road and the CPEC route. This ground is making it stand out in the market. The value of properties in this neighbourhood is also growing multitudinous in the recent past due to the valuing.
Secondly, more importantly, the prime location of Nova city is also an attraction point. The distance to all the main city hubs is comparatively negligible. Therefore, this is the right time to put your capital in Nova city, Islamabad, to ripened the maximum output.
Facilities and Amenities
Islamabad is a pivot of real estate developments in Pakistan. Many renowned developers and builders are establishing high-end residential projects and commercial projects in Islamabad. All of them aim to satisfy the living and investment cravings and tastes of people according to the latest standards. However, Nova city is one of Islamabad's best housing societies, offering sell plots at highly affordable rates.
The society is planned on the vision to provide people an updated and modern lifestyle with facilitated surroundings. Nova City Islamabad's location is splendid that adds more value and demand to this project. By investing here, you can attain numerous investment benefits because of the rising demand for the premises in which this society is developed. You can book a plot in Nova city Islamabad to enjoy a lifestyle full of luxuries.
Many vast and successful real estate developments in Islamabad are nearby located. Hence, the peaceful and calm surroundings, landscapes, and scenic views let you enjoy nature and amenities closely. Nova City Islamabad offers plots for sale starting from 5 Marla and then 10 Marla, 1 Kanal, and 2 Kanal. The payment plan is convenient for everyone so that people can own their desired property easily. Having a residence here will be analogous to achieving your dreams.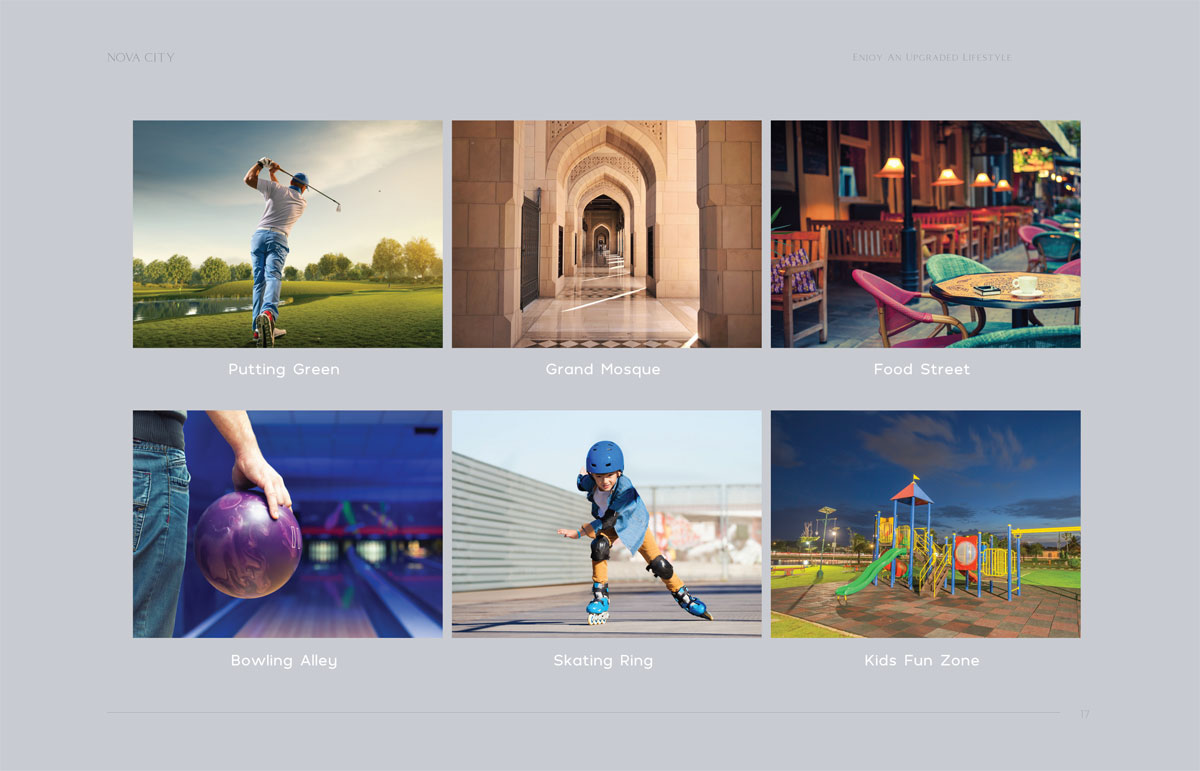 Here, the modern lifestyle and standard of living are combined with the lush green environment so that you can enjoy luxury and serenity. Moreover, the extraordinary features and facilities are part of Nova City for guaranteed comfort. It is an ideal and affordable housing society in Islamabad featuring the best properties for sale at attractive rates from all perspectives and angles.
For people who want to update their living standards while interacting with nature side by side, Nova City Islamabad is the top choice for them. This place is for those who have refined taste and class. Besides, this well-known community will enable you to lead a healthier and remarkable life in Islamabad, Pakistan.
Gulberg Residencia is loaded with all modern-day amenities, including uninterrupted electricity supply along with Sui Gas & water supply. Being developed in Pakistan's most attractive city, Nova City Islamabad will bring an extraordinary lifestyle. However, this place is gaining superior value and importance because of its brilliant project plan and facilities.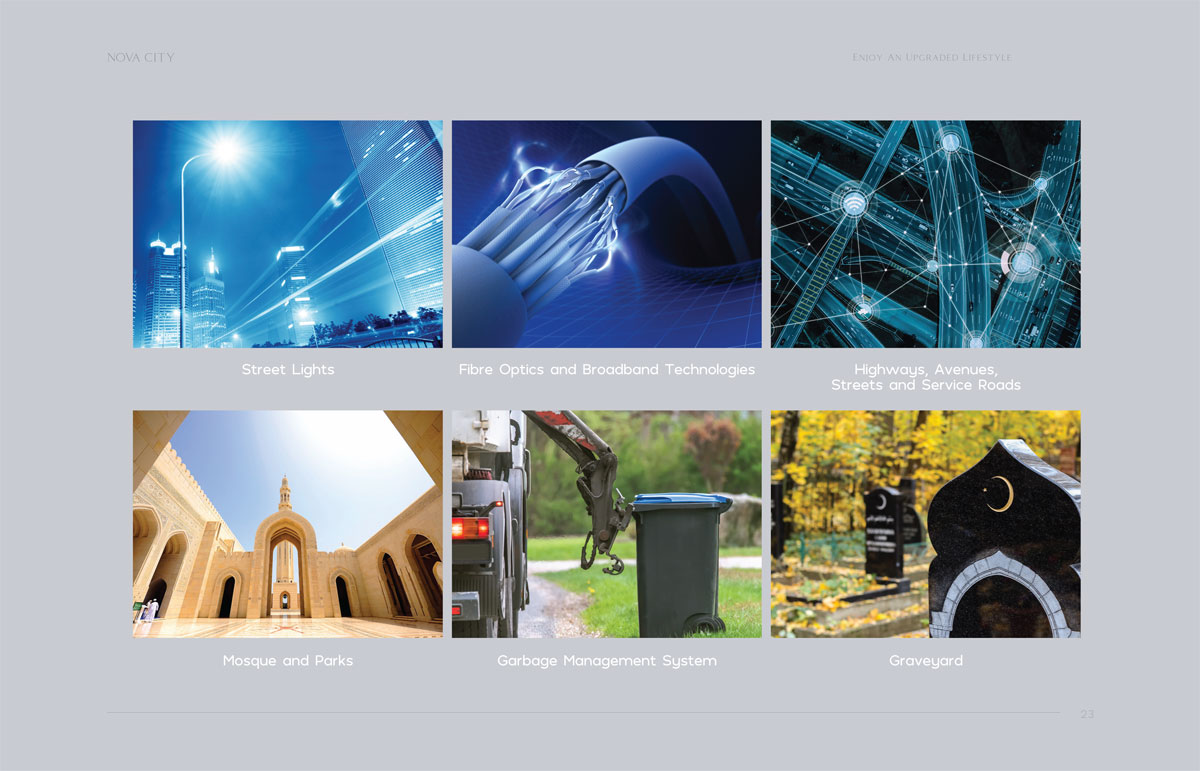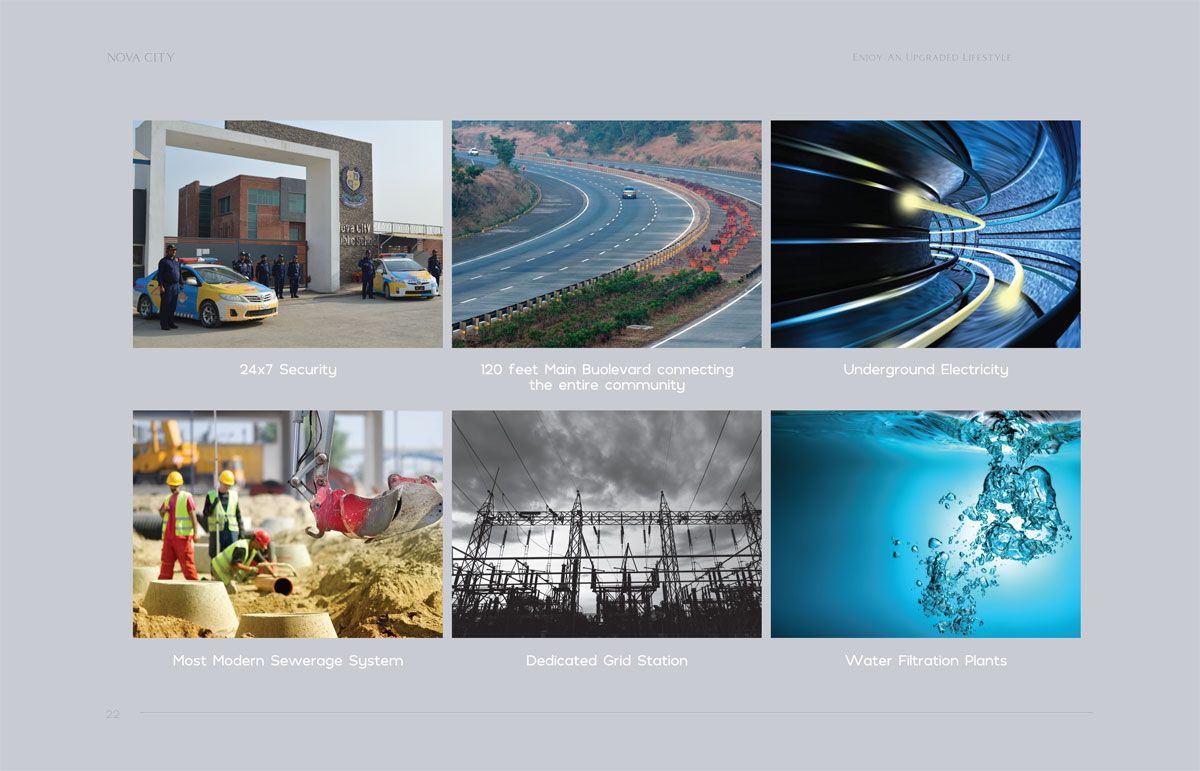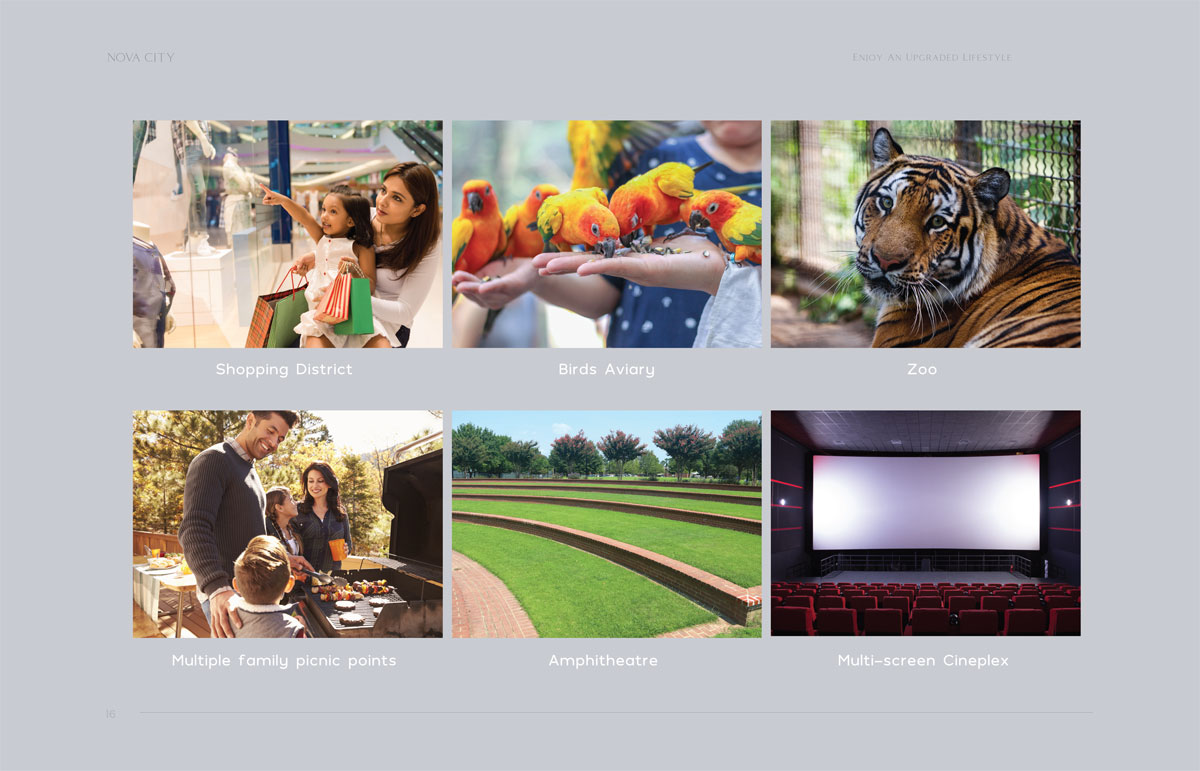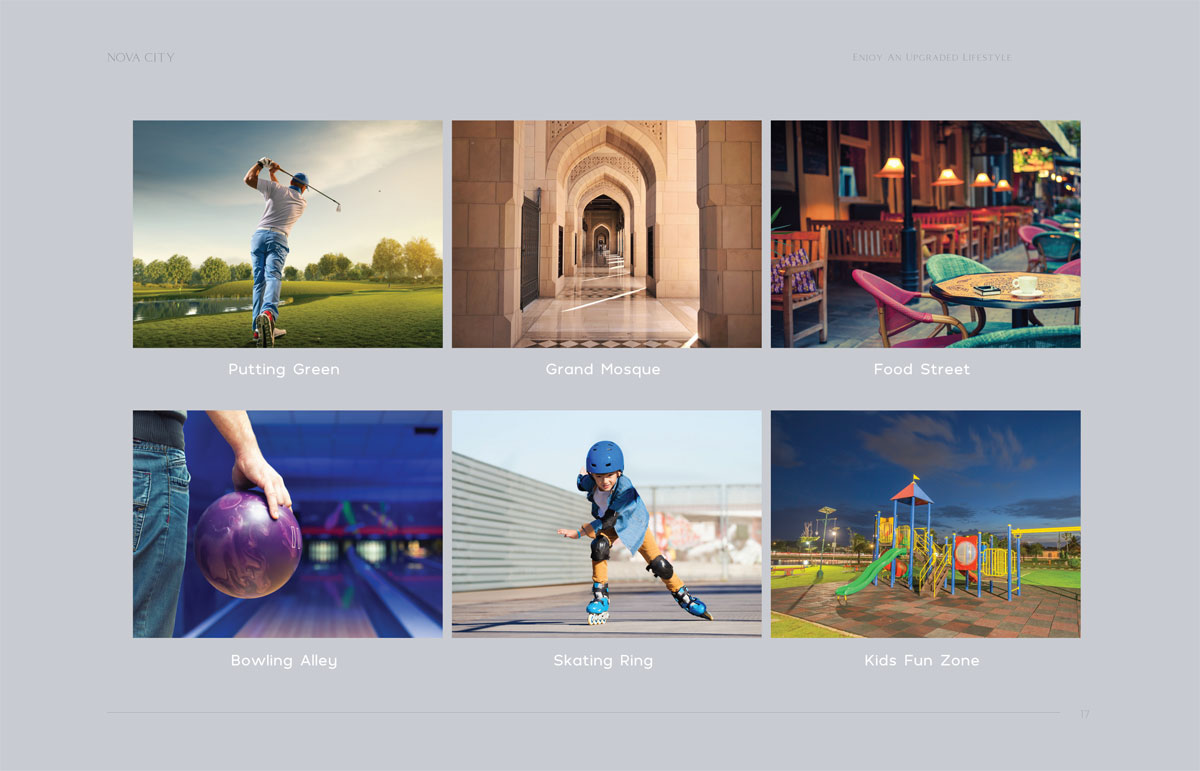 Nova City Features
Elegant main entrance
Carpeted roads
Gated Community
The vast and beautiful main boulevard
A safe and secure society
Jogging Tracks
Walking tracks
Parks & Zoo
Playland and play areas for children
Waste disposal system
Sports areas for adult and children
Medical facilities
Educational institutions
Power, Gas, and water 24/7
Commercial areas
Eco-friendly community
Pros & Cons
Following are the Pros & Cons of the Nova City Housing Scheme:
Benefits
24/7 Water supply is available.
24/7 Electricity supply is available.
24/7 Gas supply is available.
Schools are there in society.
Colleges are there in society.
Theme Parks/Recreational Areas are there in society.
Grocery/shopping malls/Markets/Malls are available in society.
A peaceful/ healthy/secure environment is all you want.
Gated community with security gates, surveillance systems, CCTV Cameras & guards
Very close to the prominent locations & other societies
Expansive planned carpeted main boulevard, Roads, streets, lanes & walk-ways for pedestrians
Well-planned drainage & waste disposal systems
Green, innovative and sustainable housing society in Islamabad
Police Station to keep the law & order
Security system
Solid waste disposal mechanism
Drawbacks
Perception of a distant location.
Conclusion
Nova City Islamabad is developing by Nova City Developers at a supreme location close to Islamabad. The site right next to the CPEC route and Rawalpindi Ring Road makes it the most affordable housing society of the future.
Society is optimistic as it has full potential to bring high yield investment returns. It is a golden chance for those who believe in a profitable future. Society promises to provide the residential area's best infrastructure development at the most affordable rates with luxurious amenities.  The Society offers a lifetime opportunity to buy any property at low speeds.
Frequently Asked Questions (FAQs)
Following are some of the FAQs about Nova City Islamabad:
Q1: What is Nova City, and what is unique in it from other housing societies?
Ans. Nova City is a better and upgraded version of a residential society developing world-class infrastructure development. It is right next to the CPEC route, and the newly bring forward Rawalpindi Ring Road.
Q2: Approval and legal matters of this housing society are completed?
Ans. Right now, the NOC of Nova City is in process with the concerned authorities, and soon, it will be approved.
Q3: Is the development work is in full swing?
Ans. Yes, the development is in full swing without any delay.
Q4: Is it an affordable housing society?
Ans. Yes, the easy and flexible installment plans provide the best plot prices in Islamabad and Rawalpindi and make it affordable.
Q5: Does this society has the capability to earn a high yield investment return?
Ans. Yes, because the installment plan is desirable and affordable, small investors are interested in investing in large numbers. Hence, it increases the chance of high investment returns.