TAJ RESIDENCIA
Taj Residencia is one of the marvels of the housing societies located in Islamabad and a proud presentation of development excellence by Sardar Group of Companies. It is planned to provide an admirable dreamland to the people of Pakistan so that they can fulfill their dreams of living in a luxury society. It will prove to be a precious jewel added to the crown of beauty and tranquility of twin cities because of its flawless planning, brilliant design, and out-of-this-world facilities.
Sardar Group of Companies requires no introduction when it comes to developing magnificent skyscrapers, complex structures, and towns. They are highly acclaimed for the construction and design of The Centaurus which speaks itself about its stunning build quality and phenomenal existence. Taj Housing Society is going to be another glorious project on their credit.
OWNER & DEVELOPERS
Taj Residencia Islamabad is a mega project of Sardar Group of Companies, which grew to a full-service urban developer from a commercial real estate firm. The exposure and expertise of the company are not limited to Pakistan only as they have served in Iraq in the automotive industry. However, they led the Pakistan market with superfluous design and construction of luxury residential complexes. They are committed to bringing unmatched style and comfort so that the residents can enjoy living in peaceful vicinity where all the finest facilities are available at arm's length.
WHY TAJ RESIDENCIA?
Home is where your heart is. Investing in a plot and choosing a society for residence always seems to be two different things, but Taj Residencia brings you the best investment option that is worth living. Do you think you will ever call a society your home that may take decades to develop? Surely, no. Taj Society Islamabad is a dream coming true for the people of Rawalpindi-Islamabad and all Pakistanis living in other parts of the country or abroad to have a home of their choice with all the amenities a man deserves.
The society is developed in a scenic location where it is connected next to the premium sectors of Islamabad that are duly recognized by the Capital Development Authority. Having such a luxury neighborhood provides a modern living style, easy access to parks, educational and healthy facility that equates to living in the heart of Islamabad.
If you are new to the construction industry and don't have to put your hands in the hassle of building a home, the Taj Housing Society brings you a team of professional architects and developers to understand your requirements to raise an admirable structure. Take a look at more reasons that may compel you why to prefer society over other options.
Magnificent Accommodation:
Have an exotic living experience of a society that is planned and developed with the latest design standards and top-quality material.  The Dream Villas is the cream of the society that is beyond the usual construction that assures a living experience beyond imagination.
Accredited Developers:
The developers of Taj Society Islamabad have proved their excellence in multiple mega projects such as The Centaurus Mall. The grandeur of the project has established it as a hallmark of a beautiful structure in Islamabad. Society is also a marvel of their perfection and eminence in buildings.
Systematic Map Design:
The design of the map is so alluring to the eyes, it is understandable that the real-life version of it will be simply amazing and unlike anything else. Although every necessity will be available within the lodging society, the residents will also be in proximity to the commercial hubs of Islamabad. This will be a contemporary lodging society, interlacing Islamabad and Rawalpindi under the skies of the future.
Brilliant Map Design
It is the map that testifies the brilliance put together in making a piece of land worth living. Taj Society has a unique and organized map that is designed in line with the standards and procedures laid down for a royal kind of town planning. It is the epitome of quality and class.
World-class facilities
The town is equipped with all basic to advanced facilities that make every household a dream villa of society. From basic amenities like medical care, educational institutes, banks, utility stores, shopping arcades to a high-tech facility like outdoor Wi-Fi connections for 24/7 internet connectivity, the society has that it takes to consider for luxury living.
Taj Residencia
Book Your Plots at the Best Prices! Now you can book residential plots
for sale in Taj Residencia.
Get Your Plot Today At Discounted Rates
Safari Parks and Botanical Gardens
The people who love nature and want to decorate their homes with beautiful flowers and plants can visit botanical gardens. Safari Parks are also proposed in the map so that the residence can have more options for awareness of their kids about nature. They won't need to travel far and wide for safari visits.
Master Plan
Taj Housing Society has an amazing master plan. It is segregated into eleven blocks, out of which four are developed. The project is going to attract more investors for using premium quality material in the development of the town under the supervision of industry veteran builders. The blocks ready for investment includes;
Block A

Block B

Block C

Block D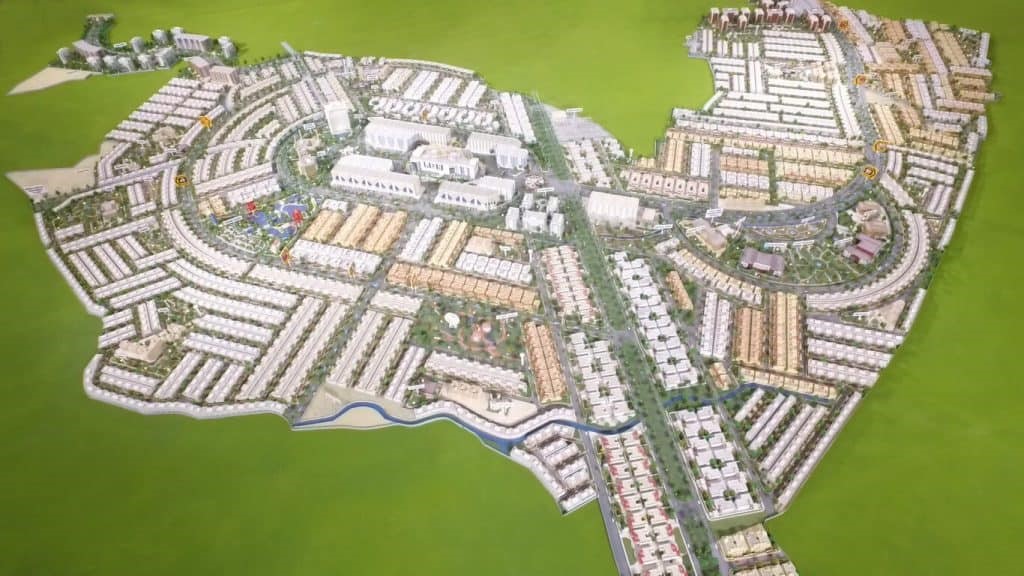 Location Map
The society is situated near CDA Sectors that are I-14, I-15, and I-16. It rewards the residents with a strategic place to live in twin cities thus making it easily accessible from the G. T. Road, the Motorway, and the proposed Rawalpindi Ring Road. RDA has approved a land of 10,000 Kanal for the project. The nearest locations include Quaid-e-Azam International Hospital, Riphah University, NUST, DAEWOO bus service, and many more.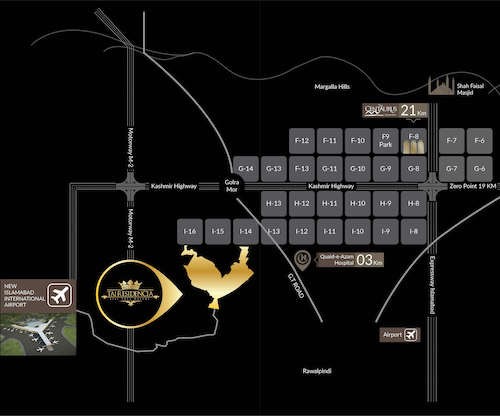 Access Points
Initially, the society can only be reached via Islamabad's sector I-14 link route. However, it will soon be made accessible from Rawalpindi's Ring Road. It will be an additional entry point that will connect residents with more locations and reduce the commute. The Rawalpindi Ring Road access will lead to Motorway as well.
Residents will be able to reach the Islamabad International Airport in 10 minutes, the Centaurus Mall in only 20 minutes, and the Quaid-e-Azam International Hospital in only 5 minutes. This central location remarkably adds to the value of the project.
NOC & Planning Permission
The Rawalpindi Development Authority (RDA) has approved the NOC (No Objection Certificate) that has allowed the society to plan and develop the town ahead. The legal formalities have also been dealt with by the relevant authorities.
Plots For Sale
One size does not fit all that's why the management has offered a variety of plot sizes with the distinction of the regular, corner, and park or main boulevard facing. The Dream Villas are completely developed and ready for investment. Hurry up to reserve a plot before they are sold.
The available sizes in Residential Plots are:
5 Marla

8 Marla

10 Marla

1 Kanal

2 Kanal
To have a plot in The Dream Villas, look at the available sizes that are:
1 Kanal villa

1 Kanal Model Villa

14 Marla Villa

10 Marla Villa Mediterranean

10 Marla Villa Eclectic

10 Marla Villa Modern
Taj Residencia Payment plan
Sardar Group of Companies offers an enticing Taj Residencia Payment plan that is as majestic as the society itself. The land that is worth of million rupees is now made affordable for the common man to enjoy a grand lifestyle.
The installment plan offers a 20% down payment plan for 10 Marla, 14 Marla, 1 Kanal, and 2 Kanal plot sizes. About 6% discount will be given if full payment is paid for the plot. If you are getting a category plot like Corner plots, Main Boulevard, and Park face then a 10% additional fee will be applied.
1.5 Year Payment Plan
With a 20% Down Payment and 6 quarterly installments, anyone can become the owner of a commercial or residential plot.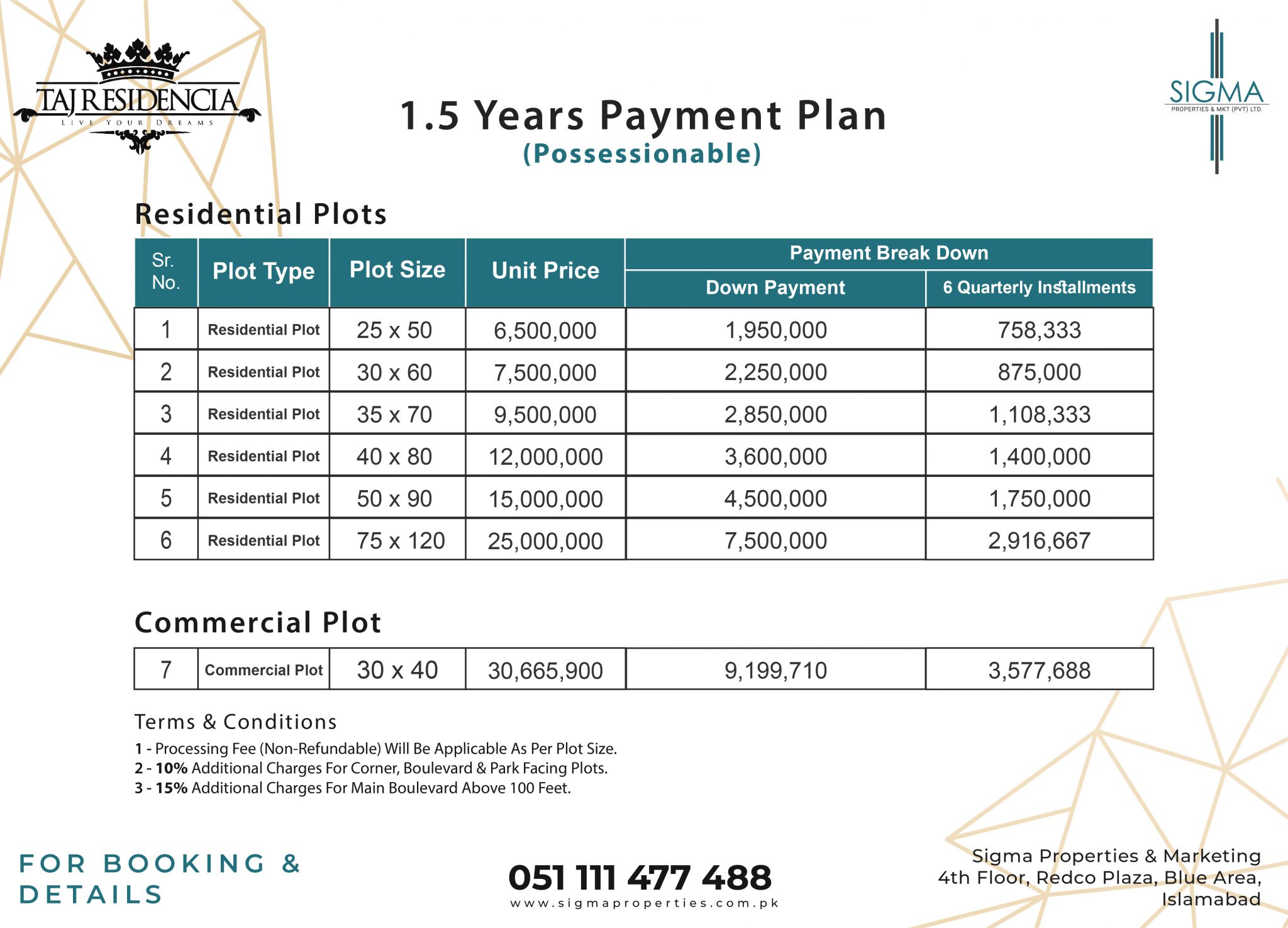 2.5 Year Payment Plan
Booking starts with a 20% Down Payment while the remaining amount is paid in 10 quarterly installments. Plots with additional perks like a corner, boulevard, and park facing will incur additional charges of 10% of the plot price while 15% for Main Boulevard above 100 feet. Investors can find it easy to invest a part of their income every month in one of the greatest projects.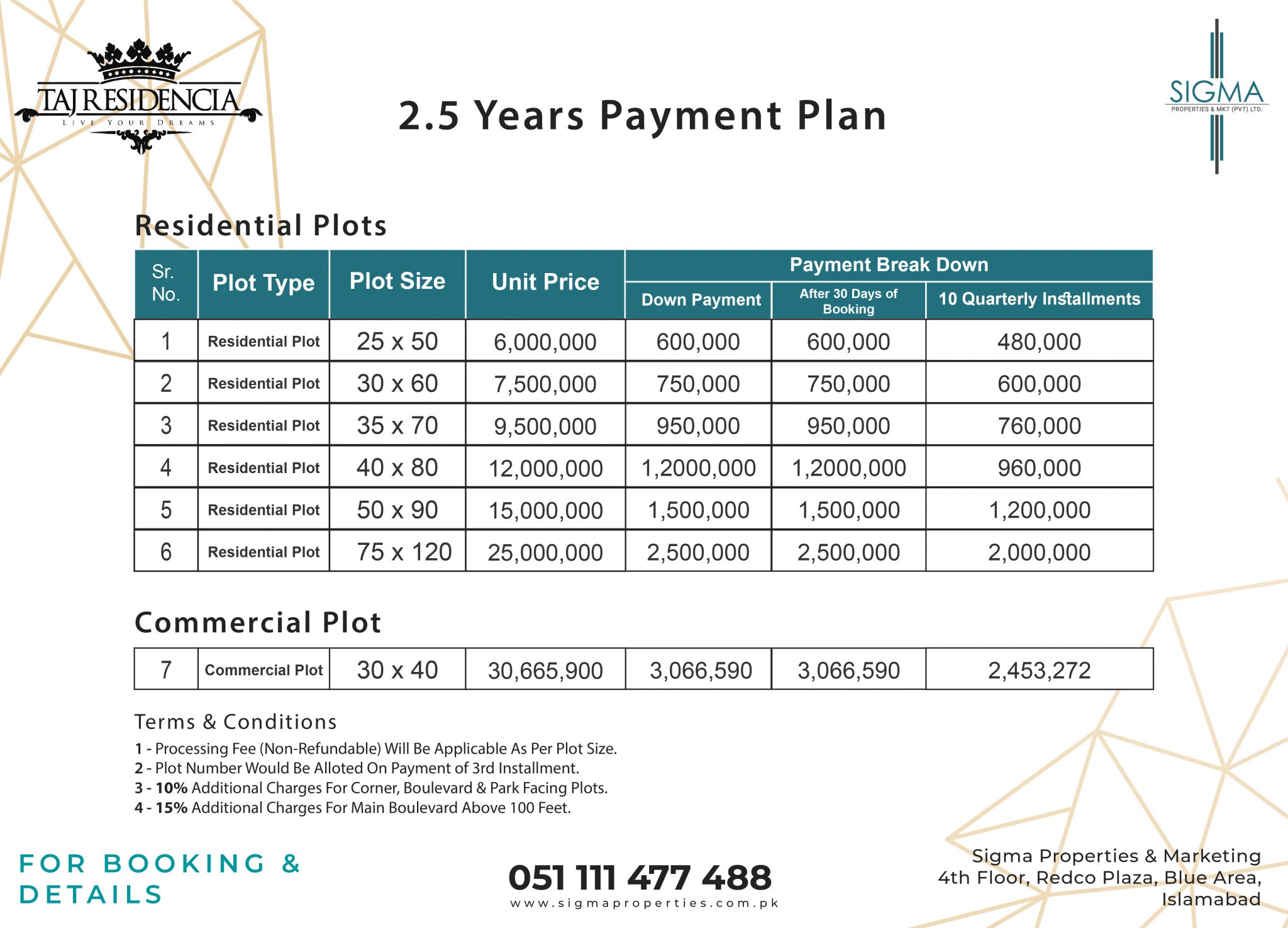 3.5 Marla Payment Plan
Denomination of 3.5 Marla residential plots is high in demand that's why we have devised a separate Taj Residencia Payment plan for it. The plan spans over 4 years with 16 quarterly payments.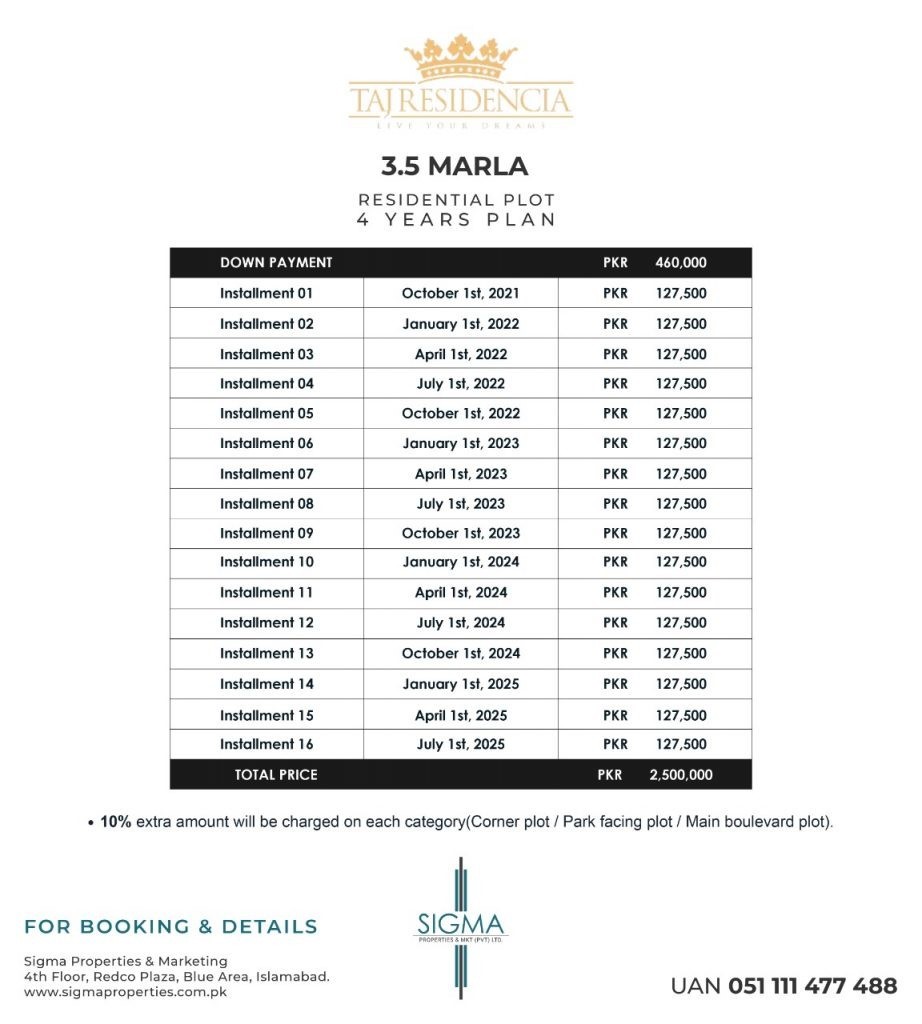 Pakistan Package 5 Marla Payment Plan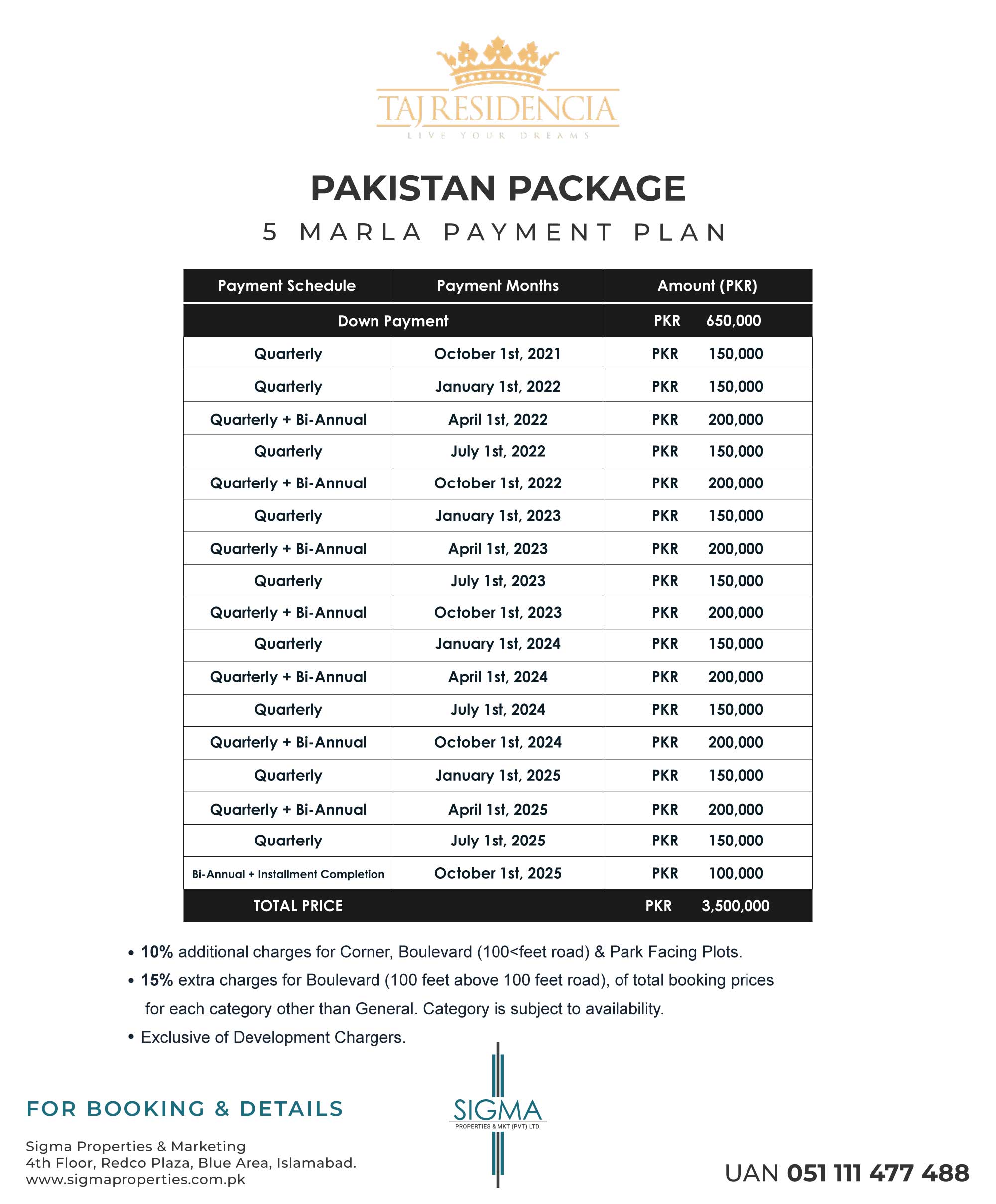 Payment Plan of 1 Year Installments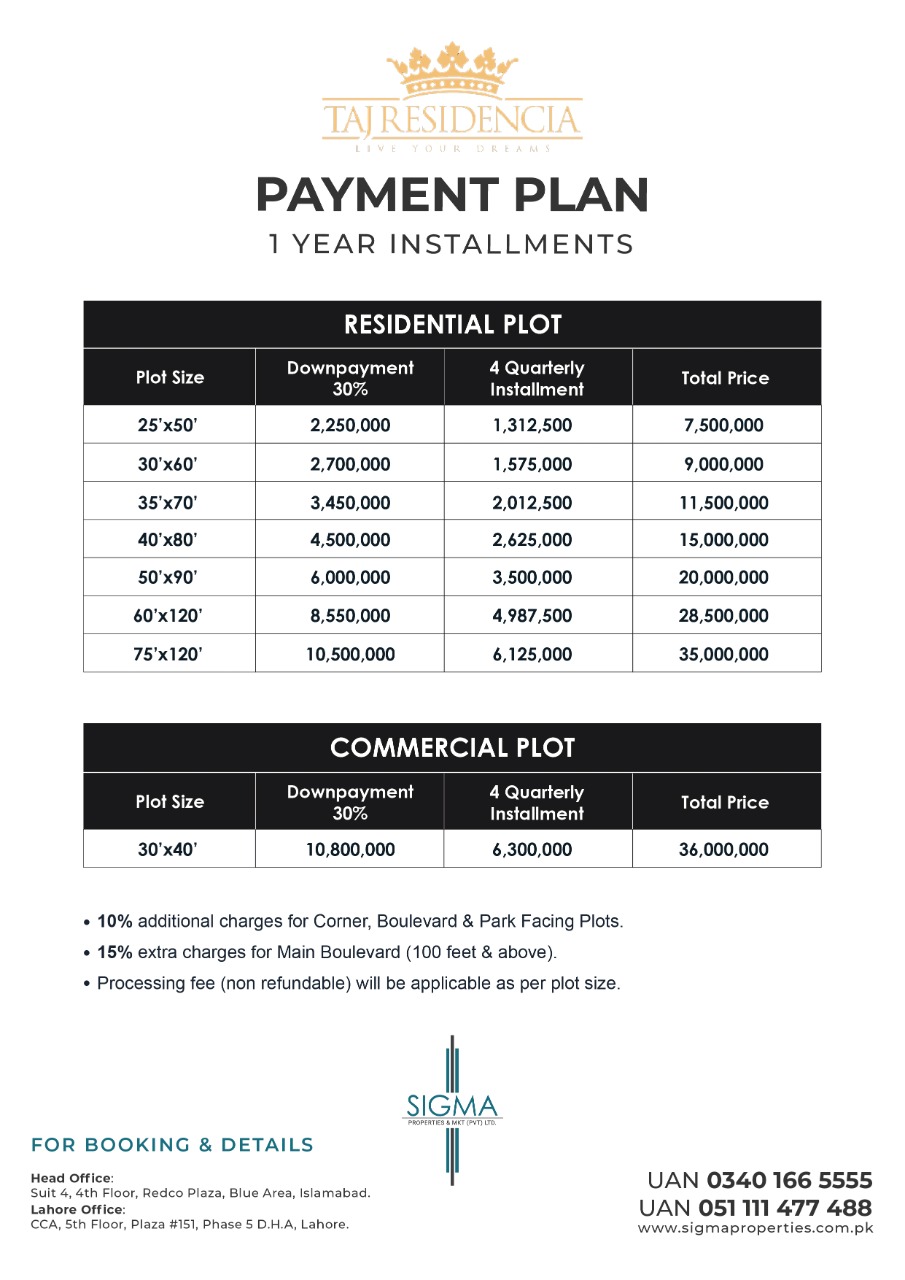 Dream Villas
Every best possible facility is provided in Dream Villas. From a perfect design to top-quality material, every villa is a masterpiece of excellence. The interiors are out-of-this-world as the management has specifically focused on the installation of fixtures and fittings, and its spot-less finishing.
Category plat in Dream Villas such as a corner or main boulevard facing will cost 15% additional cost, whereas park facing villa comes at 10% extra cost. Seeing the impressive and incomparable development quality, Dream Villas have become a demanding section of society as most of the plots are already sold. The price hike is expected soon with the demand raise.
Taj Housing Society New Booking
With continuous queries and demands, the management of the Taj Housing Society has introduced a unique plot size of 3.5 Marla in the residential sector. It is a favorite variety of a majority of investors and household consumers. The bookings are open now so anyone can consider it to secure space in the most attractive and demanding section. Look at the image below for a complete booking plan.
How to Book a Plot in Taj Society Islamabad?
To book a plot, you can reach out to our experts at Sigma Properties. They will guide to about the complete process after clearing any ambiguity if you have in your mind. Make up your mind and come well-prepared to book a plot as soon as possible. You may need to bring:
Two passport size photographs

A copy of your CNIC – Computerized National Identity Card

A copy of the ID of the next of kin/nominee

The booking amount can be paid in pay order, cash, or a direct transfer to the company's bank account.

The booking amount is 20%
Unique Features
Taj Residencia is unique in many aspects. First of all, it is a well-planned town where every inch of land is planned according to the global standards of housing development. The opportunities it offers to residential and commercial consumers are unparalleled and second to none. The society has its own Safari Parks, Commercial Centers, Playing Areas, Royal Clubs and Communities, Botanical Gardens, Health and Educational institutions, Grand Mosque, and most significant of all the Centaurus 2 which is itself a mega-mall to suffice all the shopping, entertainment, food, and outing needs. The unique features are listed below as well for your ease to quickly go through them and imagine the splendid atmosphere and lifestyle of the society you are about to invest in.
The Centaurus Mall 2

Modern Hospital

Educational Institutes

Theme Park

Safari Park and Botanical Gardens

Residential Towers

Grand Mosque

Royal Club

Mini-Golf Course

Commercial Hub & Shopping Centers

Sports Complex

Oval Park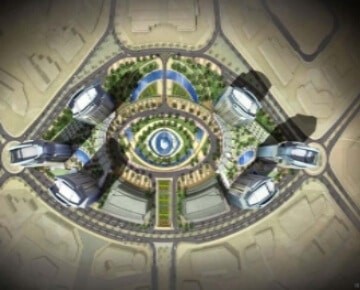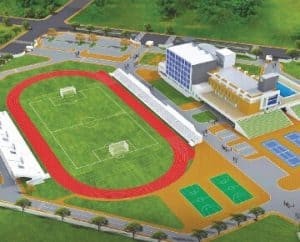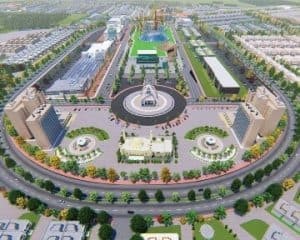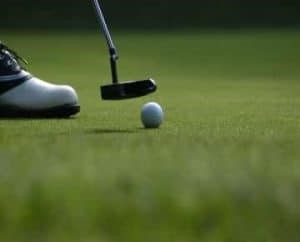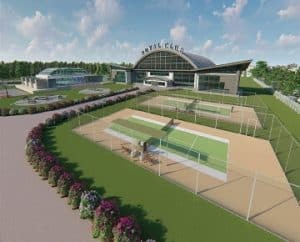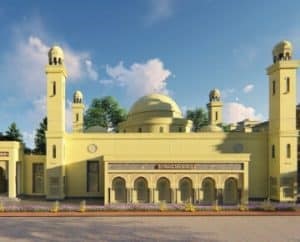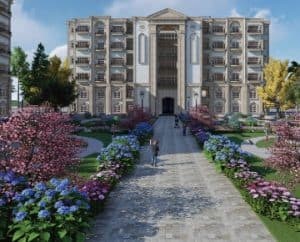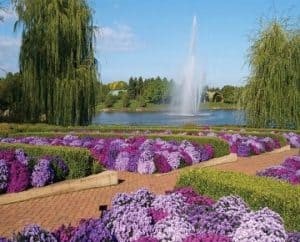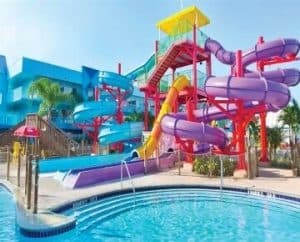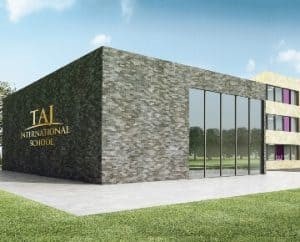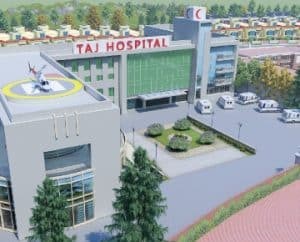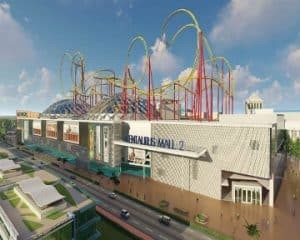 Facilities
From basic to advanced and royal facilities, all are made available in society. Sardar Group of companies has fulfilled their promise of providing an exotic and luxury town with countless blessings of modern art and technology. The beautiful dream villas are something not to be missed either you plan for investment or choose a living place. 
State of the art Hospitals

World-class educational institutes

Uninterrupted water, gas, and electricity

Free Wi-Fi connections

Polo grounds

Sports complexes

Gyms

Gated community

Boundary wall

Wide roads and passages

24/7 security and surveillance

Filtered water

Commercial hubs

Hotels and restaurants
Pros and Cons
Pros
A Lavish Residence
In exchange for your hard-earned money, Taj Residencia Islamabad offers you a desirable lifestyle with world-class amenities. Investing in this lodging facility will bring you multifarious benefits. You deserve what you pay, but here the society award you with a lifetime experience of living luxury that is not found anywhere else in the town.
Closed to Important Places
Society is closed to significant parts and places of the twin cities. Being situated at the brink of the Islamabad right where the CDA sectors start, the society provides easy accessibility to famous places such as Quaid-e-Azam International hospital, and a clear passage to other parts of the city. The route helps you skip the busy I. J. P. road as one can easily use Srinagar Highway and the G. T. Road to travel between the two major entry points of the twin cities.
Unceasing Supply of Utilities
The society has managed in getting dedicated connections and pipelines for ensuring an interrupted supply for gas, water, and electricity. The 24/7 availability of such basic facilities is more than a blessing as most of the sectors are either deprived of water or gas, with distortion in electricity.
Organized Map and Construction Plan
The map of Taj Housing Society is planned by seasoned designed and executed by structure veterans. With wide roads and pathways, the infrastructure gives the feelings of walking and living in foreign. The parks are some of the worthy places to spend time in.
Immediate possession with Down Payment
The society sought possession of plots as soon as the down payment is cleared so that investors can start development immediately. The quick plot allotment makes society a suitable option for most potential investors. No wait is needed for clearance as the society pursues speedy development that will further elevate its importance and popularity.  
Expansion Scope
The project is stated with Phase 1 initially, however, the land reserved for Phase 2 has also been leveled up. It is also developed and ready for the investor's glance. It may prove to be a massive achievement in the expansion of society. More businesses, investors, and top brands will consider looking into this project in detail.
Suitable for Overseas Pakistanis
Securing a worth-living space and investing in a legal society is what a dream of every overseas Pakistani. Taj Residencia offers them a dream society where their investment remains in the safe hands of the management and they are provided with luxury living in return. It is the place where they find peace of mind whiling handing over their hard-earned money.
Cons
Long Development time
The master plan of the society includes complex structures and well-planned infrastructure, which may consume a bit longer time than usual. To ensure the build quality and luxury lifestyle, the project is moving ahead slowly but steadily towards its completion. It may be a disadvantage for people who are in a hurry for getting a living space or the investors seeking get-rich-quick schemes.
Expensive in Contrast
The Taj Residencia Payment plan depicts that the society may cost a bit higher if compared to the alternative options available in the market. However, the facilities it offers are also unmatched in twin cities. Evaluating a complete project on price comparison will be unjust to this society.
Conclusion
Taj Residencia Islamabad is a society one of its kind that equally caters to the needs of residential and commercial consumers. From the general plot category to dream villas, and commercial plots to shopping complexes, it has a resident may want. If you would like to know more about the society or need to explore more options, please don't hesitate to get in touch with our expert consultants.
FAQs
Most frequent questions and answers
Who is the owner of Taj Residencia?
Sardar Group of Companies own Taj Residencia. It is the same company that has developed the Centaurus Mall.
Where is it located?
It is situated in Islamabad near the CDA Sector I-14 & I-15.
Is the NOC approved by CDA?
The project NOC is certified by the Rawalpindi Development Authority (RDA). It is adjacent to the CDA sectors I-14, I-15 & I-16, but falls in the Jurisdiction of Rawalpindi Development Authority (RDA)
Why you should invest in Taj Residencia?
It offers luxury to residential consumers while upscale business opportunities to the entrepreneurial mindset. Getting a dream house in the most exotic location of Islamabad which is away from the rush areas but closely connected to it. One of the biggest reasons is that the society will get a separate shopping complex that is The Centaurus Mall 2.
What types of plots are available?
Various types of plots are available that starts from 3.5 Marla and go to 5, 8, 10, and 14 Marla and 1 to 2 Kanals.
When will be the possession of the plots granted?
The society grants possession of plots in the developed blocks once the deposit is formed. Possession will be granted after 3 years.
What is the price trend seen in the prices?
The prices have increased drastically from the first day the booking started and continuously rising. Since the project boasts world-class amenities, every investor is looking into having his fair of profit.
Is there any discount on the plots?
Yes, you can get a 10% discount on a lump sum payment of any plot.
What makes Taj Residencia better than other societies?
With the launch of elite societies like Gulberg Greens, Capital Smart City, Park View City, this society also got attention because of its distinct town-planning, interior and exterior designing, infrastructure, and its proximity to the major locations in Rawalpindi and Islamabad.
Does it provide the facilities I am looking for?
Yes, it provides all the facilities you desire for. Read the above information for your satisfaction.