Kingdom Valley Islamabad
Innovative, progressive, and tranquil are some of the words that can be used to describe the kingdom valley Islamabad project. Kingdom Group has launched this project in collaboration with the Naya Pakistan Housing Scheme. They aspire to give individuals magnificent yet comfortable living. People's lives will be transformed as a result of this housing society initiative. In this article, we will explore the location, accessibility, residential plots, and amenities provided by Kingdom Valley Islamabad.
But before we talk about these things, let's have a peek at what this project has in store for people. This housing scheme is here to offer a heavenly lifestyle to the people. They are surrounded by artistic landscapes that are aesthetically pleasing. The refreshing air, serene environment, chipping of birds, advanced technologies, and cutting-edge state-of-art is all Kingdom Valley has in store.
Owners & Developers
Among the most popular questions in every community is who owns and develops that residential project. Ghulam Hussain Shahid is the proprietor of Kingdom Valley Islamabad. The development work is being overseen by him. They go out of their way to give inhabitants the finest residential complex available, along with all features and luxuries. This home development was once merely a utopian dream, but it is now a reality.
Location
It is a great escape if you want to flee from the hustle and bustle of the city. At the same time, it has all the luxury facilities that a city can provide. With its exquisite surroundings and peaceful aura, you will fall in love with this masterpiece. It is located on M-2, Lahore Motorway. Only 5 km from Rawalpindi Ring Road, 5 km from Thalian interchange, and 10minutes from Rawalpindi Cadet College, having such a central and unique location makes this housing sorority more attractive.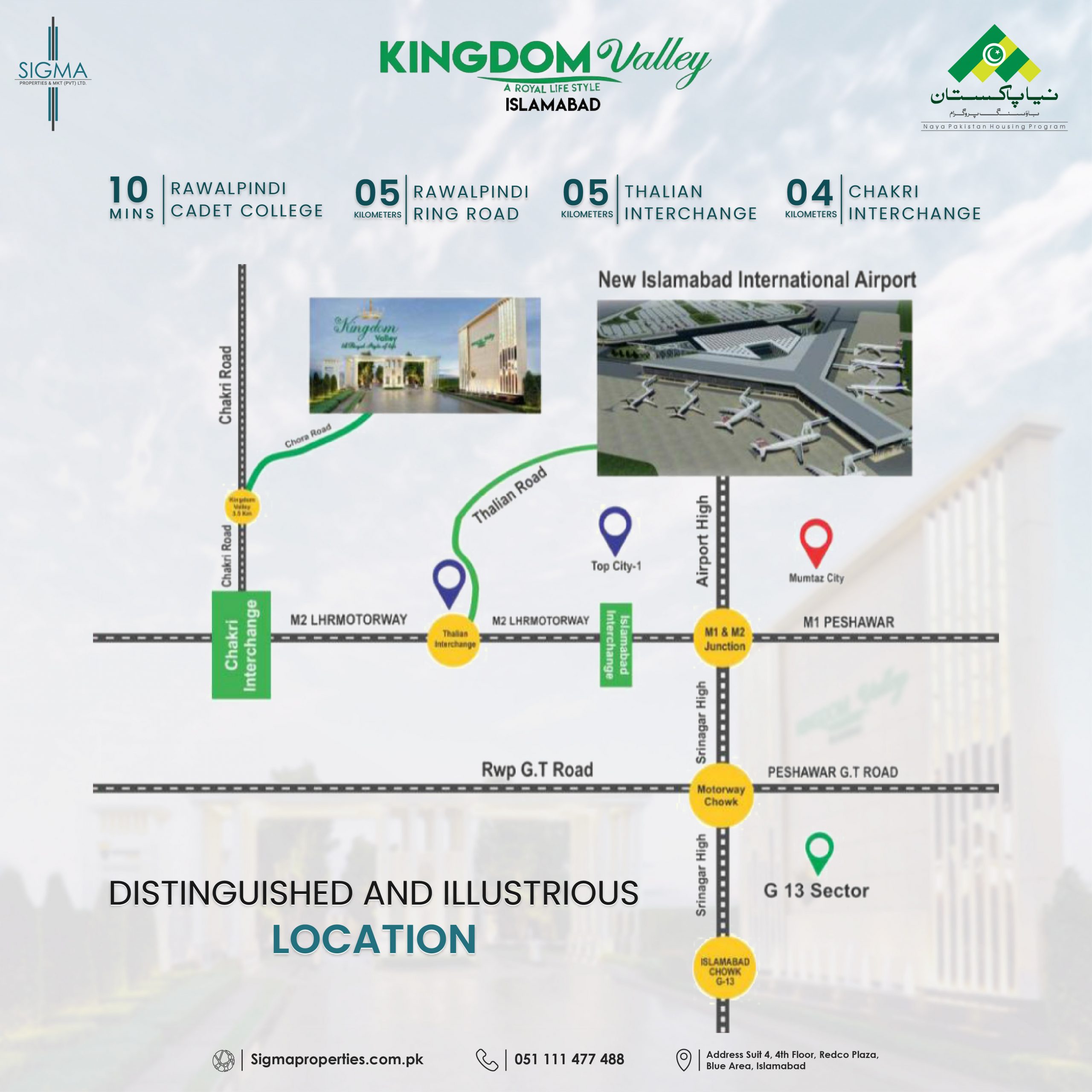 Kingdom Valley Islamabad
Book Your Plots at the Best Prices! Now you can book residential plots
for sale in Kingdom Valley Islamabad.
Get Your Plot Today At Discounted Rates
NOC Status
The No Objection Certificate (NOC) of this housing complex is approved under Prime Minister Imran Khan's Naya Pakistan Housing Scheme. The approval number is DRG/PHATA/2176-2021″. All the approved housing complexes have high chances of rapid development. The plus point of the community is that it is under PM's scheme so it will be flourished earlier.
Payment Plan
Are you wondering about the payment plan? Kingdom Group has magnificently unveiled a simple payment plan for the ease of its consumers. And as the venture is sanctioned under Naya Pakistan Housing Scheme, it is put together extraordinarily for all kinds of consumers, despite their financial backgrounds. Featuring a 48-month installment plan, Kingdom Valley possesses a cost-effective payment plan.
layout
To develop the remarkable layout design of this housing scheme, many experts invested their blood, sweat, and tears. The layout design did not come together in a day or two; rather, it took several years to finish. It was ensured that the community has all of the safe, comfortable, and luxurious amenities.
The high-profile infrastructure was designed with the help of hundreds of qualified engineers. Doesn't matter if it's a residential or commercial plot, we are offering investment in both.
Residential plots
We are offering you a hundred residential plots located at different locations. Whether it's the main site, a park area, or you want a plot near the main entrance, we have low-cost plots in Islamabad. Purchasing an asset here is one of the most profitable investments that will convert your lacs into crores. All you have to do is to choose a plot that suits you best. Then reserve it. You will be awarded ownership of the land after you have reserved it. And then you can start constructing your dream house. The kingdom Valley offers a home plot in the following sizes.
5 Marla
7 Marla
8 Marla
10 Kanal
1 Kanal
2 Kanal
Amenities
When it comes to the features of this incredible community, it is providing you with all the modern and luxury facilities. While opting for this wonderful housing complex you are opting for all the contemporary facilities that a city can provide you. While giving you the best tranquil aura, away from all the hustle-bustle and pollution a city costs you.
While developing the layout design, the engineers and developers have carefully spared a significant area for the construction of playgrounds and mainly the theme park. Kingdom Group's goal is to change people's lifestyles and behavior. This is why they have allotted a large area for a theme park. Where the children can spend most of their time playing. Even the adults can spend their leisure time there, watching their children playing and befriending their neighbors. Furthermore, all of the dwellings in a society will be surrounded by a lovely and serene aura.
Enlisted are the extravagant and delightful facilities offered by us in this society.
Green Collar
It gives you a green collar that is both environmentally beneficial and visually appealing. The greenery is refreshing and evokes feelings of joy. Moreover, the green collar is built to build an ecofriendly environment and prevent pollution and poisonous air, which not only harms the environment but is also damaging to one's health. Such a kind of aesthetic, refreshing, and placid experience cannot be found in any other housing complex.
Safety
Our utmost priority is the safety of their people. The whole community is guarded, and any kind of negligence is intolerable. The gateway of this community is guarded heavily so that no unauthorized person can enter the sorority's premises. Even CCTV cameras are installed at the gateway and inside of the community. So, that no illegal activity or any kind of harm can be done by any person. Serious measures are taken against the individual who commits such offenses.
Cemetery
Death is inevitable. No power on earth can avert or change the time of death. So, the cemetery is a significant aspect of people's lives. Keeping this in mind, we have decided to build an ornate graveyard within the society itself. So, that people can bury their loved ones there. Upon getting a chance, they can visit the graves of their loved ones without any fatigue. Furthermore, you don't have to worry about the security and environmental hygiene of graves. Adequate measures will be taken to ensure that the graveyard looks quiet, Populus, and clean every time you visit.
Business and Industrial Centers
This real estate firm is responsible even for the commercial needs of residents. Proper, well-furnished, and eye-catching business and industrial centers will be constructed to fulfill the commercial needs.
Water Facilities
Water, one of the prevailing issues that people have to face in Pakistan even in urban areas. But this beneficial complex has vowed to solve this issue too. They aim to provide people with a tension-free life. For this purpose, huge water reservoirs are constructed where all the residents can store water and use it without any worry. As far as drinking water is concerned, water filters are built. Proper measures are taken by water facilities authorities to ensure their hygiene and cleanliness. So, that all the residents can get clean and pure water.
Medical Amenities
The developers of Kingdom Valley Islamabad have given full attention to medical resources. Thousands of qualified doctors are working to build international hospitals and clinics. They will be active 24/7. Doesn't matter if it's 2 in the morning or at night, specialized doctors will be at your service. Alongside, hospitals, laboratories will also be constructed by medical facilities corporations where you can get your testing done. Special attention will be paid towards the environmental hygiene of hospitals and equipment placed in a hospital to prevent any kind of devastating situation.
Magnificent Mosque
We aim to fulfill all the needs of a people, doesn't matter if it's religious or basic needs. Keeping in mind the culture and the religion of the Pakistani people, the developers of a kingdom group aims to construct a magnificent mosque, where all the people can offer their prayers. The heartwarming voice of azan, aesthetically pleasing view of prayers, soul-stirring recitation of Quran, irresistible infrastructure, is all that magnificent mosque has that will conquer your heart.
Education Facilities
"Education is the most powerful weapon you can use to change the world."—Nelsen Mandela
Following the well-known proverb of Nelsen Mandela, the developers of the Kingdom Housing project have paid special attention to the education complex. Educational organizations that are well equipped and of a high standard have been built. Highly qualified professors will be in hand to train the minds of youngsters. Education is the most significant component of life since it not only transforms individuals but also has the potential to change entire societies.
Theme Parks
Theme parks are expressly developed for the sole purpose of entertaining society's inhabitants. Youngsters can play in the parks. Adults can also spend their leisure time there. The park's refreshing and heartwarming beauty is the cherry on top that will revitalize its surroundings.
Documentation:
To buy land in Kingdom Valley Islamabad, you need the following documents.
Copies of National Identity Card (NIC)
Down payment cheque, cash, draft (depends upon buyer)
Passport size photographs
NCIOP for international clients
Booking Method
You can book your land here by following the procedure below.
Firstly, you have to fill the booking application form. Fill this form with utmost care. Cross-check the information at the end.
Then attach your CNIC copies with the form. Ensure that your CNIC is authorized from NADRA and is not expired.
Now pay the down payment to Kingdom Valley in form of a cash, cheque, or bank draft. That depends upon you.
In the case of cash payment, you have to confirm this from management. After the clearance from management, a cash payment will be taken.
Now submit all the documents and get the payment receipt.
Pros & Cons
While talking about the pros & cons of this real estate firm, everything comes under the list of pros, except one thing. This society is having unconditional benefits and facilities they can provide to their residents. Likewise, when something has a lot of advantages, it's simple to overlook the one little disadvantage.
Pros
One of the main advantages of this real estate firm is that its No Objection Certificate (NOC) has been approved.
It's approval under Prime Minister Imran Khan's Naya Pakistan Housing scheme.
It is having a unique and ideal location.
High-profile and extravagant plots are available at low cost.
It is an easy and four years installment plan.
It aims to provide its inhabitants with a tranquil environment.
All the facilities, from medical to educational, commercial to entertainment, will be provided.
Cons
In comparison to other housing societies, the margin of profit in a low-cost housing society will be small.
Final Verdict
Wrapping up, Kingdom Valley Islamabad is having an ideal location. It is intended for people who want to enjoy the comfort and peace of life. Its one-of-a-kind location, sophisticated infrastructure, and high-profile animate make it the ideal place to live. The fact that it is NOC authorized under the Naya Pakistan Housing Scheme adds to the benefits and attractiveness of this community. In a nutshell, it is the finest place where you can alter your lifestyle or start your real estate investment. And with the help of our guide, you won't feel any difficulty in doing so.