Top City Islamabad
Top City Islamabad is the optimum paradigm of unmatched quality and excellence. It is an exceptional lodging society equipped with first-rate amenities. The project has seen steady growth since its inception in 2012. The project offers an innovative infrastructure that reflects a modern lifestyle for those who want to keep up with technology and live more efficiently.
Owners and Developers 
Top City is an innovative project by the Kunwar Moeez Khan Constructions (KMKC) with the CEO, Kunwar Moeez Khan. He has contributed to the real estate sector significantly over the past few years. Kunwar Moeez Khan is a genuine nationalist and a forward-thinking realtor who prioritizes improving the quality of life for the citizens. He is a visionary who has consistently recognized and valued his team's commitment to achieving their goals.
Kunwar Moeez Khan Constructions (KMKC)
Kunwar Moeez Khan Constructions (KMKC) has a working stratagem based on incorporating best international practices throughout the design and construction process. By demonstrating professional abilities and honesty, the KMKC aspires to set a high standard in the construction industry. For the implementation of their artful planning, they have hired qualified engineers and talented architects. Apart from Top City Islamabad, Kunwar Moeez Khan Construction has also directed the development of KMK Towers, the success of which is a reflection of their top-notch expertise and reliable energy towards the real estate sector.
 Top City Islamabad Location
Top City Islamabad is promoted as an intelligent global city to complement its high-profile neighbouring housing society, Capital Smart City, Pakistan's first smart city. The housing project is located on the Srinagar Highway, previously known as Kashmir Highway, near the New Islamabad International Airport.
It is located on the Srinagar Highway's southern side.
It is at the junction of the M-1 and M-2 motorways
It is 3 kilometres away from the New Islamabad Airport, and the H, G, and F blocks of Top City are close to the airport's gates. The nearest is G Block, which the CAA has taken over due to security concerns.
NOC and Approval
The society's NOC has been authorized and is registered with the RDA. It has obtained all necessary permits from RDA and ICT, CAA, NHA, and the Department of Environmental Protection. For further confirmation, you can look up the information on RDA's official website.
Top City Islamabad Map
Top City-1 is easily accessible from Srinagar Highway, formerly named the Kashmir Highway, and the route is simple for anyone to pursue. The society is only 10 minutes away from the Federal Capital, and the New Islamabad Airport is only 3 kilometers away. Since the Srinagar Highway Extension from the motorway intersection around New Islamabad Airport was under construction for some time, an alternate access route has been identified from the Fateh Jung Road.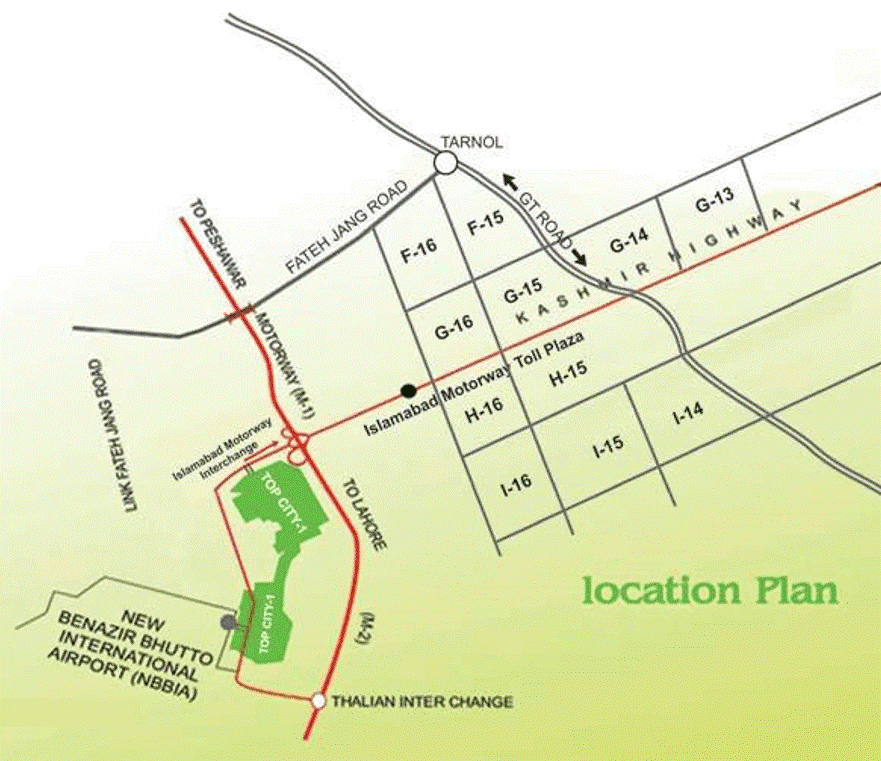 Top City 1 Master Plan
Top City 1 is a colossal property that spans 5906 Kanal and is divided into many blocks, including A, B, C, D, E, F, G, and H. However, given the risk of being adjacent to the New Islamabad International Airport, CAA has taken over Block G of the society.
The project also includes a variety of farmhouses in addition to residential and commercial properties. The following is the housing society's comprehensive master plan: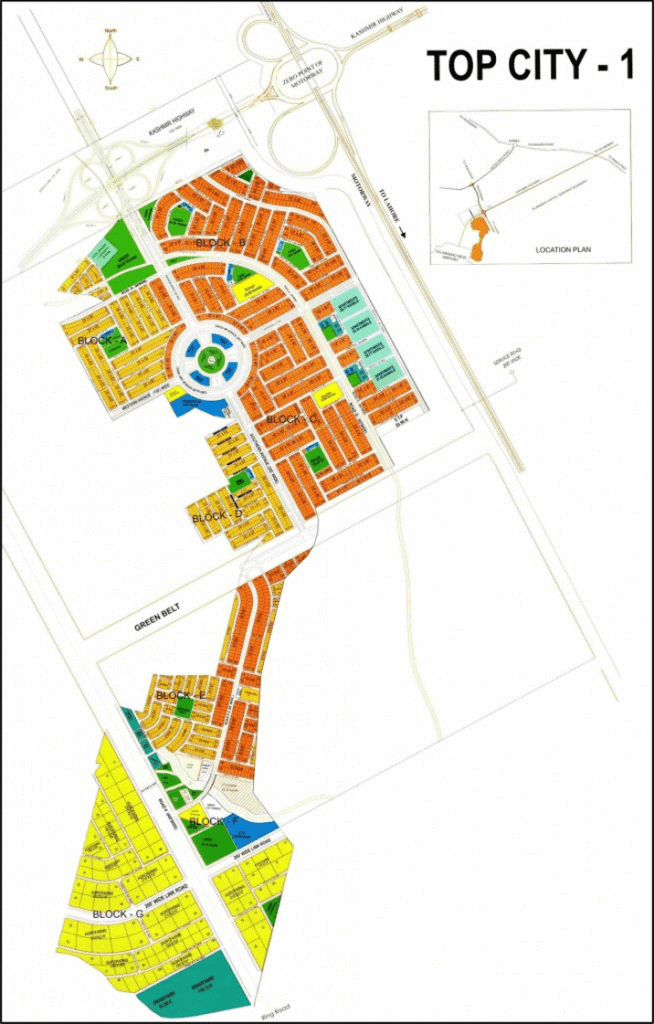 Features
Commercial District
The commercial area of Top City will be equipped with shopping arcades, utility stores, restaurants, banks, and offices. It will be the heart of the lodging society where all the investing energies are focused. The residents will have access to every need of theirs within the lodging society.
Cinemas
The cinema is an excellent complement to the entertainment life of the lodging society. It will play all of the biggest Hollywood and Bollywood blockbusters as well as local movies. The residents will enjoy the fun trips to the theatre because they will find a tranquil environment with comfortable seats and flavored popcorn.
Central Parks
The housing society will have a network of walkways and jogging tracks consisting of benches and manicured grass, with trees and bushes covering most of the park's space. The parks closest to residential areas will have well-laid walkways and jogging tracks with benches and trimmed lawns.
Educational Institutions
Top City Islamabad's educational establishments will give an interactive learning experience with modernistic computer and science labs, sports grounds, and other amenities to help our students grow. The country's finest instructors will be teaching there. The parents will not have to worry about their children going far from home to acquire education.
Hospitals
The dwellers will receive quick medical aid from the housing society's hospitals, including services in neurosurgery, pathology, dentistry, general surgery, psychiatry, and vice versa. Small clinics will be located at a convenient distance from the residential area.
24 hour Security Surveillance
The top city will be under 24-hour surveillance. The housing society is a gated community with CCTV cameras, armed security guards at every corner, and a wireless security system.
Underground Utilities
The lodging society provides a 24/7 supply of the utilities of water, electricity, and gas. The pipelines have already been laid.
Mosques
Central Mosques are built in the lodging society for the congregational prayers.
Development Status
The development work in Top City Islamabad Latest News is nearing completion. In most of the regions, half of the development has been done. The 1 Kanal plots in Block B are available immediately, although the blocks C, D, E, H, and F are undergoing rapid development.
Signboards with road and street names have been placed throughout the housing society to make it easier for guests and residents to locate various sites. The subsurface energy, sewerage, and waste management systems have also been developed.
Top City-1 also claims to incorporate all of the most cutting-edge technologies such as fiber optics, metering, e-health providers, public Wi-Fi, e-tags, and intelligent monitoring systems.
Possession of Plots
Over ten years, the prices of the plots at Top City Islamabad have experienced numerous ups and downs. The society provides residential plots of 5 Marla, 10 Marla, and 1 Kanal and commercial properties of 5 Marla. Top City's central retail sector is about to open, with larger commercial plots available for significant developments.
The 1 Kanal residential plots in the B block of the housing project have been handed possession to their owners. In contrast, the remaining blocks of the project, blocks A, C, D, E, H, and F, will be granted possession soon after the expedited development.
Top City Islamabad Payment Plan
The prices at Top City are easily affordable to everyone. Investors choose 5 Marla plots in Top City Islamabad because they are the easiest to trade and range from PKR 4.5 lakh to PKR 55 lakh.
A 10 Marla plot in TopCity-1 costs approximately PKR 20 lakh to PKR 80 lakh, while a 1 Kanal plot in TopCity-1 costs around PKR 50 lakh to 1.5 core. The prices offered by this housing society are comparable to those provided by Park View City, another potential real estate development in Islamabad's CDA zone.
Apartments Payment Plan

Residential Plots Payment Plan

Commercial Plots Payment Plan
How to Book a Plot in Top City Islamabad? 
For reservations and further information, go to the Sigma Properties office. Online bookings can also be made.
You can download the booking form from the society's official website. Fill out the form with the essential information.
Make a deposit in the form of pay order, cash, or demand draught payable to Sigma Properties.
Submit your booking form, as well as all supporting documentation and payment order.
Required Documents
2 Copies of CNIC of Applicant
2 Photos of Applicant
2 Copies of CNIC of Nominee
Why Invest in Top City Islamabad?
Top City Islamabad is an exemplary housing society that fulfills the dreams of the citizens by providing a quality lifestyle and amenities. The developers have an aim to establish a revolutionary housing community in Islamabad, which provides housing, industrial plots, residential villas, and apartment buildings.
Clean and Green Environment
Top City Islamabad has provided an eco-friendly environment for the residents. Environmental pollution in the form of air, water, and land contamination has had a significant impact on the residents of the city, so they resort to housing societies far from city life. A healthy life is only conceivable if the basic requirement of clean air and land is realized.
Procurement of NOC Document 
Top City Islamabad is a legally commissioned housing development, unlike most of the other housing complexes in the region. This indicates it has a Rawalpindi Development Authority No Objection Certificate for planning and development authorization. The investors only take into account the housing societies that are approved, and Top City falls in that list. A NOC from the RDA in Islamabad is required for a housing plan to be lawfully commissioned.
High Level of Security 
Top City Islamabad is a gated community that provides the residents with the highest level of security. The housing society will be under 24-hour security surveillance with armed guards in charge of each district. This is another benefit over city life; you do not guarantee the protection of this kind while living there. Top City will provide a family-friendly environment so that you do not have to worry about your children being unsafe.
Closeness to the Federal Capital 
Top City is at a beneficial distance from Islamabad, at a drive of 21 minutes via the Srinagar Highway. The dwellers will be able to avail a life away from the city without having to be at an enormous distance. Besides, the investors tend to invest in properties that are in proximity to Islamabad because of the excellent value that the capital adds to the property.
Superlative Architecture and Design 
The developers of Top City have burnt the midnight oil to provide unparalleled accommodations. A number of notable and formidable modernist buildings are also built in the housing society to combine modernity and nature; the residents will avail themselves the best of both.
Pros and Cons of Top City 1
Pros
Convenient Prices
Top City offers an easy payment plan, with the residential plots starting from PKR 4,500,000. When investors engage in the 1 and 2 Kanal plots of this housing society, they have a strategic advantage of PKR 1.5 million. As compared to other socities pricing advantage is substantial.
Excellent for Overseas Pakistanis 
Overseas Pakistanis search for the quality way of life that they are accustomed to. Fortunately, Top City Islamabad provides world-class amenities for an experience equal to life abroad. The technological successes, eco-friendly environment, and brilliant maintenance have set Top City aside from the rest of the housing societies.
Rewarding Commercial Investment 
The investors have focused on the commercial zones that the housing society has established because it contains endless opportunities. The housing society shall offer commercial sectors consisting of a mix of corporate offices, commercial stores, and entertainment points, all of which are designed to meet the needs of the clients. The lodging society has a strong potential for commercial development and shall provide employment to a significant amount of citizens.
Continual Utilities Supply
The lodging society will offer gas, water, and power to the residents 24/7. The pipelines had been laid in 2013. That said, it is evident how much easier life will be if you do not have to worry about finishing up your work before the power outages.
Attainability Medical Services 
As the health of the residents is a priority for the developers, the housing society contains numerous hospitals and clinics with well-trained medical staff and impressive services. These hospitals have more than 500 beds, separate ones for children, for maternity and child care, and specialty departments for paediatrics, gynaecology, and obstetrics.
Cons
Distance from the Twin Cities
Top City Islamabad is conveniently placed between Rawalpindi and Islamabad, but some of our clients have felt that it is too far for them. This is subjective, as there are those who need a quality lifestyle away from the city hustle and bustle.
FAQS Top City 1
1-Who is the owner of Top City Islamabad?
Kunwar Moeez Khan is the owner of Top City Islamabad.
 2-Where is Top City Islamabad situated?
It lies near the New Islamabad International Airport on the Srinagar Highway.
 3-Will underground utilities be provided at Top City Islamabad?
Yes, underground utilities of electricity, water, and gas are provided.
 4-Is the NOC of the society approved?
Yes, it is approved by RDA.
 5-Which plot sizes are available for booking?
The plot sizes available are as follows:
5-Marla is (25 x 50)
10 Marla (35 x 65)
1 Kanal (50×90)
2 Kanal (75×120)
6-What is the instalment plan for 5 Marla and 10 Marla plots?
The instalment plan has eight phases, with a 5-Marla instalment costing PKR 62500 and a 10-Marla payment costing PKR 112,500.
 7-How far is the airport from society?
It is 3 kilometres away from the New Islamabad International Airport.
 8-Will there be hospitals inside the society?
Yes, hospitals and clinics will be built in society.
 9-Will it be an eco-friendly society?
Yes, it will be. The developers have aimed to preserve the natural environment surrounding the society and within it.
Conclusion
Top City Islamabad has trusted developers, world-class amenities, and a future of endless opportunities. Sigma Properties is proud to represent it, and we await to guide you through your booking procedures.