Park view city Lahore
Park view city is a remarkable housing project, privately owned by the Vision group by Aleem Khan. After delivering the two finest projects Park View City Islamabad and Park View Society Lahore, Vision group has introduced a contented residential experience in the prime location of Lahore. It is located around 3 km from Thokar Niaz Baig Flyover and Canal Road covering a total area of 7000 Kanal including residential plots as well as stunning villas. As the name itself suggests the project is deliberated with premium details, scenic park views, which is why it is perfect for building your dream home.
Park view villas Lahore payment plan
Your investment here will bring each one of those advantages and comforts you want for yourselves and your family. Contiguity to the primary zones, streets, and offices make it feasible for you to live in a perfect world. Villas available to be purchased in Park View Villas Lahore permit you to appreciate an upscale home at reasonable costs.Here at Park View City Lahore, the occupants will feel pleased with their choice of living in a lavish, refreshing atmosphere a long way from the buzzing about of the city. Park View Villas will give a helpful and agreeable urbanized living involvement in the establishment, everything being equal.Park View Villas presently offers 5 marla, 10 marla, and 1 Kanal private plots on a first-come-first-served basis for a two-year installment plan. Bookings start from 20% of the initial installment, while the remaining sum is payable in 2 years through quarterly portions.
Park View Villas Lahore Plot for Sale
Park View project is a top-class project that accompanies numerous appealing venture openings for you. Park View Lahore is proposing Villas just as business and private plots available to be purchased. The costs of plots are engaging and diverse size plots are accessible from which you can pick as per your prerequisites. The entire interaction is so basic and remarkable that it allows you to acquire modern advantages from your investment. Following plot sizes are available for sale.4 Marla
5 Marla
8 Marla
10 Marla
1 Kanal
This amazing housing scheme is offering residential plots of 3, 4, 5, 8, 10 Marla, and 1kanal. Including all the modern-day developments. Park View Villas installment plan is planned while keeping in view the comfort of purchasers. Individuals who wish to have a home that suits the furthest down the line expectations for everyday comforts should think about purchasing a property in Park View Villas. With a specific measure of initial installment, you can book your ideal property.
Park View City Lahore Installments
| | | | | | |
| --- | --- | --- | --- | --- | --- |
| PLOT CATEGORY | SALES PRICE | 20% Advance Payment | 30 Monthly Installment | 10 Quarterly Installments | Membership Fee |
| 3.5 Marla | 3,000,000 | 600,000 | 80,000 | 240,000 | 10,000 |
| | | | | | |
| PLOT CATEGORY | SALES PRICE | 20% Advance Payment | 30 Monthly Installment | 10 Quarterly Installments | Membership Fee |
| 5 Marla | 4,500,000 | 1,125,000 | 100,000 | 337,500 | 16,000 |
| | | | | | |
| PLOT CATEGORY | SALES PRICE | 20% Advance Payment | 30 Monthly Installment | 10 Quarterly Installments | Membership Fee |
| 10 MARLA | 7,500,000 | 1,875,000 | 150,000 | 562,500 | 26,000 |
10 Marla Payment Plan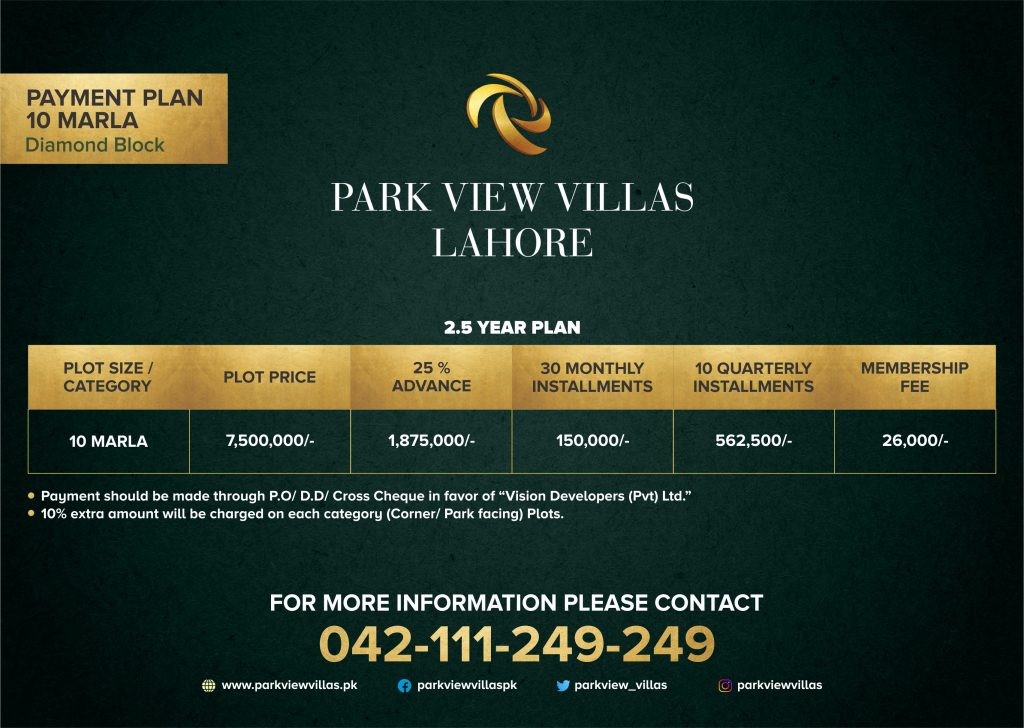 3.5 Marla Payment Plan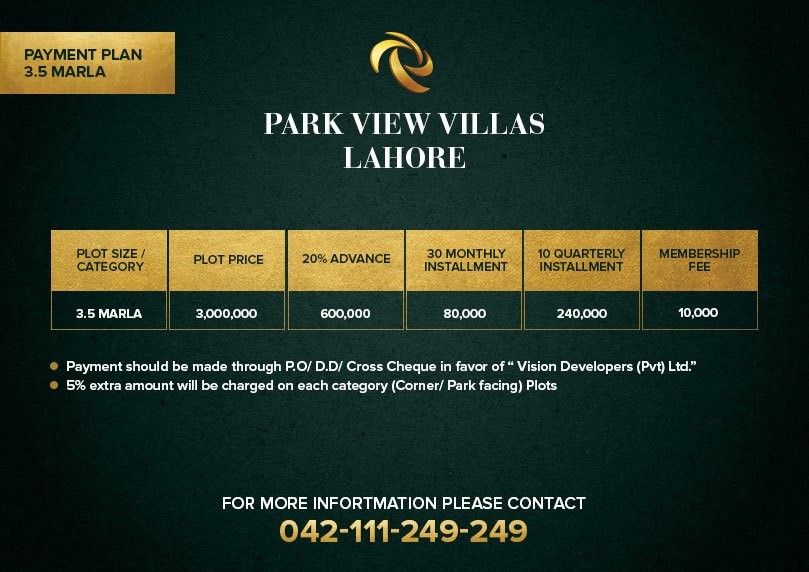 5 Marla Payment Plan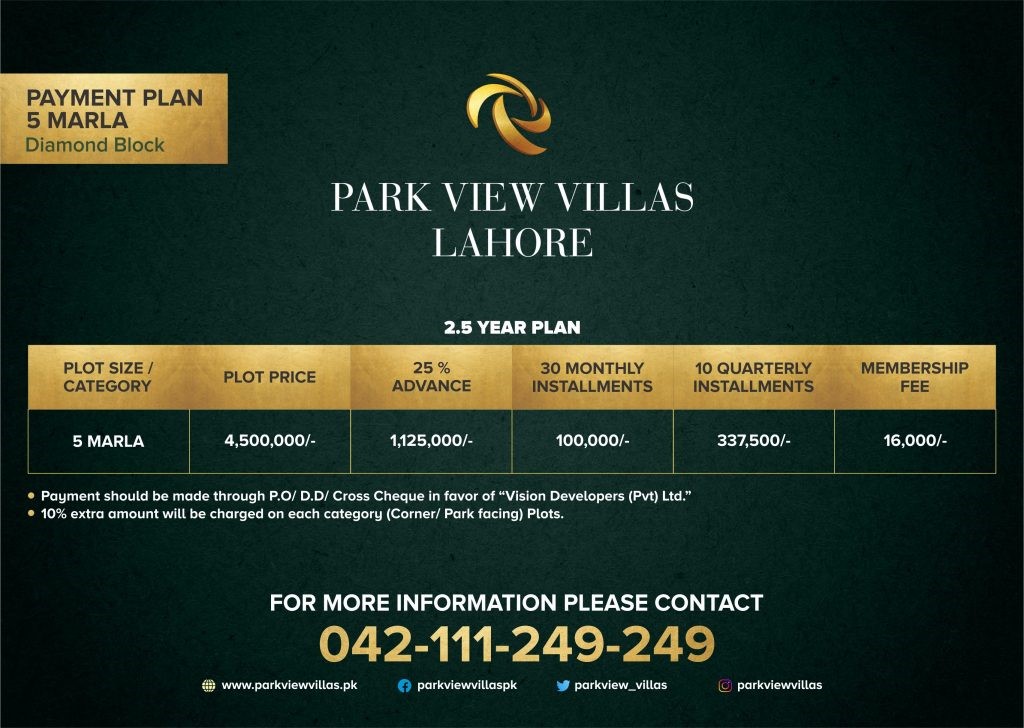 Location Map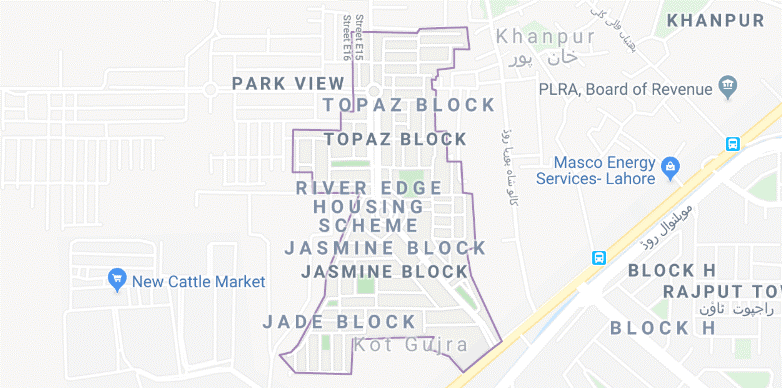 Master Plan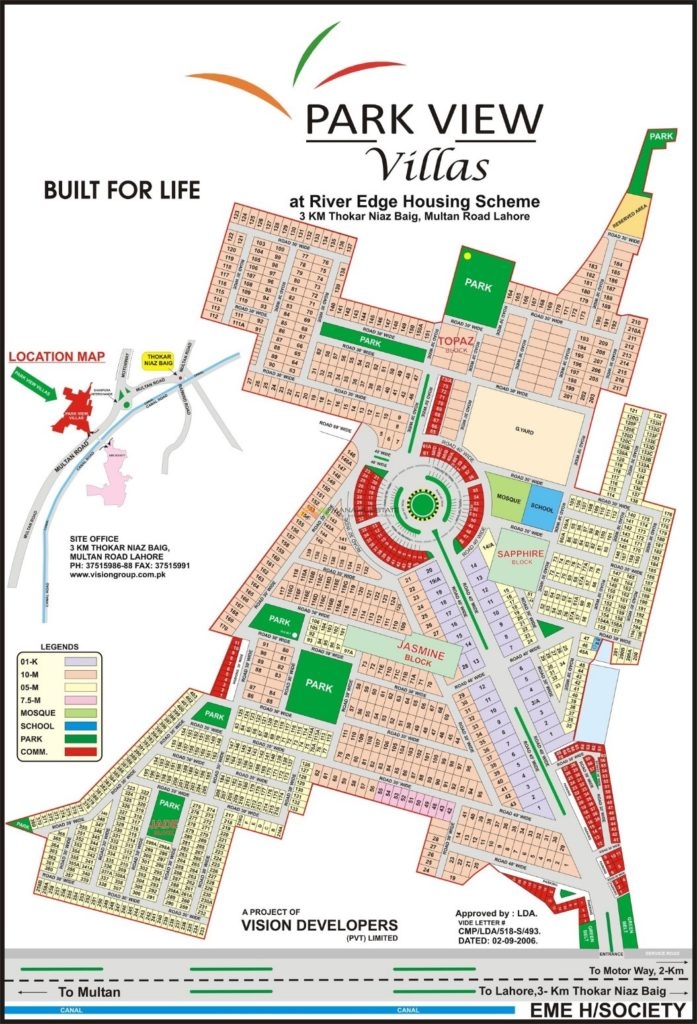 Blocks of Park View Villas Lahore
Park View Lahore Gold block
This privately-owned housing society comprises of different squares. All the blocks contain reasonable plots available to be purchased as well as constructed houses. Reasonable plots in Park View Villas gold block are accessible that you can book to put resources into or to make your dream home. Park View Villas gold square installment plan shows that it is the most reasonable of different squares of this task. The costs of plots are diverse as indicated by the size, classification, and area. Given the spending plan inviting nature, the gold square is grabbing the eye of purchasers and financial backers. Here 5 Marla plots and 10 Marla Plots to be purchased are available.
Amenities of Park View Villas Gold Block
Sewerage System
Underground Electricity
Water Supply
Telephone connection
Wi-Fi
Entry Gate
Boundary Wall
Secured community
A vast network of Roads and street
Street lights
Friendly neighborhood
Fully developed
Eco-friendly environment
Parks
Schools
Health center
Mosque
Shopping center
Park View Villas gold square private costs differ as indicated by the region, class, and sizes of the plots that are accessible. 5 Marla plots are accessible in the scope of Rs. 22 Lac to 23 Lac, though the 10 Marla private plot is offered between Rs. 36 Lac to 38 Lac.The costs offered in the Gold Block are a lot lower than different squares of Park see Villas, including Tulip, Topaz, and Jasmine block in which the costs for 5 Marla are up to Rs. 48 Lac or more, anyway the Villas are situated in a much engaging territory and the center point of society, while the Gold block is spending plan agreeable and lighter on the pocket. The costs of the Gold Block can be contrasted with the costs of the private plots offered in University Town Islamabad. Like all the ventures of The Vision Group, Park view villas Lahore gives a magnificent opportunity to a great return on your investments, let it be monitory or emotional. The Villas are generally mainstream among the local clients as well as abroad also.
Park View Lahore Tulip block
Tulip block relishes the best and outstanding location in the gated community which is why the properties in it have extraordinary appeal to the land buyers. Putting resources into this square is valuable for individuals who need to acquire the best speculation results in the coming time. Like different squares, distinctive size plots are accessible here at various costs. The engaging area of Tulip Block expands great profits for your investment.
Park View Lahore Topaz Block
Topaz is another astounding block in park view Lahore which offers different properties. Topaz plot costs are likewise alluring. However, the living possibilities are splendid here. The advancement work of this square is finished and all the central matters and places of the society are near this square which is an extraordinary advantage for its occupants. Various properties of various sizes and costs are accessible in the Topaz Block.
Park View Lahore Jasmine Block
A ton of customers are keen on Jasmine block which is offering engaging choices to all. The block is grown incredibly while all the work has done. Individuals can purchase their ideal property to live or put their resources into an eco-accommodating climate. This area contains all the offices and property costs are likewise appealing.
Facilities and Services
With an astonishing and smartly designed interior Park view, Lahore is already a very comfortable living space. The project offers scenic views of nature and a green environment for a better living experience. Around 5 percent of the area is committed to parks where families can spend their evenings in peace while enjoying their quality time close to nature. In the center of the community, a 22 Kanal central park is located with a play area for kids and a walking track. Different variety of beautiful looking and rare flowers are also planted for a refreshing sense of feeling. Other than central park multiple small parks are also included in the impeccable plan of Park View City Lahore.
School
Park view City plans on constructing an elite level educational institute with well-trained and experienced staff which will cover a total area of more than 8.8 Kanal. The School will include an operative nursing unit and a daycare unit for the convenience of the school faculty and students.
Community center
A fully serviceable community center, including a health care center, is planned to be formed to provide an unsurpassed health facility for the residents of Park View City. Keeping in mind the quality of life of the residents, the project offers various services in the center. Latest technology and medical equipment, alongside highly professional and trained staff, will be equipped for the uninterrupted care provided to the residents at the health care center. A dedicated land of 18 Kanal has already been allotted for the purpose.
Commercial Area
Just located in the heart of the project is the commercial area of Park View City Lahore. It includes a large shopping mall with multiple leading local and international brands for the accessibility of the residents. On the boulevard, an eighty feet wide street, multiple smaller shopping complexes are built to cater to the need of occupants. The mall overlooks an impressive atrium, futuristic capsule lifts, and distinctive water fountains. Keeping in mind the entertainment factor, cinemas and food courts are also found in the commercial area. Not only for adults but a specially designed play area for children is also one of the many amenities offered in the commercial area of the project.
24-hour electricity Backup 
Park view housing society has ensured that the inhabitants of this residential project deal with no issues by any means, so to dispose of any power outs; reinforcement power generators are introduced locally to guarantee a smooth and continuous power supply. Hence the project offers a complete load shedding free zone.
Mosque
This project also has a mosque that is wonderfully constructed. Individuals from everywhere in the society can come to offer five-time prayers in a quiet and peaceful environment. Park View Villas gold square and different squares additionally have mosques. Individuals can, without much of a stretch, offer their supplications and other religious obligations. The mosque has the best inside and outside architecture however, individuals can find all the required necessities and ideal environment for their prayers.
Security
This residential project is a completely protected neighborhood with all high-level safety efforts altogether. It is encircled by a security wall that just has restricted any unwanted passageway to the society. The entire project is outfitted with the most recent technology and a committed safety officer group that is completely prepared for any mishap or accident. These guards are posted at various focuses all through the lodging to keep up the propriety of the lodging plan. A functioning organization of CCTV cameras is additionally introduced in the entire zone to screen all the exercises giving a safe paradise to your family. Including the above mentioned, following are some more salient features of Park View city:
Stunning architecture
Remarkable front phase
Double glazed windows and doors
Security
Motion sensors
Fire alarms
Smart control apps
Spacious rooms
Gorgeous bathrooms
State of the art Housing Development
Health Club
Parks
Zoo
Mosque
Faqs
Q1:How many projects are there of Park view city?
A1:There are two projects of park view city: park view Islamabad, park view Lahore
Q2:Who is the owner of park view city Lahore?
A2:Park view city Lahore is a remarkable housing project, privately owned by the Vision group by Aleem Khan.
Q3:Does it provide all the facilities for basic life?
A3:Yes, the society provides with you all the facilities for basic life.
Q4:Has it the secure community like other societies?
A4:Yes, the societies has very secure community and better than others.
Q5:Are residential plots available for sale in this society?
A5:Yes, residential plots are available for sale in this society.
Q6:What are the size of plots available in the city?
A6:There are plots of 5, 8, 10 marla and 1 kanal.
Q7:How many blocks are there in Park view city Lahore?
A7:There are 3 blocks. Tulip, Topaz, and Jasmine block.
Q8:What is the location of the city?
A8:It is located around 3 km from Thokar Niaz Baig Flyover and Canal Road.
89:How much land does the city acquire?
A9:It covers area of 7000 kanal.
Q10:Can I buy plot on easy instalment plans?
A10:Yes, you can buy any plot on very easy instalment plan.
Q11:How can I buy property in Park view city?
A11:If you want to buy property, visit sigma properties.