Lahore smart city
Lahore smart city is also a remarkable project produced by the FDHL and Habib Rafiq (Pvt.) who are committed to giving an innovative and smart lodging experience at Lahore Smart City in its own private and residential zones. Land of 20,000 Kanal has already been allotted for the project, where this competent residential project is going to be built. The prime location of the project already makes it unique in itself. It is located on Lahore Bypass near the Lahore interchange. The property can be easily reached by the Grand Trunk road Lahore, as well as the Lahore-Sialkot motorway. The location does not disconnect the property from the city and also provides a calm and controlled environment away from the city hassle. Commercial areas of the city are a few minutes away from this smart residency project. The new campus of UET Lahore is found on the western side of the lodging society and can reach on a 5 miniature drive from Lahore Smart City. One of the most well-known societies, DHA Lahore, and Allama Iqbal Lahore Airport is reachable on an 18 minutes' drive from it. The fundamental head office of the Capital Smart City Lahore housing society is additionally adjacent.
Smart City Lahore Developers
Future Developments Holdings (Pvt.) Limited, also known as FDHL, is one of the leading real estate developers that is known for their exceptionally planned projects with remarkable engineering as compared to the other leading builders. The goal of FDHL is to transform the living experience towards a futuristic and smart existence. FDHL not only keeps the ultramodern and lavish lifestyle in mind while developing their projects but also provides excellent customer support and detailed consultancy to their audience. FDHL is an authoritative foundation that was first enlisted under the company ordinance 1984. Different National and global little association firms met up together to produce this business endeavor. FHDL is a combination of two organizations, China Liaoning International Economic and Technical Cooperation Group Corporation Ltd (CLIC) and Engineering Dimensions (Pvt.) Limited (EDL). These two companies master both technical and management skills.
Location Map
The red pinpoint on the map below shows the Lahore Smart City adjacent to the Lahore Bypass. It can be reached by the Lahore-Sialkot Motorway and the Grand Trunk Road.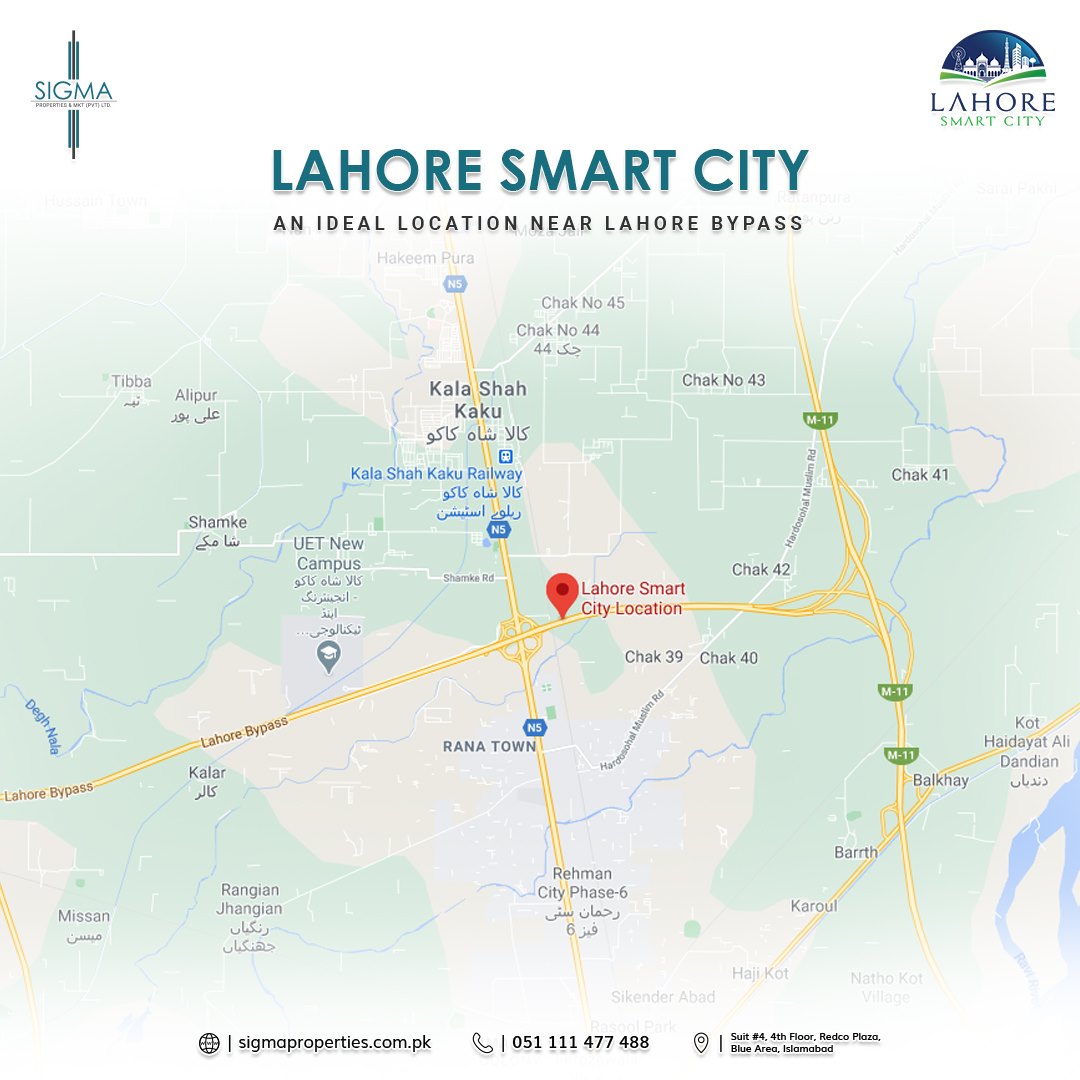 Lahore Smart City
Book Your Plots at the Best Prices! Now you can book residential plots
for sale in Lahore Smart City.
Get Your Plot Today At Discounted Rates
Master Plan
When starting the Lahore Smart City master plan system, the venture designers imagined the creation of a high-level urbanized activity; a private society that would offer reasonable however proficient living spaces alongside imaginative and consumer-driven facilities. As per the extended arrangement, the advancement will include two squares; to be specific the 'Executive Block' and the 'Overseas Block'. Each of these segments, in turn, will highlight private plots of 5, 10, and 20 marlas. The Official Square will offer exclusive property proprietorship openings for veritable buyers and speculators dwelling within the nation; whereas the Abroad Piece, as its title suggests, will particularly cater to the venture requests of Pakistanis living overseas.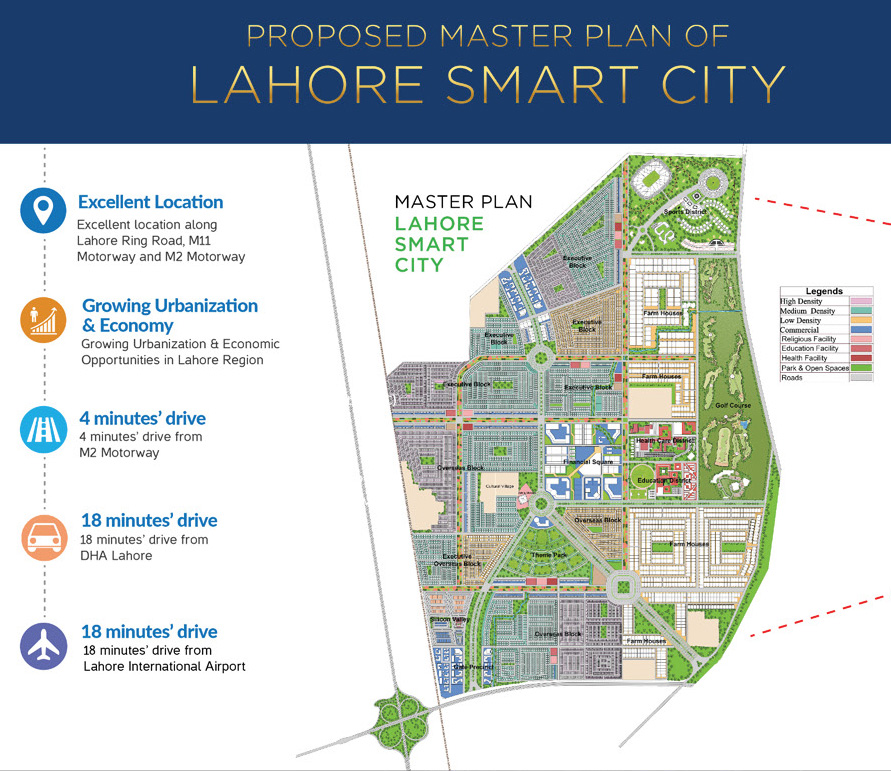 Payment Plan
The priority of the project is to deliver a hassle free lifestyle to the occupants, starting from a very easy and understandable payment plan. As Lahore Smart City is still under development, the payment plan is also very flexible. Due to its prime location and excellent architecture, the plots are already selling out really fast. Booking started with an amount of 18 Lac Rupees and in no time it has already inclined to 22 Lac Rupees. Based on the current trends, it is predicted to increase more in the coming future. If you wish to book a plot for you and your family in this futuristic living experience, now is the time. This is also a great opportunity for the investors to invest money in this project as the rates are increasing with the passing day. This situation will result in a high level of return. With the speedy developments, Lahore Smart City will be fully flourished in two to three years from now providing a lavish lifestyle for the residents.
Residential Plot Payment Plan
Bookings for the plot are started with a minimal down payment of 10% (10% confirmation charges applied) which are also payable with a feasible time limit of two months. Moreover, the outstanding amount can be paid in easy installments in a wide period of 3.5 years. The installments will be easy and affordable divided into fourteen equal installments.
Mentioned below are the plot prices of Lahore Smart City in executive as well as overseas block.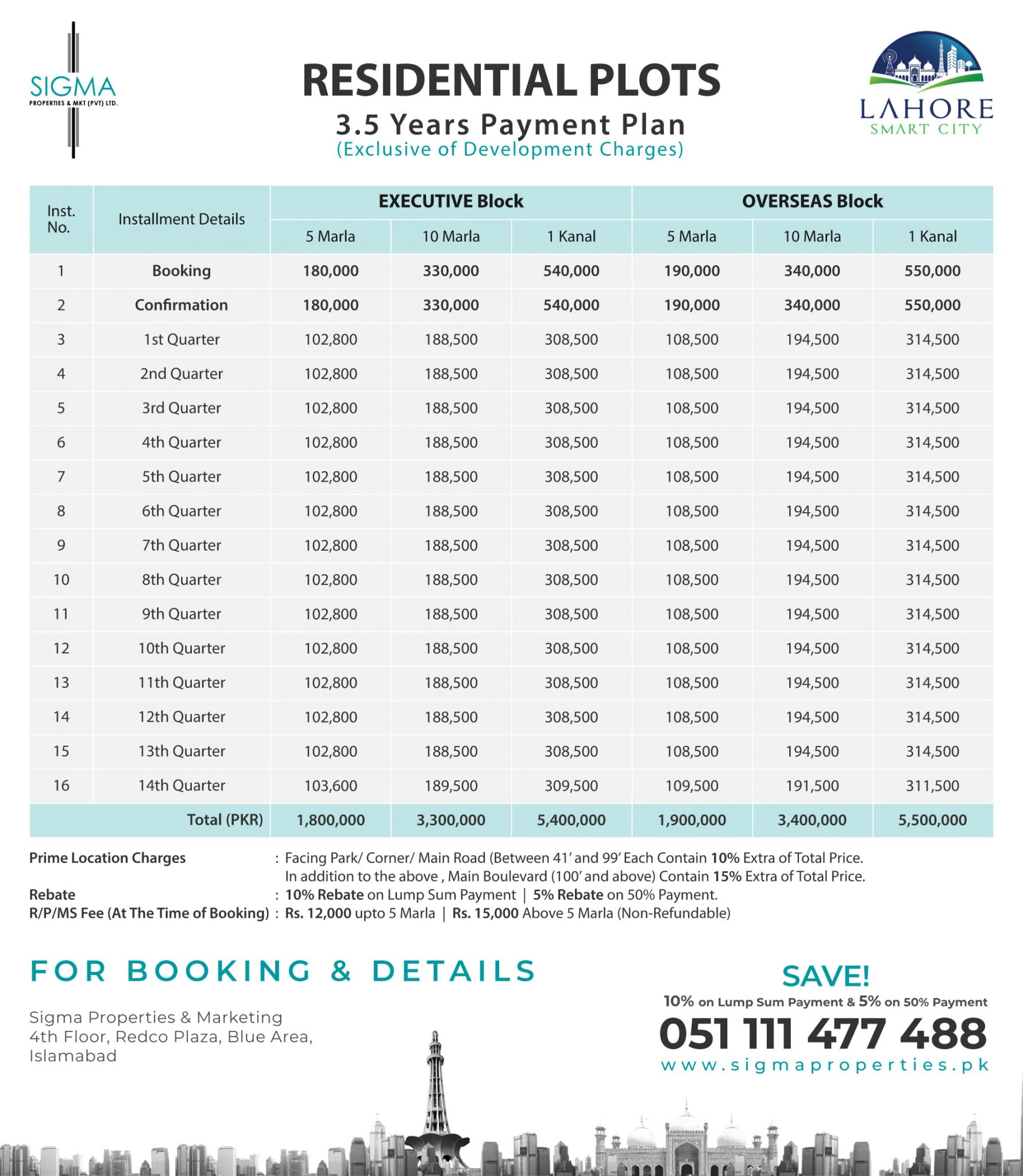 7 & 12 Marla Plots
Considering the high market demand, the Lahore Smart City has finally launched the booking details for its 7 Marla and 12 Marla plots. These newly launched residential plots are located in the Executive and the Overseas Block at Lahore Smart City.
Following is the proposed payment plan of newly launched 7 & 12 Marla Plots: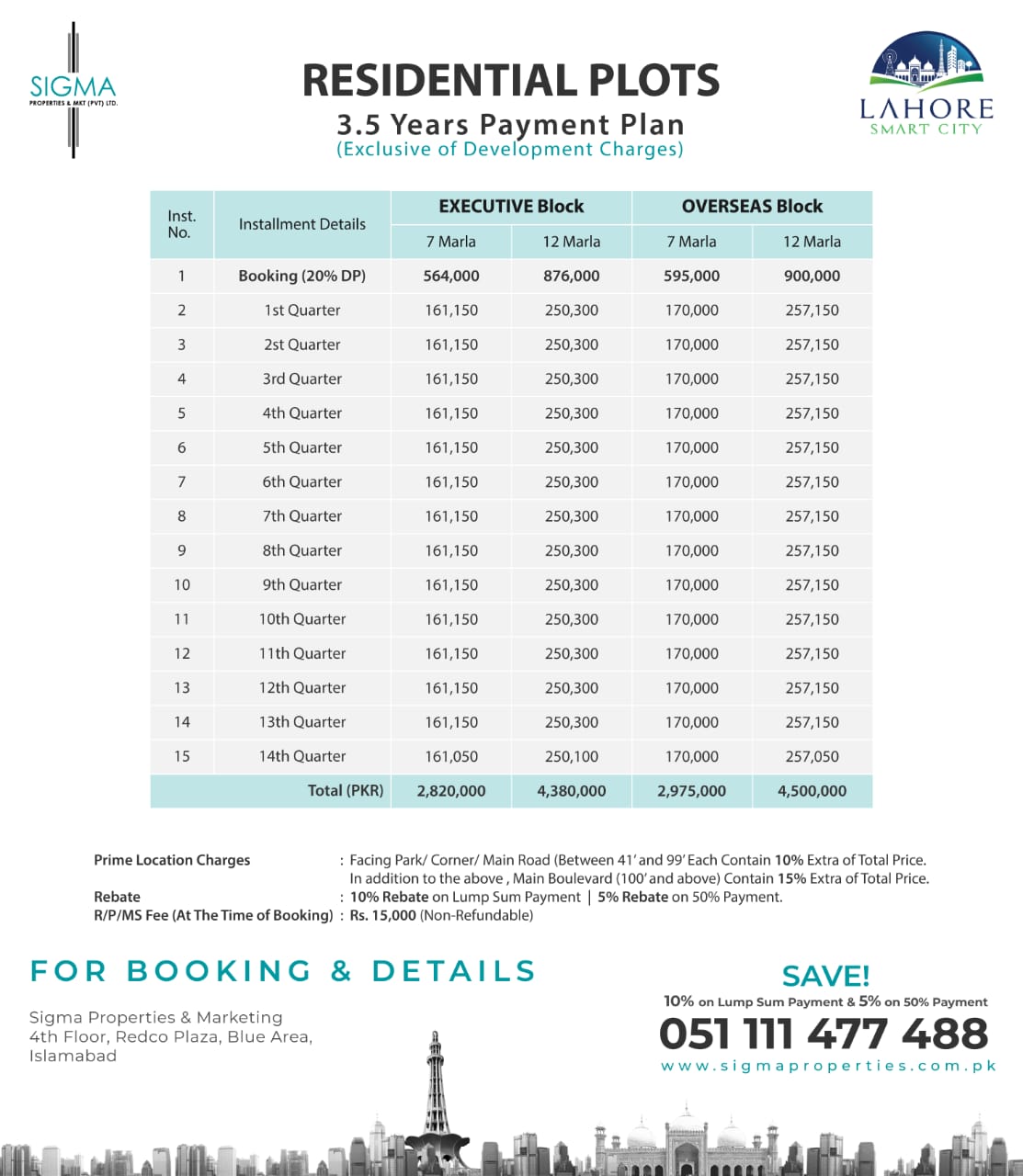 If you are interested in investing your plot in this innovative housing society, now is your chance. Lahore Smart City prices have revised much sooner than anticipated for the previous plot sizes, thus making these newly launched plots a guaranteed success. These plots are offered at a much affordable and minimum value, and the prices are expected to increase sooner than predicted. The anticipation is sky-high as society has increased its development work and features far and beyond to make this housing project an ultimate success.
Block Categories
Precisely like Capital Smart city, Lahore Smart city is reaching to have private general square, overseas block, financial square, education area, health area, Silicon Valley, sports area, and executive block.
General block
The general block comprises private plots that are accessible at a reasonable and low cost. Common man families can moreover purchase their plot in it. The general block will give all the necessities and smart facilities to its inhabitants. It'll be exclusively a private square with private houses and flats, mosque and shops of the day by day items.
Overseas block 
 The overseas block is mainly the residential block of this residential project. It includes residential plots and residential villas. As it were individuals who are living out of Pakistan or have double nationality can apply for a put in the overseas block. The overseas block will be built with all the comforts which individuals can appreciate in a foreign nation. Mosque, clinics, lodgings, eateries, shops, and schools are accessible in the block.
Executive block 
Similar to General block and Overseas Block, Executive Block will also have residential plots, apartments, mosques, mini-mart, parks, a jogging area, and a superstore. The main difference in this plot will be the luxurious amenities provided to the residents, and the plot prices will be on a higher side.
Commercial Block
The commercial block includes banks, offices, meeting halls, retail offices, hotels, and a shopping arcade. This block is the heart of the project as it includes all the offices and functioning units. Alongside some retail stores and eateries for the convenience of the workers. Lahore Smart City also plans on selling commercial plots.
Amenities
 Silicon Valley
The vast majority of the specialized and IT work will be dealt with in this square of Lahore Smart City. Offices accessible in this square are corporate workplaces, IT and programming houses, stockrooms, technical operational workplaces, retail workplaces, and client care focuses. Other than these workplaces it will likewise have private plots and manors, a mosque, and retail shops
Farm Houses
To appreciate excursions and delightful beautiful views, Lahore Smart City offers farmhouses of 1 Kanal and 2 Kanal. Individuals can do cultivating in it, keep their pets or they can host a lovely cottage for gatherings, get-togethers, family social occasions, or only for making some quiet memories with family.
 Health Care District
The significant spot of this region is it's up to the mark medical clinic with more than 500 beds which will have all the latest technologies and equipment along with professional staff to handle that medical equipment. Be that as it may, this region will likewise have some private plots and estates for certain business spots to give food regions and some retail shops.
Sports district
As the name suggests this block is specifically planned with keeping in mind the sports activities for the residents. Lahore Smart City's sports block plans to have multiple sports grounds and stadiums for different games and sports. Which will make this project all in one for the occupants. the project plans on building a Cricket stadium, football stadium, badminton court, and a sports complex for indoor games. Moreover, this block will include residential plots and villas alongside some famous eateries and cafes. For the convenience of the residents, retail shops and mosques will also be built.
Educational institutions
A whole block has been allotted for the educational institute of the project. The plan is to develop a learning environment with the most advanced features and comfortable ambiance. This plan is not limited to school only, multiple colleges and educational institutes are a part of the property plan. Idea is to create ease for the residents to find their school or college nearby without compromising on the quality of education.
 Hotels
The first block of the society is dedicated to 4-star and 3-star hotels where the guests can comfortably spend their time. Hotels will provide all the luxury amenities keeping in mind the comfort of the guests. This is the first block one will see after entering the premises. It is not only limited to hotels but the plan includes residential plots and villas as well. Other than these facilities, retail shops, parks, and mosques will also be built for the convenience of the block residents.
Features
The architecture and the design of the project, make the property unique in its way. Futuristic designs, wide roads, and scenic views make Lahore Smart City a perfect living space.
The developers plan on creating an environment that involves smart living. For which latest technologies will be installed and kept up to date to improve infrastructure and solve modern-day problems.
Lahore smart city ensures a 24-hour electricity supply in addition to quality educational institutes.
The project will facilitate its tenants by introducing the absolute first business place at the main commercial area and carrying worldwide financial backers and organizations to place cash into the superb community. Capital City Lahore even plans to reason a variety of business and administration industry work, consequently prompting the monetary necessity of Pakistan.
The lodging society is contrived in a way that establishes an extremely comfortable ambiance in this manner that the people can appreciate a calm and quiet society that could form into a center for business, sporting, private possibilities, and opening without compromising on the luxury lifestyle.
Being in a gated community, Lahore smart city provides excellent measures on security. A 24-hour CCTV surveillance is used to maintain the security of the residents.
Smart City Lahore promises to achieve a full-proof transportation system for the ease of residents. A proper transport system is to be built for car users, pedestrians, cyclists. The project plans to introduce a state of the art infrastructure.
Why Lahore Smart City?
The Lahore Smart City is dedicated to beautifully combine modernism, tranquility, and stability. The developers of Lahore Smart City believe that one must cater to big dreams, not only to fall asleep but to endlessly work on and produce something exciting.
Quality Life & Outstanding Amenities
The standard living experience containing stability, comfort, and abundance will be rightfully delivered to the residents of this pristine city. Wi-Fi will be made available all over the community and there will be CCTV cameras monitoring every nook and cranny for 24 hours. World-class education will be provided at the educational institutes of the Smart City.
An efficient transportation system for car users, cyclists, and pedestrians will be available. A smart living environment will be provided away from pollution hazards of all kinds, load shedding of electricity and gas along other city problems.
A Secure Investment
In two to three years from now, Lahore Smart City will be made into an exciting reality, a true example of cutting-edge foundation and engineering along with unbending worldwide standards.
It is a picturesque scene breathing in the air of a progressed lodging society, under the new skies of the future. It will be a technological masterpiece, soon to be ranked the fifth formative wonder of its kind in the continent and the second in Pakistan.
Prime Location
The location is connected to the main city of Lahore and provides a secure and eco-friendly environment. It is located at the Lahore Bypass near the Lahore Interchange.
This smart city can also be reached via the Grand Trunk Road Lahore and the Lahore-Sialkot Motorway as well. The Allama Iqbal Airport Lahore and DHA Lahore are at a distance of approximately 18 minutes from the property.
The Reputable Developers of Lahore Smart City
A big reason to invest in Lahore Smart City is the organization behind this outstanding planning, The Future Developments Holdings (Pvt.) Limited, also known as FDHL. They are one of the leading real estate developers of the present day and have historical trustworthiness.
FDHL has made the provision of a luxurious experience their primary goal. They are determined to bring forth an entirely new perspective of a modern community that has the desired splendor and uniqueness.
The Ingenuity of the Master plan
Lahore Smart City will consist of a number of strategically designed districts and blocks, the main ones are the "Executive Block" and the "Overseas Block." These blocks are further divided into residential plots of 5, 10, and 20 Marlas.
The smart division of the blocks is another advantage you will be able to enjoy. The Executive Block is favored by the investors and the people residing in Pakistan. The latter will provide the Overseas Pakistanis with investment opportunities.
The other districts include General Square, financial square, education area, health area, sports area, and Silicon Valley. The Smart City will also offer its investors farmhouses of 1 Kanal and 2 Kanal. The dwellers can host family gatherings there or only use them for moments of solitude.
A Manageable Payment Plan & Profitable Investment
Keeping the ease of the occupants in mind, there is a very flexible payment plan. During the days of its initiation, the 5 Marla plots were priced at 18 to 19 Lac and within a short time frame, the price of these blocks has increased to 25 Lac. If you intend to book a plot for you and your family, the Lahore Smart City is the right choice. The plots are selling out fast because of their prime location and easy payment procedure.
All Amenities Are Accessible
The Lahore Smart City includes a commercial block, parks, hospitals banks, offices, meeting halls, shopping arcades, hotels, and restaurants, and much more in its premises. There is also a Sports district, where the residents can engage in sports activities.
It has sports grounds and stadiums for different kinds of sports. The healthcare district will provide proper medical assistance. The hospitals and clinics in this sector will be of the latest technologies and equipment.
Important Note
A 10 percent extra cost will be charged for certain special plots like the main road, corner and parking faced plots. Additionally, 15 percent extra cost will be charged on plots on the main boulevard covering 100 feet or more. 10 percent rebate on full payment. Moreover, a discount of 5% is offered if full payment is made. Charges of 12000 rupees will be taken in case of booking plots up to 5 Marla. In case of more than 5 Marla plot bookings, 15000 Rupees will be charged.
​
FAQs
Most frequent questions and answers about Park View City
Who is the owner of Lahore Smart City?
The Future Developments Holdings (Pvt.) Limited, FDHL and Habib Rafiq (Pvt.) Limited are said to be the developers and owners of Lahore Smart City.
Where is Lahore Smart City located?
Lahore Smart City is located in Lahore.
Is Lahore Smart City an Approved Housing society?
Yes it is approved by LDA.
What types of plots can i book in Lahore Smart City?
Lahore Smart City Residential plots of 5, 10 and 20 Marla and farm houses of 1 and 2 Kanal are available for booking.
When will the possession of the plots be granted?
The society will give the possession in the developed blocks instantly and for the area still under construction, the possession will be given after three years.
How is Lahore Smart City different from the other societies?
Lahore smart city is the second Smart City of Pakistan. The architecture and the design of the project makes this establishment unique
What is the installment plan for Lahore Smart City?
Bookings for the plot start with a minimal down payment of 10% (10% confirmation charges applied) which are also payable with a feasible time limit of two months.
Are there any additional costs included in the plots?
15 percent extra cost will be charged on plots on the main boulevard covering 100 feet or more. 10 percent rebate on full payment.
Are there any discounts available?
A discount of 5% is offered on 50% lump sum payment and a 10% discount is offered on 100% Lump sum Payment.
How can I block my plot in Lahore smart city?