Rudn Enclave Rawalpindi 
Rudn Enclave Rawalpindi is an exemplary epitome of brilliance and class placed in proximity to the Federal Capital. It is the primary jewel of Rawalpindi, provided to pamper you with a serene and dreamy lifestyle. An investment in this newfangled jewel will allow you to reap the benefits of a lifetime.  
Owners and Developers 
The Rudn Enclave is an illustrious project in the vicinity of Rawalpindi by the RMRSCO (Pvt.) Limited and National Engineering Services Pakistan (Pvt.) Limited or NESPAK. The developers are living up to their motto that says, "We are not just building houses, we are building dreams." The company's CEO, Rahim U Din Naeem, has only one goal: to become a center of excellence for architectural and client-oriented projects.
RMRSCO (Pvt.) Limited
It is a Rawalpindi-based parent-sister firm that is a subsidiary of RMRSCO Private Ltd. The corporation develops its products by obtaining land on a license or lease from the government and other agencies to create housing societies with residential and commercial planning. It broadened the realm of architectural exposure by providing people with a world-class living. Its projects incorporate modern infrastructure. Residents are provided with their protection plan by RUDN Security Services Private Ltd. They do not use third-party security services; instead, we have our security system. 
Consultant – NESPAK
The principal consultant of Rudn Enclave is NESPAK. It is a well-known government institution. It is one of Asia's and Africa's leading engineering consulting firms. It was founded in 1973. 
The entire estimated turnover for 2016-2017 is PKR 8.8 billion, with a total cumulative expenditure of US $ 288 billion for the projects executed by NESPAK. Its goal is to bring together a group of engineers in one place. NESPAK currently employs a workforce of over 5100 people.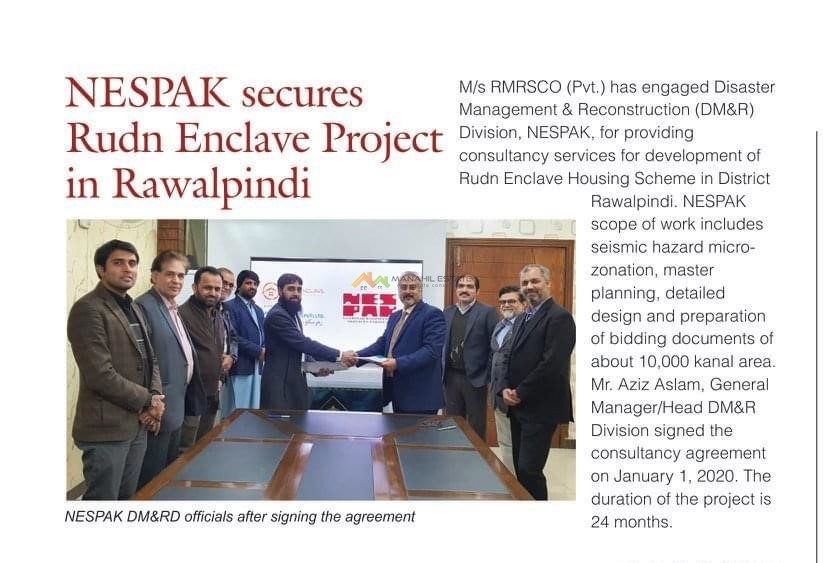 NOC and Planning Permission
The Rudn Enclave has applied for the NOC from the Rawalpindi Development Authority (RDA). Even at this early stage, the investors' reaction has been extraordinary. In the following months, it is expected that the Enclave would receive the NOC from RDA. The NOC approval process takes time because it involves several approvals, such as gas, electricity, water, and land transfer/ownership.
Location
Rudn Enclave's placement is enticing, as it is in the middle of significant routes and destinations. It is located on Rawalpindi's Adiala Road. The M2 Islamabad-Lahore Motorway is directly adjacent. The New Islamabad International Airport and the Rawalpindi Ring Road which is now under construction. 
Chakri Road and Chakri Interchange are also accessible to the lodging society. In the region, there is also the Jarrar Camp. The society will have three entrances on Adiala Road, with a fourth entrance projected on Chakri Road. It is only 9.8 kilometers distant from the Islamabad Farmhouse. 
Rudn Enclave Rawalpindi
Book Your Plots at the Best Prices! Now you can book residential plots
for sale in Rudn Enclave Rawalpindi.
Get Your Plot Today At Discounted Rates
Access Points 
Rudn Enclave Rawalpindi can be accessed from the following routes:
Ring Road Rawalpindi
The Rawalpindi Ring Road is a specific route network. It is currently the most eagerly anticipated project since it claims to reduce traffic by diverting it to different routes. The best aspect is that the Rudn Enclave's first Gate is directly next to it. It is also very convenient because it ensures a short distance to Islamabad's New International Airport. 
Chakri Toll Plaza 
The Chakri Toll Plaza at the M-2 Motorway is about 22 kilometers from this contemporary housing society, and it is a significant interchange that adds to the housing society's positive aspects. 
Dhamiyal Link Road 
The Adiala road is connected to the Dhamiyal link road. As a result, anyone who takes this route will have no trouble getting to Rudn Enclave Rawalpindi. 
Rawat Link Road 
Rawat Link Road runs between Adiala and Rawat, keeping it simple to get to the lodging society via this road. You will find the PIA Enclave, Bahria Town Phase-8, and Rose Valley in the Rudn Enclave's immediate vicinity, among many other massive housing developments. 
The majority of Rawalpindi's essential localities are also nearby. As a result, Rudn Enclave's location is exceptionally ideal in its way, providing practically everything you've ever wanted for an enjoyable environment. 
N-5 National Highway
The N-5 National Highway is at a distance of 50 minutes by car. The N-5 is Pakistan's longest national highway, running from Karachi to Hyderabad, Moro, and Sukkur in Sindh before crossing into Punjab province and passing via Multan, Sahiwal, Lahore, Gujranwala, Gujarat, Jhelum, and Rawalpindi.
Landmarks & Locations in the Area
The other landmarks close to the lodging society are as follows,
New International Islamabad Airport

Islamabad

Rawalpindi

DHA Phase-II

Bahria Town Phase-8
Master Plan
Rudn Enclave's master plan is so innovatively developed that it will speed up growth and increase the value of residential plots. It is not a tiny housing society, and the owner promises that it will be developed across 14,000 Kanal of prime land. It is also said that extra land is being acquired to increase the value of the property. The construction is well underway. Investors and buyers will benefit from the rapid development by increasing the value of their properties.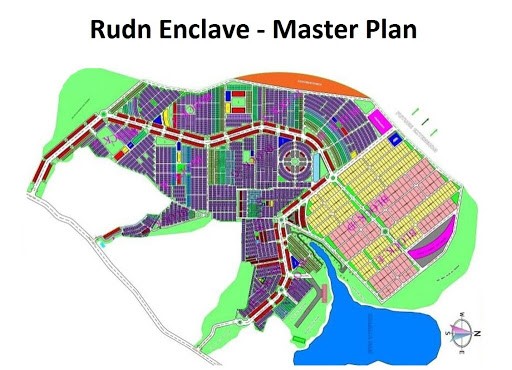 The management has signed an extraordinary two-year consultation deal with none other than the skilful individuals of NESPAK.
NESPAK has promised to provide all necessary consulting services based on its experience establishing notable real estate projects of various types throughout Pakistan. They signed an arrangement for 10,000 Kanal on January 1, 2020.
Residential Blocks 
The Rudn Enclave Islamabad offers opulent sites on which to build residential and commercial properties. You can purchase property in this lodging society at a reasonable price.
The lodging society is divided into the following sectors or blocks:
Block A

Block B

Block C

Block D

Block E

Block F

Block G

Block H

Block I

Block J

Block K

Block L
Residential Plots
The following are the sizes of the residential plots: 
5 Marla

4 Marla

7 Marla

8 Marla

10 Marla

1 Kanal

4 Kanal 

8 Kanal 
Commercial Plots 
Commercial plots, which come in 4 Marla and 8 Marla subcategories, are the best plots available at the lodging society. They will include shopping arcades, banks, utility stores, entertainment centers and a lot more. 
Prices & Payment Plans
Prices and payment plans are subject to vary based on market trends in the real estate property market. Another aspect that influences such changes is the owners' final decision.
Each sector has its amenities and facilities, explaining why plot costs differ by sector and plot size. So you need to keep in mind that, 
Prices and payment plans are subjectly changed without notice

Monthly instalments must be deposited by the 1st of each month

Development charges are not included in the rates
Categories of Plots 
The categories for the plots are as follows, 
H Block

General Block

Executive Block

Farmhouses
H Block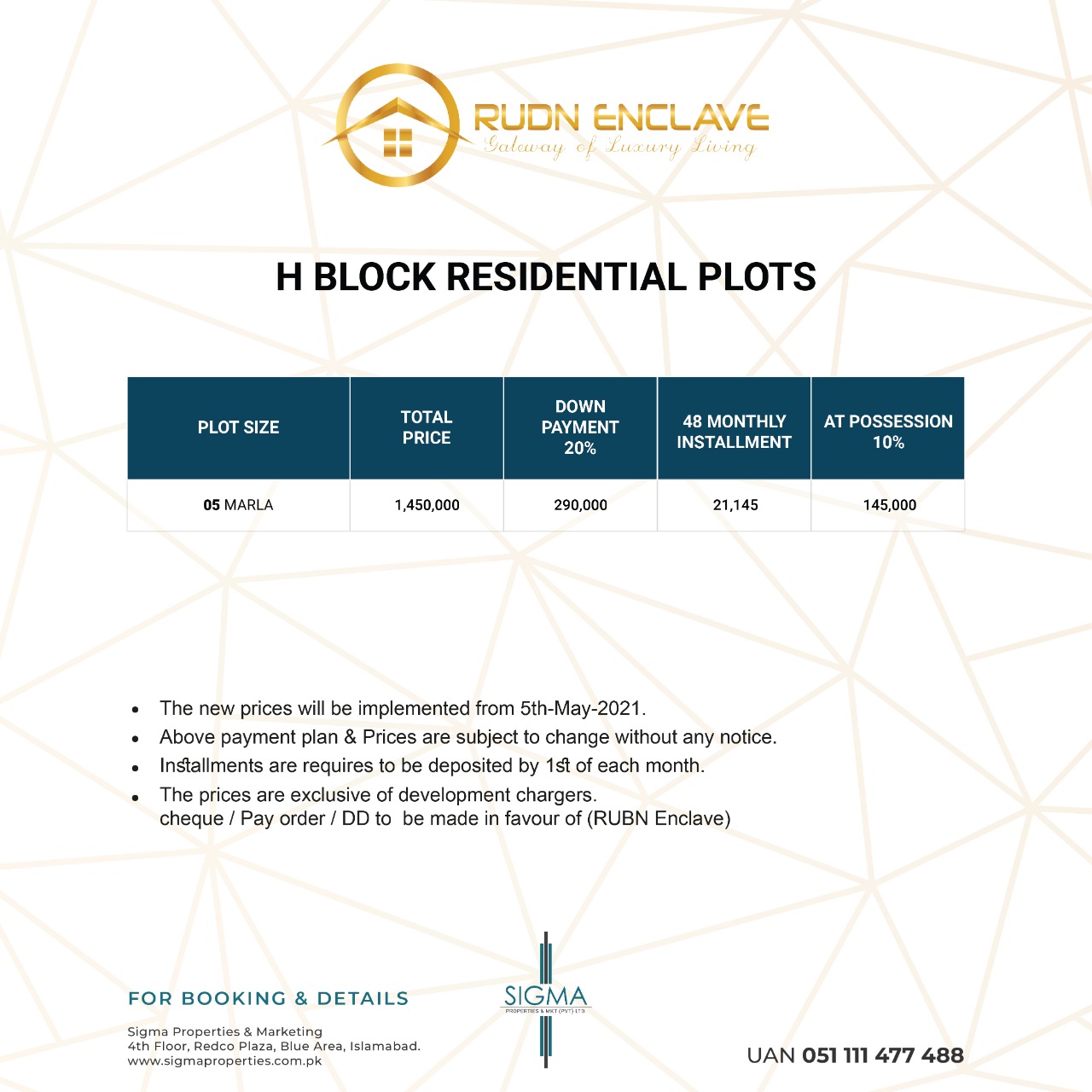 General Block 
The category of the General Block contains Block A to Block G. The residential plots are located in Blocks A, C, and G. Blocks D and E, on the other hand, are reserved for Farmhouses. The General Blocks are the first blocks you face when you enter the lodging society. 
These will be the nearest to the Rawalpindi Ring Road as well. The development work in these Blocks has been delayed due to the Ring Road alignment process, though only for a brief time. It will shortly be back to maximum capacity. 
Executive Block 
The Executive Block is on Adiala Road. It leads to the Jawa Dam and begins just across Adiala Road. This block will be connected to the General Block and the Ring Road via an internal 200-foot-wide primary boulevard that will connect the two districts.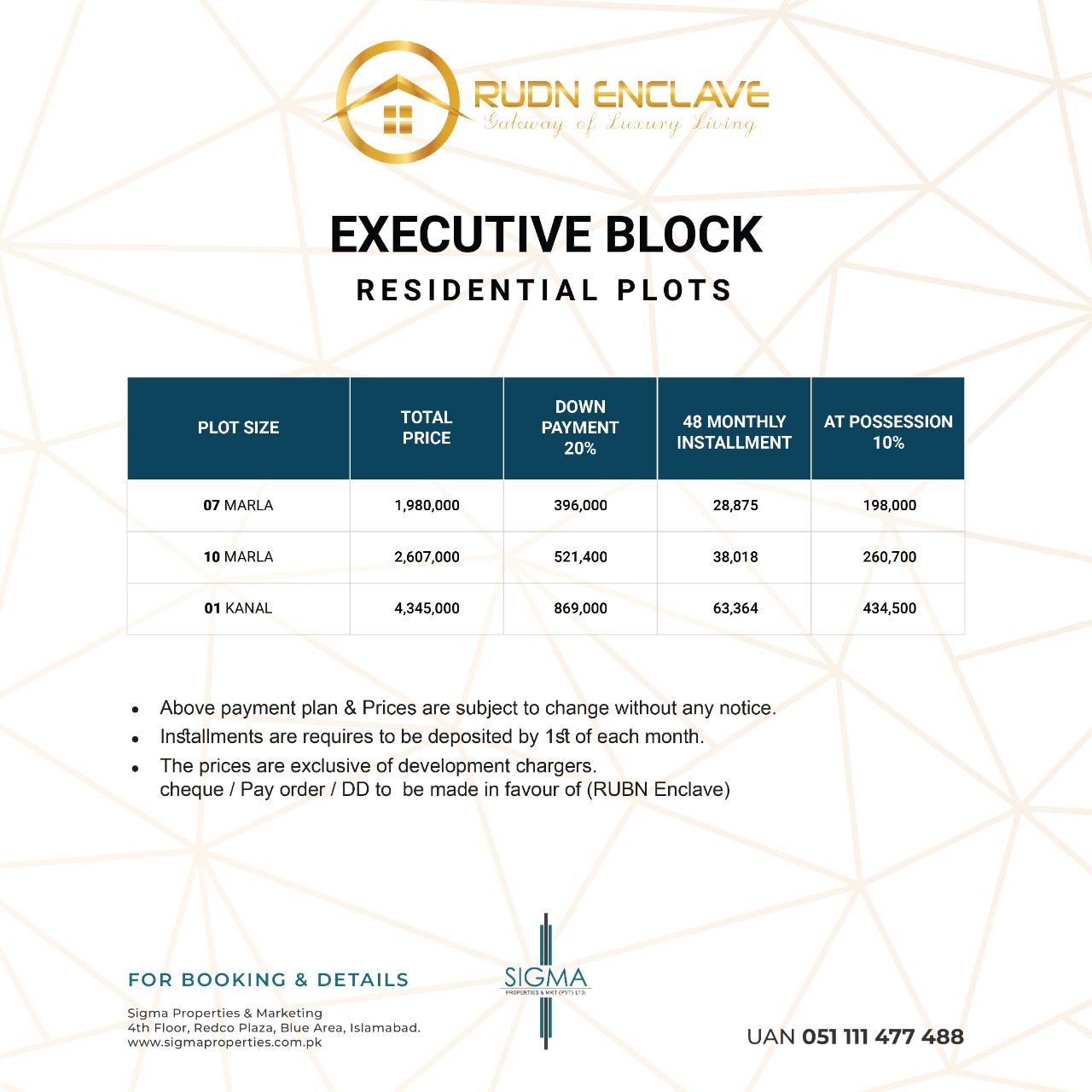 The Executive Block is the apple of the eye for the investors. It will have residential plots of 7, 10 Marla, and 1 Kanal and commercial plots of 4 and 8 Marla. The high-end amenities distinctive and modernistic, aiding this exclusive block to stand out from the rest of the blocks in Rudn Enclave. Every aspect of the Executive Block and the development process will be superior to that of the previous Blocks.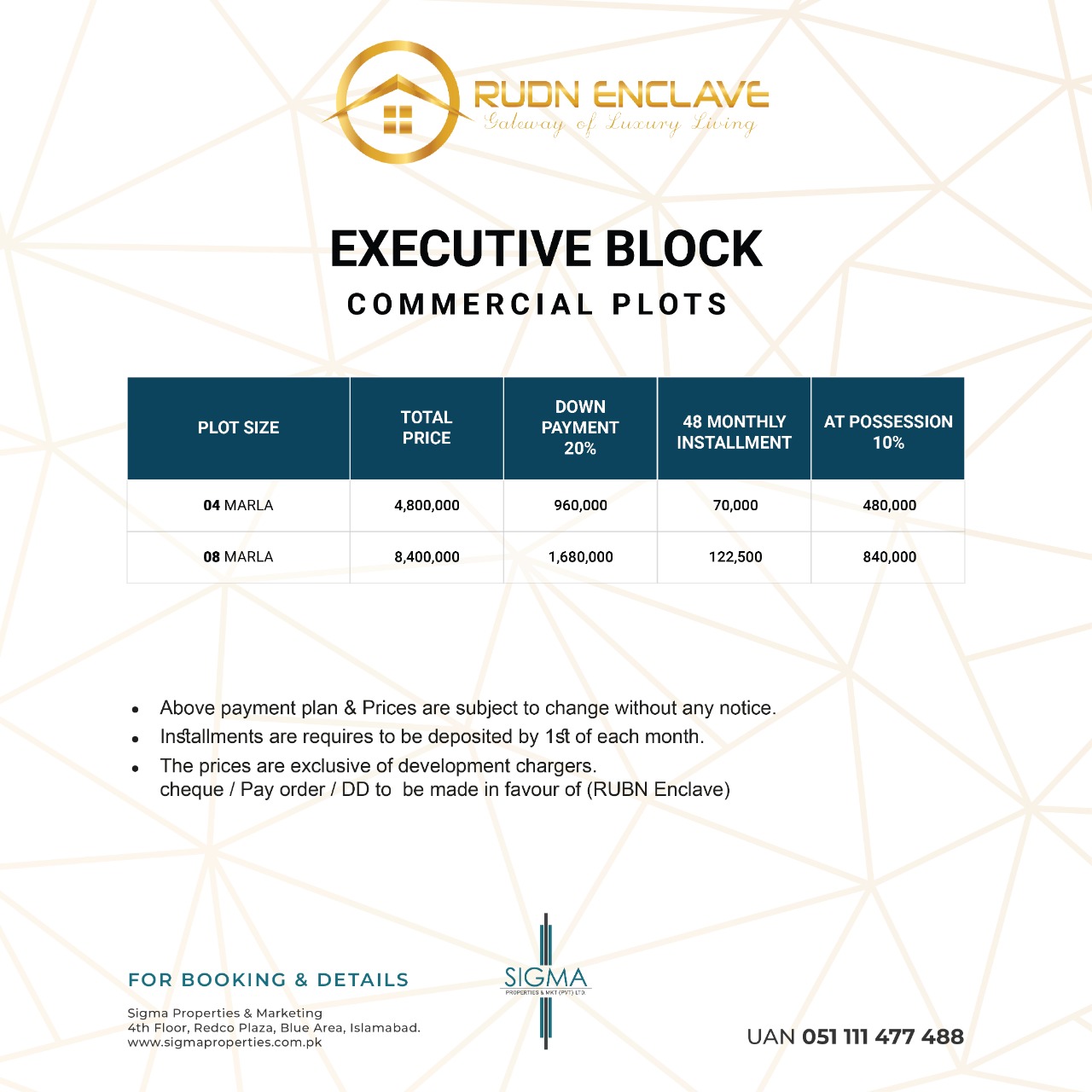 Farmhouses 
Do you await a serene and tranquil environment for returning to at the end of the day? The Farmhouses at Rudn Enclave provide precisely that with pleasurable amenities. The surrounding sceneries, so green and lovely, will make you feel detached from the civilization in a fulfilling way. 
The block of the Farmhouse is at a perfect position, free of disturbances. A 4 Kanal plot and an 8 Kanal plot are among the subcategories available in this block.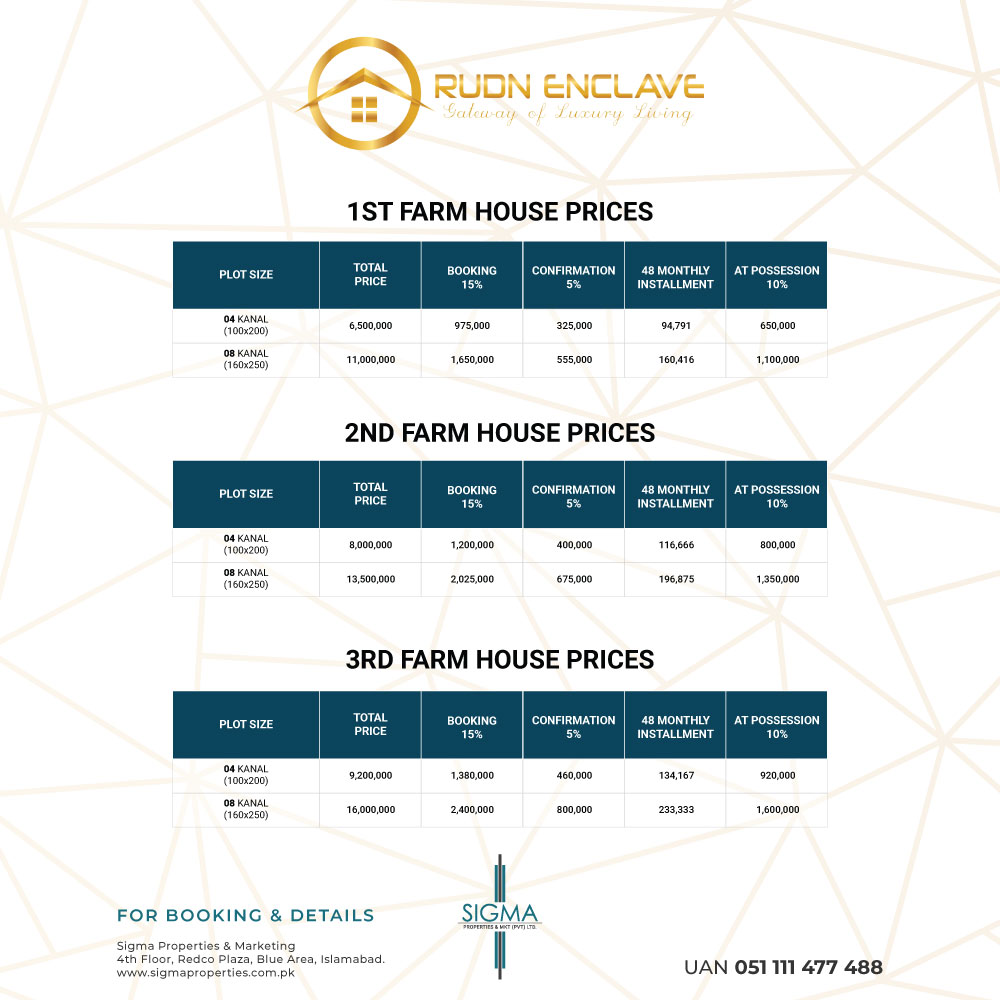 The 4 Kanal Farmhouse plots cost 92 Lac, with a 15% booking fees of 13 Lac and 80 thousand rupees. The confirmation fee is 5% of the total amount of 4 Lac and 60 thousand rupees. There are also 48 easy installments, each costing 2 Lac, 18 thousand, 700 hundred, and 50 rupees. At the time of possession, a 10% deposit of 15 Lac rupees is required.  
You must pay 15% at the time of booking and another 5% at confirmation. 10% to be paid at the time of possession. The price of an 8-Kanal farmhouse is PKR 16,000,000, with 48 monthly installments of PKR 233,333. 
Development Status 
The Rudn Enclave Rawalpindi's development status has lately been characterized as "under construction." Almost a fourth of the planned work was finished in less than two months, aiming to complete the road construction.
Amenities
Rudn Enclave is a master-planned residential community with all of the contemporary amenities and highly efficient technologies. 
All of the amenities are made possible by the acknowledged developers' dedication and hard work. The engineers are constantly striving to reach their full capabilities. It is evolving to provide every family with the opportunity to enjoy a cost-effective and luxurious lifestyle. The following are some of the plentiful amenities: 
Water Theme Park 
Summer delivers fun at water parks which is why Rudn Enclave shall provide a water park. The excellent weather combined with the excitement of slipping down the slides is one of the perfect ways to spend time with friends or family. There are numerous attractions for children, and if you're looking for a little more daring, you may surf in a wave pool. 
Rudn Continental Hotel 
The lodging society shall lay the foundation of the Rudn Continental Hotel with all of the necessities and luxuries. Apart from the lovely accommodation, the hotel food will be exceptional. You can enjoy a variety of cuisines, comprising of Chinese, Thai, French, and Pakistani. There will also be an indoor and outdoor pool, a gym, a spa, and a garden at the hotel. 
Wide Carpeted Roads 
To ensure optimum development of the roads and other infrastructure, they are built with a high level of professionalism and equipment. The boulevards and streets are large and expansive, giving the area a lovely appearance. 
Jamia Mosque 
This housing society will meet all of the residents' requirements, including religious ones. As a result, the developers built a spectacular main Jamia mosque to meet the spiritual needs of the residents. 
Community Clubs 
The society provides a great community centre for residents to gather at events and participate in social activities. It will allow the residents to meet, communicate, and form meaningful bonds with one another, allowing them to become a family that looks out for one another at all times. 
Salient Features 
The salient features of the Rudn Enclave are as follows,
The main entryway is stunning

A boundary wall surrounds the gated community

Green Belts and public parks 

CCTV camera surveillance

Golf Course

24/7 Underground Electricity, Water, and Gas Supply

Sewerage system with extensive subterranean pipelines 

System for garbage disposal and management

Educational Institutions 

Sky Walk

Sports facilities for residents' healthy activities

Cinema

Different Commercial Areas to meet the citizens' economic needs 
How to book a plot?
To reserve your plot, simply contact our team at Sigma Properties. The following are the documents you'll need. 
Copy of your CNIC

Copy of your CNIC of your next to kin

Two passport size photographs

The Applicant can pay the booking amount in the form of a payment order, cash or a direct cash transfer in the company's account. 
Booking Procedure
The booking procedure is as follows: 
Fill out your booking application form completely.

You must attach copies of the Applicant's and Nominee's CNICs.

Make a down payment in the form of a check or money order payable to "Rudn Enclave."

Payments in cash are also accepted.

Submit all required documents, make your payment, and receive your receipt.

After 8 to 10 working days, you can pick up your file. 
Why Rudn Enclave Rawalpindi?
Rudn Enclave Rawalpindi is an elegantly planned housing society aiming to give its residents a luxurious and environmentally friendly environment. The real selling point is its well-developed infrastructure and tranquil surroundings, making it a dreamy spot to live in Pakistan. The prices of the residential, business, and farmhouse plots are set so that low-income citizens may afford them as well.
Secure Community 
A gated community provides an upgraded level of security. The residents are protected by a security system that includes properly installed CCTV cameras and other surveillance equipment that is operational 24/7. 
Exceptional Developers 
The collaboration of RMRSCO (Pvt.) Limited and NESPAK (Pvt.) Limited is proving to be revolutionary. Their combined goals and ideologies are bringing a remarkable lodging society into existence.  
World-Class Cinema 
The lodging society offers theatres having a sophisticated sound system, large screens, and comfy seats. Furthermore, viewers can watch 2D and 3D films at these theatres while savouring delectable foods. The cinema has a total capacity of over 500 seats. 
Electricity, Water and Gas Provision 
The Rudn Enclave shall have the 24/7 provision of underground utilities of power. Due to the load shedding issues in the big cities, the citizens are looking for housing societies in the vicinity of Rawalpindi like Taj Residencia, Blue World City and Capital Smart City.
Pros and Cons
Pros
Pakistan's First Skywalk 
This planet has captivated man's attention due to its many distinctive traits. It's no surprise that its timeless beauty has always astonished us, to the point where we desire to push the natural boundaries so we can stare further into nature. So, Rudn Enclave will introduce a vertigo-inducing invention, the first skywalk of Pakistan. 
Healthcare Facilities 
Rudn Enclave Rawalpindi would be unlike any other in Pakistan since its healthcare facilities will be the most advanced. The best medical facilities will be available to the lodging society's citizens. Doctors and non-medical employees will be well-trained to provide excellent care 24/7. 
Golf Course 
There is no more extraordinary place to be on a clear spring day than on a golf course. Rudn Enclave Rawalpindi aspires to create a natural golf course with a rich history, popularity, and excellent layout and shot values. Golf has come on leaps and bounds from the rolling sheep-grazing fields of the early British Isles courses to the different parts of the world, to the Rudn Enclave in Pakistan. 
Convenient Payment Plans  
The lodging society offers the easiest of payment plans possible. They intend to meet the demands of the country's low-income citizens. The supremacy such as that of Rudn Enclave at these favourable prices is the best opportunity. 
Cons 
Distance from the Twin Cities
Some of our clients have expressed their views about the Rudn Enclave being a distant location. But this is subjective. Some wish to live in lodging societies near the Twin Cities due to the impeccable amenities and lifestyle. 
Conclusion
A highly skilled group of architects designed Rudn Enclave under the consultancy of the esteemed individuals of NESPAK. It is a dreamy lodging society that provides luxurious amenities. An investment in this lodging society shall ensure a prosperous future for you and your children. 
FREQUENTLY ASKED QUESTIONS (FAQs)
1-Who is the owner of Rudn Enclave?
The RMRSCO (Pvt.) Limited and NESPAK (Pvt.) Limited are the developers of this lodging society. 
2-Where is the Rudn Enclave located?
It is located near Rawalpindi.
3-Is it an approved housing society?
The RDA is currently processing the NOC for it, and it will be approved soon. 
4-What is the development status?
The development is proceeding at full pace. Only one delay took place, and it was due to the Ring Road's re-alignment.
5-Is there a high-yield investment opportunity in this lodging society?
Yes, because the payment schedules are very appealing to families from all walks of life, and small investors are interested in substantial amounts. As a result, the likelihood of high-yield investment returns increases.
6-Are there farmhouses available?
Yes, there are 4 Kanal and 8 Kanal farmhouses available. 
7-Why should you invest in the Rudn Enclave?
You should invest in Rudn Enclave as it delivers on its promise of being the best infrastructure development residential area with luxurious amenities at the most accessible prices.