Al Haram City Rawalpindi 
The Al-Haram City Rawalpindi is an exciting pinnacle of excellence that is in proximity to the Twin Cities. We call it the shining star of real estate. It is an affordable housing society because it provides easy payment options for residential and commercial plots with modern and lavish amenities.
History 
Al-Haram City Rawalpindi officially opened in 2004. This housing project is categorized into two blocks, each with its own set of amenities. In 2005, the society's second phase was inaugurated. The most important aspect of this housing project is that it provides international amenities at an affordable cost.
Owners and Developers 
Al-Haram City Builders and Developers are the developers of this innovative housing project. They have polished their skills in the construction and development industries. They executed the Al-Haram City project quickly and efficiently.
With a highly competent team of civil engineers, skilled architects, and other essential professionals, the company provides a range of real estate infrastructure development services. The developers of this project offer to give investors encouraging commercial and residential amenities.
NOC Status
The Tehsil Municipal Administration (TMA) Rawalpindi & Rawalpindi Development Authority has authorized the Al-Haram City Rawalpindi No Objection Certificate (NOC) (RDA). TMA has assumed responsibility for all the other essential paperwork.
Investors can put their faith and hard-earned money in the lodging society. Once a residential society is lawful, there is no doubt that you should invest in it without hesitation.
Location
The best feature of the lodging society is its excellent locale. Al Haram's location is just a few kilometres from Karma Chok Rawalpindi on the main Chakri route. Defense housing authority (DHA) and Capital Smart City are two nearby housing societies. The China Pakistan Economic Corridor is only one kilometer away from this housing project (CPEC). From the backside, the Dhamial Road is linked to the lodging society.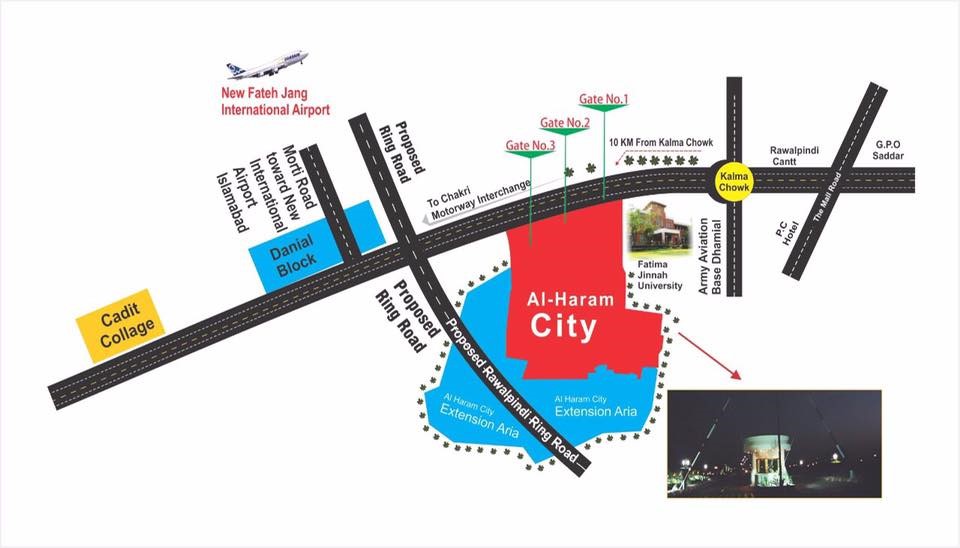 Access Points 
The following are the simplest and quickest ways to access Al-Haram City Rawalpindi,
Right on Chakri Road
Near to Dhamial Road
About a 23-minute drive from the M-2 Lahore-Islamabad Motorway
Adiala Road is about a 26-minute drive away
Girja Road is about a 17-minute drive away
Nearby Landmarks and Locations
Nearby landmarks & places to Al-Haram City Rawalpindi include the following:
Fatima Jinnah Women University
Shadman Town
Bestway Cement Suppliers
Dhok Chathianwali
Dhok Sarparaswali
Dhok 6Jumen
Dhok Natya
Capital Smart City
New Iqra City Society
Kalyan Par
Lambigarh
Master Plan 
Al-Haram City's master plan was created and completed with highly qualified civil engineers, architects, and developers. The organization has a variety of residential and commercial plots available at reasonable prices.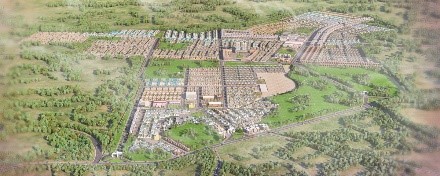 Phases of Al-Haram City Rawalpindi
The phases of society are as follows:
The following are the blocks in Phase I:
Al Harmain Block I
Al Harmain Block II
Al Harmain Block III
Al Falah Block
Al Huda Block
Tuba Block
Aqsa Block
Nimra Block
The following are the blocks in  Phase II:
Al Masoor Block
Al Rehman Block
Al Noor Block
Al Raheem Block
Al Munawar Block
Al Shaheed Block
Al Latif Block
Residential Plots
The residential plots of Al-Haram City Rawalpindi are as follows:
3 Marla
5 Marla
6 Marla
7 Marla
10 Marla
1 Kanal
Commercial Plots
The commercial plots of Al-Haram City Rawalpindi are as follows:
Payment Plan
The management of the society has fixed the payment costs so that it is one of the most reasonable societies in Rawalpindi and Islamabad. Plot prices are always variable depending on the property market and the society's administration. The following are the residential plot prices in Rawalpindi's Al-Haram City:
| | |
| --- | --- |
| Plot Size | Plot Prices |
| 3 Marla (R) | 6.3 Lac |
| 5 Marla (R) | 7.7 Lac |
| 6 Marla (R) | 8.9 Lac |
| 7 Marla (R) | 10.89 Lac |
| 10 Marla (R) | 18.3 Lac |
| 1 Kanal (R) | 31.1 Lac |
Commercial Plots Payment Plan 
Commercial services are an essential component of any housing community. Residents of this excellent housing project have access to numerous commercial facilities. The payment plan for the commercial plots is shown below,
| | | | | |
| --- | --- | --- | --- | --- |
| Plot Size | Price | Booking | Instalments | On Transfer |
| 6 Marla | 78,75,000 | 16,00,000 | 42 Monthly Instalment 1,39,880/- | 4,00,000 |
| 7 Marla | 96,25,000 | 19,00,000 | 42 Monthly Instalment 1,72,023/- | 5,00,000 |
Amenities Provided
The Al-Haram City Rawalpindi offers all of the contemporary conveniences and amenities at sensible rates. The amenities are an element of any modern, wealthy society described as a full-bodied residential project. The following are the services provided by the Al-Haram City scheme:
Road Infrastructure of High Quality 
The roads and other infrastructure are built with a high level of professionalism and equipment to ensure optimum development. The Major Boulevard and streets are large and expansive, giving off a lovely appearance.
Hub for Business and Commerce
The developers are building new retail complexes to meet the needs of the people of Rawalpindi and Islamabad. Retail stores with well-known national and international brands, supermarkets, food courts, a kid's area, corporate offices, and banks make up the commercial zone.
Healthcare Services 
The developers have devoted special attention to the lodging society's health services. The developers plan to build progressive international hospitals and clinics. The emergency room will be open 24/7, with staff and doctors on hand at all times.
Cemetery 
A cemetery is an essential element of any lodging society. The inhabitants may choose to bury their departed relatives and pray for them. They may also pay respects to loved ones buried within the lodging society.
Community Center 
It's challenging to practice social work in a dreary, uninspired, and outmoded community centre. Fortunately for recent social work graduates, Al-Haram City Rawalpindi provides a community centre with various amenities to keep people and employees happy.
Petrol Pump 
The society is required to offer a petrol pump in a convenient location for all inhabitants. The petrol filling scale will be highly accurate, and clients will be pleased with the mileage.
The number of automobiles at the station speaks for itself; we have discovered that the best possible times to avoid long lines at the gas station are 8 a.m. and after 10 p.m.
Salient Features 
The following are the most notable aspects of Society
Boundary Wall
Cost-effective Living
International infrastructure development
Eco-neighborhood
Grand Mosque
Resources of Water
Hospitals, dispensaries, and clinics all provide medical services.
Educational Institutes
Sports Club with indoor and outdoor facilities
Retail Areas
Petrol Pump
24/7 Security
Sui Gas
High-class maintenance
Underground electricity and water
System of sewage and garbage disposal
How to Book a Plot in Al-Haram City Rawalpindi?
The booking process is quite simple. There are specific guidelines to follow, and you will be able to make reservations smoothly.
Security of the Financial Resources
Please ensure that your resources align with your buying strategy before finalizing any property sale or purchase. This measure will ensure that your purchase or sale is performed effectively.
Check the Paperwork 
To avoid any misinterpretation or misunderstanding, please make sure to check all of the paperwork thoroughly. Before buying or selling a property, make sure to ask about the developers' NOC and approval documents, which the authorities have officially approved.
Property Inspections
Before making any purchases, inspect the property to check that the written documents follow the plot parameters. After you have followed these guidelines, you are ready to make your reservations. Let our experts at Sigma Properties handle the booking procedure.
For bookings and further inquiries, go to the Sigma Properties office. You can also make reservations through the internet.
The booking paperwork is obtainable for download on the lodging society's official website.
Complete the application form with the relevant information.
Deposit in the form of pay order, cash, or purchase order payable to Sigma Properties.
Submit your booking form, as well as all relevant documents and payment order.
Documentation Required 
You will need the following documents for the reservation of your plot,
2 Copies of CNIC of Applicant
2 Photos of Applicant
2 Copies of CNIC of Nominee
Why Al-Haram City Rawalpindi?
Have you ever had a dream of the perfect home, with tranquility surrounding it and the best of amenities all in one place? Well, prepare to be dazzled as Al-Haram City Rawalpindi caters to that ultimate dream. The developers are keen on delivering outstanding infrastructure and style to give the residents what they desire. So the actual question here is that Why not Al-Haram City Rawalpindi?
A Business Hub 
The numerous commercial opportunities in the lodging society have captured the interests of the investors. You could buy shops in the commercial region and rent them out without facing the hurdles money earning brings. The business-minded residents will not have to look far away for investment opportunities. They could make investments near their abodes as per their conveniences.
The Perfect Social Life 
At Al-Haram City Rawalpindi, you shall have an optimum social life, thanks to the excellence of the community centre. Because of its appealing, cutting-edge, and eco-friendly design, the new look of the community centre is pleasing to the eye. The structure houses a variety of amenities, ranging from gyms and pools to theatres and libraries. Still, it all has two qualities: it is spectacular and there to serve the respective individuals of the community.
Safe Community 
The lodging society would be enclosed by a boundary wall with a foolproof mechanism to ensure a high level of safety. Three gates provide entry to the society, making it one of Rawalpindi's most accessible and secure lodging societies, among others like Rude Enclave, Taj Residencia and Blue World City.
Water Reservoirs 
The developers have built a water reservoir, storing a vast volume of water for the residents to utilize in their everyday activities. Filter plants will also be a feature of the lodging society to ensure that citizens have access to clean drinking water.
Pros and Cons 
Pros 
Passive Income 
If you are looking for a simple investment free from the residing point of view, look no further. The society is an excellent place to generate passive income. Passive income, such as rent, can be obtained once someone has invested in a real estate property. Investors purchase a constructed property or develop open land, then rent it out, assuring a consistent source of revenue throughout the year.
Affordability Rate 
The society falls on the list of inexpensive lodging societies. The payment plans are feasible for the sole reason of accommodating the low-income citizens. When done correctly, real estate investing will never lose value. Every year, the value of real estate rises, so will the value of the plot you may have bought at a reasonable rate of the current time.
Natural and Peaceful Ambiance
Noise and pollution abound in today's huge cities. Every individual wish to live in a serene atmosphere closer to nature. This splendid housing society will make it easier for you to live a healthy lifestyle in a tranquil, natural setting.
Well-Designed Drainage Systems 
Drainage and wastewater design that is both sustainable and cost-effective are critical for long-term agricultural and infrastructural development. The Al-Haram has proposed a well-planned system to appropriately support overall society health and keep dwellings habitable and dry.
Cons 
Perception of Distance 
It is a common perception that the lodging society is at a remote location, but this is subjective. We have clients who have opted for Al-Haram City solely because they required lodging away from the hustling bustling city.
Conclusion 
Al-Haram is a prime housing society that offers an unequalled lifestyle. This housing society is a low-cost project that will assist middle-class families in constructing their own homes near the Federal Capital. It is a fantastic opportunity for both investors and residents to earn profits.
FAQs 
What is Al-Haram City Rawalpindi? 
Al-Haram is a posh and renowned housing development in Rawalpindi, Pakistan.
Who is the developer of Al-Haram City Rawalpindi?
Al-Haram Developers is the developer of Al-Haram City Rawalpindi.
Is it an approved housing society?
Yes, it is approved by RDA.
Where is it located?
Al-Haram is conveniently positioned at Chakri Road.
Is it an expensive or affordable housing society?
It is an affordable housing project.
Which amenities are available at the Al-Haram City Rawalpindi? 
This housing society will give all essential and modern amenities at a reasonable cost.
How can I book a plot? 
You can contact Sigma Properties for booking and further details.
Which plot sizes are available in this lodging society?
In the residential sector, plots of 3 Marla, 5 Marla, 7 Marla, 10 Marla, and 1 Kanal are available, while plots of 6 and 7 Marla are obtainable in the commercial sector.