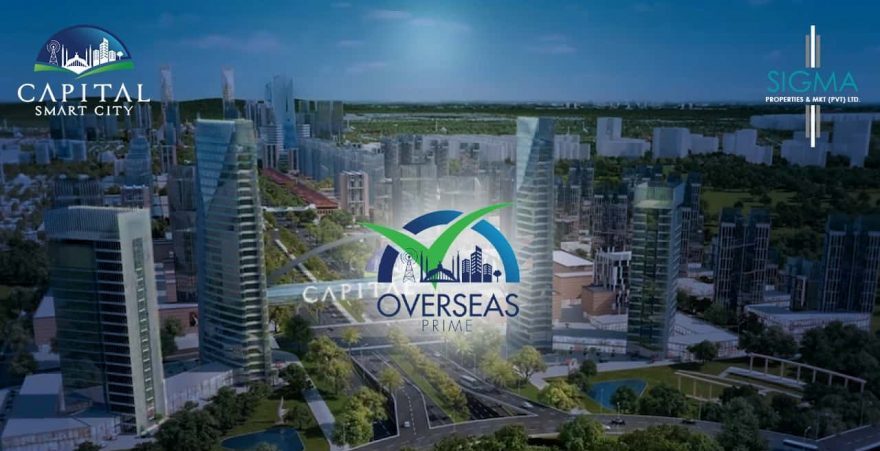 Overseas Prime Block 
The Capital Smart City has introduced "Overseas Prime Block" designed by a smart community (Surbana Jurong) launched at London Dorchester on the 20th of February 2018. Overseas Prime Block is one of the first smart society in Islamabad. Overseas Prime Block is developed for the non- resident Pakistanis living abroad. This Prime Block is a very good and attractive block in all the blocks of Capital Smart City Islamabad. It is a separate gated community according to developers, which supplies all the facilities. It is situated at a very beautiful point within the Capital Smart City place, It has the best collection of high features. Overseas Primes high features allow residents to view the entire Capital Smart City features and furthermore. The pleasant view of Waterfront, the PGA Standards 18-hole golf course will entertain all of the residents of Overseas Prime Block.
Prime Block Location
The Entrance of Overseas Prime Block is from the Chakri road. It is 180 feet wide, smart, and Roman-style huge entrance carries the full view of all the rivers, lakes, parks, and golf links along with 50 feet wide streets. The distance of facility places of Prime Blocks is 400-meter away.
Prime Block  Features
All of the transport system with attractive facilities of this block like Bikes,  Hybrid/Electric cars for transporting purpose, Including QR coded bike, Rapid Bus Transport (BRT System), Skyline of CSC, Landmark Buildings, the Khairi Murat Mountains Range, The 18 hole PGA standard golf course by Peter Harradine, All lakes and Rivers which are preserved for the CSC, Dancing Fountains of the Crystal Lake district, The Ferris Wheel, Chahan Dam, Water Sports Area, The artificial Beach at the lake view terraces, F-2 Race Track will connect you with Capital Smart City.
Prime Block Payment Plan
Capital Smart City Overseas Prime Block contains residential plots of 7 Marla to 40 Marla, Its booking starts with 10% the same as the executive block. Recently, the prices of properties in Overseas Block Capital Smart City has increased by 10% because of its location towards facing the park, corner, main road (between 41" and 99"). The plot sale of this Prime Block has increased by 2.5%. All the plot's prices and the payment plan will be revised and will be increased up to 7.5% after 3rd October.
This payment plan table will make you understand the price plan and installment plan of the Overseas Prime Block according to the size of the area.
Plot Type
Dimensions
Unit Price

PKR

Down Payment 10%
Confirmation 10%
42 Monthly Installment
7 Half Yearly Installments
Residential Plot
7 Marla
3,230,000
323,000
323,000
30,760
184,583
Residential Plot
10 Marla
4,245,000
424,500
424,500
40,430
242,565
Residential Plot
12 Marla
4,695,000
469,500
469,500
44,715
268,280
Residential Plot
1 Kanal
6,365,000
636,500
636,500
60,620
363,708
Residential Plot
2 Kanal
12,500,000
1,250,000
1,250,000
119,050
714,274
capital Prime Block Benefits
The Overseas prime block has quite a significance. It also offers a lot of benefits. The Prime Block shows the appreciation and hard work efforts of the abroad Pakistani has given to Pakistan. This project assures overseas Pakistanis an entirely secure and beneficial opportunity to come and invest here.