Faisal Town Islamabad
The Faisal Town Islamabad offers an exemplary living in the Federal Capital. It is on the main Fateh Jang Road, directly adjacent to the Fateh Jang Interchange on the M-1 Motorway. The housing society combines modernity and peacefulness with breath-taking sights of the Margalla uplands and world-class amenities.
Owners and Developers
Faisal Town Islamabad is a venture of Chaudhry Abdul Majeed, the former chairman of MPCHS, and Zedem International Private Limited. Abdul Majeed is an esteemed real estate developer in Islamabad, known for his well-executed residential developments such as E-11, F-17, and B-17.
Chairman of Faisal Town, Ch. Abdul Majeed, has a diverse experience spanning three decades. His goal is to build trust through hard effort, competence, and honesty. They are offering excellent living standards for the inhabitants of the twin cities by completely reinventing housing designs.
Zedem International Private Limited
Zedem International Pvt. Limited is headquartered in Islamabad. They have a remarkable team of individuals who strive for success. Engineers, managers, designers, builders, customer service representatives, support staff, and front desk officers constitute the whole team. At Faisal Town, they have built a culture of client delight among their workforces. They are a group of highly trained, competent, and knowledgeable professionals about their various areas of responsibility. They believe that professionalism necessitates an ethical approach to work and the ability to manage their tasks efficiently.
Zedem International Private Limited is taking the lead in building communities that provide a sustainable future. Zedem delivers a transparent and trusted platform for the market participants for their real estate company in Faisal Town. Faisal Town, Faisal Residencia, Faisal Tower, and SEA Square are just a few of the projects Zedem has completed successfully.
The firms associated with Zedem International Pvt. Limited are,
Faisal Town Pvt. Limited
Margalla City Pvt. Limited
CAM Construction Pvt. Limited
NOC and Planning Permission
Even though the project is located in Islamabad's F-18 region, it is still subject to RDA's jurisdiction and has received its NOC. You can use RDA's official website to verify this information.
The Rawalpindi Development Authority (RDA) has accepted a layout plan for "Faisal Hills" (FH) measuring 11823.50 Kanal, as per their letter no. RDA/MP&TE/F-PHS-TAX-02/966.
Environment Protection Department Punjab awarded the project the environmental approval in letter no. DD (EIA)/EPA/F-65 (IEE)/2802/2014/579 on March 21, 2014.
As a result, we can assert that investing in the lodging society and building your dream home is an entirely secure step.
 Location
Like many other housing developments in the locality, Faisal Town, such as Capital Smart City, University Town, and ICHS Town, is situated near the New Islamabad International Airport.
Faisal Town is located right adjacent to the Fateh Jang interchange, connecting it to the Motorway and Srinagar Highway. It leads directly to the Federal Capital as well as the New Islamabad International Airport.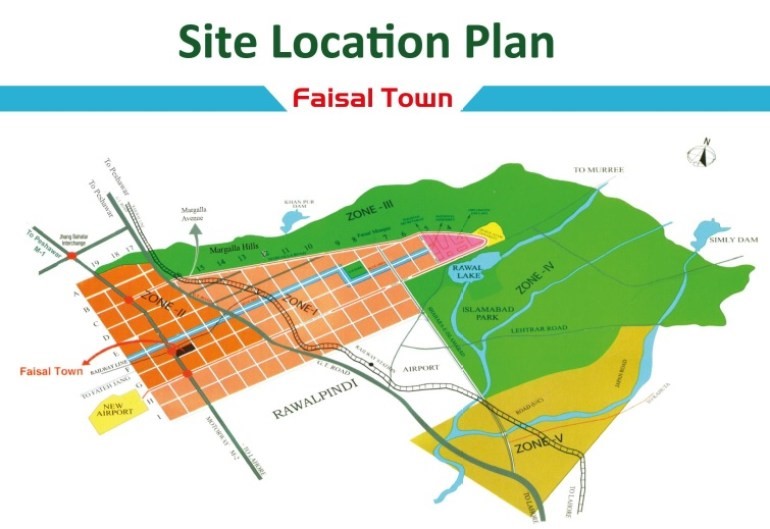 Details of the Project
Faisal Town Islamabad is a modest residential project with only three blocks: A, B, and C. Even so, the development shown in these blocks is of a high grade, and the residential homes, villas, and commercial spaces are in high demand by investors and developers alike.
The lodging society has built a vast network of wide carpeted roads, sewerage disposal systems, water, gas, power connections, hospitals, schools, and colleges.
Master Plan
The master plan shows that the lodging society is ideally placed near the twin cities and the highway. Because of the New Islamabad Airport, the entire area is likely to fall under Islamabad's zone 2.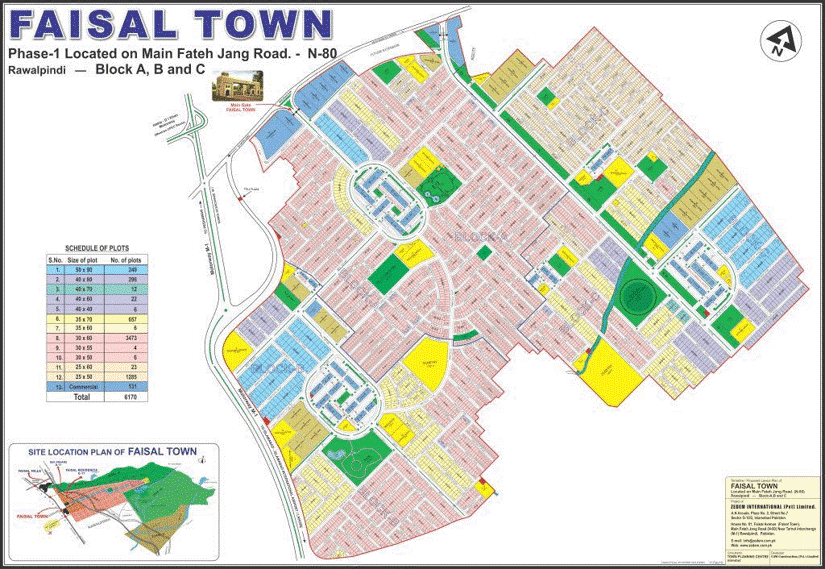 Blocks
The Blocks as per the master plan are as follows,
Block A and B
Block A has been fully developed, and a significant number of people are now residing there. There are some of the best shopping arcades, parks, and residences in these blocks. Block B is closer to the M2 and is expected to connect to the M1 as well.
Block C
Block C is regarded as the optimal site to invest in the housing project as it is connected to the Srinagar Highway and the New Islamabad International Airport. In addition, a professional cricket stadium will be built here, spanning over 60 Kanal of land.
Plots
The installment plots have all been sold out, and only a few files are left for resale. Resale plots in Blocks A and B are also available in various price ranges.
Plots of 5-6 Marla are priced between 55 and 65 lac.
Plots of 8 Marla are priced between 65 and 70 lac.
Plots of 10-11 Marla are available for between 70 and 90 lac.
14 Marla Plots are accessible between 90 lac and one crore.
Plots for 1 Kanal range in price from 1.5 to 2 crores.
Development Status
This project has proven to be financially beneficial for those who invested in it during its early stages. In merely two years, the profit for the housing society's owners has doubled. Another significant component of the project is its rapid development, as the developers effectuated Block A in a record-breaking two and a half years.
The building of the residential blocks and commercial squares is currently underway. It is ready for possession while Block C is presently being built at a rapid pace, and the files of plots in these blocks are offered on the market for a profit.
Payment Plan
You can purchase property in the lodging society on a simple payment plan. Properties of 5, 8, 10, 14 Marla, and 1 Kanal are available in the society's residential blocks.
Apart from residential plots, the lodging society also has commercial plots of 50*90. Apartments of varying sorts are also available.
Residential Plots Payment Plan
The payment plan for residential plots is as follows: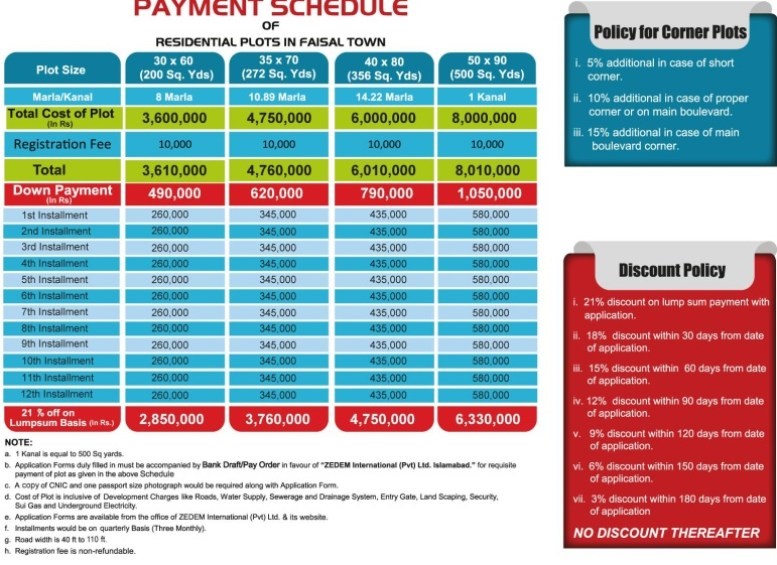 Please note that presently there are no bookings available in the housing society, and the majority of the appointments were made at cheaper costs than those shown above. This payment plan offers you an overview of current prices in the B block.
How to Book a Plot?
Contact our consultants at Sigma Properties for further booking details. The required documents are as follows,
Two copies of the applicant's CNIC
Two photos of the applicant
Two copies of the nominee's CNIC
Amenities
The housing society has the following amenities:
Gated Community 
The developers opted to make this housing project a gated community surrounded by a high boundary wall that will provide occupants with a sense of protection. It is done to safeguard the members and distinguish society from other housing societies in the region.
Modern Commercial Zones 
The housing project has intentionally constructed all of the blocks with a modern commercial area for the residents' comfort. These commercial zones will have a choice of retail brands and entertainment options. There will be many foreign and local brands in these commercial zones.
Mosques 
Mosques with beautiful architecture have been built as part of residential and commercial structures in the lodging society so that people can pray in comfort. These mosques can readily accommodate hundreds of people for Jummah prayers, Eid prayers, and other special prayers at the same time. In addition, the mosques have a constant supply of hot and cold water.
Educational Institutes 
The administration has made academics a priority. The housing project has granted permission to several well-known schools and colleges to open up several branches in Faisal Town so that students can continue their education without needing to travel long distances to the main cities.
Roads with a Carpeted Surface
In the first phase of the society's development, the management opted to finish the extensive network of carpeted roadways. A network of roads has been laid out across the community to make it easier for residents and visitors to get about. Asphalt work is done on the lodging society's main boulevard, double roads, and streets, and the sidewalks are of concrete.
Main Features 
The main features of the lodging society are as follows,
Secure entry system
Mosques
Commercial center
Petrol pump
Water reserve
Parks and playgrounds
Sewage disposal station
Community clubs
Educational establishments
Utilities in the subterranean
Hospitals and medical centers
Why Faisal Town Islamabad?
An investment in faisal town will be a wise decision and let us tell you why.
Returns on Investment (ROI) 
The most important factor regarding the lodging society is that the investors have gained high returns on their investment. The property in the lodging society holds significant value and is only appreciating with time.
Prominent Housing Societies Nearby 
The lodging society has a favorable position in the region. The rising housing societies nearby are the Capital Smart City, University Town and ICHS Town. The proximity to these lodging societies has increased the value of Faisal Town Islamabad. It is also in the vicinity of the New Islamabad International Airport.
Peaceful Atmosphere 
The lodging society guarantees an ambiance of tranquility along with the availability of outstanding amenities. The residents will not have to deal with noise pollution, unsafe situations, and load-shedding problems, all of which are present in the big cities.
Pros and Cons
Pros
Trustworthy Developers 
The mastermind of the project, Chaudhry Abdul Majeed, is the driving force behind the project's success. He has previously worked on some successful Islamabad projects, including F-17, E-11, B-17, Faisal Residencia, Faisal Hills, and Faisal Margalla City. It demonstrates that Faisal Town Owners and Developers have extensive experience and are well on their way to building one of Islamabad's premier housing societies.
Commercial Benefits 
The commercial zones are proving to be beneficial for residents and investors as well. The shopping arcades feature modern facilities such as elevators, escalators, automobile parking areas, valet parking, security systems, bathrooms, and a lot more. The residents do not need to go far and wide for their shopping needs. The investors have their profits reaching them from their properties in the lodging society's commercial zones.
Secure Housing Society 
Faisal Town Islamabad ranks in one of the most secure housing societies in the country, with an extensive security system in place. Night vision with motion sensor CCTV cameras has been installed throughout the housing development to monitor all activities in the housing society. A private security force is also employed and stationed at all housing society's major intersections, the entrance gate, essential markets, and the boundary walls.
Parks & Recreational Areas
In a residential project, entertainment and sports activities are crucial for the well-being of both children and adults. The Faisal Town master plan contains several parks and playgrounds that allow outdoor activities to meet this need.
Cons
No instalment Plan 
The lodging society no longer entertains bookings, and the majority of the reservations were booked at lower prices than those listed above. But then, this excludes the waiting period for those who wish to obtain property immediately.
Conclusion
Faisal Town Islamabad is a symbol of excellence. The housing project is a treasure trove for investors because of its location in the F-18 sector, directly across the Islamabad sectors. It is a small-scale, fully developed housing initiative that features luxurious amenities, a perfect location, and high-quality architecture.
If you are searching for housing in the twin cities, take a look at Park View City Islamabad, Nova City Islamabad and Taj Residencia.
FAQs
What is Faisal Town Islamabad?
It is a housing society on the main Fateh Jang Road.
 Where is it located?
The housing society is right next to the Fateh Jang intersection, connecting it to the Srinagar Highway and the Motorway. It provides direct access to both the Federal Capital and the New Islamabad International Airport.
Who are the developers of the housing society?
The Zedem International Private Limited are the developers of the housing society.
Is it a gated housing society?
Yes, it is secured with a gate and boundary walls.
Is it an approved housing scheme?
Yes, it has been approved by the Rawalpindi Development Authority, RDA.
What is the price range of 5 and 6 Marla residential plots?
Plots of 5-6 Marla are priced between 55 and 65 lacs.
Will there be electricity, water, and gas in the housing society? 
Yes, there will be an underground supply of electricity, gas and water.
Is there an instalment plan?
No.
How many blocks are there in the housing society?
There are three blocks,
Are there hospitals and schools in the housing society?
Yes, there are modernistic hospitals and schools in the housing society.