Airport Green Garden Islamabad 
The Airport Green Garden Islamabad seeks to make your life greener, healthier, and rewardingly happier. It is a modernistic lodging society of fulfilled dreams, opportunities, and compassion. It is an outstanding residential development that offers a variety of plot types with flexible payment options. 
Owners and Developers 
Airport Green Garden, Islamabad, is a project of excellence by the Airport Green Garden Pvt. Ltd. It is a private company that has been functional since 2016. Their sole objective is to become the preferred service provider in the real estate industry. They ensure timely delivery without compromising quality and exceed the expectations of their treasured clients. They work hard to maintain a reputation of honesty and trust. 
NOC And Approval
Rawalpindi Development Authority (RDA) has granted the housing society's No Objection Certificate (NOC). RDA supervises all of society's processing. The housing venture's development complies with all legal requirements. 
 Location
The location of this lodging society is a beneficial one. The Airport Green Garden Islamabad is situated near the M2 highway on the main Srinagar Highway. The housing development is near Top City-1 and Mumtaz City.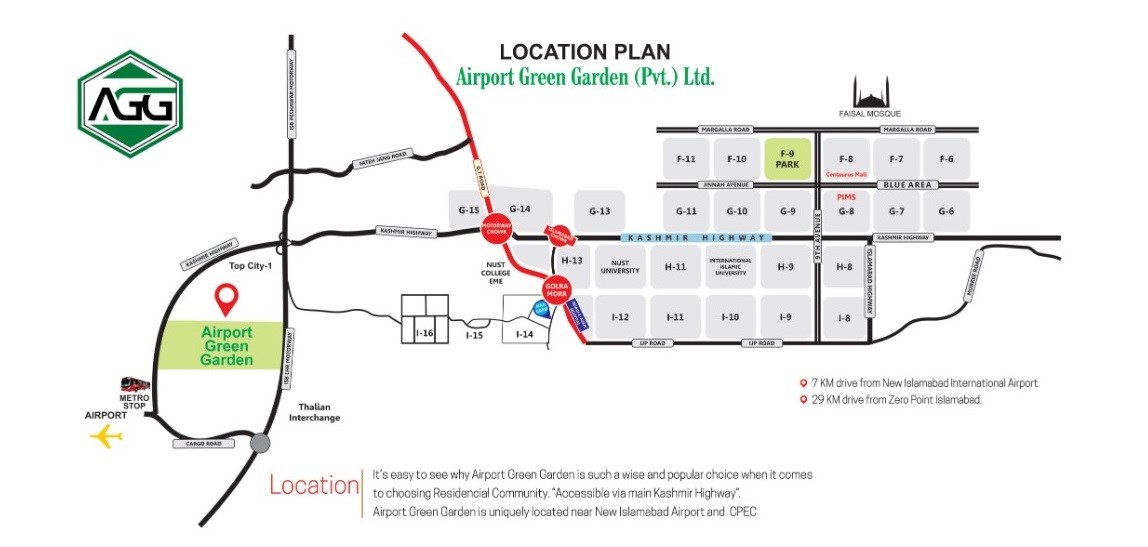 Location Accessibility
Many areas of interest are easily accessible from the housing society's ideal location, including:
The New Islamabad International Airport is 12 minutes away

The residential development is close to the Srinagar Highway

The location is 29 kilometers from the zero-point in Islamabad

The nearest metro station is 7 minutes away 
Nearby Landmarks and Places
Nearby landmarks and locations enhance the value of the site. The atmosphere around the lodging society is exuberating because it is bordered by other housing communities, business markets, and educational institutions, including top-ranked schools, colleges, and universities. 
There are also various ancient landmarks near the society, including:
The Pakistan Monument

Pharwala

Pakistan Museum of National History

Rawat Fort

Shah Allah Ditta Caves
Master Plan 
The Airport Green Garden master plan is divided into three main sections: Block A, Block B, and Block C. The land in the first phase covers a total of 2148 Kanal. Both residential and commercial plots are available in the housing community. The following is the master plan: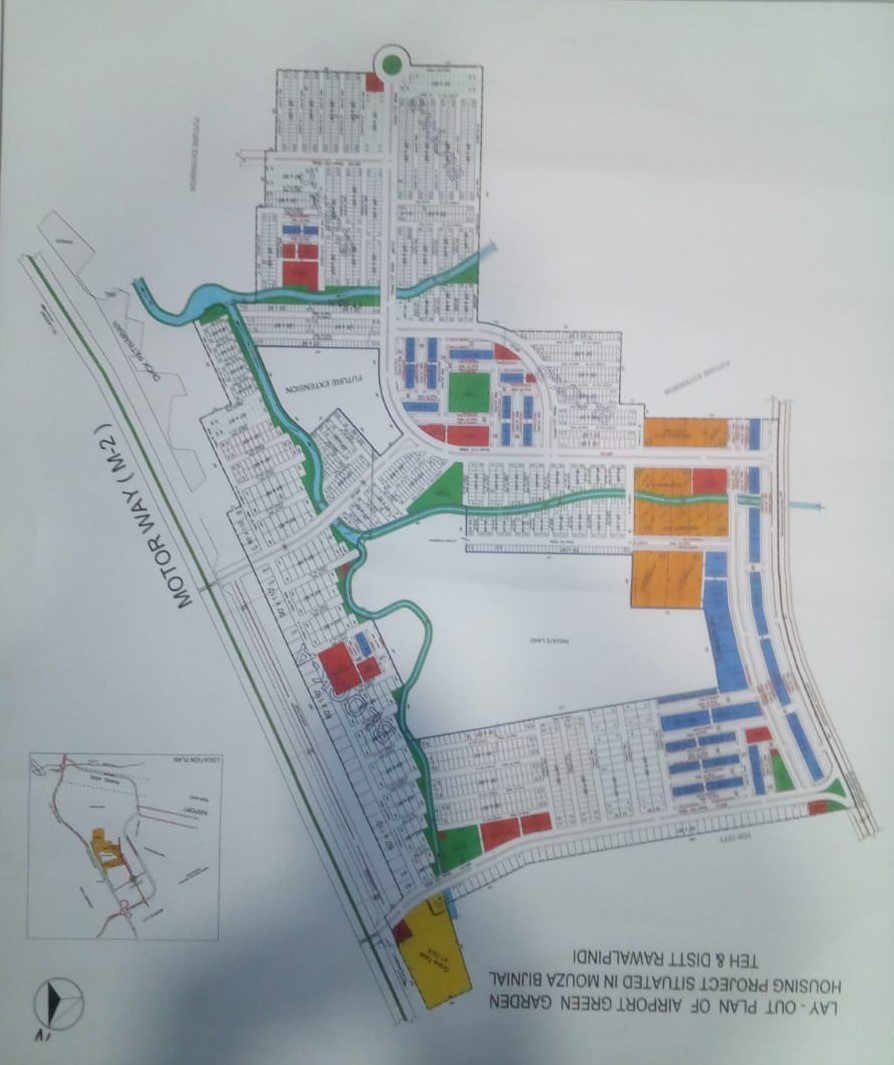 Residential Plot Sizes
The following are the sizes of residential plots in the lodging society:
5 Marla

8 Marla

10 Marla

1 Kanal

4 Kanal
Commercial Plot Sizes 
The following are the sizes of commercial plots in the lodging society:
8 Marla

9 Marla

11 Marla

12 Marla

2 Kanal
Payment Plan 
For residential and commercial plots, the housing society offers simple payment arrangements. For commercial plots, the payment plan includes a 30% down payment and eight quarterly instalments. 
Residential Plots Payment Plan
Residential Plots include a payment plan that involves a 30% down payment and eight quarterly instalments. 
The 5 Marla plot is being sold for PKR 3,200,000 with a 30% down payment of PKR 960,000. The 8 Marla plot is priced at PKR 4,400,000 with a 30% down payment of PKR 1,320,000. The cost of a 10 Marla Plot is PKR 5,500,000 with a 30% down payment of PKR 1,650,000. The cost of a 1 Kanal Plot is PKR 9,500,000 with a 30% down payment of PKR 2,850,000. 
The total sale price of the Farm House of 80218 (1938 Sq. Yd.) is PKR 23,000,000 on a 30% down payment of PKR 6,900,000.00. The Farm House of 90218 (2180 Sq. Yd.) has a sale price of PKR 26,000,000 on a 30 percent down payment of PKR 7,800,000. 
A 10% discount is available to those who purchase the property in full payment.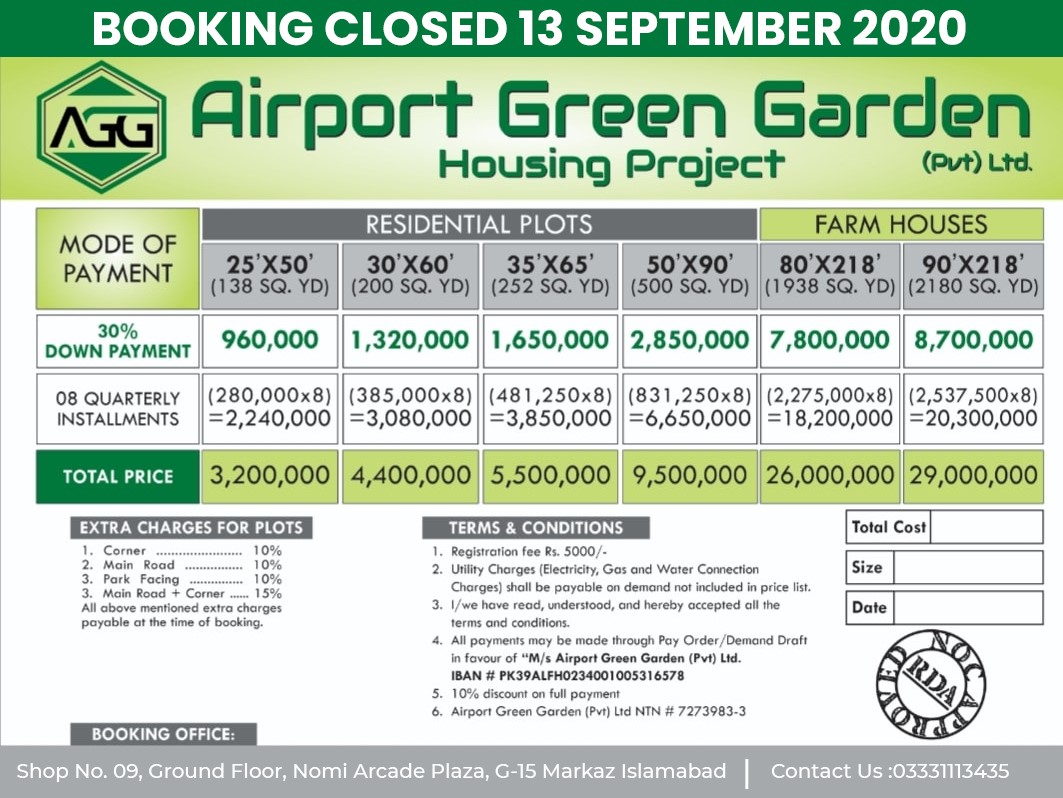 Commercial Plots Payment Plan 
The price of the 4060 (266.66 Sq. Yd.) plot is PKR 34,665,800, with a 30% down payment of PKR 10,399,998. On a 30% down payment of PKR 12,999,900, the 5060 (333.33 Sq. Yd.) plot costs PKR 43,332,900. On a 30% down payment of PKR 47,666,580, the sale price of the 110100 (1222.22 Sq. Yd.) plot is PKR 158,888,600. 
The payment structure for commercial plots in this society is as follows:
Commercial sites on the main road are 50×70 feet (388.88 sq. Yd.). The plot is for sale for PKR 62,220,800, with a 30% down payment of PKR 18,666,000. The commercial plots at mini-markets are 4060 and 5050, respectively. 40 x 60 (266.66 Sq. Yd.) The plot is worth PKR 26,666,000 with a 30% down payment of PKR 7,999,800. On a 30% down payment of PKR 8,333,400, the sale price of 5050 (277.78 Sq. Yd.) Plot is 27,778,000.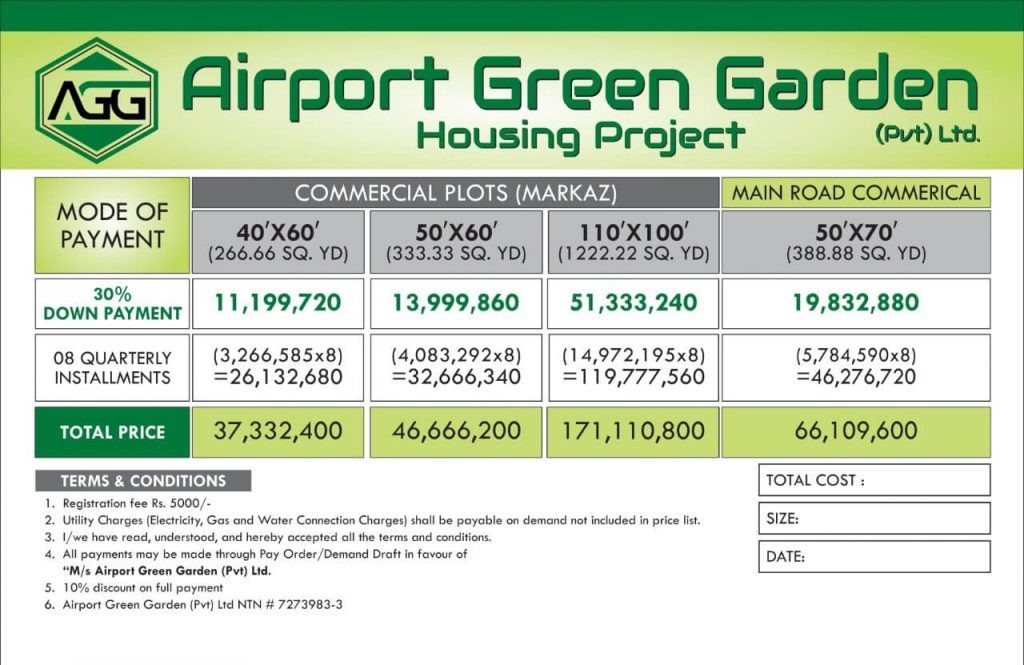 Future of Airport Green Garden Islamabad 
Airport Green Garden Islamabad is a well-designed housing society with excellent investment potential. The project's prime location in Islamabad attracts investors due to its proximity to the motorway, the CPEC, the New Islamabad International Airport, and, of course, its location between Islamabad and Rawalpindi. Furthermore, the venture designers have created this project under worldwide development standards. Plots of various sizes are offered at meager prices. Indeed, the developers are providing investors with simple payment plans. Ultimately, it is an excellent investment option for maximizing profits through careful planning. 
Development Status 
The construction phase of this brilliant housing project is underway. According to the most recent updates from our sources, the development work is progressing at an adequate speed. Heavy machinery has already arrived on site, and we can guarantee that the completion of the project will be on time. 
Amenities Provided 
The Airport Green Garden Islamabad is well-known for its luxury and exclusivity. Assuring that all services are provided to the highest possible standard is the most satisfying aspect of society. The features listed below help to create a friendly environment for both investors and residents.
 A Secure Environment 
Everybody wants to live in a secure and safe environment. It's a housing organization that claims to offer the best possible living conditions. It accomplishes this by providing a wholly guarded and high-security neighborhood. 
 Accessibility of Water, Gas, and Electricity
The housing society is renowned for meeting the necessities at a high level. It assures that water, gas, and electricity will be available 24/7. 
 System of High-Quality Education
Education has an important influence on a person's personality. The developers of the lodging society assure a high-quality educational system made up of educational institutes that provide the best education possible. Schools and colleges in the housing society reduce travel distances, save fuel, and save time. 
 An environment of Hygienic Practices
The housing scheme consists of a pollution-free environment. There is a faultless sanitary plan in place to provide a healthful environment for residents. 
 Parks and Commercial Hubs
Entertainment is crucial to maintaining a healthy and happy lifestyle. The housing society permits residents to visit the commercial hub and parks, for this reason, allowing them to savor every moment of their existence. 
 Hi-Tech Hospital 
The Airport Green Garden Scheme contains a state-of-the-art hospital with a team of doctors and paramedical workers to assist patients in every manner feasible. 
Salient Features 
The following are some of the most notable features:
Well-organized and secure

The infrastructure of high quality

A good educational system

Carpeted roads

NOC approved lodging society 

A well-organized sewerage system

Parks and playgrounds

Accessibility of medical services
Guidelines to Know About Before Investing 
Here are some things to know about before you invest,
Investors should read the project plan thoroughly

They should know the complexities of instalment arrangements

Applicants should seek expert advice before purchasing any land

Before submitting the documentation, they can go to the location and double-check everything
How to Book a Plot in Airport Green Garden Islamabad 
To proceed to bookings, contact our experts at Sigma Properties. You should follow the following guidelines,
• Carefully fill out your booking application form.
• Attach CNIC Copies of the Applicant's Pay Down Payment by Check or Pay Order in Favor of "Airport Green Garden Islamabad," but double-check the management procedure if any new changes have been made.
• Cash payments are also accepted with management approval. 
• Complete all required documentation, pay for your order, and obtain your receipt. 
Booking Requirements
To purchase the property, you'll need the following documents:
Two passport-sized photos

NICOP (National Identity Card for Overseas Pakistanis) 

Two copies of your national identification card (CNIC)

Two copies of the next of kin's identification card 
Why Airport Green Gardens
For investors, there are numerous benefits to investing in real estate. This company provides a 100 percent profit return if adequately invested. There are numerous advantages to investing in the real estate sector. When a person invests in real estate, he establishes financial stability. The rates in the world of real estate do not appear to be decreasing. Instead, they are continuing to escalate. 
The individual can borrow money today and repay it later, or he can purchase a plot of land or any other type of property, develop it, and then resell it for a profit after a few years. It is how the income is maintained throughout time. Investors should not pass up the opportunity to engage in a project that is both profitable and healthy. 
The developers offer a strategic housing society that is trustworthy, dependable, and practical. People can buy houses or apartments to improve their living conditions. Because the value of real estate properties rises every year, investors can invest freely in this housing venture, ensuring that the project's funds will be profitable. 
 Tranquil Ambience
A healthy lifestyle necessitates a peaceful atmosphere and the absence of pollution. It enables us to be in touch with nature. Residents can breathe in the fresh, crisp air and appreciate the greenery surrounding them because nature is always therapeutic and comforting. Furthermore, the developers have set up a flawless drainage system, ensuring that they can live in a clean and environmentally friendly atmosphere. 
 Leading Service Providers
Residents benefit from the grandest amenities provided by the housing initiative. People can benefit from a safe environment, medical treatment, educational institutions, clean water, power, gas, parks, gardens, playgrounds, mosques, shopping malls, shopping stores, banks and ATMs, and much more. 
 Inexpensive Lodging Society 
Because of its low prices, investors have a unique opportunity to invest in a moderate housing society, which has become quite popular. Investors can pay a fair price and enjoy a luxurious lifestyle. 
 Approved Lodging Society 
Airport Green Garden Islamabad is an RDA-approved housing society. It is one of the practical reasons to invest in this housing society. RDA is in charge of the entire processing procedure. The design and construction of the housing endeavor comply with all legal criteria. 
Pros and Cons
Pros
Uninterrupted Electricity Supply
The lodging society is free from the load shedding problems of the big cities, plus the residents will have access to electricity 24/7. The developers have specifically laid the underground utilities firstly so that the investors will be satisfied when considering Airport Green Gardens. 
Gated Community 
Airport Green Garden Islamabad shall provide the optimum level of security within its gated community. There are CCTV cameras and patrol cars, and a body of armed guards stationed at multiple corners of the lodging society. 
Natural Beauty 
We are pleased to say that the lodging society is surrounded by beautiful sceneries and a sense of peace unlike anything else. The tranquility is maintained within the Airport Green Garden as well. There will be landscaping for the provision of natural wonders alongside technologically built structures. 
International Standard Schools 
The residents will not have to leave the premises of the lodging society for any of their needs; even educational institutes will be established within the lodging society. These schools shall be run by the most experienced individuals and a well-trained body of instructors to ensure high-quality education. 
Cons
A Modest Lodging Society
Airport Green Garden Islamabad provides many amenities and favorable living conditions. Still, it is not as lavish as other lodging societies leading in the real estates market like Taj Residencia, Capital Smart City, and Eighteen Islamabad. 
Conclusion
The Airport Green Garden Islamabad is the most popular housing society due to its enticing amenities. The master plan is still being developed to ensure that it meets international standards and provides the most magnificent architecture and sufficient infrastructure. Sigma Properties strongly advises homeowners to take advantage of the excellent characteristics, such as the availability of all amenities right on their doorstep. 
FAQs 
 What is Airport Green Garden Islamabad?
It is a housing society close to the main Srinagar route, Top City-1, and the M2 motorway.
 Who are the owners and developers of Airport Green Garden Islamabad? 
The Airport Green Garden Private Limited is the developer of this excellent lodging society. 
 How many blocks are there in the lodging society?
Block A, Block B, and Block C are the three blocks that make up the lodging society. 
 Are there underground utilities in Airport Green Garden Islamabad?
Yes, the underground utilities of water, gas, and electricity are provided. 
 Is there a payment plan for the lodging society?
Yes, there is a convenient payment plan available for booking. 
 Is it an approved lodging society? 
Yes, the NOC of this lodging society is approved by the Rawalpindi Development Authority (RDA). 
 Does Airport Green Garden Islamabad offer any discounts on payments? 
Yes, people can get a 10% discount if they pay in full. 
 Is Airport Green Garden a gated community?
Yes, it is a gated community with boundary walls.