Blue World City
The Blue World City is the crown jewel of the Federal Capital. It is today's most prestigious housing society. It is located in a favorable vicinity of the Twin Cities and offers residents a comfortable and modern lifestyle. The housing society has become popular in a short time due to its unique architecture and flexible prices. One of its amazing amenities is the Blue World City water theme park, built in partership with the Guangzhou Haisan Amusement Technology & Co. Ltd.
Owners and Developers 
The Blue World City is a brilliant project by the Blue Group of Companies (BGC). The Blue Group of Companies came into existence in 1989. Initially, the company's headquarters location was in Lahore, and it exclusively provided design and construction services.
Mr. Saad Nazir, a strategist, has taken the necessary steps to push BGC in the direction of success and prosperity. Saad Nazir eventually expanded his business into a conglomerate that includes the following companies:
Blue Properties
Blue Bricks
Blue Palms
WPZ
Art immix
Blue Media
Brands Square
Mart Blue
Blue World City Water Theme Park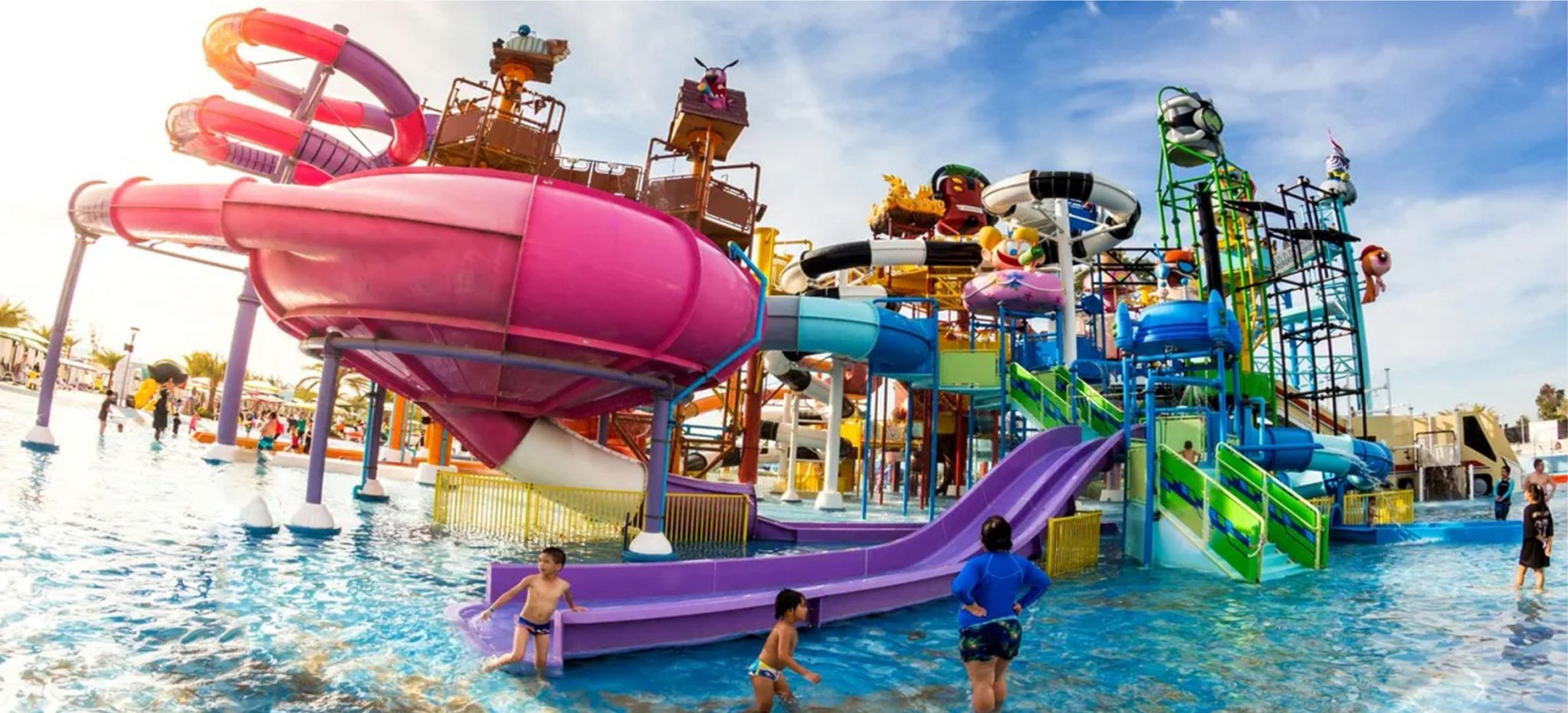 Among the many unique amenities that the Blue World City provides, there is also the Water Theme Park. A water park collects pools, water slides, and other water-based activities in a specified area where visitors are required to wear swimsuits because participation requires partial or complete submersion in water.
In addition to 20 world-class thrill rides, Blue World Water Theme Park offers a children's play area. In addition, all popular fast-food franchises such as McDonald's, KFC, Subway, Pizza Hut, and others will be available for a fun-filled family day out!
It shall soon be a stunning tourist destination. The developers are creating Water Theme Park is over 70,000 square meters of hilly terrain with natural contours, adding to the thrill and excitement of the site.
Guangzhou Haisan Amusement Technology & Co. Ltd. 
The development of the Water Theme Park is taking place in conjunction with world-renowned Guangzhou Haisan Amusement Technology & Co. Ltd. It is the only company in the water park equipment field to be certified by TUV.
It is a member of the national aquatic entertainment facility standard unit. The company has manufacturing bases in Conghua Guangzhou and Xinfeng Shaoguan totaling 120,000 square metres. To ensure safe manufacturing and high quality, it closely adheres to the ISO9001 system.
Successful Projects
Successful projects by the Guangzhou Haisan Amusement Technology & Co. Ltd are the following,
Egypt Albatros Aqua Park
The Scenical World Thailand
Philippine Seven Seas Water Park
Vietnam VTTU Amusement Park
China Dandong Jintang Water World
Suzhou Forest Water World
Yulin Diamond Bay Water Park
Main Features 
The Main Features of the BWC Water Theme Park are the following,
Over 70,000 square metres of construction
Natural hilly contours add to the place's excitement and exhilaration.
Twenty world-class thrill rides
Children's play area
Fast-food restaurants
Experienced Personnel 
The BWC management is hiring a team of qualified individuals to look after your family. There will be an amusement park manager overlooking all the affairs like ride construction, maintenance, and operation. In addition, there shall be workers at the front gate, issuing tickets or passes; others shall be at concession stands or running park restaurants and gift shops, and many shall work as entertainers.
The water theme park will contain several amusement park workers who shall coach young amusement park trainees. Applicants can earn their certification through a combination of classroom instruction and on-the-job training. In addition, a certified attractions manager, a certified attractions leader, and an accredited attractions executive will all be present. Therefore, your children will be in qualified hands.
Emergency Aid 
The venture designers have included a healthcare center in the park for any emergency. A highly expert team of nurses and doctors will be ready to assist those in need. Even though water parks and pools shall do everything they can to make surfaces non-slip, it is still possible to lose your footing and fall. Falling on hard surfaces can result in serious injuries such as:
Fractures
Injuries to the spinal cord
Injuries to the brain
Quadriplegia
Paraplegia
Tripping and falling into a pool can result in drowning, either due to an injury sustained during the fall or as a result of panic. The management has taken all of these threats into consideration and provided a proper and immediate medical service.
Safety Guaranteed  
People go to amusement parks to dive into fun, and they would not go if their safety were a question mark. On the other hand, they have great faith in the garden and believe that their visit will be safe in every way. Thus the park has a lot on its plate. The water park management shall provide safety in their parking lots, on their rides and attractions, and food safety, among other things.
Employees shall have an application that they will download to their phones to assist them in communicating theme park emergency notifications when they occur. There will also be lifeguards monitoring all activities of the park.
Weekend Destination
After a stressful week, you might want to visit the seaside to replenish yourself. You can choose to visit the Water Theme Park in BWC and have an even better experience. The clear blue, shimmery water, and the twisting water slides will change entire life your mood.
It is an ideal weekend destination for the scorching summer heat. The most prominent feature is that you can enjoy as many water-related rides as you want!
Conclusion 
The Blue World City Water Theme Park is a beautiful addition to the housing society. It shall promote friendships and provide a picnic spot. Moreover, it shall boost the tourism industry of Pakistan. Sigma Properties vouches for Blue World City due to its outstanding features so that you can invest in it without further ado.