Safari Garden Lahore
The Safari Garden Lahore is an outstanding living opportunity, providing first-rate amenities and a luxurious lifestyle. It is a prestigious project by the Hajvairy Builders and Developers. Due to their world-class infrastructure development based on the most up-to-date globally applied urban development ideas, the developers have gained the respect of investors.
Owners and Developers
The Safari Garden Housing Scheme is owned and developed by Hajveri Builders & Developers. The creators have enlisted the help of a team of skilled engineers and experts to build the civilization with meticulous attention to detail. The developers have excellently created an excellent living environment fit for residents and Overseas Pakistanis. They have taken each detail into account and delivered the project ahead of its time.
Hajvairy Builders & Developers
The Hajvairy Group, based in Pakistan, was founded in 1969 and is a famous multinational construction company. It has a workforce of 1,300 professionals. Initially, the Hajvairy Group was primarily involved in construction and engineering activities in Pakistan. Still, it has since expanded its services to include construction, logistics, warehousing and distribution, education, information technology, and trading services worldwide. In Pakistan, Afghanistan, and the United Arab Emirates, the Hajvairy Group is involved in various engineering and building projects.
Hajvairy Group has a robust financial reputation and credibility, with a net capital investment of PKR 200 million, giving it an advantage over its competitors. The company has been operating in many constructions, logistics, fuel retailing services, education, and the business sector for more than 40 years, cooperating with several construction-related goods wholesalers.
In Lahore, the Hajvairy Group has pioneered the art of housing society building at the most reasonable prices. The developers are known for their cost-effective development. They have perfected every facet of real estate property development on time and under budget, thanks to their 20 years of experience in the industry. Safari Homes, their forthcoming project, will completely transform residents' lifestyles.
Completed Projects
The projects completed by Hajvairy Builders and Developers are as follows,
Mangla Labor Camp and Admin Building 1960-62
Hajj Complex 1989
Spanish Embassy (Main) 1994
Capital Trade Center, F-10, Islamabad1995-96
Construction of Islamabad Hospital, Phase-II 1977-84
National Police Foundation 1987
Construction of Hajvairy Plaza, Islamabad 1982-84
United Plaza, Islamabad 1987-88
Beverly Center Jinnah Avenue 1990-1996
Spanish Embassy Chancery 1993
Sheikh Hospital, F-10, Islamabad 1994-95
NOC and Planning Permission
The respectable entity, Lahore Development Authority or LDA, has authorized the No OBJECTION Certificate Number LDA/DMP-II/2447 of the Safari Garden Housing Scheme in November 2018. LDA has also approved the Safari Garden's many phases and the upcoming venture Safari Homes.
Location Map
Safari Garden Housing Scheme Lahore is on Sue-e-Asal Road, near Lahore-Kasur Road. It is truly in a prime location. The Safari Garden Housing Scheme Lahore is within a few minutes from all essential routes, landmarks, and sites, residential and commercial sectors.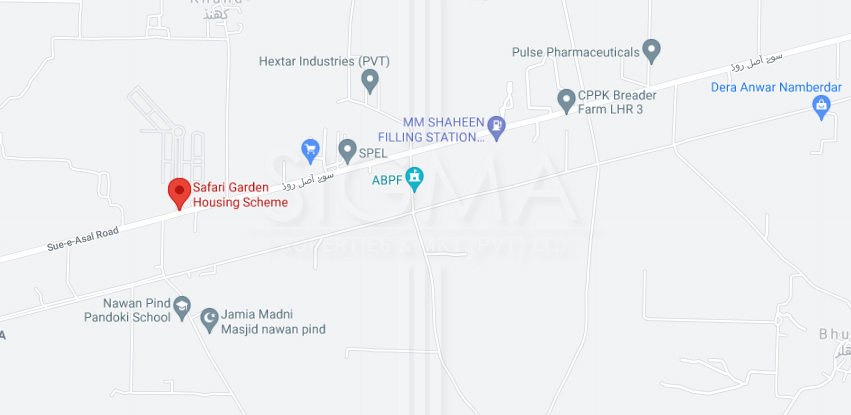 Easy Access
Safari Garden Housing Scheme is easily accessible via the following routes:
Sue-e-Asal Road is on the right side of the lodging society.
The Lahore-Kasur Road is only around an 8-minute drive away.
Lahore's Ladheke Road is only a 5-minute drive away.
Raiwind Bypass is about a 12-minute drive away.
Raiwind Road is about a 17-minute drive from Kasur.
Nearby Landmarks and Places
The landmarks and places close to the housing scheme are the following:
Central Park Housing Scheme
Al-Haram Garden
Raiwind Markaz
Rashid Latif Medical College
Jalal Pur
Kahna Purana
Kahna
Master Plan
The master plan of the housing society shows creativity and excellence. With the help of highly skilled engineers and architects, the developers have created and implemented a well-designed master plan for the lodging society, paying particular attention to tiny aspects that set it apart from other housing societies in Lahore in terms of affordability.
The fundamental goal of the housing society's master plan is to limit down the project's style and aesthetic. It includes the framework for the entire land, as well as the definition of every minute detail. The team working on the master plan has considered all aspects of the project, including the budget, structural needs, shapes, views, and other design choices, during the process.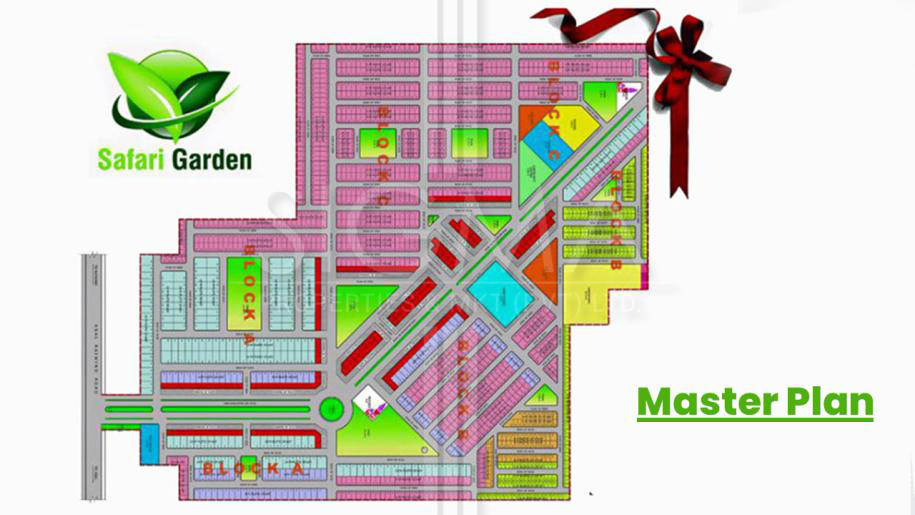 Blocks
The housing scheme contains the following blocks,
Block A
Block B
Block C
Block D
Block E
Residential Plots
The sizes of residential plots in the society are as follows,
3 Marla
4 Marla
5 Marla
8 Marla
10 Marla
Commercial Plots
The sizes of commercial plots in the housing society are as follows,
Safari Garden Housing Scheme Payment Plans
The residential plots are available in 3,4,5,8 and 10 Marla sizes. The pricing of these plots starts at PKR 285,000/- as a down payment. The 5 Marla plot is the most popular among investors and buyers. The plot sizes and costs, as well as their down payments and total prices, are detailed in the following payment plan: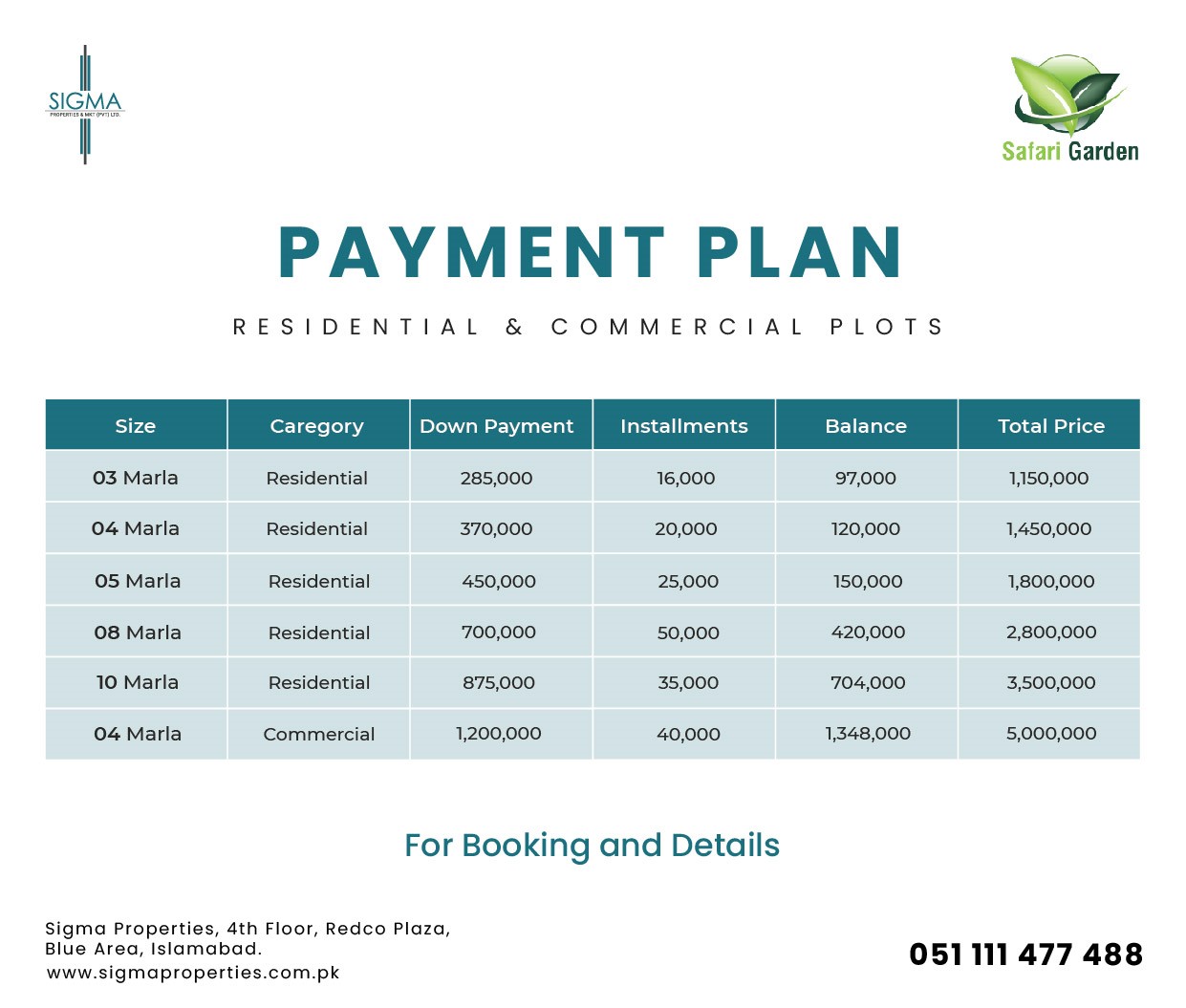 Safari Garden Homes
The developers of the housing society have also started a new project called "Safari Garden Homes" within the scheme. Safari Homes offers to deliver a fantastic experience in security, comfort, and affordability, nestled within the borders of a beautiful community. The plots are available for purchase on a 5-year instalment plan. There are two plot sizes available for these homes: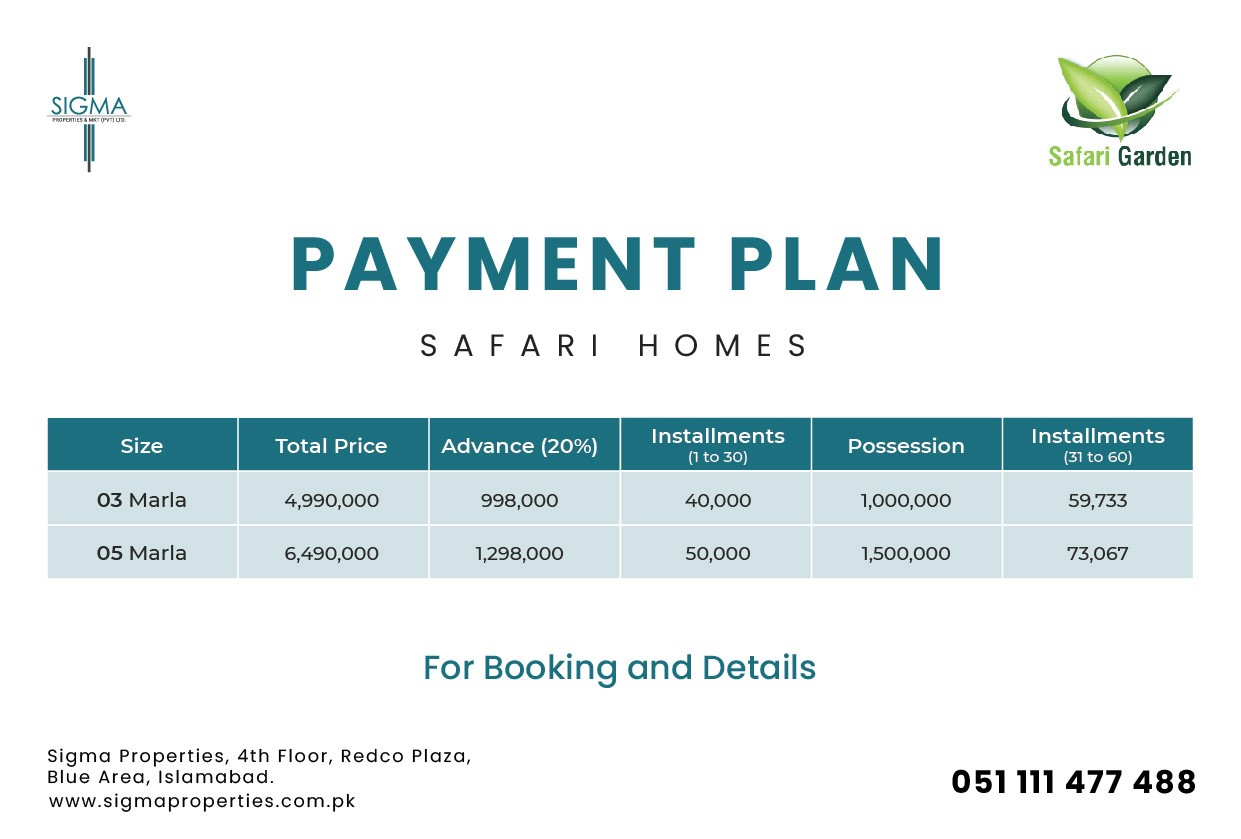 Additional Information 
For residential and commercial plots, you must know the following information:
On a 150-foot-wide road, there is a 25% premium for the corner plus the main boulevard.
For a corner or facing park and 80 Ft. wide road, there is a 15% premium.
For corner + Facing Park, there is a 20% additional charge.
According to Safari Garden's regulations, the payment of development fees will take place in addition.
At the time of possession, they will charge an additional premium.
Amenities
The amenities offered by the housing scheme are as follows,
Educational Institutions
The lodging society is providing educational establishments of some of the leading names in schooling. They have highly qualified teachers who wish to enrich young minds. These schools also host many educational events like debate competitions, extempore, and spelling bees. The schools also contain basketball and tennis courts for those keen on these sports.
Hospitals
There are various medical centers, dispensaries, and clinics within the housing scheme. The hospitals contain over 500 beds. The lodging society has ensured that emergency medical assistance is available 24/7. In addition, they will provide a safe environment for those who are unable to stay at home due to their contagious condition.
Cinematic Experience 
There is a large cinema in the Safari Housing Scheme that has multiple screens for movie display. The residents can watch the latest Hollywood and Bollywood movies in the cinema. They have also provided a waiting area in the cinema. There is an online booking system available so that the residents can book their tickets beforehand.
Beautiful Landscaping 
Landscapes and features influence our happiness and quality of life. Living in environments which are both aesthetically beautiful and culturally significant significantly improves our sense of well-being. People can reconnect with nature and renew their minds and bodies in such places. As a result, the lodging society has natural landscapes within walking distance of the residential area.
Modern Infrastructure 
The housing scheme has an excellent, modernistic infrastructure. The roads are carpeted with asphalt and are 150ft, 80ft, 50ft. A modern infrastructure leads to faster economic growth. Infrastructure benefits include improved quality of life, increased resident safety, improved health and aesthetics, lower household expenses, new job possibilities, and increased community vitality.
Salient Features
The salient features of the housing scheme are the following,
High Boundary Walls
Water Supply System
Safari Park and Zoo
Grocery stores
Grand Mosque
Parking Lots
Security Surveillance
Spa
Tennis Courts
Many community centers
Basketball Courts
Jogging and Cycling Tracks
Coffee shops and restaurants
Medical Centers
Proper Sewage System
Horse Riding Facility
Safari Mall
Green spaces on 7% of the housing society
Emergency assistance
Wide Carpeted Roads of 150ft, 80ft, 50ft
Gyms
Cinemas
Educational Institutes
Underground Utilities
Main Administration Office
Petrol Pump
Banks and ATMs
Garbage Disposal
Swimming pools
Golf clubs
How to Book a Plot?
The booking procedure is relatively easy. You can manage it if you follow the guidelines below. The process only requires a little dedication. For example, to book a plot, you only need to:
Visit the housing scheme's main webpage and acquire the booking form.
Complete the booking form with all of the necessary information.
Deposit in the name of "Safari Housing Scheme" with cash, a pay order, or demand draught.
Attach the necessary documents.
In the end, submit the booking form, all of the relevant documents, and a pay order to Safari Housing Scheme's main office.
Necessary Documents
The documents you will need for booking are,
Photos of the Applicant (2 Copies)
Applicants CNIC (2 Copies)
CNIC of the Nominee (2 Copies)
Why Safari Garden Housing Scheme?
The housing society is perfect in every way. It provides a high quality lifestyle at a reasonable cost. So let us go into the main reasons why you must not miss out on this incredible opportunity.
Optimum Security 
Everyone these days desires to live in a gated community. The Safari Garden Housing Scheme Lahore is a beautiful choice for families to move to a safe new house in a good area. Gated communities create a sense of security, which is critical in today's challenging times. The housing plan is exceptionally safe for family walks in the evenings. Children may play whenever and wherever they want without their parents having to be concerned about their safety.
Favorable Location
The Safari Garden Housing Scheme Lahore is at a favorable location. In addition, the Bahria Education and Medical City, often known as the EME colony, is located nearby. Because of both of these fantastic housing schemes, many amenities are available in the region. Moreover, it is only 4.5 kilometers away from the side of Ferozepur Road, one of Lahore's major commuting routes.
Reasonable Rates
The most significant part about Safari Garden Lahore is that buying a plot of land or a house here is a terrific option for individuals on a tight budget. It is a low-budget project, and once it is fully operational, it will provide excellent value for money to the inhabitants or purchasers.
Pros and Cons
Pros
Sports Facilities 
The lodging society has provided a sports complex for the shaping of young individuals. Many abilities, such as teamwork, leadership, and self-confidence, are developed in students who participate in sports. Aside from these characteristics, the student succeeds in developing the ability to think critically in various scenarios.
Starting Point for Business 
Another aspect of the lodging society's investment side is that it is excellent for starting businesses and building real estate properties. This is because there are many land sizes available, not just for buying home plots but also for commercial sectors.
Convenient Instalment Plan 
The instalments have the most convenient system. You pay your instalment 48 times, which works out to PKR 20,000 per month, which is not bad for such an excellent housing scheme.
Cons
Waiting Period 
The Safari Garden Housing Scheme is in its initial stages, yet the development work shows that the developers will complete it before the expected time.
Conclusion
The Safari Garden Housing Scheme is an exciting opportunity awaiting you. The Safari Garden houses offer various amenities, which gives this housing plan a competitive edge over other secure and conveniently placed housing projects. So get in touch with our body at Sigma Properties to book your dream house in the lodging society today.
FAQs
1- What is Safari Garden Housing Scheme? 
It is a perfect housing society in the vicinity of Lahore.
2- Where is it located? 
Safari Garden Housing Scheme Lahore is near the Lahore-Kasur Road on Sue-e-Asal Road.
3- Who are the owners and developers?
The developers are the Hajveri Builders & Developers.
4- Is the NOC of the housing society approved? 
Yes, LDA has approved the housing society.
5- What are the residential plot sizes? 
The sizes of residential plots in the society are as follows,
3 Marla
4 Marla
5 Marla
8 Marla
10 Marla
6- What are the commercial plot sizes? 
The sizes of commercial plots in the housing society are as follows,
7- Are there underground utilities in the housing society?
Yes, there are underground utilities of electricity, water, and gas.
8- Are there educational institutions in the housing society?
Yes, there are various schools in the housing society.
9- Is there a premium on a corner or Park facing a residential plot? 
For corner or Park facing and 80 Ft. wide road, there is a 15% premium.
10- How many blocks are there in the Safari Garden Housing Scheme? 
The lodging society contains the following blocks,
Block A
Block B
Block C
Block D
Block E