Paragon City Lahore
The Paragon City Lahore is a fantastic housing society in perfect vicinity to Lahore. It provides the proper lifestyle with world-class amenities and a peaceful environment. The lodging society has a unique master plan showing true diligence. The esteemed developers have gained the investors' trust in a short time.
Owners and Developers 
Paragon City Private Limited develops paragon City. They have brought a brilliant living environment into existence. Their goal is to improve the residents' quality of life. It is one of the housing projects designed to combine two elements in one location: a luxurious lifestyle and affordability, all in a quiet and calm setting. Paragon will be a community-based, service-oriented housing. It shall encourage independence in a safe, secure, economical, and homelike setting. Paragon City Private Limited will ensure that the accommodation is both sustainable and safe in a lively environment.
Paragon City Private Limited 
Paragon City Private Limited was founded in 2003. Its headquarters are in Lahore, Punjab. The company employs between 500 and 1000 people. The developers strive tirelessly to complete all project requirements within the agreed-upon time frame.
Paragon aims to be a leader in the delivery of complete rejuvenation, housing, and support services. It has a firm focus on quality and innovation. Their goal has always been to develop residential complexes that provide inhabitants with distinctive and exciting lifestyle choices.
Since its inception, Paragon City Private Limited has established itself as one of the most innovative, diversified, and dependable real estate developers. In just a few years, their reputation for providing high-quality houses catapulted them to the forefront of real estate development.
NOC and Planning Permission 
The No Objection Certificate, NOC document is one of the most important questions that many stakeholders consider. Conveniently, Paragon City Lahore is not included in the Lahore Development Authority's (LDA) list of illegal private housing schemes.
However, we advise our valued readers and clients that you must check the lawfully granted No Objection Certificate (NOC) from the city's responsible development authority before purchasing any property.
Paragon City Lahore Location 
Paragon City's owners and developers have found an ideal location for this opulent housing scheme. It is situated across the street from
Barki Road. Rashid Minhas Road is also nearby. The lodging society is also within a few minutes drive away from the Lahore Ring Road. The excellent location also contributes to the lodging society's aesthetics and relevance.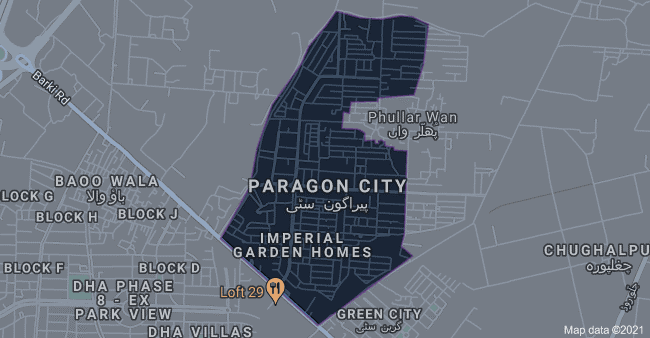 Paragon City Lahore Location
You can easily access the lodging society from the following routes and places:
Barki Road provides easy access.
Shalimar Housing Society is around 20 minutes away by car.
It is a short journey from the Lahore Ring Road.
The Al- Jannat Society is only 14 minutes away.
It is a quick trip from Jallo Road.
It takes 16 minutes to drive to the Urban Villas Housing Society.
Rashid Minhas Road provides convenient accessibility.
Shabbir Sharif Road offers easy access.
It is close to Zarrar Shaheed Road.
Eden City is around 15 minutes away.
Divine Homes is only 21 minutes away.
Green City Lahore is only 6 minutes away by car.
Nearby Landmarks and Locations 
The nearby landmarks and locations are the following,
Jallo Park Botanical Park
Allama Iqbal International Air Port
Fortress Stadium
Mughalpura Railway Station
Lahore Cantt. Railway Station
Orange Train Islam Park Station
Cavalry Ground
Lahore Knowledge Park
Shalimar Bagh
Defense Housing Authority Lahore
Lahore University of Management Sciences (LUMS)
University of Engineering & Technology Lahore
Pakistan Kidney and Liver Institute (PKLI) and Research Centre
Master Plan 
The capable venture designers have represented their overall inventiveness in the master plan. It strategically shows the different streets, jogging tracks, and pedestrian routes along with the residential areas. They have carefully left some room in the original master plan for further extension if need be. The master plan also contains green belts and parks to promote eco-friendliness.
The landscaping is a primary goal as it will improve the air quality within the lodging society. There are commercial centers and clinics within walking distance from the residential areas. The master plan is given below for your convenience,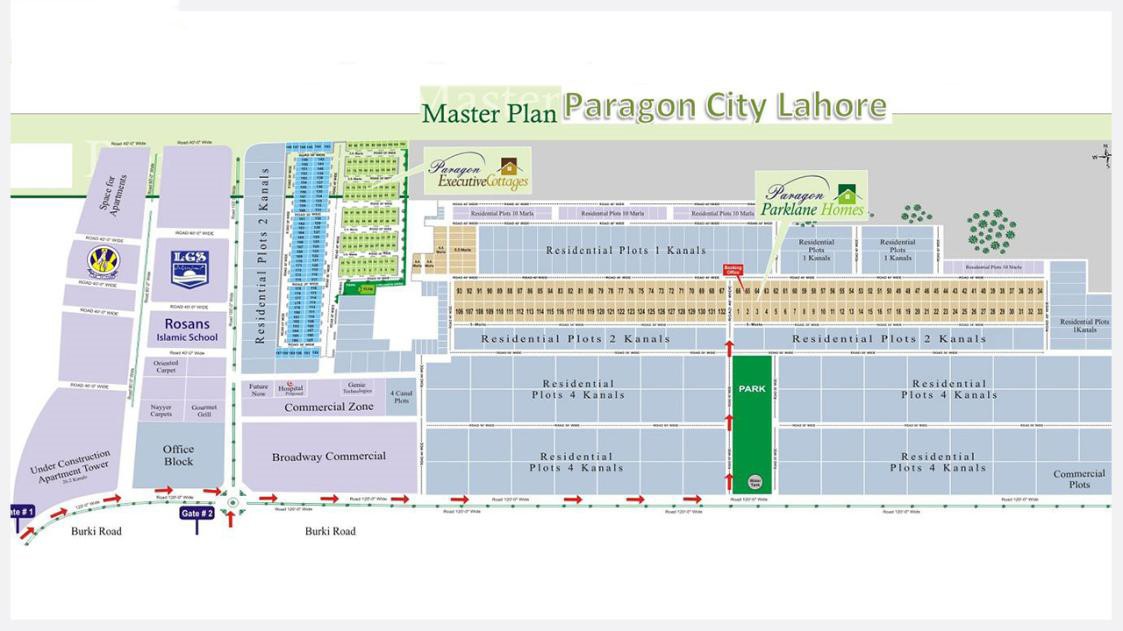 Blocks 
Paragon City Lahore is organized into the following distinct blocks:
Imperial Garden Block
Imperial Home Block
Executive Block
Wood Block
Grove Block
Completed Projects of the Housing Society 
The fully completed projects are the following,
Orchards-1
Imperial-1
Imperial-2
Residential Plots 
The sizes of residential plots in the housing scheme are the following,
5 Marla
6 Marla
8 Marla
10 Marla
1 Kanal
4 Kanal
Commercial Plots 
The commercial plots in the housing scheme are as follows,
Payment Plan 
Plot prices and payment plans fluctuate throughout time.
Pricing depends on several aspects of the real estate market trend, such as inflation and general real estate rates. Because each block is located in a distinct area, the plots have varying costs.  Payment plans differ considerably on the plot classifications. To give you a sense of plot pricing, here are some estimated residential plot prices. Don't hesitate to get in touch with Sigma Properties for specific pricing: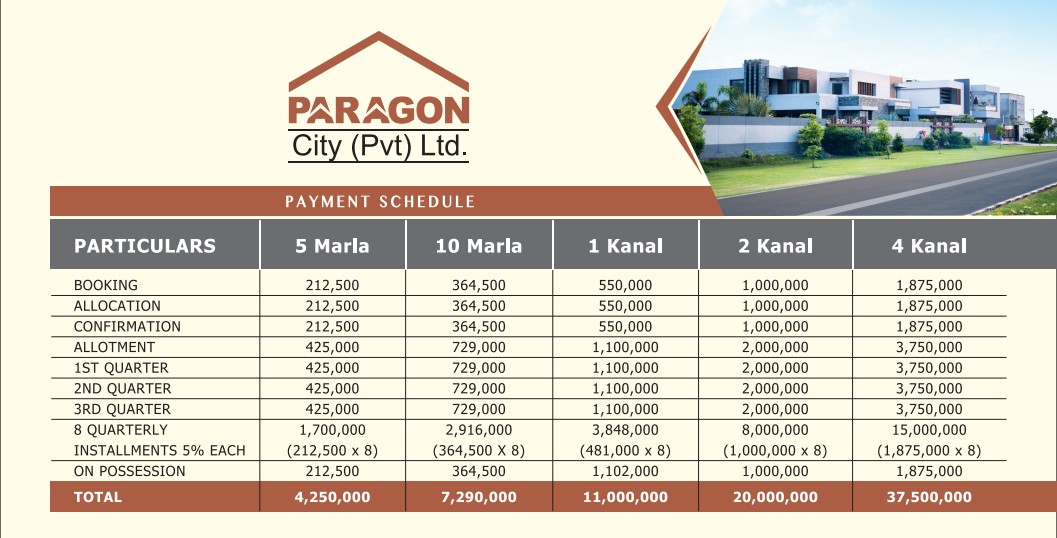 How to Book a Plot in Paragon City Lahore? 
It is relatively easy to book a plot in Paragon City
Lahore. All you need to know are the booking requirements and procedures explained below.
Booking Requirements: 
The following documentation is necessary to purchase a property,
2 passport-sized photographs
NICOP for Overseas clients
Two duplicates of your national ID card (NIC)
Two copies of the next of kin's identification card
Procedure for Booking a Property:
Visit the office in Bahria Town Phase 7 Rawalpindi
Carefully complete the booking application form.
Attach copies of the Applicant's and Nominee's CNICs.
Pay a down payment in the form of a check or a money order payable to "Paragon City Lahore."
Payments in cash are also accepted.
Collect the receipt after submitting the documents.
After 8 to 10 working days, pick up the file.
Amenities Provided
The amenities provided by the housing scheme are the following,
Mosques, Imambargahs, and Churches
Each block of Paragon City has its exquisite mosque(s). The Executive Cottages Mosque and Block C, Block R, and Block E are all accessible to the residents. In addition, there are at least three Jamia mosques where inhabitants can pray for Jummah and Eid.
Paragon City is about a 30-minute drive from Imambargah Bukhari House and Jamia Masjid Al Hussain. Furthermore, St. Mary Magdalene Church, St. Paul's Anglican Church, St. Thomas Trinity Church, and Methodist Church are only a 30 to 40-minute drive away.
Eateries and Cafes 
The housing scheme contains many great restaurants. Aroma Grill, OPTP, The Burger Planet, Zakir Tikka, Johnny's Grill, Al Dubai Restaurant, and Karachi Golden Bar BQ are some of the best restaurants in Paragon City, Lahore.
For pizza lovers, there are several pizzerias in the area. They include Cab Pizza, Ora Della Pizza, and The Pizza Shop. All of these restaurants are approximately within a 5 to 10-minute drive from the main boulevard.
Cafe Taberna, Chai Shaai, LSE main Café, Café Nosh, Chai Kada, and Metro Café are just a few cafes located near Paragon City.
Rahat Bakers, Deco Bakery, Bread & Bar Bakery and Café, and Butt Bakery are just a few neighborhood bakeries where inhabitants of the housing society can get delicious desserts.
Malls 
The lodging society has many fantastic shopping places. The Imperial Mall is the most appealing aspect in Paragon City Lahore. There is a large selection of national and international shoes and clothing brands at the mall.
The Imperial Mall also contains a food court and a children's play area. Ismail Fabrics in Imperial Mall also sells a variety of apparel. It is located in Imperial Garden Homes.
Parks and Greenbelts 
The housing society contains parks and greenbelts to let nature enchant the dwellers. A public park has been set aside in each block of the lodging society. Some of the most well-known parks in the area are the Paragon Imperial Park, Paragon Executive Park, Executive Cottages Park, Imperial Garden Park, Orchard Block 1, Masjid Orchard 1 Block Park, and Rectangle Park.
Paragon Running Park includes a beautiful cycling and jogging track. All of the parks offer a fresh and clean environment for exercise enthusiasts.
Beauty Parlors and Spas 
There are a lot of professional beauty salons near the housing scheme. The Depilex Beauty Clinic is located in Park View CHS, Block D, and offers specialist hair, makeup, and skincare services. The commercial zone of the housing society has parlors too.
The services available at the parlors include manicures, pedicures, epilation, piercing, party, and bridal makeup, and facial treatments. Gorgei salon & skincare, H One Salon N Spa, Enhance Salon, Hair Craft Salon & Spa, and Toni & Sons Men Salon are some of the other neighboring beauty salons and spas.
Salient Characteristics 
The following are the most notable features of the housing scheme:
Gated city
Perfect security surveillance
Well-planned infrastructure
Water supply
Roads carpeted with asphalt and concrete
Authorized housing society
Green belts
Waste disposal system
Underground electrification
Community centers
Jogging and cycling tracks
Facilities for medical and health care
Petrol pumps
Underground Sui Gas
Horse-riding club
The system of high-quality education
Sports facilities
Cemetery
Banks and ATMs
The most effective sewerage system
Restaurants and cafes
Gyms and spas
Grocery stores
Parks and playgrounds
Retail area
Why Paragon City Lahore? 
The lodging society's goal is to help its residents achieve their full potential, growth, personal fulfilment, and independence. They aspire to provide housing support services that are flexible, high-quality, and effective, resulting in a positive transition to appropriate housing.
Underground Supply of Utilities 
The housing society provides a consistent underground supply of water, electricity, and gas. The underground wiring reduces interruption caused by outages for local firms, resulting in a beneficial economic impact. As underground cables are not susceptible to damage from severe winds or fallen trees, there are fewer outages.
Perfect Lifestyle 
The housing scheme promises a luxurious lifestyle, and that promise is appropriately fulfilled. The residents have access to all of their necessities along with additional amenities like gyms, spas, sports centers, shopping zones, and a lot more. The air of serenity adds to the lifestyle, making it entirely perfect for you and your family.
Vicinity to Shahi Qila 
The housing society is conveniently close to the Shahi Qila, at only 22 kilometers from the GT route. It is a preserved grandeur of the royal era of Mughals, Sikhs, and colonial rulers. The Qila is a popular tourist destination.
Pros and Cons 
Pros
Excellent Services
The housing initiative offers the best and most up-to-date amenities to its residents. Residents can benefit from a safe environment, medical treatment, educational institutions, clean water, power, gas, parks, gardens, playgrounds, mosques, shopping malls, shopping stores, banks and ATMs, and a lot more.
Economical Prices 
Investors have an incredible opportunity to invest in a low-cost property. Imperial Garden Homes are available for purchase for PKR 45 lakh to PKR 2 crore. Property in Paragon City-Imperial 1 Block costs somewhere between PKR 72 lakh to PKR 2.5 crore. For the Woods Block, the figures range from PKR 70 lakh to PKR 2 crore. They can pay a fair price and enjoy a luxurious lifestyle.
Family-Friendly Environment 
The housing scheme is a gated one, providing total security for your children. You will need not worry if they play in the street go out for cycling alone. The atmosphere is also free from city pollution. Therefore, there is a healthy atmosphere to enjoy.
Cons
Distance from Main City 
The housing scheme is considered to be far from Lahore. Yet, it is subjective because our clients require accommodations in a safer society outside the city.
Conclusion 
Paragon City Lahore is an inexpensive housing society providing the best lifestyle. It stands out from all of the other housing schemes due to its supreme architecture. Therefore, Sigma Properties is here to help you get your dream house in Paragon City Lahore.
FAQs 
What is Paragon City Lahore? 
It is an affordable housing scheme in Lahore.
Where is it situated? 
It is located across the street from Barki Road.
Who are the owners and developers? 
The developers are Paragon City Private Limited.
Is it an authorized housing society? 
Yes, the Lahore Development Authority, LDA, has approved it.
Is there an underground gas supply?  
Yes, there is an underground gas supply in society.
What are the commercial plot sizes? 
The commercial plots in the housing scheme are as follows,
What are the residential plot sizes? 
The residential plots in the housing scheme are as follows,
5 Marla
6 Marla
8 Marla
10 Marla
1 Kanal
4 Kanal
Is there underground electrification in Paragon City Lahore? 
Yes, there is an extensive underground electrification system.
How many blocks are there in the housing scheme? 
The blocks in the housing scheme are,
Imperial Garden Block
Imperial Home Block
Executive Block
Wood Block
Grove Block
What are the documents needed at the time of booking? 
The documents you need are,
2 passport-sized photographs
NICOP for Overseas clients
Two duplicates of your national ID card (NIC)
Two copies of the next of kin's identification card