Palm City Sialkot
The Palm City Sialkot is an eminent housing scheme near the Sialkot International Airport. It provides a fantastic living experience and first-rate amenities. The developers used a skilled team of architects and engineers to bring the lodging society into existence.
Owners and Developers 
Royal Builders and Developers (Pvt.) Limited is the developer of Palm City Sialkot. They are the society's proprietors as well as its developers. Developers must establish a solid trust and transparency relationship with their legal real estate developments.
Royal Builders and Developers (Pvt.) Limited 
Royal Developers & Builders (Pvt.) Limited specializes in the development of world-class residences and gated communities. Rais Ahmed is the CEO of the company. It is one of the subsidiaries of Habib Rafiq (Pvt.) Limited or HRL. Before the dominant real estate regions, the company began in relatively low-key markets. Royal Developers & Builders also enjoys the continuous support and trust of its partners, associates, investors, and friends due to its commitment to deliverance.
Current Projects 
The current projects by Royal Builders and Developers (Pvt.) Limited are as follows,
Royal Orchard Multan
Royal Orchard Sargodha
Royal Orchard Sahiwal
Upcoming Projects 
The upcoming projects by Royal Builders and Developers (Pvt.) Limited are as follows,
Royal Orchard Lahore
Royal Orchard Islamabad
Royal Orchard Peshawar
Royal Orchard Karachi
Royal Orchard Rahimyar Khan
Royal Orchard DG Khan
Royal Orchard Gujarat
Royal Orchard Mandi Bahauddin
NOC and Planning Permission 
The Tehsil Municipal Administration or TMA Sialkot has already authorized Palm City Sialkot's No Objection Certificate (NOC), making it a secure and legal housing society for investors. TMA Sialkot has all been granted water supply, power, Sui gas, and residential and commercial plots. In addition, the housing program is free of legal entanglements, as well as any allegations of fraud or property invasion.
The lodging society may be referred to as a lawful housing project safe for any large or small investment once the appropriate authority has approved the NOC and all other papers.
Palm City Sialkot Location 
Palm City Sialkot's location is enticing for investors. It is placed on the Airport Road near the Sialkot International Airport.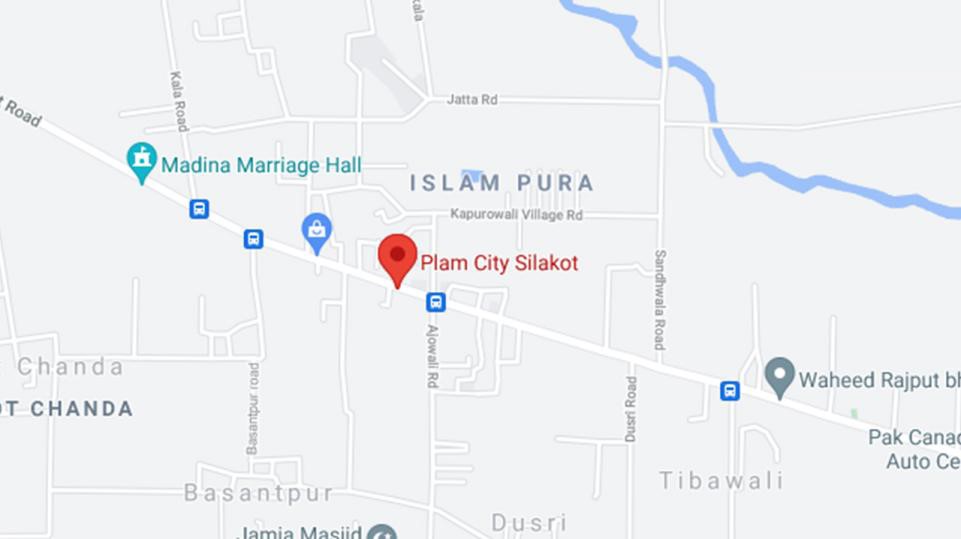 Access Points 
The nearest places to access the lodging society are as follows,
The Sialkot International Airport is nearby.
Wazirabad Dual Carriageway is a 7-minute drive away.
The M-11 Sialkot-Lahore Motorway is a 12-minute drive away.
Daska Road Sialkot is approximately a 15 minutes' drive away.
Airport Road is only a short distance away.
It is about a 3-minute drive from Kapurowali Village Road.
Ajowali Road is only around a 3-minute drive away.
Dusri Road is only around a 4-minute drive away.
Kot Chanda Road is only around a 5-minute drive away.
Basantpur Road is only around a 5-minute drive away.
Jatta Road is only around a 5-minute drive away.
Sandhwala Road is about a 7-minute drive away.
Nearby Places and Landmarks
The following landmarks and locations are close to the housing scheme:
Sialkot International Airport
Lahore Sialkot Motorway Interchange
Citi Housing Society Sialkot
Postal Service
FBR Regional Tax Office
University of Sialkot
Nadra Office
Passport Office in Sialkot
Cantt of Sialkot
Regional Tax Office of FBR
Post Office
FBR Regional Tax Office
University of Sialkot
City Center
Palm City Sialkot Master Plan
Palm City Sialkot is a great residential area that the developers have meticulously constructed. The master plan for this housing society is shown below, and it gives an impression of world-class town planning and societal advancements. The housing project covers a significant area of land and includes many residential and commercial structures and high-end apartments. More than half of the development work has been accomplished, and the remaining work is progressing rapidly.
The master plan features a large main boulevard bordered with green trees on both sides that traverses the length of the lodging society and connects all of the society's commercial and residential areas. For smooth traffic and easy travel, carpeted roads and streets are installed. The roadways are 80 feet wide, 60 feet wide, 40 feet wide, and 30 feet wide.
There is a lot of lands allocated to outdoor spaces, mosques, schools, and parking lots. Furthermore, there are suitable green belts and tree planting spaces to improve the lodging society's scenic quality and filter the air.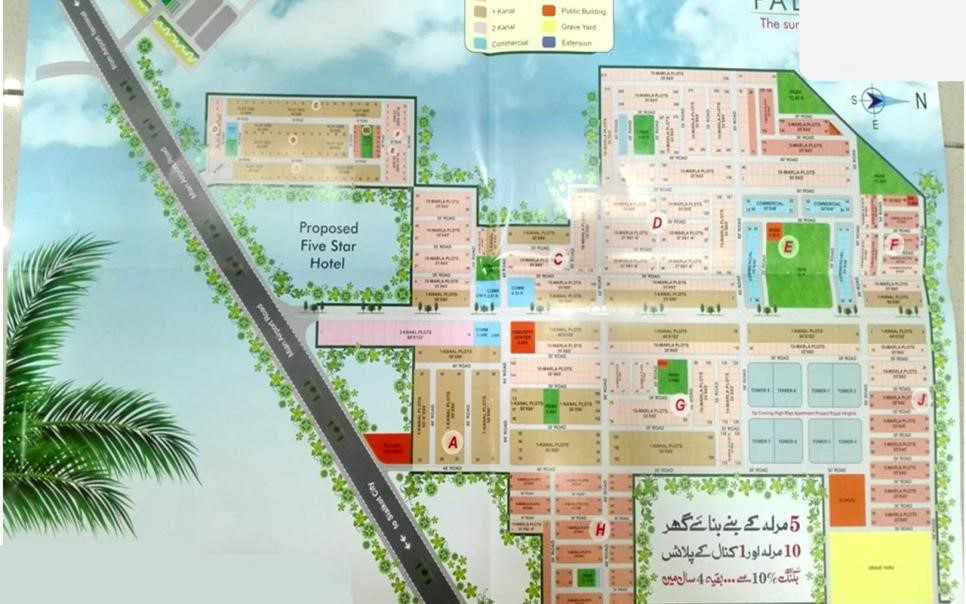 Blocks
The several blocks in the lodging society are as follows,
Block A
Block B
Block C
Block D
Block E
Block F
Block G
Block H
Block I
Block J
Residential Plots
The sizes of residential plots available in the lodging society are as follows,
Palm City Sialkot Houses 
The residential society sells and rents exclusive properties of various sizes. The houses are modern in design and a combination of style and grace. They provide single, double, and triple story homes with 2, 3, 4, and 5 bedrooms at reasonable pricing.
The residences are spacious and well-designed, with plenty of windows and open places for ventilation. There is a bathroom in each of the bedrooms. Water, power, gas, internet, telephone, and cables are all accessible at all times, and each house has a functional internal wiring system that prevents accidents. The electrical wiring system and gas and water pipeline fittings are all interiors.
Commercial Plots 
The sizes of commercial plots available in the lodging society are as follows,
Palm City Sialkot Payment Plans 
Residential Plots Payment Plan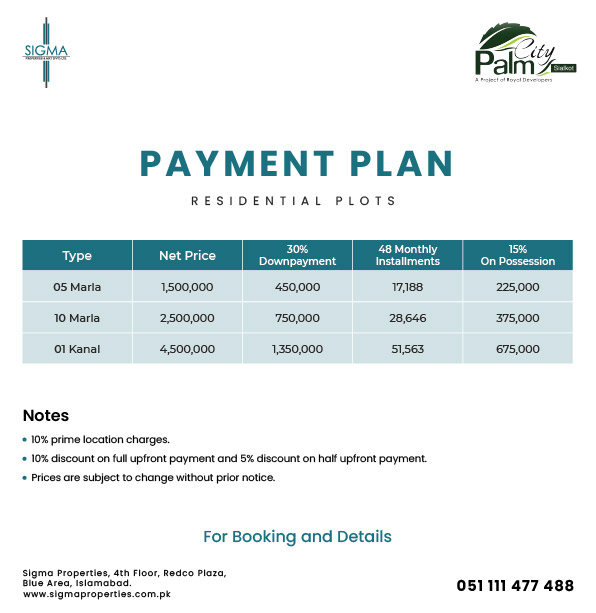 Houses Payment Plan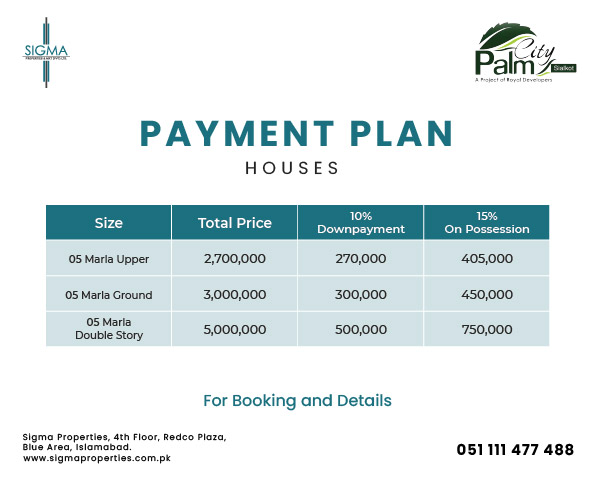 Amenities
Some of the prominent amenities of the lodging society are given below:
Medical Care 
The lodging society gives special attention to the provision of medical facilities for the residents. There are clinics and dispensaries within the lodging society for immediate medical assistance. Bethania Hospital, Government Sardar Begum Teaching Hospital, and Al-Sheikh Hospital are also adjacent health zones.
Educational Institutes 
There are schools, colleges, and academies located throughout the housing development to provide inhabitants with the best educational opportunities. Concept Schools, Government Zahoor Ilahi Degree College, Punjab College UCP Campus, and the University of Sialkot are the educational institutions close to the housing society.
Best Eateries  
The atmosphere of a restaurant is undoubtedly essential in determining the overall dining experience of the guests. The restaurants in the lodging society are the best based on the cuisine, service, and environment. Many restaurants and eating establishments are located within and around the lodging society, allowing residents to take advantage of the best dine-in and dine-out options. Flavo, Kababish Restaurant, Food Lovers, and Frangoz Fried Chicken and Pizza are among the restaurants in the lodging society.
Underground Utilities
The developers have ensured that the workers lay the underground utilities of water, gas and electricity in compliance with all precautionary regulations applicable to a living accommodation's safety regulations. It is done to safeguard both the residents and the workers.
Sewage and Drainage System  
The civil engineers are overseeing the building of the housing scheme's sewage and drainage system. They map out all roads, street gutters, drainage, culverts, and sewers involved in the construction process using the drawings. Civil engineers collaborated with construction managers, architects and planners, quantity surveyors, the general workforce, and subcontractors to build the system and determine how much a landowner can change the drainage on his property.
Salient Characteristics 
The salient characteristics of the lodging society are given below:
Perfect location
Boundary Fence
Water, power and gas supply
Environmentally sustainable community
Learning institutions
Area for commercial activities
Petrol pump
24/7 security
High-quality maintenance
System of sewage and garbage disposal
Infrastructure development of international standing
Sports centers
Banks
Hospitals, dispensaries, and clinics all provide medical services
A 100-foot-long boulevard
Roads that are 30, 40, 60, and 80 feet wide and well-carpeted
Generators
Power station
How to Book a Plot? 
The booking process seems to be difficult, but it is not if you follow the guidelines listed below:
Fill out your reservation request form correctly.
Include copies of the Applicant's CNIC.
Pay a down payment in the form of a check or a money order payable to "Palm City Sialkot," but double-check the management procedure if there are any changes.
After approval from management, cash payments are also accepted.
Submit the relevant documentation, pay, and receive a receipt.
Documents for Booking
The required documents for booking are as follows,
Two passport-sized photos
National Identity Card in two copies
Two copies of your next of kin's identification card
NICOP for an international clientele
Why Palm City Sialkot?
Palm City Sialkot is one of the top residential projects in the city, with standard plots and convenient payment and instalment programs attracting investors. So, if you have invested in this housing scheme or plan to invest in it, it is the proper decision because the housing scheme guarantees you the best residential facilities. Let us go into the reasons why you should invest in the lodging society.
Cost-Effective Property 
The cost of a property is a factor to consider before purchasing it. The housing society provides affordable residential and commercial plots in a prominent location. When you compare the rates offered here to those offered by other housing schemes, you will notice that they are pretty cost-effective.
Trustworthy Developers 
The developers have proven their excellence through timely deliverance and perfect master planning. The investors have complete trust in the Royal Builders and Developers (Pvt.) Limited, so the layperson has nothing to worry about at all. Their projects reflect their commitment to their clients and value for productivity.
Safe Residences 
The lodging society offers the safety one cannot have in the big cities. The community is a gated one with high boundary walls and fences. There is 24/7 CCTV camera surveillance. There is also an armed body of guards stationed at the respective points in the housing scheme to provide security to the residents.
Pros and Cons 
Pros
Promising Investment Possibilities
Real estate investing is a type of business that will never lose value if you do it rightly. Also, every year the value of real estate rises. So, it is advised to invest in a region that doubles the value. The Palm City Sialkot falls in this category, along with other prominent lodging societies like Valencia Town Lahore and Blue World City.
Eco-Friendly City 
The lodging society is developed using the green building concept. Green building, also known as sustainable design, improves the efficiency with which buildings and their sites use energy, water, and other materials.
Quality Roadways 
The developers have ensured that the roads are carpeted with asphalt and concrete. Road infrastructure is the most valuable of all public assets since it contributes significantly to economic development and growth while also providing significant social benefits. The lodging society contains 30, 40, 60, and 80 feet wide and well-maintained roads.
Graveyard 
The lodging society has designated burial grounds for the residents' dears. They may need to bury their deceased in the graveyard, so it will be easier for them if it is close enough to be visited any time.
Cons
Perception of Costly Property 
Some of our clients feel that the property in the lodging society has high rates. But this is subjective, as clearly there could not be better prices than those offered by Palm City Sialkot.
Conclusion 
The Palm City Sialkot is a brilliant opportunity for the lifestyle of your dreams. The world-class amenities and lifestyle at Palm City Sialkot are too good to be true. So, let us at Sigma Properties guide you to your dream home in this housing scheme. If you wish to explore more investment opportunities, take a look at Park View City, Taj Residencia and Rudn Enclave.
FAQs 
1- What is Palm City Sialkot?
Palm City Sialkot is an excellent housing scheme close to the city of Sialkot.
2- Where is it located?
It is located at the Airport Road.
3- Who are the owners?
The Royal Builders and Developers (Pvt.) Limited are developing the housing society.
4- Is it an approved housing society?
TMA has approved it.
5- Is it an affordable lodging society?
Yes, it is an affordable lodging society.
6- What are the residential plot sizes?
The residential plot sizes are,
7- What are the commercial plot sizes?
The commercial plot sizes are,
 8- Is there a gas supply in the housing scheme?
Yes, there is an underground gas supply in the housing society.
9- Are there hospitals in the lodging society?
There are many hospitals, clinics and dispensaries in the lodging society.
10- Is there a NADRA office nearby?
Yes, there is.