New Islamabad Garden
New Islamabad Garden is a newly launched ongoing residential housing plan that provides a variety of residential and commercial plot sizes on installments and cash payments. The project is situated in a prominent spot in the city, close to a number of major residential developments. The project was recently announced and is now accepting reservations for various sizes of residential and business plots on a first-come, first-served basis. The project's development is currently in progress, including all necessary services and amenities.
Developers
Developers of New Islamabad garden are Frontline developers and builders.
About Frontline
Frontline Communications started as a real estate advertising agency in 1999, which is around 20 years ago. While still young, it broke through time barriers by making rapid advancements and, within a few years, had established itself as a leading advertising firm in the real estate industry.
NOC
The authorities issued N.O.C. to New Islamabad Garden on September 21, 2005, but cancelled on June 13, 2007. New Islamabad garden failed to maintain the conditions associated with the approval of the layout plan.
Location
New Islamabad Garden Housing Plan is a new housing scheme in Islamabad located in a prominent and developed area of the city. The project is close to Shimly Dam Road and a short drive from Naval Farm Houses, Bara Khau, and Rawal Lake. It is located in the lap of Rawal lake and the Murree hills. In all countries, people want to work in the busy areas of the city, but they want to spend their free time in a soothing environment. Some of the dignitaries live here because of its prime location.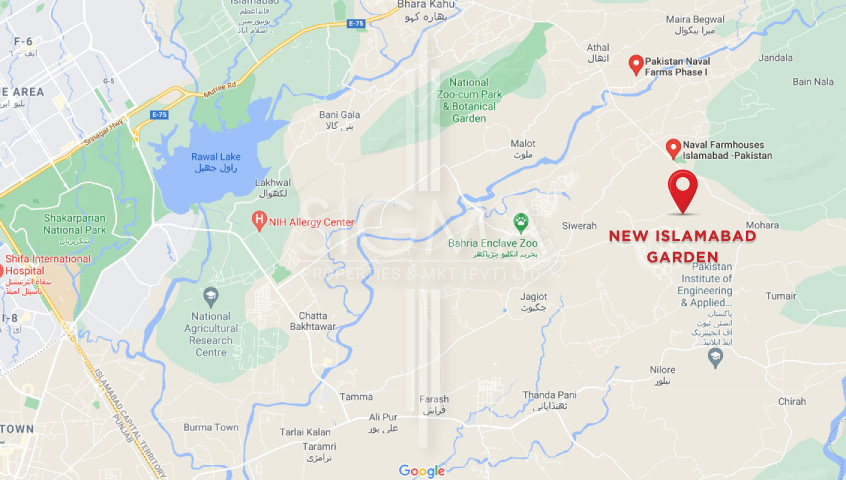 Features
Excellent location
Full gated community
A commercial zone
Drainage system
Constant security
Lush green surroundings
Club in the countryside
Wide carpeted entrance roads
Picnic areas
Facilities
The new Islamabad garden has the facilities that would attract you at any cost to book a plot in society.
Ideal location
The peaceful location of the society is a good reason for booking a plot here. After getting tired from the heavy load of work in the city, to refresh your mind, the location is the best choice.. The environment of the society makes it a suitable choice for the people of Pakistan.
Education
People always care for many facilities, but the most important for them is education. Society solved all your problems of education. There is a well-reputed institution in the surrounding of the new Islamabad garden. It provides your children quality and standard education according to the need of the day.
Shopping Mall
if you are tired of getting groceries from distant shops, worry not. There are bid shopping malls near the society in which you can find each and everything of your needs of daily life. In the shopping mall, you can get quality materials.
Branded stores
There are many branded stores around society. If you want to wear branded clothes, if you want to put on branded shoes, you can have it easily available at these branded stores.
Restaurants
The garden provides you best facilities for international standard restaurants. You can have a party with your friends or family members. There are also big function halls in the restaurants. Sometimes if you don't like homemade food, the restaurants offer you delicious food at very low prices. The restaurants are situated in the surrounding of the new Islamabad garden.
Petrol pumps and C.N.G. pumps
People always face problems with fuel availability. In the new Islamabad garden, petrol pumps and C.N.G. are available at a very short distance. It provides you pure fuel and C.N.G. with full pressure according to market values.
Internet
The world is stagnant without internet facilities. If we turn around, there are hard things that can be found where the internet is not used. Our daily life has become completely dependent on the internet. The new Islamabad has the facility of internet. It provides you speedy internet facility 24 hours. You can run your online business sitting at your home.
Sui gas  
People ask for basic facilities when they buy a home. Sui gas is an important need of the day. The garden has the best facilities for sui gas provision.
Banks and A.T.M
This is also considered a significant facility. People always face the problem where there is no bank or A.T.M. facilities. You can draw your money any time using A.T.M. machines.
Availability of workmen  
The best facility of this society that distinguishes it from other societies is the availability of workmen. Skilled workers are available at very cheap wages. There are plumbers, carpenters, jewelers, etc. are available to offer you services.
Picnic spots
There are many spots near the society like Rawal lake, margalla hills, . You can take your family for refreshing on a weekend day. You can also pay a visit at the evening to enjoy the locality.
 National Zoo and botanical garden
The widest zoo in Asia is supposed to establish here. You can have a visit to see different animals and chirping birds. There will also be a botanical garden. Society is trying its best to grow here various kinds of plants and flowers for beauty and research purposes. The zoo and garden will bestow extra beauty to the new Islamabad garden.
Master plan
The qualified engineers and skilled people prepared the layout plan of the new Islamabad garden. Each plot has access to wide and paved roads. There are plot numbers and street signs on the boards.
Development status
Due to some controversies, the development process of New Islamabad garden was stopped. That time in 2009 only 70% of project got completion. But now it is in completely process.
Payment plan
To live in Islamabad is the dream of every citizen. But your dreams are coming true. Now it's not difficult to book your own plot in Islamabad in a reputed and evergreen society, the new Islamabad garden. Plots are available at reasonable prices. I am giving data of the plots, which are currently not available. But stay connected to have the opportunity in the near future.
Plot size: 5 Marla
Price: 2450000
Location: Simly Dam Road, Islamabad
Type: residential plot
Plot size: 5 marla
Plot size: 10 marla
Price: 1200000
Type: residential plot
Location: Simly Dam Road, Islamabad
Why invest in New Islamabad garden
Investment in a new Islamabad garden provides you with the required earnings and the opportunity to live in the chosen area. The plots are available at a meager cost. It is expected that costs would rise in the near future. So if you buy today, you'll receive twice as much profit tomorrow.
Other factors driving investment in the new Islamabad garden are its location and the variety of amenities offered by the society. Investing in a new Islamabad garden carries little risk. As you can see from the client remarks, you will be satisfied. Pros and cons
Pros and Cons
Pros
There is a strong security system at the gate. Non-recognized persons are not allowed inside society.
Family parks and jogging tracks.
Telephone facilities
It gives you full possessions on half payments
Rates are very low, and everyone can afford it. It is the best opportunity for salaried persons to book their plot as the monthly installments are starting from 6 thousand for some plots.
Plots are available according to your choice.
It has the best drainage and street system, which add more to the significance and utility of the society.
Cons
Although there are not many cons of the society yet, it lacks in some facilities, Like,
It is developing very slowly.
There were some controversies at the start of society regarding NOC.
FAQs
Q1: What is New Islamabad Garden?
New Islamabad Garden is a newly launched ongoing residential housing plan that provides a variety of residential and commercial plots.
Q2: Who are the developers? 
Developers of the new Islamabad garden are Frontline developers and builders.
Q3:Did New Islamabad Garden get NOC?
Yes, New Islamabad Garden got its NOC on September 21, 2005
Q4: What is the location of New Islamabad Garden?
The project is close to Shimly Dam Road and a short drive from Naval Farm Houses, Bara Khau, and Rawal Lake.
Conclusion
Now you know better about the New Islamabad Garden. I discussed in detail all about the New Islamabad Garden. The detail about a location, plans, features, etc., are mentioned above. If you want further information, just visit sigma properties and marketing and book your plot.