Green Oaks Farm
Green Oaks Farm Islamabad project is located near Chakri Road in Rawalpindi. It offers various-size farmhouse at very affordable pricing with a four-year payment plan. If you want a more natural way of life, this project is perfect for you. It gives you everything you need to conduct natural farming alongside other nature lovers in your neighbourhood. It allows you to reconnect with your natural self, and  it also allows you to earn a small income through crop production.
Developers
The developers of Green oaks farm houses are khanial builders. They are a highly qualified and experienced agency that works intending to serve and assist customers in locating their dream house or commercial space. They provide the best services in the real estate industry, making them a household brand in the industry. The developers are working persistently to complete projects in various sectors. Their interest in being developed is favourable because, in all previous projects, they concentrated on their clients' necessities and well-being, and they promise to treat each client as a VIP. They first entered the market roughly 15 years ago and have since achieved unmatched public trust and reputation. Millions of customers have no doubt put their faith in them since they have always fulfilled their claims.
NOC
There is nothing clear yet about the NOC of the farms. However, the 0fficials of the green oak claimed that the RDA had approved.
Location
Green Oaks Farm Houses are located near Cadet College Rawalpindi, Rangers HQ, and Ring Road on Chakri Road, Rawalpindi, on the Islamabad-Lahore Motorway's Chakri Interchange. Chakri Road is being extended, and a super project of the Housing Foundation and a Smart City is in the works in a nearby neighbourhood. As you can see from the map above, it will have direct access through Rawalpindi Ring Road, making travel between Islamabad and Rawalpindi quite easy. This region is rapidly changing into a future commercial focus due to the advancement of the New commercial Zone on the Ring Road and easy access to the Motorway. The new Islamabad Airport is around 20 minutes distant, and the Thulian Interchange is only 5 minutes away. Green Oaks Farm is located in a prime location on Islamabad's edges.

Master plan
Green Oaks Islamabad is a fantastic project in Pakistan's capital city. As previously stated, the farmhouse is the finest area to engage in leisure activities and may also be a source of revenue generation. Worried about the project's business plan, as it comprises farmhouses, and residential plots will be published soon near the main gate's entry. The project features two, four, and eight kanal farmhouse plots, all with cutting-edge standards and installations. Farmhouses, unlike estates and houses, are typically located distant from the local area but contain all of the essentials of life. Because it is mostly used for agricultural purposes, a lot of greenery can be found on a major portion of the farmhouse grounds. Residential plots will be available shortly in this magnificent project, allowing you to live a quiet and pleasant life.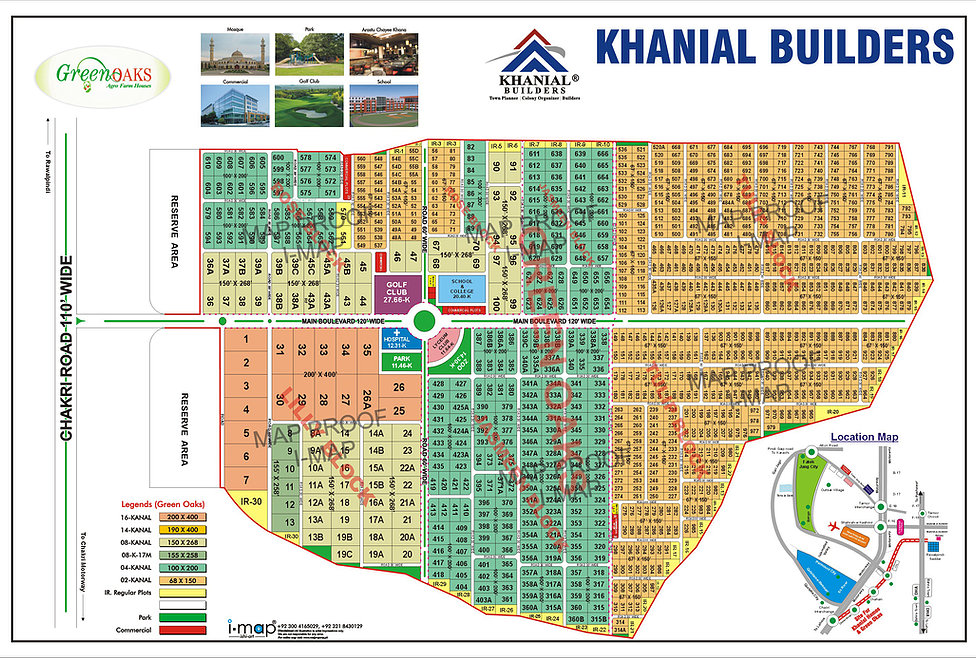 Features
Boundary wall
Health centre
Schools
Security cameras for monitoring
Parks
Trained security staff
Jogging tracks
Play area
Mini golf course
Tea house
Payment plan
Green Oaks provides farm on 2 kanal, 4 kanal, 8 kanal, and 16 kanal plots at affordable pricing with a flexible payment plan. Pre-launch bookings are offered at introductory prices starting at just a 5% down payment, with the remaining 10% for confirmation and 10% for allocation due 30 and 60 days following the booking, respectively. We'll pay about 20% of the total at the time of possession, leaving us with a 55% balance to pay in 48 monthly instalments. On a lump sum payment of your farmhouse, you will receive a 10% discount.
total Payments at once are eligible for a 10% discount.
On the corner, there are 10% additional charges.
On the main road, there is an additional 8% charge.
Parking Face has an additional 8% charge.
Front Back Open is subject to a 15% surcharge.
Extra Charges of 8% on the Main Boulevard

Book your farm
Download the application form
Take a printout
Attached a passport size photo
Attached a copy of the CNIC
Fill in the form the necessary detail
Submit the form
If you need further information kindly visit sigma properties.
Facilities
The master town planner and the greatest agricultural scientists in the country are working to complete this massive assignment. Green Oaks Islamabad's project encompasses all propel offices, such as exchange and acceptable journey conditions for families. In view of the way that there are 30 feet, 40 feet, 60 feet, and 80 feet wide streets with enticing green belts, road light, playground, school, universities, clinics, and group focus, the excellence of this place is a brilliant offer. wide parks abounding with beauty along the lake. We are absolutely dedicated to maintaining this peaceful environment, and our struggle is still ongoing.
Basic health facility
The project has built a state-of-the-art hospital with 24-hour emergency services for the people's excellent and healthy living.
Honey farming
The first objective of Green Oaks is to care for the people. Honey has cured all illnesses and death, but original Desi honey is hard to come by, therefore society began honey farming. Zugufran has already begun flower planting in the honey fields. For the members of Green Oaks Islamabad, this struggle yields a good return in the form of original honey.
Olive farms
All people groups require a healthy lifestyle. Olive Oil has the characteristics of a good life, which is why Olives plants are being developed at Green Oaks Islamabad, where Olive trees are reaching their peak.
Soothing environment
Pakistan's natural beauty is known for its greenery, with Islamabad standing out among others. Because of these certainties, we have created a Green Oaks society that is totally in tune with nature. Sign of excellent condition as well as a strong representation of nature.
Earning opportunity
Grapes, flowers, tomatoes, cucumbers, and a variety of other soil products are grown at the Green Oaks Islamabad society's fields. That is a massive source of income. Benefit in terms of climate, plant development, and other factors.
Security system
As individuals, we are always on the lookout for a tranquil setting. That is why we are in charge of security 24 hours a day, seven days a week. We arrange unique security machines to sweep on the main door at the time of entry/leave. All of these security efforts are limited to members of the Green Oaks Islamabad society.
Water parks
Because not everyone enjoys the excellent water and lakes in their local neighbourhood, especially in the summer, Green Oaks created a water park to engage the general public.
Club
Green Oaks Islamabad society also allows for the advancement of life's comforts. One of the better options is the Lyceum club. There are many amenities are available at this club.
Education institution
A society-owned school will be built to provide a good education for the inhabitants' children for a brighter future.
Why invest in green oaks farm?
Green Oaks Islamabad provides consumers with a plot to live on as well as a business organisation they desire. Come buy a plot, build a little cabin/house, keep some land for your yard, and use the rest for development that will add a significant profit, or choose any strategy for success with Green Oaks Islamabad for the development of natural things. Green Oaks Islamabad will cultivate the yields/vegetables/natural products/blooms as per the agreed-upon strategy and present them for sale, allowing you to win a handsome profit each year.
New patterns emerge as a result of Evolution's journey. Global experts have been warning about its effects on human health, and now is the ideal time for Natural Foods, since the trend has gained momentum and is unstoppable. Human gets developed from the Stone Age to the modern-day has reached a pinnacle point. Individuals used to merely eat normal, natural food, but as time passed and more logical development methods became available, artificial food began to displace natural food, leaving people with a weak immune system.
Pros and Cons
Pros
The green farm has all the facilities that the developed cities societies have.
With your residence, you can also farm here
You can earn your livelihood by growing vegetable and fruits
Oaks farm is different from other societies
The plan has easy payment plans
A pleasant environment adds more beauty to oaks farm
On the farm, in the farm, you can have original honey. This is also good for health and a vital source of income.
Cons
There are not many cons but the ambiguous approval stops you from investing in.
FAQs
Q1: What is green oaks farm?
A1: It is a project that provides the facilities of farming lands and residential land.
Q2: Does it have easy instalment plans?
A2: Yes, it has a very easy payment plan.
Q3: Who are the developers of green oaks?
A3: The developers of green oaks are khanial builders.
Q4: Can I buy 2 kanal land area?
A4:Yes, there are many land-areas at very low prices
Q5: How can buy land on green oaks farm?
A5: If you want to buy the land visit our office or click here.
Q6:Does it offers farms on easy installments?
A6:Yes, it offers you farms on easy installments.
Q7:Do the farms have the potential to give me profit?
A7:Yes, these farms can give you much profit.
Q8:What are the sizes of farmhouses?
A8:The sizes of the farmhouses are 2, 4, 8, and 16 kanal.
Q9:What is the price of 8 kanal farmhouses?
Q9:The price of  8 kanal farmhouse is 9000000.
Q10:What is the membership fee?
A10:The membership fee is 10000.
Conclusion
If you choose Green Oaks Farm wisely, you will be fortunate. Visit the Green Oaks Farm as soon as possible because there are only a few farmhouses available in the Green Oaks.