Faisal Margalla City Islamabad   
Faisal Margalla City is one of the most renowned and reputed societies of the Capital, Islamabad. It is located in an area that bestows the soul everlasting peace. The housing society has emerged itself to the quality level in a very short time. It provides opportunities of an international standard of living.
Developers
The Zedem Pvt ltd. has imparted many outstanding housing projects in the territory of Islamabad and Rawalpindi. It is an esteemed and exceptional real estate developer and construction company in Islamabad. Pvt. Ltd.'s most recent project is Faisal Margalla City. Surrounded by wonderful, beautiful landscapes at the foot of the hills of Margalla, the area echoes a sense of calm and security
NOC
Faisal Margalla City received a permission letter/NOC from Rural Development Authority as letter-number RDA/MP&TE/F-PHS-TAX-07/145 on February 19,2019.
Location
Faisal Margalla City is located between MPCHS Sectors A, C, E, and G and reaches up to the foot of the Margalla hills from the broad north side. The housing scheme is linked by G.T. Road via Multi-Gardens and M-1 Highway and the service road via MPCHS Block-G through the use of the interchange from the Motorway.
The project includes all standard features, such as a vast network of highways connecting this housing society to the rest of the region. Faisal Margalla's superb placement is drawing a great deal of attention and investment.
The sector has not been as populated as other CDA sectors in Islamabad, but it is provided with all of the utilities need to live a pleasant and tranquil life.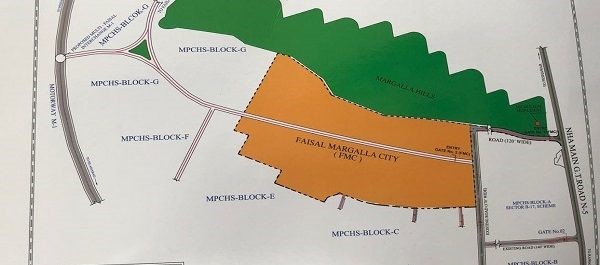 Master Plan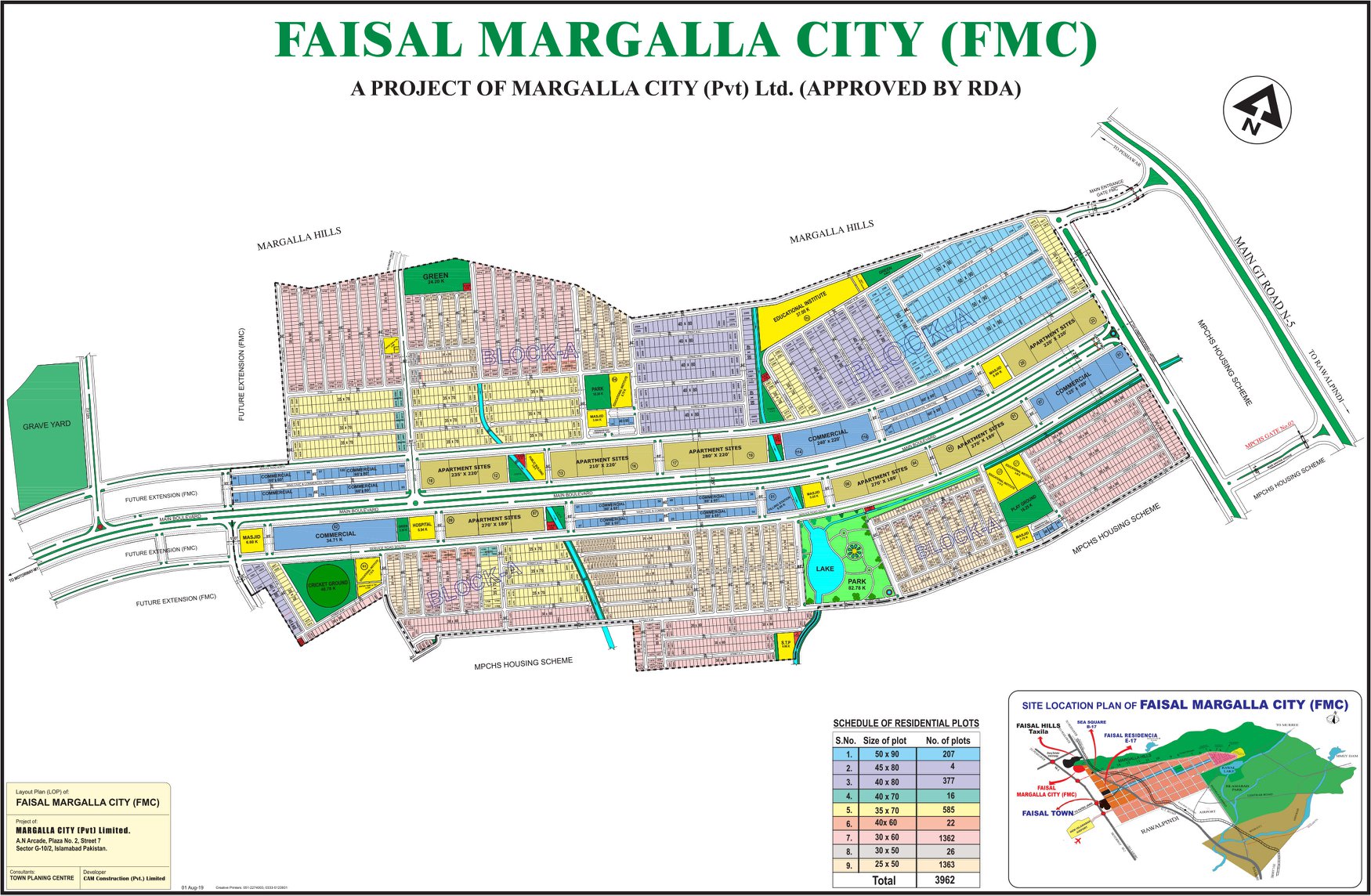 Salient Features
Faisal Margalla City provides you with distinctive and appealing features.
Easily accessible
Gated community
Wide roads
Commercial Area
Parks
The best water supply system
Sewerage disposal station
Clubs
Underground electricity
Football grounds
Gas availability
Banks
Education institutions
Mosques
Massive plantation
The best security system
Why invest in Faisal Margalla City
After knowing the amenities of the project, you would agree to invest your time and money in Faisal Margalla City. Your decision would not let you be regretful.
Reputed developers
Due to the developers' strong history and dependability, Faisal Margalla City is an extremely profitable and productive investment opportunity. Seem International has already shown outstanding progress in MPCHS.
Breath-taking location
The exceptional location at the foot of the Margalla Hills is the second reason this housing project is rated one of the top rising real estate developments. It is located near to the B-17 sector and has access to the M-1 and G.T. highways, making the society approachable to all.
Variable payment plan
Another element that draws investors' attention is the variable payment plan; however, this payment plan has since been phased out, but those who took advantage of the chance on time are now earning the advantages. Not only did the developers deliver the project to the owners earlier than scheduled, but they did so without losing the pace or excellent development standards.
Standard facilities
Faisal City is one of the quickest-selling residential projects in the area, and with a valid reason, given the variety of amenities and development available. With all of the development in the area and the migration of people from cities, it is expected that not only residential but also commercial activity will flourish. The investment here will benefit directly as a result of these factors, and people will be able to live a soothing and peaceful life in Margalla City.
Instant possession of the land in Faisal Margalla City
You should go immediately to book your plot because Faisal Margalla city allows you instant possession of your property.it gives you ownership within four to six months on full payment for purchased lands.
Balloting
The management of Faisal City announced a balloting event on August 4th, 2019, at the site of Faisal Margalla Hills to distribute plot numbers to plot files through a fair computerized ballot. Previously, this year's opening ceremony, the society had already unveiled the FMC master plan. The purpose of this event was to provide the plot owners with their plot numbers on the map as well as the physical location of their plot.
The investors who acquired the paperwork for this housing project were invited to the ceremony and given plot numbers and physical addresses. The RDA just authorized the layout master plan for Faisal Margalla City.
How to book your plot in Faisal Margalla City
You can have the application forms at the Faisal Hills office and on the company's websites. A bank draft/pay order must attach the application forms on behalf of "M/s Margalla City (Pvt.) Ltd." for the required payment of the plot as mentioned in the payment plan. Along with the application form, you must include a copy of your CNIC and one passport-size picture.
Payment plan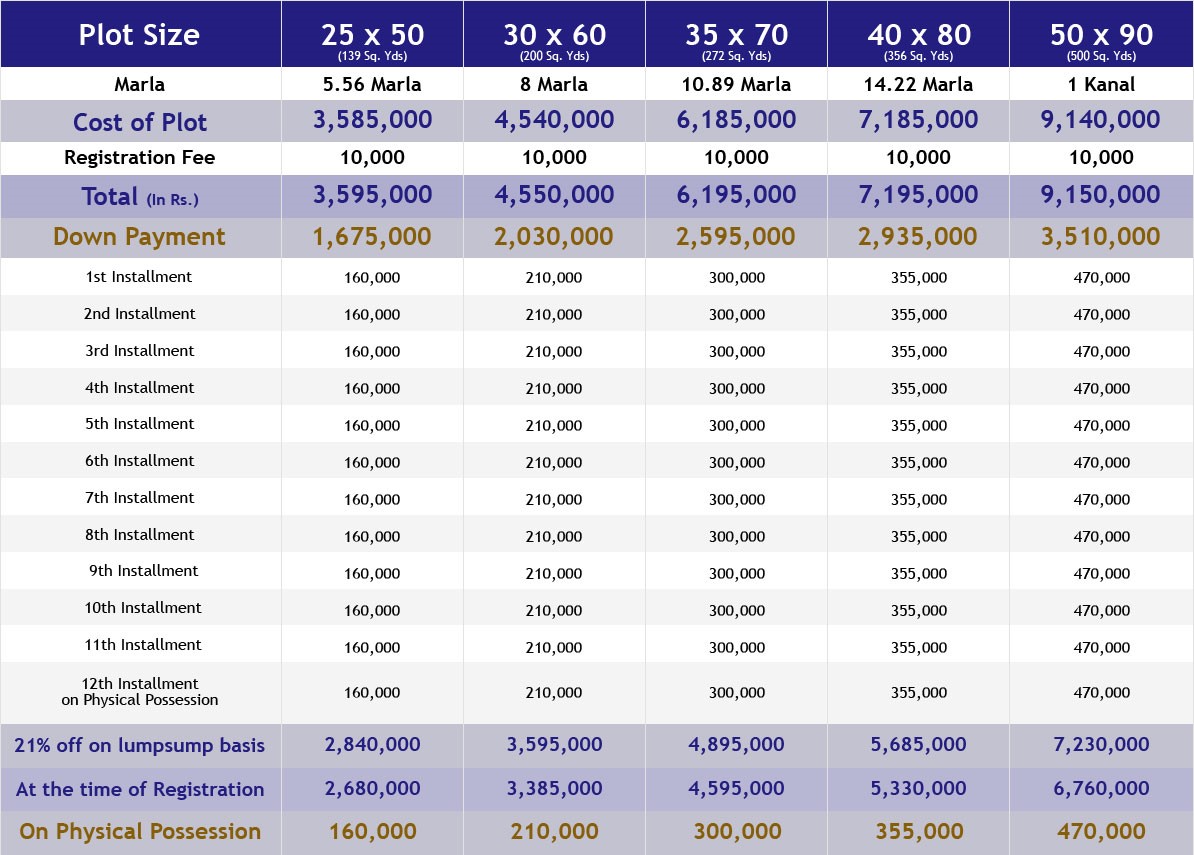 Installments would be on a three months quarterly basis.
The fee for registration is not refundable.
Development charges such as roads, water supply, sewerage and drainage system, entry gate, landscaping, security, Sui gas, and underground power are all included in the site price.
After the development work is completed and all other charges and dues have been paid in full, physical possession of the plot will be granted.
The payment plan described above was only valid for the project's pre-development and pre-booking phases.
Pros and Cons
Pros
Public Transport facility
Faisal City is located on the Peshawar-Rawalpindi Road and Motorway M-1. Therefore taxis and rickshaws may be easily accessible. Taxila Bypass Bus Stop, which is located on Peshawar Road, is also about a 9-minute drive away. You can catch a bus from this bus stop to Rawalpindi or Islamabad. Passenger buses go to and from this bus stop.
You can also take a bus from Daewoo Express Bus Terminal on Peshawar Road, Jhangi Syedian, to anywhere in Pakistan. The residents in future will not have difficulty accessing public transportation near Faisal Margalla City Islamabad.
Market Facility in F.M.C.
Future citizens of Faisal City Islamabad will be able to shop for groceries and other daily necessities in local supermarkets and marts. The following are the closest project options in Sector B-17 Islamabad.
Chaudhary Super Store in Block A
Crescent Cash & Carry at 3 minutes drive
Family Mart in Block B at a 5-minute drive.
The Block C Markaz for grocery shopping at 8 minutes
A Block C Market is on 7 minutes from Faisal Margalla City Islamabad
Punjab Market in G-13/4 at 20 km from Faisal Margalla City
 kids' wear
 Rajput Market 8 km away from the Faisal Margalla City
Education facility
Fortunately, Faisal City Islamabad is covered by high education institutions. Some of the best schools are located in B-17 Islamabad, about a 5- to 7-minute drive away. The institutions are:
Air Foundation School System in Block B
The Smart School is part of The City School, which is one of the country's most standard schools. It's in Block B,
Roots International School is just 16 km away from F.M.C.
City. It is well-known for offering an international standard of education from kindergarten through high school. The school is a Microsoft Associate Exhibition School that offers both Cambridge IGCSE and Matric curriculum streams.
The fact that Faisal Margalla City Islamabad is near the Heavy Industries Taxila Education City is a bonus (HITEC). The HITEC operates schools that follow the Matric system of education and are affiliated with the Federal Board of International and Secondary Education in Islamabad and the Cambridge International Exam
Junior School is from Class 2 to 7
Those interested in starting a degree in medical sciences in Faisal Margalla City Islamabad have two options:
HITEC Institute of Medical Sciences
 Medical College at nine km on North Road
On GT Road, Quaid Avenue, Wah, Faisal City, Islamabad is a 15-minute drive from COMSATS University. The university's six departments include computer science, mathematics, management sciences, electrical and computer engineering, civil engineering, and mechanical engineering.
Bank Facility
The residents may have the following facilities regarding banks.
Branches of Habib Bank Limited
H.B.L. has also set up its A.T.M. outside its branch, and it is 6 minutes drive
J.S. Bank is reachable within 8 minutes drive from the F.M.C.
National Bank of Pakistan (N.B.P.) at 8 minutes drive
Allied Bank Limited on Adam Jee Road,
United Bank Limited on Hamilton Road,
Bank Al Habib G-9 Markaz
Health Facilities
One of the most important factors individuals examine when purchasing a home is its proximity to healthcare facilities. In the near future, Faisal Margalla City Islamabad will have medical services within its borders. However, it is fortunate that some of the greatest hospitals are located in the area.
The Christian Hospital Taxila,. You can get here after travelling about 9 kilometres from Faisal Margalla City. P.O.F. Hospital is a highly equipped government hospital in Wah Cantt, Rawalpindi, located 10.4 kilometres from Faisal Margalla City, Islamabad. Alfalah Hospital in Sangjani operates 24/7, just 6 km away from the F.M.C.
Residents can seek treatment for minor health and dental issues at Bismillah Clinic or Noreen Dental and Medical Centre in G-13 Islamabad.
Gym and Fitness facilities
Health and fitness nuts P.O.F. Gym in Wah, Rawalpindi, is around 11.2 kilometres from Faisal City Islamabad. It is the closest gym for males in the area, but other gyms can be found in Islamabad, which is about 20 to 27 kilometres away. Fight Fortress M.M.A. in F-11 Markaz,
Female inhabitants are privileged to have access to an exclusive ladies gym in Block B of Sector B-17 Islamabad, which is maintained by a beauty salon. The proposed project is a 7-minute drive away.
Cons
There are no such disadvantages that would stop you from investing in Faisal City. However, some of the plots have costly instalments.
F.A.Q.s
Q- What is Faisal Margalla City?
Faisal City is a housing and commercial society.
Q- May I book a plot in Faisal City?
Yes, you can easily book your plot.
Q- Where is it located? 
Faisal Margalla City is located between MPCHS Sectors A, C, E, and G and reaches up to the foot of the Margalla hills from the broad north side.
Q- Does it provide basic facilities of life?
Yes, Faisal Margalla City is providing all the basic facilities of life.
Conclusion
So eventually now you know all the detail about Faisal Margalla City. If you want to have a unique and luxurious lifestyle, book your plot today in Faisal Margalla City. It also provides you with the best opportunities for investment in real estate. To invest your money in commercial plots in Faisal Margalla will give you massive profit with no risk. I discussed all the benefits in detail and left no stone unturned. Further if you want to satisfy yourself with more information visit sigma properties.