Etihad Town Lahore
Etihad Town offers affordable luxury apartments that are attractively constructed to fulfill residents' demands and equip them with modern conveniences of life, ensuring a pleasant and tranquil living experience. Its mission is to create homes that give individuals love, care, security, and calm. Its houses are designed with leisure, luxury, and safety in mind.
NOC
Whenever you want to buy a property, looking for its legal status must be your priority. Etihad Town received its NOC from Lahore Development Authority under registration number LDA/DMP-I/1683. LDA approved 560 Kanal for phase 1. Soon, the developers will launch further 1950 Kanal of land for phase 2. So, a total of 2500 Kanal land is approved by the LDA for the project.
Owners and developers
The essential characteristic of this project is that it was developed by The Etihad Group, a well-known real estate developer. Etihad Group Holdings is a renowned construction company. This firm worked on LUMS Campus, UCP Lahore Campus, Sukh Chayn Gardens, Sheikh Zaid Medical College and Hospital, and other well-known structures. However, Etihad Town is this builder's very first project.
Location map
Etihad Town is one of the towns in Lahore that has been established in prime places. Thokar Niaz Baig on Raiwind Road in Lahore is only 3.5 kilometers away. The town is a short distance from several institutions, hospitals, and shopping complexes. Etihad Town Phase 2 benefits from a unique location that provides direct access to Raiwand Road, Ring Road, Multan Road, and Canal Road. DHA EME, Johar Town, and Wapda Town are all nearby projects.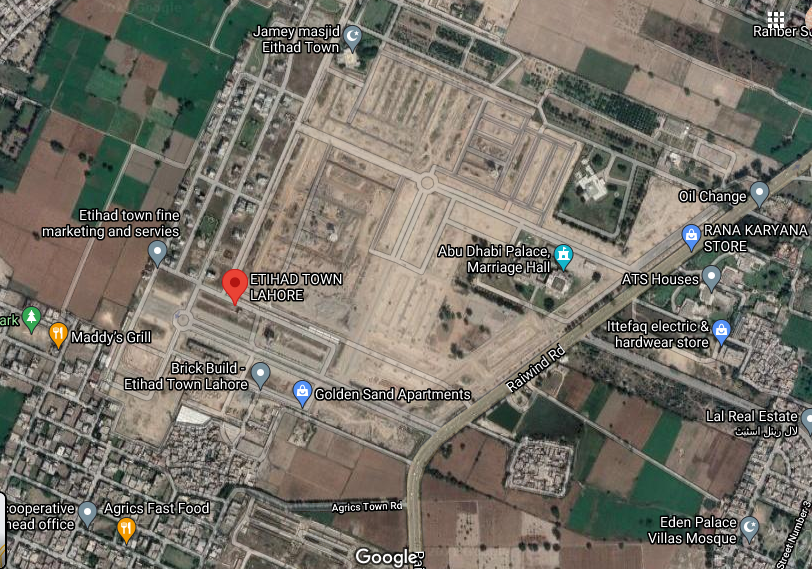 Master plan
There are many residential and commercial plots and luxury apartments in Etihad Town Lahore. Etihad Town is created with all of today's modern living requirements in mind. Etihad Town offers the best residential plots available in 5 and 10 Marla sizes and is easily accessible from Lahore's leading residential and commercial areas. Etihad Town provides you and your family a superb living experience equipped with modern conveniences, a tranquil environment, lush green views, and a protected status of comfort.
Large commercial plots are ready for the future construction of business hubs, including offices with cutting-edge technology, modern shopping malls, and magnificent plazas. Etihad Town provides commercial plots in sizes of 4, 5.33, 6, and 8 marla, all of which are designed to help your business expand to its full potential. Every part of Etihad Town's construction has been designed to create a sense of luxury, convenience, and enjoyment. There are many features in these commercial plots that can attract you to invest in. the plots are located on the main road to residential, commercial, and industrial areas.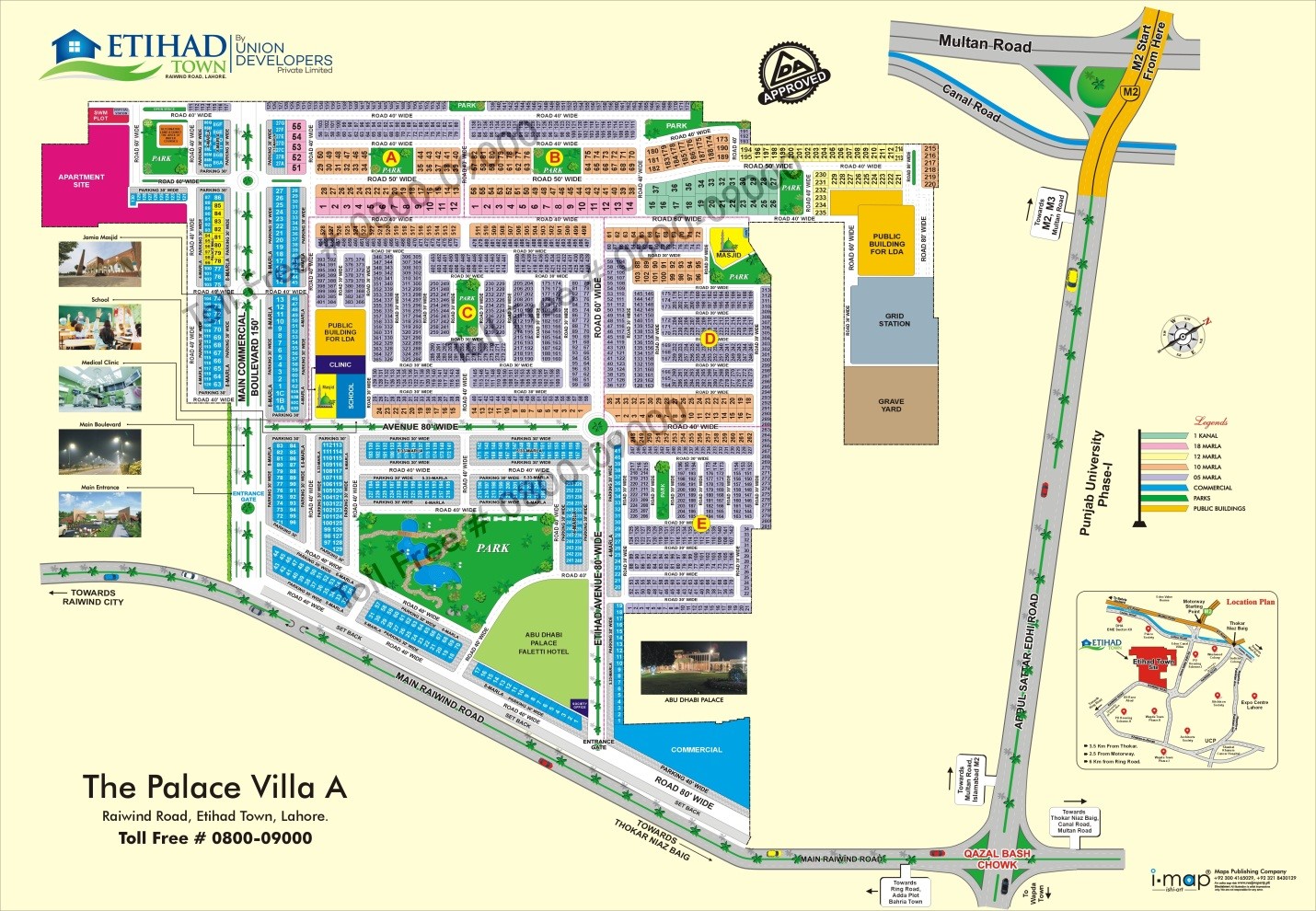 Payment plan
Etihad town offers you plots at very easy installment plan. The payment schedule for different residential and commercial plots is given below.
Residential plots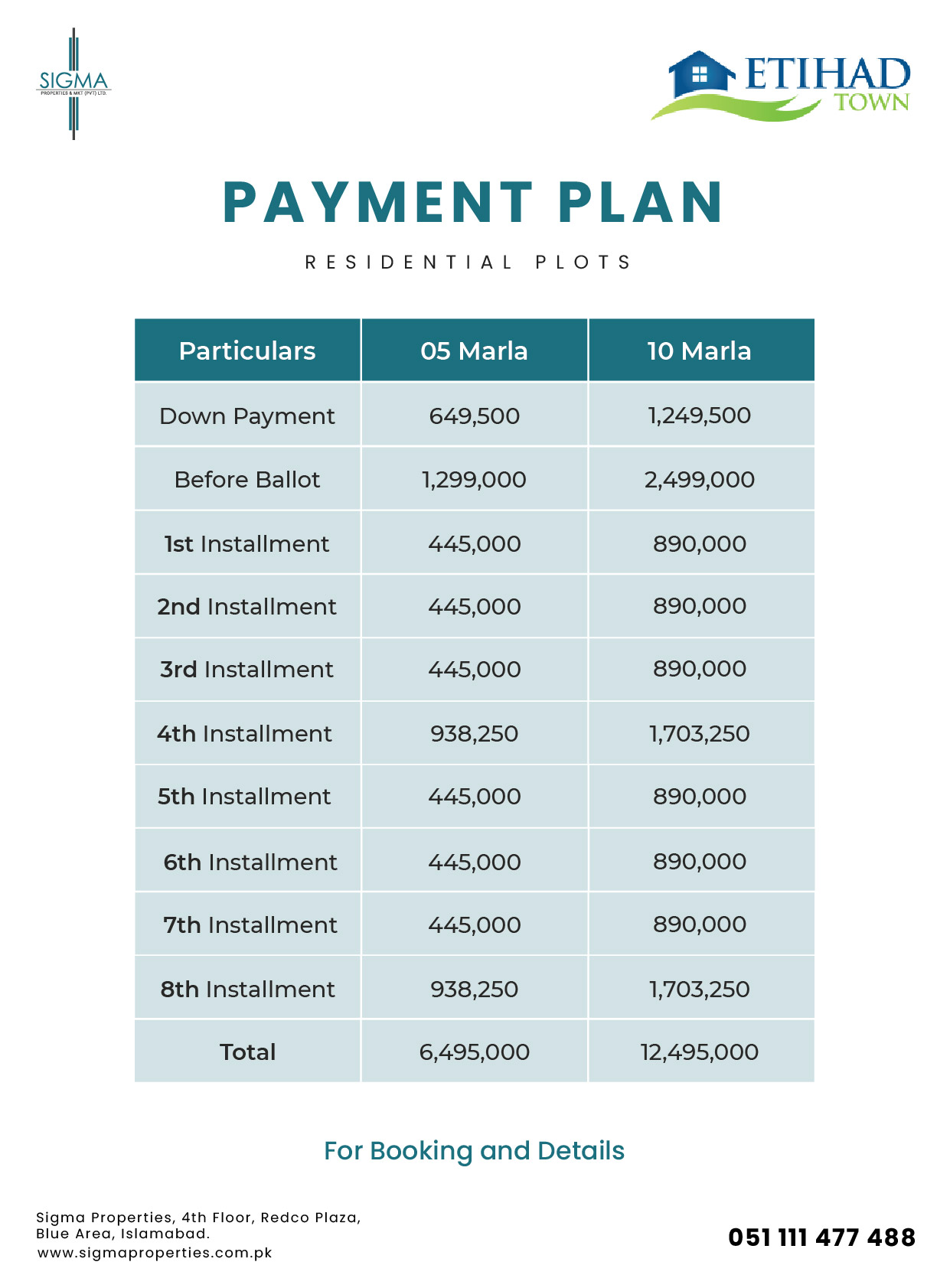 Commercial plots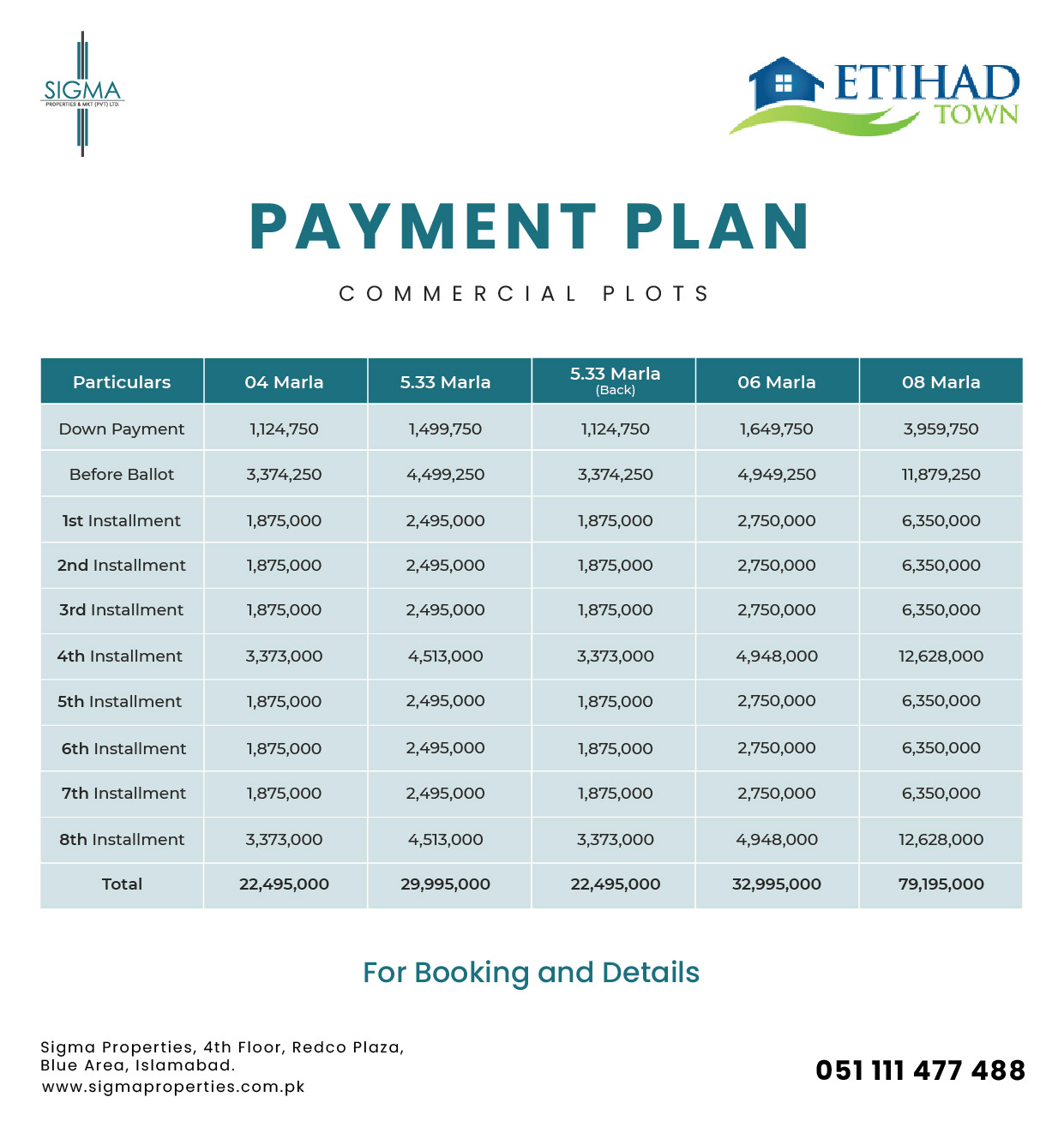 Phase 2 payment plan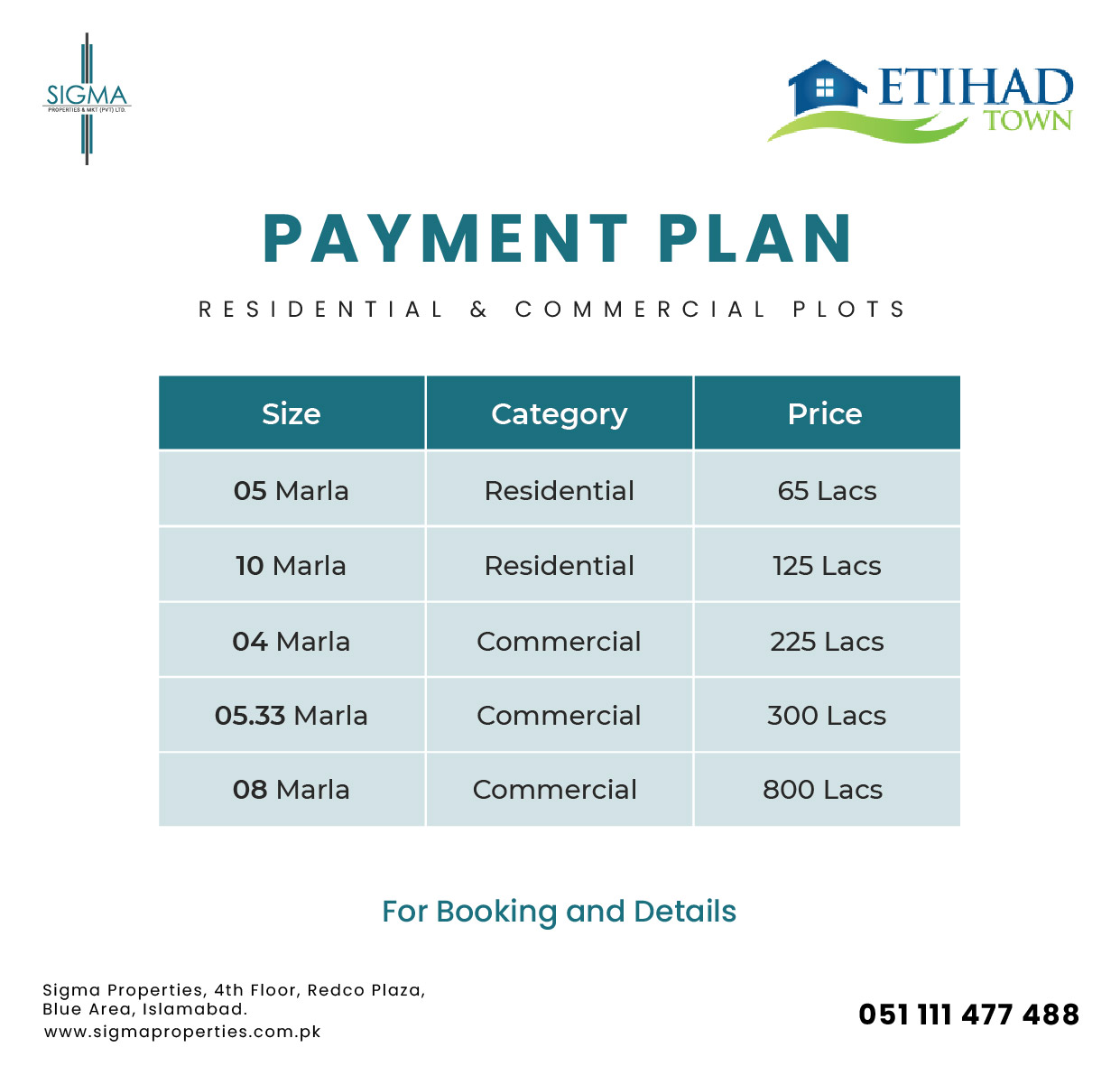 Union Luxury Apartments
Here is your dream to live in a luxury apartment coming true. There are studio, 1 bed, 2 bed, and 3 bed apartments. The apartments are designed to facilitate you a comfortable life, and Many facilities and amenities are waiting just for your arrival. The apartments offer you breathtaking views of natural scenery, fully furnished kitchens, and private room services. Etihad town is making full efforts to facilitate its residents. Its team struggles day and night to fulfill the promise with their residents of giving them the highest level of lifestyle.
Launching of phase 2
Phase 2 is going to be announced very soon. It aims to deliver the best residential and business plots at very affordable rates. Fasten your seat belt to visit Etihad town Lahore and book your plot. Early booking of plots can give you the best opportunities for having your desired plots. It is located along with phase 1.
Characteristics of phase 2
You must be curious to know the importance of phase 2. There is the easy availability of residential and commercial plots. You can have 5, 10 marla, and 1 Kanal residential plots on easy instalment plans. 
Features
Some features that make it more significant.
Gated community

Well planned

Grand main entrance

Theme parks

Commercial market

High security

Grand mosque

Children play area

Swimming pool

Gym

Sport complex

Underground electricity

Separate markets

Shopping malls

Clubhouse
Facilities
Etihad Town Lahore offers you all the facilities you are searching for.
Parks
The society offers its residents well-developed parks, gardens, and open spaces. Suppose you want to spend leisure time to forget the hurdles of life and enjoy. The town has spared 72 Kanal area for the park. The most interesting fact for you is that the park is within walking distance of you. If you live in either corner of the town, you can have easy access to the park.
Sport complex
You know the fact that health is wealth. There are facilities for playing multiple games. You can play cricket, football, volleyball, basketball, badminton, etc. the availability of skilled coaches help you in polishing you.
Shopping malls
Luxury shopping malls are designed to give you all the needs of your daily life. In the vicinity of the town, shopping malls serve you with standard and branded gadgets. You can buy anything and of any brand.
High security
All you need to care for is your and your family's security. Etihad town gives you full protection. Security cameras are installed in hidden places of the buildings. The arrangements of the security system lay down under the command of skilled and trained retired army men.
Swimming pools
Many societies are there in the surrounding, but they failed to entertain their residents. Etihad town is doing all for its investors to have a taste of luxurious life. Swimming pools in the society is a facility which makes it distinguished from other contemporary societies.
Underground electricity
Life is indispensable without electricity. You have often heard about electricity shortfall during storming. However, the town has the facility of underground electricity, allowing you to get rid of the tension. Underground electricity is hardly victim to a shortfall.
Gym
You should do the utmost care for your health. High-standard gyms are available for its residents it society. Skilled trainers are dedicated to providing their services devotedly. Many societies have the facility of the gymnasium, but there is a lack of modern machinery. However, the town has the best gyms as compared to others.  
Documents required for booking
Copy of your CNIC

Two passport size pictures

Two NICOP copies

Application form
Development status
Phase 1 is completely available for construction. It is ready you give possession of plots to its residents. The work on phase 2 is in full bloom and will be launched soon. People are interested in having 5 marla plots. In addition, society has announced payment plans. Now, there are the best plots available at affordable prices.  
Why invest in Etihad town Lahore ?
I have discussed many factors about society. Here are some more things that can attract you to invest in. this is an extraordinary project of Etihad group. The other thing that is prominent is its 100% approval from LDA. It gives you the best outcomes against your investment. It has the potentials to give you profit on your investment.
As you know, the surrounding societies are giving plots at high prices, but this society is helping you to provide you with outstanding plots at low payment plans. In addition, its prominent and perfect location is another factor that can increase its investors. Society is very developed and advance. It offers its residents an elegant and pure environment to live in.
Pros and cons
Pros
High security is a distinguishing feature of this society.

The area has luxury apartments for you and your family.

The commercial area in society offers you the best opportunities for investment.

A vast network of roads lessens problems of traffic.

Pure water and underground electricity are extra facilities in society.

Society gives you instant possession.

Etihad town is doing all for the betterment of its residents.
Cons
Phase 2 is yet to be completed.

Some plots have very high prices.  
Conclusion
Etihad town Lahore is a project of reputed developers that allows you to have your dream home in a prominent location in Lahore. It enables you to have your own residential and commercial plot at a very low and agreeable price. Visit sigma properties and book your own plot.
FAQs
 Q1: How many sizes of plots are available?
 A1: The town offers residential plots of 5 marlas and 10 marla; and commercial plots are available in 4 different sizes i.e. 4 marla, 5.33 marla, 6 marla and 8 marla.
Q2: How can I get an application form?
A2: Application forms are available at our office. You can also download it online.
Q3: What is the application price?
A3: You can download it for free.
Q4: What is the total area of the project?
A4: In phase 1 there is 560 Kanal and in phase 2 there island of 1950 Kanal.
Q5: What is the dimension of plots?
A5: Dimensions of plots are:
5 marla (25ft*45ft)
10 marla ( 35ft*65ft)
Q6: When will plots be ready for possession?
A6:Very soon, the plot will be ready for possessions.
Q7: What is the price of the 5 marla plot?
A7: Read the above payment plan.
Q8: Does the town offer all the facilities?
A8: Yes, you can avail all the facilities available in society.
Q9: Is the society approved by LDA?
A9: Yes, society is approved.
Q10: is there any parking area in the town?
A10: Yes, in front of commercial plot there is 30 ft wide area for parking.