Eden Orchard Faisalabad
The Eden Orchard Faisalabad provides you with the shining opportunity of residing in the most convenient location in Faisalabad. You will find a luxurious lifestyle, world-class amenities and modernity all in one place. It is a housing project fulfilling the definitions of brilliance and quality.
Owners and Developers 
Elahi Developers established this marvelous housing society. In addition, all development work has been done. Elahi developers, who are always at the forefront of innovation, have once again set the bar high by constructing a new, state-of-the-art housing society in Faisalabad.
The popularity of the lodging society among Faisalabad residents demonstrates that Elahi developers consistently deliver supreme quality in their work. This is accomplished while considering the needs of the inhabitants. They offer the most competitive pricing available in the real estate market. Elahi Developers are known for their integrity in the real estate industry. Elahi Developers is considered the most dependable real estate development company in Faisalabad, having pioneered real estate development in the city for many years.
Elahi Developers 
Elahi Developers has innovated several new construction techniques and concepts, laying the groundwork for cutting-edge residential developments that promise remarkable results. It is a multi-disciplinary organization that conducts urban planning, construction, capacity building, and project management. It was founded in 2002 and is based in Pakistan's textile capital, Faisalabad. Riasat Ali Dogar is the chairman of the company. Adeel Ellahi and Shakeel Ellahi are the directors.
In Faisalabad, they are known as category leaders in sustainable planning, construction, and building techniques. The firm has city redevelopment and revitalization plans that include all of the aspects necessary to create lively and economically vital metropolitan areas.
Due to loyalty, there is a mystic tie between Elahi developers and locals that is impenetrable. Their mission and vision are based on the relationship of trust and confidence.
The key features of their projects are:
Life of comfort
Budget-Friendly
Projects are completed on time
A better investment prospect
Other fantastic projects by Elahi Developers are as follows:
Eden Valley
Eden Orchard
Pine Valley Pakistan
Pine Villas Lahore
New Garden Block
Eden Garden
Eden Garden Executive Block
Eden Garden Nawab Block
Pine Villas Lahore
Pine Valley, Pakpattan
Pine Villas Burewala
NOC and Planning Permission 
The housing society has an approved NOC by the Faisalabad Development Authority or FDA. The website of Faisalabad Development Authority can provide detailed information on its NOC and other permits.
Location 
The housing society is located on Ali Shahid Road, adjacent to Khayaban Green on one side and Millat Road on the other. It is close to the key Faisalabad locations and only a few minutes away from the M-4 Motorway.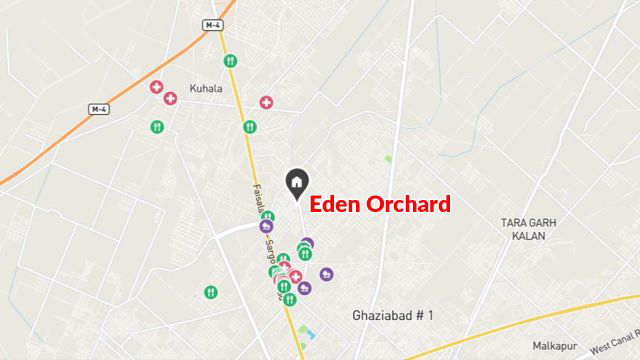 Access Points 
The following are some of the ways to get to Eden Orchard:
The M-4 Pindi-Bhattian Multan Motorway is around a 15-minute drive away.
The Faisalabad University of Agriculture is about a 25-minute drive away.
Faisalabad's Allama Iqbal Colony is around a 30-minute drive away.
Tara Garh Kalan is about a 15-minute drive away.
Nearby Lodging Societies 
The housing society is also close to a number of residential societies, which is a huge advantage:
Khayaban Gardens
Allama Iqbal Colony
Ghulam Muhammadabad
Millat Town
Muslim Town
Master Plan 
On the 5th of October 2010, the housing scheme was launched. Eden Orchard Faisalabad's master plan has reached its apex of development with contemporary architecture and standard city planning. The housing society is comprised of 717 residential plots spread on 6 Murabba of land.
Local planners and architects have used precise engineering in accordance with FDA standards. The suggested site offers a lovely topography. The great majority of the terrain is made up of little hillocks.
The entire site will be landscaped and maintained scientifically. To protect the dwellers, the developers built a boundary wall around the lodging society.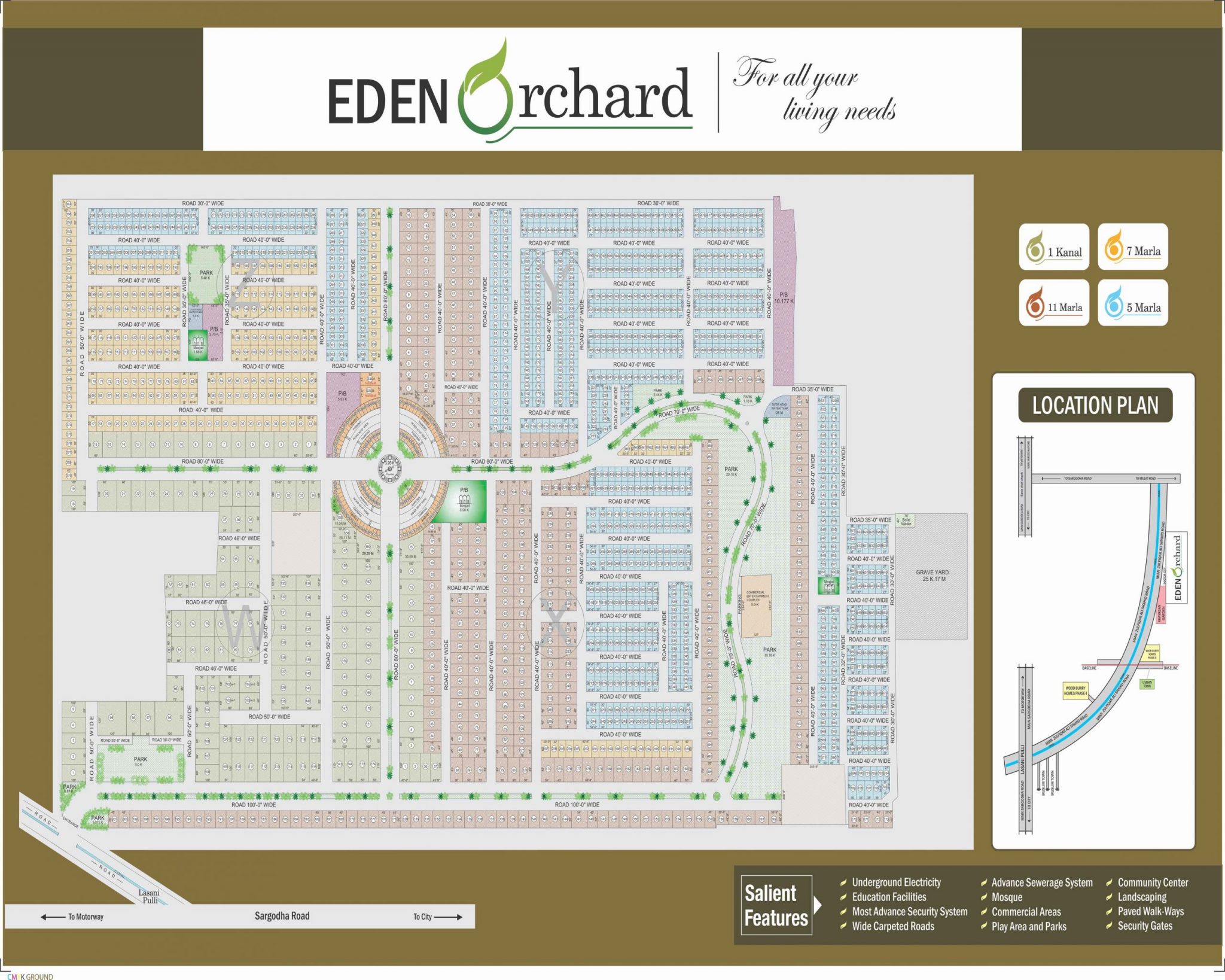 Blocks 
The blocks in the housing society are as follows,
W Block
X Block
Y Block
Z Block
The plots in the housing society are offered at the greatest real estate market pricing. Houses for rent are also available at reasonable prices.
Residential Plots 
The residential plots in the housing society are available in the following sizes:
5 Marla
7 Marla
11 Marla
1 Kanal
Commercial Plots 
The commercial plots in the housing society are available in the following sizes:
Plot Prices
Plot prices fluctuate throughout time and are influenced by a variety of factors such as inflation and overall real estate market rates. The following are the precisely calculated plot prices:
The initial price for a 05 Marla is 40 Lac (Est.)
The initial price for the 07 Marla is 50 Lac (Est.)
The initial price for 11 Marla is 65 Lac (Est.)
1 Kanal: 1.5 Crore as a starting price (Est.)
Guidelines for Purchasing a Plot
There are several measures to take when buying or purchasing a plot. Let us go through them step by step.
Verification of Documents
To avoid ambiguity or inconvenience, please ensure that all documentation is verified to your total satisfaction. Make sure to ask about the NOC and approval documents from the developers that have been approved by the Faisalabad Development Authority before proceeding with any property acquisition or sale. As a result, your documentation will be valid in any situation where client satisfaction is a possibility.
Security of the Finances
Please be sure that your funds are in line with your purchasing plan before concluding any transaction involving the sale or acquisition of real estate. This will ensure that your buy or sale goes smoothly.
Site Visits 
Before making any purchase, you should visit the site to make sure that the documents are valid and that the written documents are in accordance with the plot specifications on the ground.
How to Book a plot? 
Contact our experts at Sigma Properties to reserve your plot. Online bookings are also accessible.
The reservation form can be located on the official website of the housing society.
Fill out the reservation form.
Make a deposit with Sigma Properties with a check, cash, or purchase order.
Check out the reservation form and attach any supporting documentation, as well as a review.
Documents of Relevance
The following documents are required for booking:
Two copies of the applicant's CNIC
2 Applicant Photos
Two copies of the nominee's CNIC
Amenities Provided 
The housing society provides the inhabitants with the following amenities,
Infrastructure for Roads
The housing society is equipped with carpeted roads and streets to ensure that mobility in and out of the community is as easy as possible, even during peak hours. The venture designers have also provided paved paths for pedestrians' convenience.
Petrol pumps
The lodging society will have petrol pumps the will be regulated by local authorities. As the store and sell a highly flammable liquid, petrol filling stations are extremely dangerous businesses that must be supervised by local authorities.
Recreational Spaces and Parks
A unique land zone has been designated and built for entertaining activities, such as lush green parks and children's play areas, in order to provide a healthy environment for the residents.
Well-Planned Sewerage System
The housing society has its own fully functional sewerage system to dispose of the community's waste through broad underground pipelines.
Filtration facility for water treatment
There will be a water treatment system that removes or reduces the concentration of pollutants and unwanted components in order to make the water suitable for its intended usage. This procedure is essential for human health, as it allows people to benefit from both drinking and irrigation.
Institutions for Education
High-quality educational institutions, schools, and universities have also been built to provide youngsters with exceptional educational principles.
Main Features
The main features of the housing society are as follows,
Trendsetting groundwork
Large network of roadways
Underground Utilities
Security measures, a boundary wall, and a gated secure community
Hospitals and medical centers
Educational facilities
Filtration facility for water treatment
Sewage management
Waste disposal systems that are well-planned
Modern shopping arcades
Eden Cricket and Fitness Center
Banks
Parks, for enjoyment and recreation
Post office
Petrol pumps
Jamia Mosques
Why Eden Orchard ?
Eden Orchard is a well-planned residential housing development that aims to provide a comfortable lifestyle and a green environment. The location is one of the most significant elements in any venture. Eden Orchard Faisalabad is located in a prominent position in Faisalabad and has numerous access points, making it a very accessible place.
Approved Lodging Society 
The Faisalabad Development Authority has made no objections to this pristine housing society because it is not prohibited or under any violation of the FDA. The first thing to notice in a housing scheme is legality, and the Eden Orchard Faisalabad has already catered to that.
Dependable Developers 
The Elahi Developers ensure that every project achieves its rigorous standards of living and luxury by paying attention to their clients' needs and tastes. Elahi Developers redefines luxury with a flair for the refined, building signature communities that are unique while adhering to the same high standards. Starting with the selection of outstanding locations, some of the most talented architects create an eye-catching master plan that sets the standard for excellence.
Excellent Sports Amenities 
Elahi Developers is concerned not only with giving their valued customers a luxurious lifestyle but also with their health and fitness needs. Eden Cricket & Fitness Center has demonstrated this to be true. The residents may enjoy football, cricket, swimming, boxing training, and gym amenities at this sports facility.
Females have a designated time for swimming and the gym, so they can take advantage of these facilities while maintaining their health and fitness in complete privacy and protection.
Perfect Investment Opportunity
Faisalabad is Pakistan's third-biggest country and a hub of continuous zest. The developers have founded many housing societies in Faisalabad because the investors have all of their energies concentrated on it. So, an investment in this lodging society will reap you the benefits of a lifetime.
Pros and Cons 
 Pros
Water Treatment Plant 
The lodging society is establishing a high-quality water treatment plant. It is low-cost, rids the people of potential diseases, and breaks down solids faster due to the aerobic system. The treatment plant will collect, store and treat the wastewater from toilets, sinks, washing machines, baths, and other residential water-using appliances.
High Level of Security 
The venture designers have ensured that the lodging society is secure, with a boundary wall and fencing. There is a trained body of guards specifically stationed at the different places in the housing society. They have also arranged for 24/7 CCTV camera surveillance.
Healthy Environment 
The lodging society provides a healthy environment for the better physical and mental health of the residents. The developers know that a clean environment promotes good health and contributes to a strong sense of well-being. Thus, they have provided clean settings such as parks, cycling tracks, roads and sidewalks with continuous sanitation measures. Around 70 Kanal of land has been set aside for parks where the residents can gather and engage in several healthy activities. Despite the ever-increasing environmental threats, venture designers understand the benefits of a clean environment and know that developing one is necessary.
Community Centers 
The housing scheme has provided community centers fostering social links that contribute to the development of strong, safe, and inclusive communities; social contact, volunteerism and civic pride. There are after-school programs that can assist at-risk adolescents in avoiding unethical or troublesome behavior while being in a positive environment. These venues shall promote cultural diversity and inclusiveness for people of various ages, ethnicities, and skill levels.
Cons 
Availability of Plots 
In contrast to the initial days, there are fewer plots available for sale in the housing scheme. But there is still a lucky chance of finding a plot for sale from an investor who is interested in resale.
FAQs
What is Eden Orchard Faisalabad? 
It is a brilliant housing project in Faisalabad.
Who are the developers?
The development has been under the Elahi Developers.
Where is it located?
The housing society is situated on Ali Shahid Road. It is between Khayaban Green and Millat Road on one side and Khayaban Green on the other. It is conveniently a short drive from the M-4 Motorway.
Is the NOC of the housing society approved? 
Yes, it is approved by the FDA.
Are there underground utilities in the housing society? 
Yes, there are underground utilities of water, electricity and gas.
What are the residential plot sizes? 
The residential plot sizes are,
5 Marla
7 Marla
11 Marla
1 Kanal
Conclusion 
The Eden Orchard Faisalabad is a remarkable housing project. The abilities of the developers and their qualified workers made this superb residential project possible. Elahi Developers are highly esteemed in the real estate market. This is why investors do not believe they will lose money if they invest in their housing projects. Considering all of the numerous characteristics and benefits, one should have no hesitation about investing in this society for long or short-term goals.
If you are interested in a property, take a look at Park View City Islamabad, Nova City Islamabad and Taj Residencia.