Dream Gardens Lahore 
The Dream Gardens Lahore is a futuristic lodging society in the heart of Lahore. A dreamy living experience amidst natural beauty is a superb setting for a sophisticated and contemporary lifestyle. It is not only a great place to live, but it is also one of the most incredible places to invest in Lahore real estate due to its excellent infrastructure and modern amenities.
Owners and Developers
Izhar-Monnoo Developers have built a name for itself in Pakistan's real estate sector by establishing residential projects in Lahore, Islamabad, Faisalabad, and Multan. Izhar Monnoo Developers has become one of Pakistan's dominant real estate company. They are dedicated to meeting the service requirements of Pakistanis by the provision of inexpensive, excellent, and safe housing along with the most significant living standards possible.
Izhar Monnoo Developers is rapidly expanding across the country, with projects in four major cities other than Lahore,
Dream Gardens Multan
Dream Gardens Faisalabad
Dream Gardens Wazirabad
Dream Gardens Location
The lodging society is located on Ali Akbar Road, adjacent to Bhoptian Chowk and Defense Road. Dream Gardens Lahore is close to many prestigious educational institutions, including UMT, UCP, COMSATS, UOL, Superior University, and BNU, which add to the project's worth.
The residential society is conveniently accessible via
Mohlanwala Road
Ferozepur Road
Raiwind Road
Bahria Orchard Lahore, Dream Avenue, AWT Housing, LDA Avenue, Valencia Town, DHA Rahbar, and Lake City are similar housing societies in the vicinity. The location of Dream Gardens in Lahore is excellent. Still, the amenities and services provided by the developers have increased the value of the properties available for sale and purchase in the community. The University of Central Punjab and Shaukat Khanum Memorial Cancer Hospital are both less than 10 kilometres away. Thus you can get a notion of the housing society's importance in terms of its location.
Master Plan 
Dream Gardens Lahore, is a 500-acre exquisite real estate development that includes pre-built houses and fully developed residential and commercial plots. Single and double-story units of 5, 7, and 10 Marla and larger units of 1 and 1.5 Kanal are available for purchase in Dream Gardens Phase 1 and 2.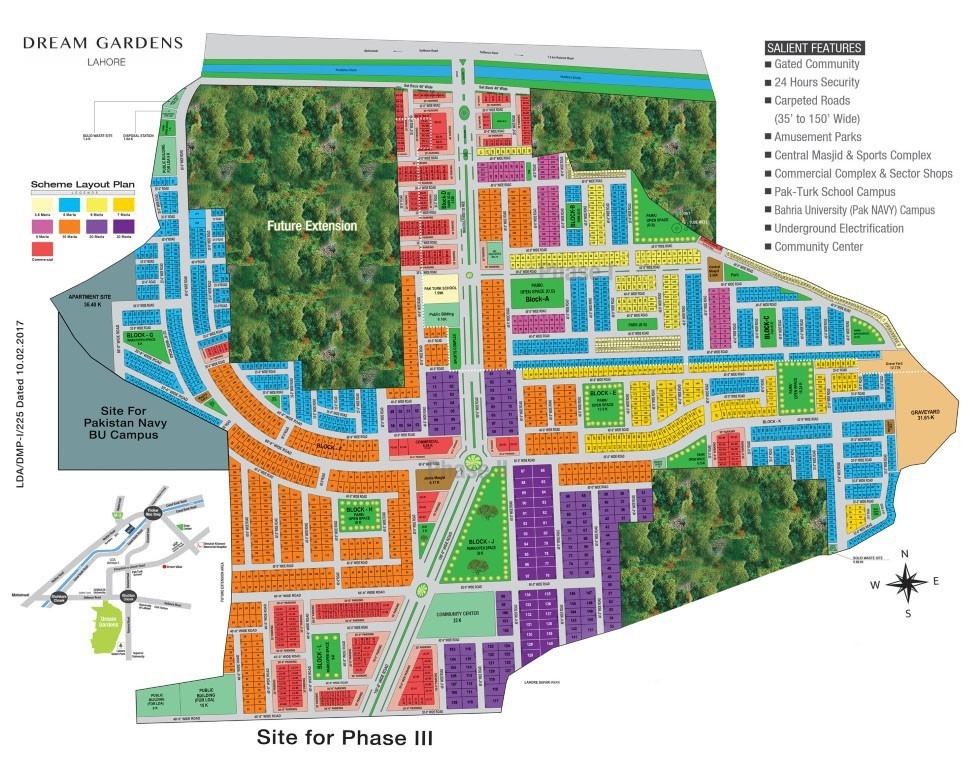 Dream Gardens Lahore NOC 
The Dream Gardens Phase 1 and 2 have received clearance from Lahore Development Authority (LDA), the Parks and Horticulture Authority, the Irrigation Department, and the Environment Protection Department. The phases have also attained approvals from LESCO, SNGPL, PHA and WASA.
Salient Features
The lodging society offers world-class amenities, including the following:
Gated Community
Verdant Community Parks
24/7 Security Surveillance
Leisure Clubs
Amusement Parks
There are 2,500 commercial and residential units in the development.
Green places abound
Healthcare Facilities
System for waste disposal
Facilities
Lahore Public Transport Near Dream Gardens 
The lodging society is located on Lahore's Defense Road, which is a premium location. The position provides an extra benefit to the society by maintaining it nearby to several of the critical traffic networks. The southern side of the Lahore Ring Road, Hudaira Dam Road, Mohlanwala Road, Ferozepur Road, and Raiwind Road, for example, are all conveniently accessible from the lodging society.
Because of its proximity to these thoroughfares, the Dream Gardens residents will have access to practically every kind of public transportation accessible in Lahore, including traditional rickshaws, taxis, and buses.
Several bus stops are close to the lodging society, like the CIIT Bus Station and the Lancaster Bus Stop on Ali Akbar Road within 5 minutes' drive. While Bhubtian Chowk Bus Stop is 2.4 km away from Shahkam Chowk Bus Stop is roughly a 9 minutes' drive.
Apart from the choices mentioned above, you can also take the Metro buses, one of the most cost-effective and pleasant intercity transit options in Lahore. The route begins in Shahdara and concludes at the Gajju Matah Metro bus terminal, about a 25-minute drive from the Asif Town society.
Furthermore, the second and third metro stations are around a 24-27-minute drive apart. These are the following:
The Nishtar Metro Bus Station
The Dulu Khurd Metro Bus Station
Commercial Markets 
Easy proximity to markets and grocery stores is a crucial aspect that determines property investment or rental decisions. For the time being, Dream Gardens has a Sector Market and a Victoria Mini Mart (supermarket) where the residents can purchase groceries and everyday items.
A tailor shop, a vegetable and dairy goods shop, a barbershop, and general retailers are located in the Sector Market. In addition, Hussain Pharmacy and Zain Medicos are both active in the community. In addition, Bhobtian Main Market adjacent to Dream Gardens, Lahore, is only around an 8-minute drive away. Food stalls, mobile phone and accessory businesses, general stores, barbershops, bakeries, and general stores, to name a few, can all be found at the market.
Central Mosques 
When residents of a community have places of worship within walking distance of their homes, they are at ease. They can quickly go to the nearest place of worship to seek spiritual guidance and fulfil their religious obligations.
In Phase 1 of Dream Gardens, you will find an expansive and air-conditioned Jamia Masjid. The mosque's architecture and design are breathtaking. According to the master plan, the society will soon include a second central mosque.
Educational Institutions 
Dropping children off at school can be difficult if their school is located a considerable distance. As a result, the presence of schools nearby has a significant impact on the value of a property.
Fortunately, there are numerous top-tier schools, colleges, and universities in and around Dream Gardens Lahore, implying ease for residents and profitable returns for investment.
The lodging society will contain some of Lahore's or Pakistan's most prestigious schools. A campus of Pak-Turk Maarif International Schools & Colleges is operational here. It is a private Turkish educational organization having schools in all of Pakistan's main cities since 1995.
There are also some private colleges operational around Dream Gardens Lahore, providing intermediate level education. Medium and O/A-Level systems are offered at the Pak-Turk Maarif International Schools & Colleges, Roots International School, and Bahria Town School & College-Girls Campus, all of which follow the Federal Board and Cambridge curriculum. COMSATS University is also at a fair distance from the housing community.
Financial Institutions 
The presence of financial institutions near a residence adds ease to everyday transactions and makes your payments safer and more secure. In Dream Gardens, Lahore, a branch of Muslim Commercial Bank (MCB) and Allied Bank Limited is located. In addition, other banks are planning to open attachments within the lodging society's premises shortly.
Development Status 
The first phase of the housing program was launched in September 2011, with a five-year possession time estimate. The builders, on the other hand, surprised buyers by delivering possessions in June 2014. In February 2017, the announcement of the project's second phase came, and it is scheduled to be completed soon.
In Phase 1, approximately 80% of the residences are constructed, and residential plots in the exact area sizes are also available. Pre-built houses have a similar appearance, front elevation, interior, and exterior. In contrast, plot owners can design their homes according to their needs and design by paying 30% of the total plot price as a down payment.
The lodging society is well-designed, taking into account the needs and amenities that most inhabitants demand. Residents' needs for space have been given special consideration; for example, internal roads are approximately 40-60 feet wide, while the lane of 5 Marla residences is also 35+ feet broad. In addition, Dream Gardens' main boulevard is 150 feet wide.
Payment Plans
The Dream Gardens Lahore provides a convenient three years payment plan. There is a 30% down payment payable before the instalments. Only 3% of the total booking price is required for the down payment for any houses or plots. If you don't want to pay in instalments, you can get a 15% discount on the total cost.
Houses or plots located on the main 60-foot road are also subject to a 5% surcharge. If someone wants to acquire a home or property that faces Main Boulevard (150′), they will have to pay an additional 8% of the total price.
The payment plan of Dream Garden Lahore depicted below shows the average price of residences; however, prices may vary depending on features such as corner plots/houses, views of parks or main roads, or other facilities. All of these facilities add up to a 5% increase in the total price.
Phase 2 Residential Houses
| | | | | |
| --- | --- | --- | --- | --- |
| Area (Marla) | Accommodation | Covered Area | Price (PKR) Royal Finish | Price (PKR) Grey Finish |
| 5 | 4 bed + 3 bath + PR + SQ | 2088 | 13,475,490 | 9,862,415 |
| 5 (Rentable) | 3 bed + 3 bath + PR + SQ | 2165 | 13,753,075 | 10,006,759 |
| 7 | 4 bed + 4 bath + PR + SQ | 2425 | 17,069,675 | 12,873,455 |
| 10 | 4 bed + 4 bath  + PR + SQ | 3078 | 21,553,747 | 16,227,575 |
| 20 | 5 bed + 5 bath  + PR + SQ | 4902 | 35,531,910 | 27,049,489 |
| 30 | 5 bed + 5 bath + PR + SQ | 5534 | 46,740,370 | 37,164,336 |
Let us also take a look at the payment plans of commercial plots, residential plots, arches and balcony.
Phase 2 Commercial Plots
| | |
| --- | --- |
| Plot Area (Marla) | Price (PKR) |
| 6 | 20,394,000 |
| 7 | 23,793,000 |
| 10 | 31,712,670 |
Phase 2 Residential Plots 
| | |
| --- | --- |
| Plot Area (Marla) | Price (PKR) |
| 5 | 5,948,250 |
| 7 | 8,327,550 |
| 10 | 10,457,557 |
| 20 | 17,860,200 |
| 30 | 26,790,300 |
Phase 1 Arches
Ground Floor
Unit Type
Area (Square foot)
Price (PKR)
Shop 1 & 7 ( Corner + 5% Park Facing)
638
16,747,500
Office 2 & 6 (Park Facing)
614
15,350,000
Office 3,4,5 (Park Facing)
610
15,250,000
First Floor
Unit Type
Area (Square foot)
Price (PKR)
Office 1 & 7
640
9,600,000
Shop 2,3,4,5 & 6
298
4,470,000
Shop 8 & 10
248
3,720,000
Shop 9
245
3,675,000
Second Floor
Unit Type
Area (Square foot)
Price (PKR)
Office 1 & 4
640
6,400,000
Office 2
726
7,260,000
Office 3
749
7,490,000
Office 5
483
4,830,000
Office 6
439
4,390,000
Phase 1 Balcony 6
| | | | |
| --- | --- | --- | --- |
| Apartment 1 & 6 | 1,831 | 2 bed + 2 bath + open KTN + store | 12,817,000 |
| Apartment 2,3,4 & 5 | 1,526 | 2 bed + 2 bath + open KTN + store | 10,682,000 |
How to Book a Plot?
Contact our experts at Sigma Properties to make a booking. We entertain online bookings as well.
The booking form is available on the society's official website.
Fill out the form.
Deposit Sigma Properties in the form of a check, cash, or purchase order.
Submit your reservation form, as well as all supporting documentation and a review.
The documents you will need are as follows:
2 Copies of CNIC of Applicant
2 Photos of Applicant
2 Copies of CNIC of Nominee
Why Dream Gardens Lahore?
The Dream Gardens Lahore lives up to its name. It is a dreamlike place to live with nature's thralls around you. At Dream Gardens, a tranquil and peaceful environment awaits you.
Gated City 
The city residents have begun looking for abodes in walled lodging societies where they know their kids are safer. Thus, the Dream Gardens Lahore offers a family-friendly environment with optimum security and CCTV camera surveillance.
Approved Lodging Society 
This lodging society is approved by the LDA and has acquired the legal documents from the rest of the regulatory bodies. So your investment will be in the right place.
Luxury Way of Life 
The developers have laid the foundation of this exemplary lodging society to provide the citizens with a luxurious life filled with serenity and world-class amenities.
Electricity Backup
The Izhar-Monnoo Developers have established power backup systems to ensure that residents are not inconvenienced during power outages.
Pros and Cons 
Pros
Fitness Clubs 
A residential society's amenities, such as sports complexes and gyms, are essential for the lodging society. In Dream Gardens Lahore, you will find several fully working sports facilities and fitness centres. In Dream Gardens, there is a sports complex. It contains football, table tennis, badminton, and basketball courts are all well-developed.
Salons and Spas
Near Dream Gardens, Lahore, various beauty salons and spas for ladies provide all of the beauty services and treatments that one could require regularly. Dream Gardens is less than 4 kilometres away from the following salons:
Diplex for Women
Revive Beauty Salon and Institute
Rogue Beauty Salon
Abeera's Beauty Salon
Accessible Location 
The Dream Gardens has the best possible location. The important places around the lodging society are as follows:
COMSATS is only 3 minutes away by car.
Dream Gardens is around a 15-minute drive from Bahria Town, Lahore.
Valencia Town, Lahore, can be reached in 14 minutes through Defense Road.
Lahore's Lake City is 18 minutes distant through Raiwind Road in Lahore.
Fazaia Housing Scheme is 16 minutes away from the society via Raiwind Road or Lahore's Defense Road.
Cons 
Distance from Lahore 
Although the lodging society is adjacent to the city, it can be too far from the city for some. But this is subjective as our clients are on the lookout for a distant paradigm of excellence for living, which the Lahore Dream Gardens already is.
Conclusion
An investment in Dream Gardens Lahore will prove to be highly beneficial for you. Let us assist you through the booking process, it will be taken care of by our consultants. It is an emblem of utter marvelousness so do not miss out on it.
FAQS
1-What is Dream Gardens Lahore?
It is a decent housing society in Lahore.
2-Where is it situated?
Dream Gardens Lahore is on Ali Akbar Road, near Bhoptian Chowk and Defense Road in Lahore.
3-Who is the owner?
Izhar-Monnoo Developers are the owners of the lodging society.
4-Is it an approved lodging society?
Yes, it is approved by the LDA.
5-What are the residential plot sizes available in Dream Gardens?
The residential plot sizes are,
5 Marla
7 Marla
10 Marla
20 Marla
30 Marla
6-What are the commercial plot sizes available in Dream Gardens?
The commercial plot sizes are,
7-Is there underground electricity and gas in the lodging society? 
Yes, there is underground electricity and gas.