DHA Valley Islamabad 
DHA Valley Islamabad is the cooperative effort of DHA Islamabad, Bahria Town Islamabad, and Habib Rafiq (Pvt) Limited. Society seeks to provide a luxurious lifestyle to ordinary people by creating a housing project with parks, commercial areas, schools, mosques, hospitals, and other facilities.
History
The project began in 2008, and thousands of plots (about 50,000) were allocated to the candidates.
Developers
DHA Valley Islamabad is a housing project developed by the Defence Housing Authority in Islamabad, Pakistan. The Defense Housing Authority area in Islamabad is part of the Islamabad and Rawalpindi Metropolitan Area. The area is divided into five sections and extends from the Islamabad Capital Territory to the Punjab province border. The Pakistan Armed Forces Welfare Department created a separate neighbourhood for military people in 1992. It is particularly well-known for providing high-end living spaces.
NOC
DHA Valley's NOC is not required because DHA is a Housing Authority.
Location
The society is located close to DHA Phase 2 Extension on the Islamabad Highway. The society is connected to the Islamabad Expressway by a six-lane DHA Expressway that runs through all of DHA Islamabad's significant phases. The expressway is currently under construction and is scheduled to be completed in about a year.
Master Plan
The master plan of DHA valley has many blocks, they are:
DHA valley blocks
DHA valley overseas blocks
DHA homes
DHA commercial avenue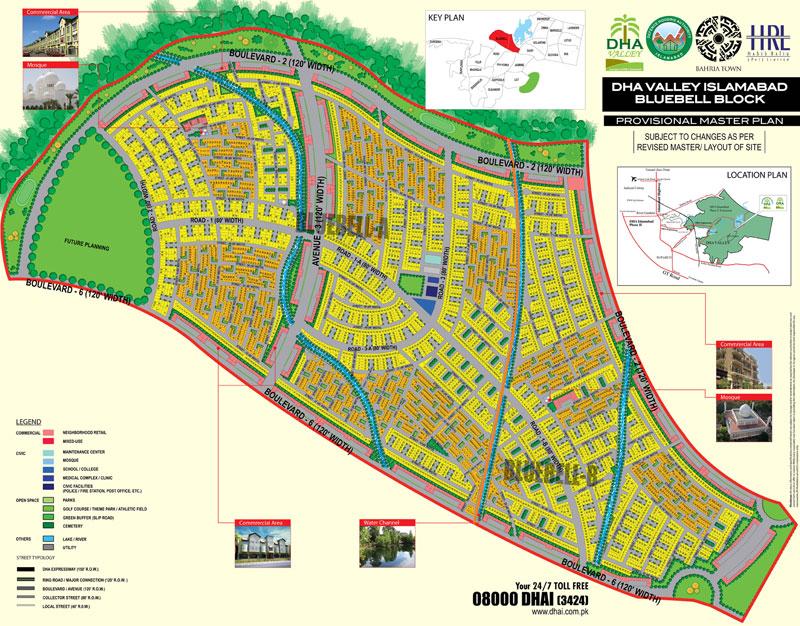 DHA valley blocks
The main objective of the DHA Islamabad 5 & 8 Marla programme is to serve the needs of low-income people in Pakistan and overseas. The concept attracted a lot of interest and quickly became one of DHA Islamabad's most desirable projects. The construction process has begun, and the property will be ready for occupancy within the given period.
DHA Valley provides 5 Marla (125 Square Yards) and 8 Marla (200 Square Yards) residential plots with a quarterly instalment plan for Pakistani citizens for PKR 650,000/- and PKR 880,000/-, accordingly.
DHA Valley Abroad offers 5 Marla (125 Square Yards) and 8 Marla (200 Square Yards) home plots with a quarterly instalment plan specifically for overseas Pakistani residents for USD 9,500/- and USD 12,900/-, respectively.
Payment plan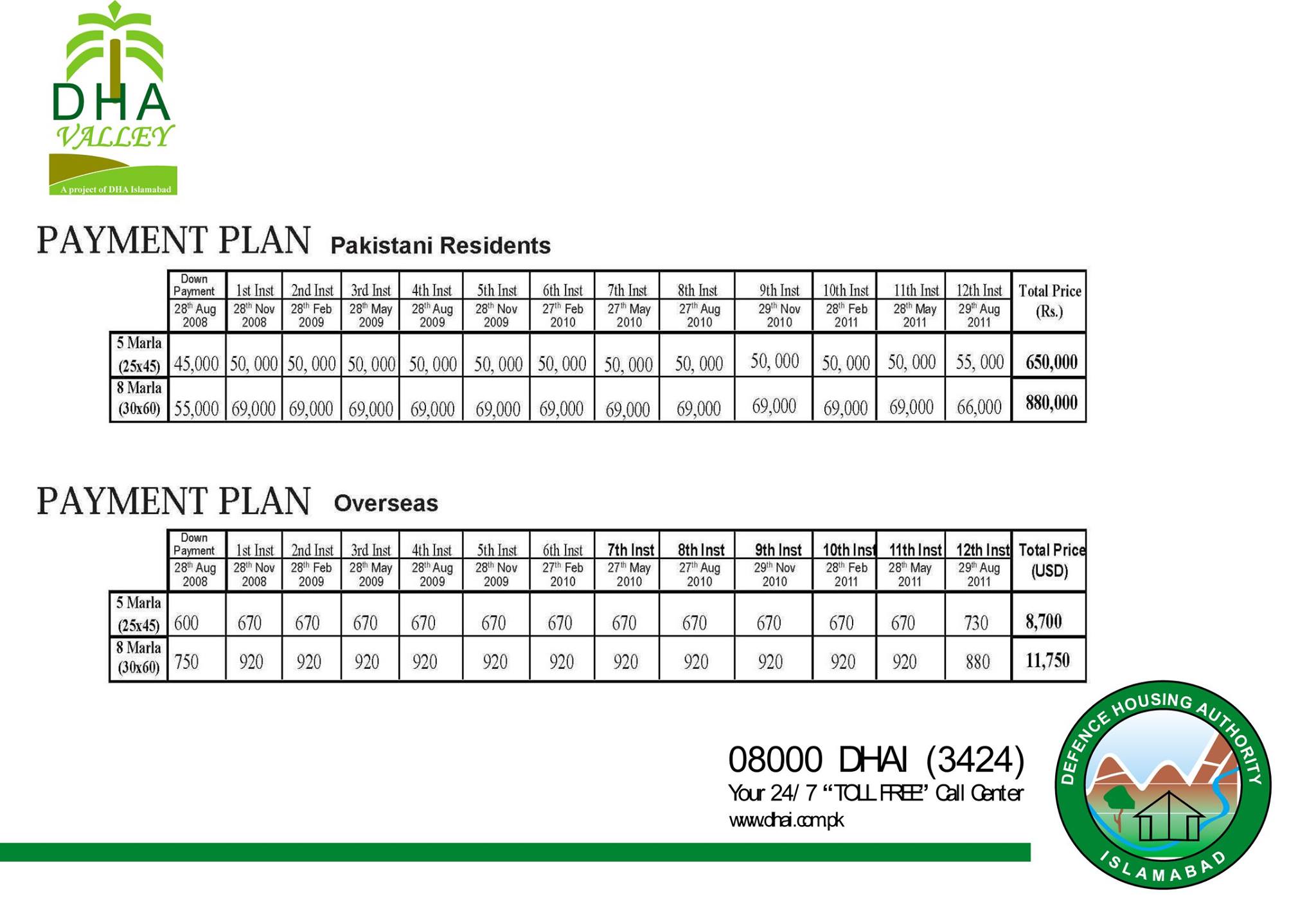 Facilities
Security
DHA Valley is a fully secured gated community where world-class facilities are provided. DHA Valley residents will have access to a world of foreign services that are only available to DHA residents.
Standard lifestyle
Defense Valley offers a standard lifestyle in a free and secure atmosphere surrounded by nature's beauty, as well as unique amenities of international standards.
Your dream place
At DHA Islamabad, luxury overlaps with design, dreams merge with fate, and the extraordinary becomes a reality. It has been carefully designed and innovatively arranged to provide unrivalled facilities and amenities.
Features
Furthermore, there are many features:
Commercial Area
Mega Mall
Modern Hospital
Harvard International Medical University
Underground Electricity
Wide Road Network with footpaths,
Green belts
Beautiful sceneries
Beautiful Parks with a fresh environment
24 hours Maintenance service
Standard School System
standard Gated Community
DHA Valley Overseas Blocks
Special home plots of 5 and 8 Marla are available in DHA Valley Overseas Block. We're building truly world-class self-sustaining living habitats. Overseas Block provides gorgeous, spectacular garden grounds and a secure gated neighbourhood; everything here gives Overseas Pakistanis a sense of class. This residential development is distinguished by its superior communities, great schools, maintained open spaces, and different parks, as well as recreation activities.
Payment plan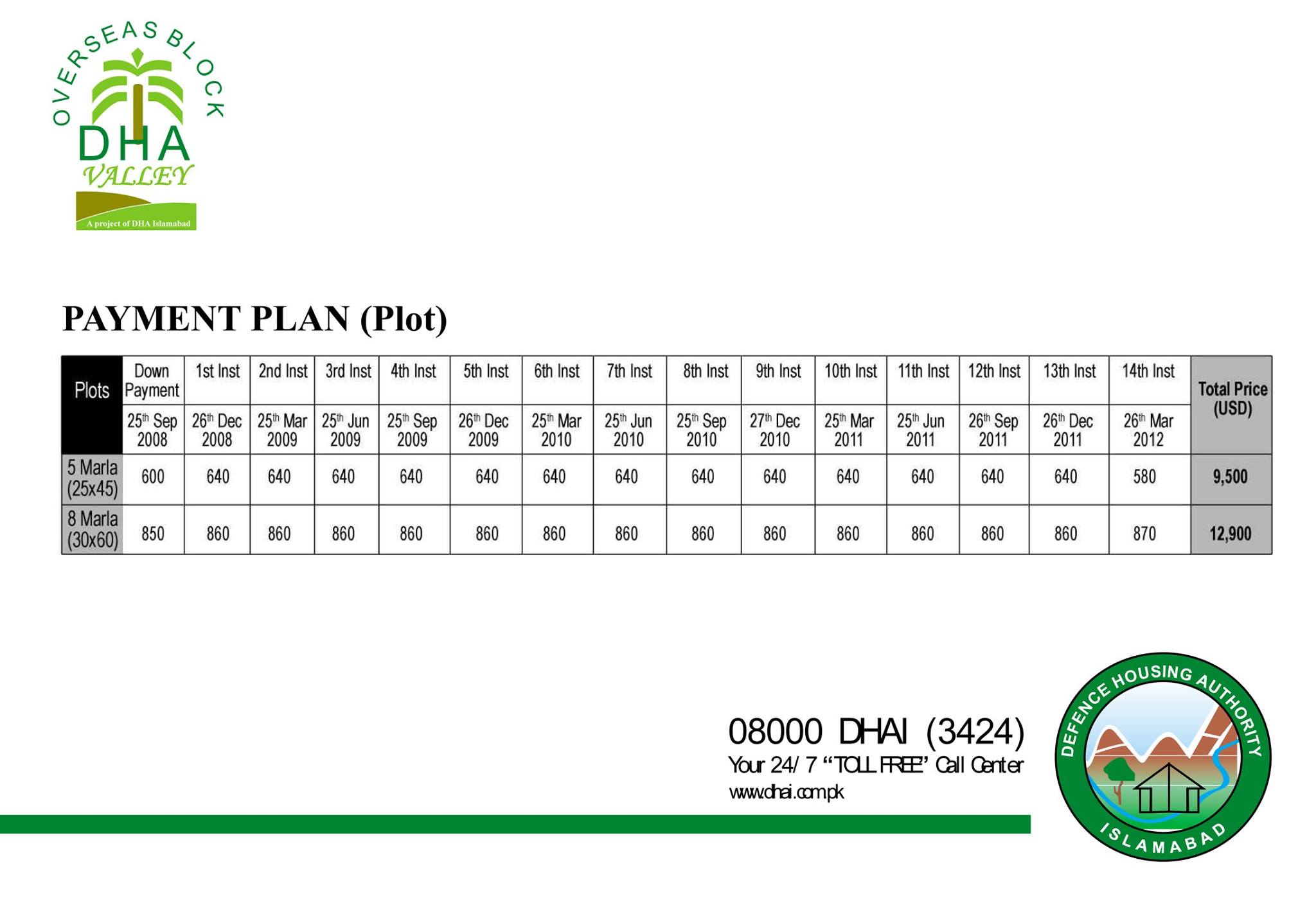 Features
The features are:
Equipped hospitals
Standard schools
Beautiful lakes
Gulf course
Maintenance facility
24 hours security
Wide and connected roads
Commercial areas
Shopping malls
DHA homes
Master-planned communities are founders. The attractive landscaped 5 & 8 Marla DHA Homes, located near to DHA Phase-II Extension and close to Islamabad International Airport, were designed by DHA Islamabad. There is a sense of peace and societal security at DHA Islamabad, which is enclosed inside gated walls of a dynamic and safe community in every sense of the living demands. DHA Homes is the desirable new location that provides you with the great opportunity to live the life you've always wanted. The fixtures and finishes in each property are of the highest quality. DHA Homes are built to match your personal style and preferences.
Payment plan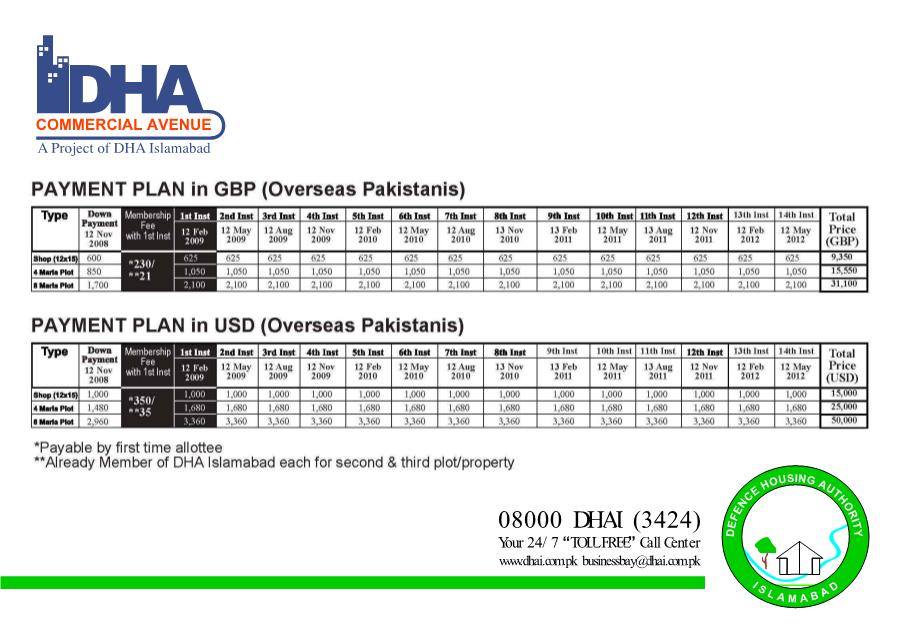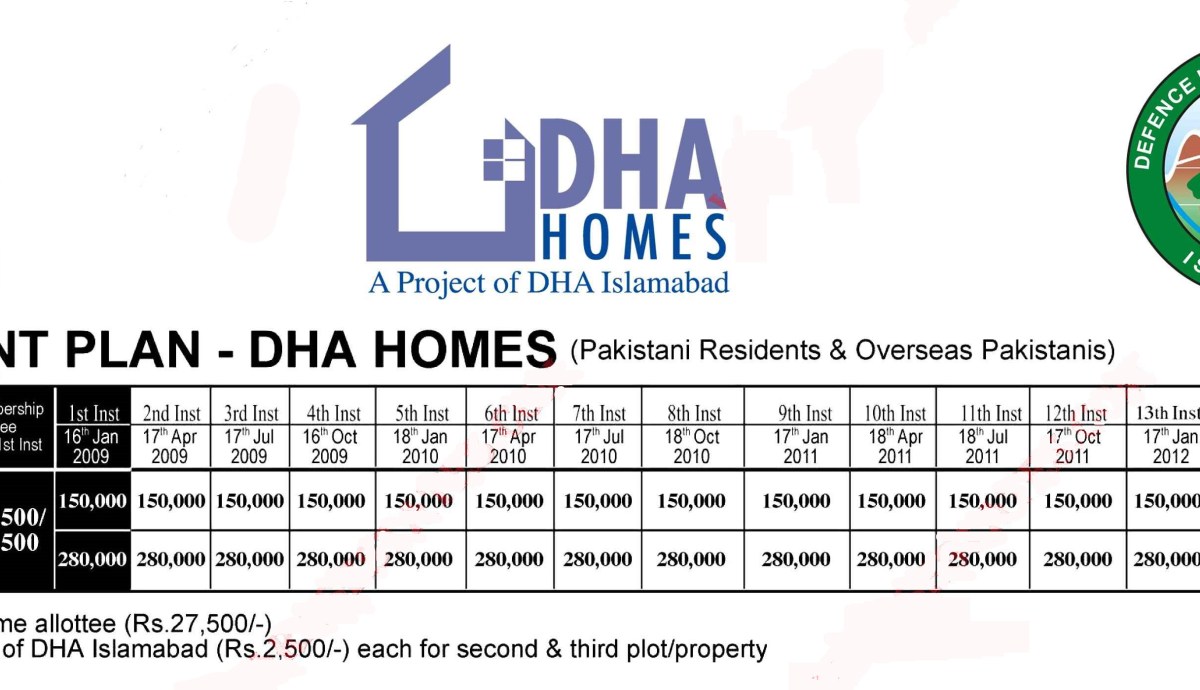 DHA Commercial Avenue
DHA Commercial Avenue was created with the idea of commercial and retail enterprises in mind. This new commercial area will offer an outstanding environment for business and fantastic opportunities for forward-thinking merchants and business investors, with shops and 4 and 8 Marla commercial plots in the heart of DHA Valley. With its advanced infrastructure and facilities as the new foundation for regional business in DHA Islamabad—exceptional location, large catchment area, and greatest range of retail—it is prepared to become the future destination for doing business and commercial activities.
Payment plan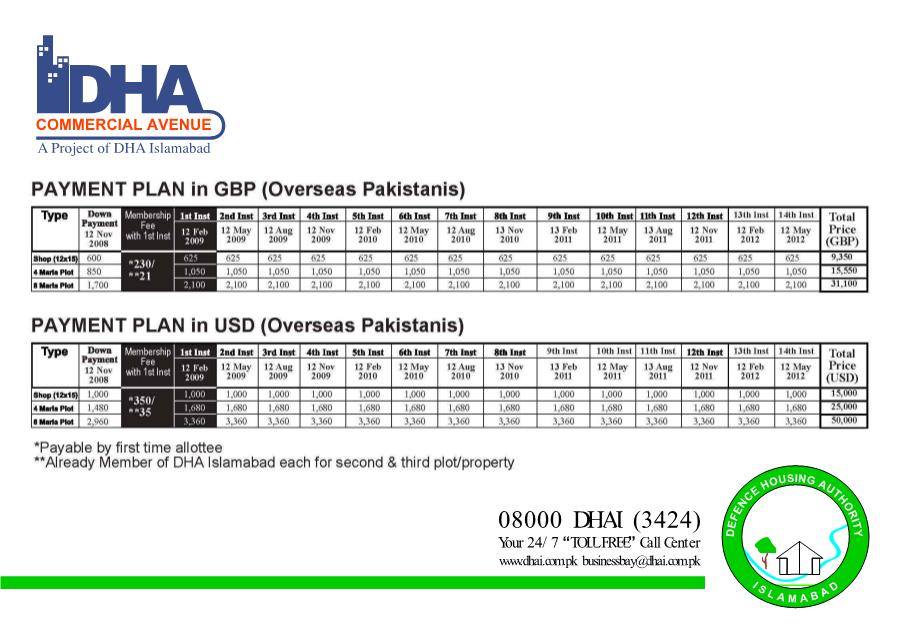 Facilities
Commercial Avenue's facilities are designed to enhance the business environment, with a focus on quality, such as well-organized parking and effective communication, as well as a fully managed security and maintenance system, ensuring comfortable and continuous company operations.
Features
Club Commercial Hub of the Future: Elegant and Ultra-Modern Design
The Business/Commercial Hub of the Future is located next to DHA Islamabad's major residential developments, DHA Valley and DHA Homes.
With a stylish design and plenty of parking, this is a great place to visit.
Up to five-story multi-purpose commercial plazas are possible.
Green belts, a wide road network, and exquisite landscaping
Membership procedure
Each Membership can purchase/retain up to three plots. A fee of Rs. 27,500/- will be charged for the first plot, and Rs. 2,500/- for the remaining two plots.
For the convenience of members, Rs. 27,500/- will be charged in two instalments as follows:
With the first instalment of the plot, you will be charged Rs. 12,500/-.
With the second instalment of the plot, you will be charged Rs. 15,000/-.
Along with the first instalment, Rs. 2,500/- will be charged for the second and third plots.
After receiving all six instalments and the full membership fee, a provisional allotment letter will be provided.
File opening procedure
Members who wish to sell their plots should pay the following dues to get their files opened:
The first instalment of the plot.
The first instalment of the membership fee.
File opening fee
Members who do not want to sell or transfer their plots do not need to go through the file opening procedure.
Allottees must visit the DHA office to open their files. DHA has offices in different cities and countries for the convenience of its members.
For file opening, the Allottee must submit the following documents:
Application for Opening Files (available at DHA Office)
Completed Membership Form.
File Payment
The file can be opened for three months.
Reopening a file after three months is at the File Holder's discretion.
The following is the fee for opening and reopening:
8 Marla Plot Rs. 3,000/-
5 Marla Plot Rs. 1,500/-
Verification The filing fee is Rs. 500/-.
Documents:
The following documents are required:
Application for certificate
Completed membership application
Two passport-size colour pictures
CNIC photocopied (self and next of kin)
Accounts have been duly reviewed by the Finance Directorate of the DHA Islamabad. Please contact the Finance Directorate of DHA Islamabad (finance@dhai.com.pk) for a statement of account that has been duly reviewed and signed in this regard.
Development Status 
DHA Valley, unlike other DHA projects, does not have a fantastic track record. It has been significantly delayed, notably in terms of development. First, in 2008, investors were promised completion in three years, in 2011. However, it was eventually extended until 2022. In terms of development, the effort has been limited, to say the least, over the last decade. Furthermore, construction on roads and the grey structure of 4 and 8 Marla DHA houses has only recently begun. Since then, there has been no massive change. As a result, it will not be livable until suitable facilities and commercial areas are available.
Why invest in DHA Valley Islamabad
The goal of society is to offer a luxurious lifestyle for the typical person. Investment in DHA Valley Islamabad has many reasons to attract you for investment. It includes a gated community with parks, commercial shopping areas, schools, mosques, hospitals, and other facilities.
It has given "Defense Living" a new lease on life by providing modern structures in the creation of houses, foundations, and basic connected offices. That is a delightfully energetic, engaging, dynamic, and usefully reasonable statement.
From this year forward, the future of DHA Valley Islamabad appears to be quite bright. The development process is currently in full swing. This year, the group hopes to proclaim possession of Bluebell, Rose, or Tulip Blocks.
Pros and Cons
Pros
You must book your plot keeping in mind the pros of society.
DHA valley Islamabad facilitates you with every facility you can think of.
The developers are trying their best to make the society according to international standard.
The commercial hub is designed according to modern needs and requirements. It will fulfil the dream of your own business within society.
It gives you full possession and earlier than any society in the surroundings.
The easy instalment plans make you able to buy your own plot despite your low income.
The project is under the keen observation of the defence house authority.
The security system of the housing society is matchless and spotless.
The society also has built home, and if you want an instant home without waiting long for the construction process, you may have a lot of opportunities.
You have been dreaming about living in a place which can satisfy all your desires and needs according to the new way of life. So, society is according to your expectation and embraces all your wants and demands.
Cons
There are not many points for adding to its cons, however:
The development status may cause to decrease its importance.
Some strict rules regarding the areas may stop some investors from investing in DHA Valley Islamabad.
FAQs
Q1: What is DHA?
A1: DHA is a housing authority. Its full name is the defence housing authority.
Q2: What is DHA valley Islamabad?
A2: DHA valley Islamabad is a housing society.
Q3: Do the authorities approve the society?
A3: Yes, it is approved. It gives its services under the reputed and recognized institution, DHA.
Q4: How can I buy a plot?
A4: You can easily buy your plot; just click here. Or visit sigma properties.
Q5: Does society give permission for plot selling?
A5: Yes, it gives permission. If you want to know more, just read the above instructions.
Conclusion
DHA valley Islamabad is the society that surpassed all the contemporary societies in the pace of real estate. After knowing the detail about the society, you may barely step backwards from investment in this standard society. Your own home in DHA society is eagerly waiting for you. Just visit sigma properties and avail the opportunity.