DHA Quetta
Defence Housing Authority's first project in Balochistan's capital is DHA Quetta. They want to build a cutting-edge, well-planned neighborhood. It promises to supply you with all of life's necessities, such as a commercial mall, a sports complex, a medical complex, a market, and a premium institute. DHA Quetta aims to provide a luxurious and modern lifestyle to its citizens to ensure their future. They provide excellent chances because it will be Quetta's first state-of-the-art project, complete with underground wiring, all required infrastructure, superior urban design, and well-organized society. When it comes to the future, it will be a highly appealing investment option. This is one of the better possibilities in DHA right now if you're searching for long-term investing opportunities. Early purchase options can help you get a better return on your investment in the future. Within the next 2-3 years, file balloting may become a reality. DHA Quetta, on the other hand, is intending to open an office in Phase 6.
NOC
The Defense housing authority is itself an autonomous body.
Owner and developers
All DHA projects are being operated under the supervision of GHQ.
History
The Provincial Assembly of Balochistan passed the bill to approve Defense Housing Authority Quetta DHA Quetta on 1st October 2015.
Location Map
DHA Quetta's main office is located next to BA Mall and Askari check post of Quetta cantonment on the Airport road.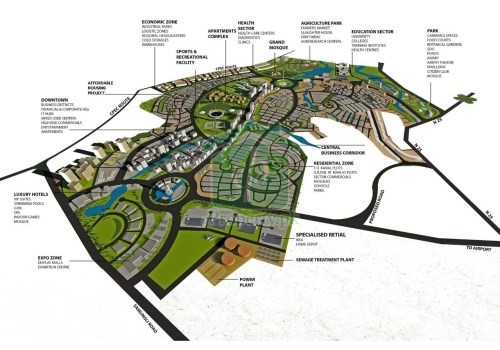 Master plan

Salient features
Modern town planning
Construction is of high class
Energy management
Transport system
Recycling and management of wastewater
High security
Foot streets
Banks
Hotel
Fuel station
Facilities
There are many facilities that increase the significance of DHA Quetta. It will use to carry out land development schemes and projects, including those for the welfare of victims and families of martyrs, war-injured, disabled, and other members of the defense forces, in order to boost their motivation levels, provide financial security in recognition of their selfless services for the nation's defense.
Public transport 
Samali Bus Stations in Samali, Kuchlak, and Pishin are 15 minutes away by car; Killi Umar Bus Stop on Baleli Road is 27 minutes away by car; Brewery Bus Stop in Hazara Town is 32 minutes away by car; and Kakazai Syedan Bus Stop on Ghaza Band Road, Baleli is 33 minutes away by car. Because some bus stops are difficult to reach on foot, we recommend taking a car or at the very least a bicycle.
Markets
In this project, markets will undoubtedly cover a significant amount of land. For the convenience of locals living in the community, DHA-managed projects always build easily accessible markets at various stages. The same is expected in DHA Quetta; however, those who will live in this community in the future will be able to purchase at local marketplaces. Killi Samali Market, located in Samali, Kuchlak, Quetta, is 16 minutes away; Jinnah Market, located on M.A Jinnah Road, Cantonment, Quetta, is 38 minutes away; Tufail Market, located on Sharah-e-Tufail Road, Cantonment, Quetta, is 39 minutes away; and Russian Old Market, located on Masjid Road, is 44 minutes away.
Mosques 
there are many mosques building in various stages across all DHA developments to make it easier for inhabitants to fulfill their religious duties. People who choose to reside in Defence Quetta after it is fully constructed will have a large number of mosques to choose from in the surrounding districts. The Gol Masjid, which is located on the N 50 main highway in Bostan, Pishin; the Quetta International Airport Mosque, which is located on the N 25 main highway; and the Jamia Masjid BMCH on Bolan College Road are all within a 25- to 40-minute drive.
Educational institutions
Nearby, there are a number of notable schools.
Beacon House School System Juniper
Quetta; Pak-Turk School & College
Dar-e-Arqam School,
Army Public School and College
Iqra Residential School and College
University Law College Quetta
University of Information and Technology
Engineering and Management Sciences
Electricity system
After it is developed, the Quetta Electric Supply Company (QESCO) will supply power to DHA Quetta. In the event of outage, residents can install generators or UPS systems in their homes.
Hospitals 
In DHA Quetta, hospitals and clinics that provide excellent medical services will be built. Al Saeed Hospital in Kuchlak, PAF Hospital in Samungli, Bolan Medical Complex Hospital on Brewery Road, FC Hospital on Askari Park Road, Akram Hospital on Zarghun Road, and Yasmeen Homeo Clinic on Fatimah Jinnah Road are all important hospitals and clinics close to DHA Quetta.
Shopping malls
DHA Quetta is set to build shopping malls and commercial zones. People who choose to live in DHA Quetta will be able to visit the surrounding malls after the residential complexes are completed. DHA Quetta is surrounded by Bolan Welfare Shopping Complex on Chiltan Road in Cantt Area; Achakzai Shopping Centre and CSD Shopping Centre in Cantonment; Jan Mall on Hali Road; Dawood Plaza on Airport Road, Arbab Town; Hashmi Shopping Centre in Pashtun Abad; and Millennium Mall Quetta on Shahra-e-Gulistan Road. These shopping malls are around a 30- to 50-minute drive apart.
Gym facilities
Fitness lovers can visit the gyms around DHA Quetta; nevertheless, the society aims to open its own fitness facilities. Some of the gyms around DHA Quetta include Get Smart Gym in Simongli Town, Gold's Gym in Jinnah Town, Azeem Health Club on Faiz Mohammad Road, Al Saleem Fitness Gym in Hareem Plaza on Prince Road, Power House Gym in Hazara Town, and Tagai Khana Sports Complex on Alamdar Road. They are around a 40- to 50-minute drive from one other.
Parks 
DHA Quetta is planning a large-scale tree-planting project. To provide a touch of green, most DHA projects include a small park near the residential portions. Locals can visit Ladies Park Chaman Housing on Airport Road, Iqra Park in Cantonment, and Children Park Quetta Club on Madrassa Road until DHA Quetta creates its own parks, which are all within 4 to 15 minutes by car.
Salons and beauty parlor
DHA projects always include well-known parlors from other cities, and DHA Quetta is no exception. Parlors, on the other hand, will not open until the commercial zones have been established—meanwhile, Makeover Beauty Salon in Simongli Town.
DHA Quetta plot for sale
DHA Quetta Phase 1 will include an area of 8000 acres, although it will be developed in stages. Over 4000 acres will be developed in the first phase. Main Road is home to all 4 Marla and 8 Marla commercial properties.
Payment plan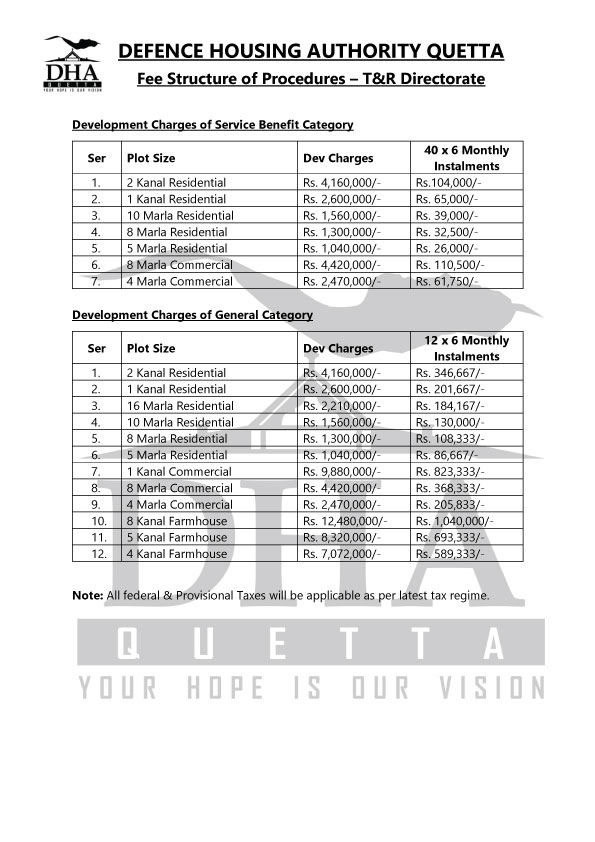 Procedure for sale of land to DHA
Documents required
You need to have the following documents
Land offer form singed and filled by the land owner and land provider
Original Malkiyat form attested and stamped by the tehsildar but not older than 15 days
Attested copy of the transformation
Copy of field book
6 photographs of the owner of the land
6 copies of NIC
Owner's undertaking
Paid challan
Documents submission 
land offer form can be downloaded
deposit the offer form in the land directorate
DHA revenue staff would review the documents, and tehsil revenue staff would verify it
Field visit
The director land will further proceed with the case.
After getting clearance from the director, staff will visit the site with the landowner or land provider.
A day before, the landowner of the provider has to make all the arrangements regarding the land.
The staff will visit the land to measure it and to know its feasibility.
After getting the report prepared by the land visiters, the director land will proceed further.
The LAC would discuss the land exemption rate within the approved parameter of that land and demand for final approval from the authorities.
The possession officer with his team will get the possession of the land in the presence of tehsil revenue staff, land provider and neighboring owners after approval for acquisition is granted, and the exemption rate is approved in the light of the recommendation of LAC.
The staff would conduct resurvey and measurement for confirmation.
DHA Quetta team would take over all the structures, facilities and improvements if the landowner did not remove it till possession. However, the owners will be allowed to have their crops cut at harvesting time.
Registry
An advertisement will be published in Urdu and English after possession, mentioning the name of Mauza and land area, khasra numbers, name of landowners and land providers. The advertisement will last for 15 days.
A photograph will be taken while signing the agreement, undertaking an indemnity bond in the land directorate.
After 15 days, the original sale deed would be prepared in favor of DHA and also its two copies.
Mutation of the land in favor of DHA will be completed in the tehsil office after registration of the sale deed.
In the land directorate, attested copies of intiqal and original fard malkiyat in the name of DHAQ will be submitted after the registration deed with the sub-registrar.
The tehsil revenue office will receive the documents for verification from DHA revenue staff.
Documents required for verification of the affidavit
Original affidavit file
Deposit slip
Procedure
Submit in land directorate affidavit file along with deposit slip
The file and documents will be checked thoroughly.
The serial number will also be shown in the file
Without any unnecessary delay, the process would be completed in the presence of the possessor.
Fee structure for procedures

Why invest in DHA Quetta
The society is linked to the defense housing society. It gives you all the facilities and amenities you are searching for. Investment in this society results in giant profit. The easy payment plan makes you able to invest despite your low budget. If dream to live in a developed and reputed housing society, and avail of all the standard facilities, this is the best choice for you. If you are looking for a firm to invest in, society comes true on all your expectation. Furthermore, in Quetta, this the first society of DHA, so the authorities would obviously struggle to make it the best as compare to other societies. You might have lost your trust and money many times, but there is no chance of swiping away your assets and capital. Make your revenue more and make your assets earn for you by investing in DHA.
Pros and cons
| | |
| --- | --- |
| pros | cons |
| The societies have all the basic and luxurious facilities | The work in the society had been stopped due to pandemic. |
| There is a well-planned community | T The work will take some time to start again. |
|   There are sports zones for maintaining your health and spend your time in physical exercise. | |
|  Your health is the first priority There are standard facilities in the flourish hospitals | |
| The society's water disposal system is very impressive. | |
|   The environment there is very friendly. You will feel like being in a family. | |
FAQs
Q1: What is the location of DHA Quetta?
A1: DHA quetta's main office is located next to BA Mall and askari check post of Quetta cantonment on the airport road.
Q2: Is that a government department?
A2: DHA is approved by the Balochistan Assembly and is working under the GHQ.
Q3: What is the procedure to sell the land to DHA?
A3: For this purpose, read the procedure section written above.
Q4: How can overseas Pakistani buy a plot in DHA Quetta?
A4: Overseas Pakistani can buy plots through their respective representatives.
Q5: Where are the offices of DHA Quetta?
A5: The offices of DHA Quetta are in Islamabad, Rawalpindi, Lahore, and Karachi.
Conclusion
I have discussed all information about DHA Quetta. DHA is getting prominent nowadays. The payment plan, master plan and location of this society are its characteristics to allow you to invest in. step upward and start your investment in DHA Quetta if you have any obstacles, contact sigma properties.