DHA Lahore
DHA Lahore is a leading and outstanding housing society providing all the facilities and amenities to its residents. First, only a high and elite class of armed forces and civil employees are interested in DHA projects. Lahore is a historic and ancient city. Due to its green and clean environment, people from all walks of life are interested in investing in DHA, Lahore.
Owners and developers
Armed forces control all the DHA projects. So, it is evident that the owners and developers of this project are armed forces. The senior officers are responsible for developing and monitoring the projects.
Some officials are listed below:
Lieutenant General(retired) Ikram ul Haq, chairman of the Society
General Majid Ihsan, Vice-chairman
Brigadier Waheed Gul Satti, project Manger.
NOC
As you know well that DHA itself is a housing authority. So, all the projects of DHA do not need any NOC. However, the government is responsible for approving the permit.
Location map
There are many phases and sectors in Society. It is located near the Lahore ring road.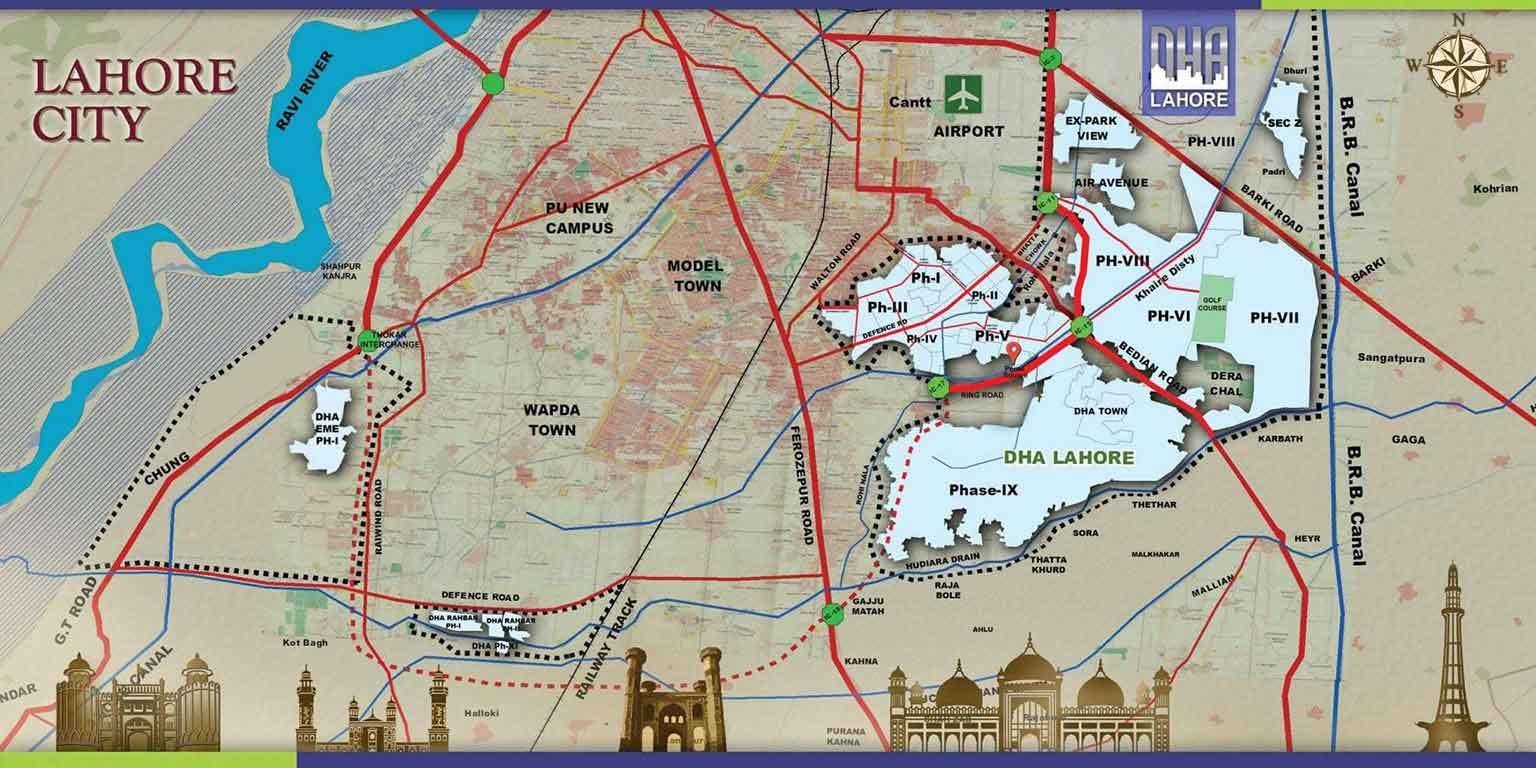 Nearby places
The Society is close to many other reputed societies, colonies, and known places.
Sultan colony
Saqib town
Gulshan town
Askari 11
Eden city
Paragon City
Formalities housing society
DHA Lahore is only 20 minutes' drive from Lahore Cantt Railway and Fortress mall.
The Society is only at a distance of 7 Km from all the biggest malls of Lahore.
Every phase of the Society has a distance of only 5 km from LUMS University.
Master plan
The master plan DHA Lahore is established individually, as just one phase was built initially, but due to the Society's popularity, developers gradually developed several more phases.
DHA Lahore phases
The DHA Lahore has many phases, the details of which are as under:
DHA Phase 1 to 4
DHA Phase 5
DHA Phase 6
DHA Phase 7
DHA Phase 8
DHA Phase 9
DHA Phase 10
DHA Phase 11
DHA Phase 12
DHA Phase 13
DHA Phase 1 to 4
The old stages of DHA Lahore are DHA Lahore Phases 1 to 4. In Phases 1 to 4, overhead electricity wire is employed, and the minimum road width is 40 feet. Phase 1 includes the well-known and historic commercial markets of Sectors H and F. Sector Y, and Sector Z are two well-known commercial areas in Phase 3. The old DHA office was also in the Y Commercial district. Sector N DHA Phase 1 Lahore also houses the National Hospital.
DHA Phase 5
It is located behind LUMS University, near DHA Lahore Phase 4 and Phase 3. DHA Lahore was the first to create a project with underground electricity and a minimum 50-foot-wide road. Phase 5 has become the number one choice for construction due to its great position with direct access from the Lahore Ring Road. Phase 5 of DHA Lahore is being built on a total of 12354 Kanals.
DHA Phase 6
Across the Nawaz Sharif Interchange is DHA Phase 6 Lahore. DHA Lahore's new office has also been moved to Phase 6, Sector A of DHA Lahore. The DHA Lahore Phase 6 project has been fully established, and huge development work is underway. Phase 6 of DHA Lahore is being built on a total of 27045 Kanals.
DHA Phase 7
Phase 7 of the DHA in Lahore is adjacent to Phase 6. The project is 95 percent completed, and construction is underway in the possession area. DHA Lahore Phase 7 is being built over a total area of roughly 32516 Kanals.
DHA Phase 8
Lahore Ring Road is home to DHA Phase 8 Lahore. Park View and Air Avenue, which are currently part of Phase 8 of DHA Lahore, are among the largest phases of DHA Lahore. DHA The areas of Air Avenue and Park View have been developed, and there is a lot of development going on there. DHA Phase 8 is now in the development phase, with rapid development work ongoing. Phase 8 of the DHA Lahore is currently being constructed.
DHA Phase 9
DHA Phase 9 Lahore, which was recently balloted on the 15th of May, would be one of the most recent and largest phases, with state-of-the-art development by DHA Lahore. DHA Lahore Phase 9 Plots & Houses are available for sale on eProperty. Ferozpur Road, Badian Road, DHA Lahore Phase 5, Lahore Ring Road, and other roads provide access to DHA Phase 9 Lahore. The DHA Lahore Phase 9 Prism has been balloted.
DHA Phase 10
DHA Phase 10 was formerly known as DHA Phase 9 Extension, and it is intended to be built close to Phase 9 towards Qssoor, between Rohi Nala and Sue-e-Asal link road, and between Bedian Road and Ferozpur Road. It will be DHA Lahore's largest phase. Currently, there are files against land for sale on the market. In the New Lahore Master Plan, various proposed roadways cross through DHA Phase 10 from Bedian Road to Ferozpur Road and Rohi Nala to Sue-e-Asal Link Road.
DHA Phase 11
New Defence Road is where the Society is located. The Society (Rahbar Sector & Halloki Gardens) has merged with DHA Lahore and is presently operating as one of its Phases (Designated Phase – XI). The Society is progressing nicely, and the occupancy rate is steadily increasing. Phase 11 of the DHA has been divided into four sectors, with a recent ballot held in Sector 4.
DHA Phase 12
DHA EME, presently known as Phase 12, is conveniently located on Multan Road, directly across from the renowned Lahore Canal. Thokar Niaz Baig is only four kilometers distant. A completely constructed society that provides high-quality lifestyle options to those living around Mulan Road on the edges of the city. DHA Phase 12 provides inhabitants with a modern living experience in an area free of legal issues. In DHA Phase 12, Lahore, there are also commercial zones, major educational institutions, and medical centers.
Payment plan
Plots are available for sale in many phases of DHA Lahore.
Phase 13
Size
Price
Size
Price
15 marla
3000000
1kanal
8300000
10 marla
5000000
Phase 7
5 marla
5300000
10 marla
10000000
7 marla
7200000
1 kanal
17500000
Phase 8 Z block
5 marla
4800000
1 kanal
15500000
10 marla
8000000
Phase 9
5 marla
6550000
5 marla
6450000
Phase 9 Prism
5 marla
5250000
1 kanal
17000000
10 marl
9700000
Phase 10
5 marla
4000000
1 kanal
9200000
10 marla
6300000
Features
Best transport system
Postal service
Shopping malls
Sewerage disposal system
Pure water supply
Police headquarters
Community club
Green parks
Fire brigade service
Horse riding clubs
Mosques
Sports clubs
Commercial markets
Facilities
When you want to live somewhere, your priority is to find a place where you can live peacefully and comfortably. Here are the facilities with which DHA, Lahore is providing you.
Health center
Health is at the front line of all the facilities. In DHA Lahore sector W phase 3, there is a private health center at a very low expense for its residents. Skilled technicians and expert doctors are there to treat the patients. The staff of the center is very dutiful and helpful.
Parks
There is a special team to develop the green areas, landscaping and ground designing, development of sports grounds, installation of green lights, flowers, and trees plantation in Society. The team aims to facilitate its residents by providing a pleasant environment.
Maintenance facility
The Society is trying its best to wipe away all the hurdles and problems of the residents. A hardworking team is providing its services 24 hours to maintain houses and apartments. There is a special maintenance team for taking care of roads and streets.
Sports
Physical activity is very necessary for refreshing your mind. Only this Society provides a sports complex in each sector. In a sports complex, you can have basketball courts, gyms, cricket stadiums, and facilities for playing other games. The most notable aspect is that there are professional trainers and coaches for every sports activity. Furthermore, if you have a problem reaching the standard stadiums, there are playgrounds in front of each colony. You can go there and do the practice.
Clubs
If you are a resident of DHA, Lahore, don't worry then. Society gives you opportunities for entertainment and joy. While doing the work all day, you become exhausted. So, there are two main clubs, Defense Club J sector and Defense Club R sector phase II, in Society for spending your leisure time. Clubs offer you the facilities of restaurants, libraries, halls, guest rooms, etc. To sum up, you can live a happy life.
Graveyards
Many societies do not pay any attention to allocating area for the graveyard. DHA projects have the facility of graveyards where you can bury dead bodies. It also gives you freedom from traveling long for burials.
Security
You know well that the best facility which DHA projects provide is security. DHA, Lahore, provides you with the best security system. The security system is very strong. There are security cameras installed on many corners of Society.
Education institutions
Education always remains the first priority of every Society. DHA aims to give its residents the best facility of education. You are always in search of standard facilities of education too. Here in Society, qualified teachers of the international level are providing their services. Here are some institutions you are in search of.
DHA Kindergarten
DHA junior campus T block
DHA junior campus Z block
Defense Degree College for women
Defense Degree College for boys
DHA Senior School for boys
DHA Senior School for Girls
Library
The Society has its own Library having 30000 books related to different subjects. You can spend time reading novels, dramas, news, and the Library also has books on politics and academic subjects. It is the only housing society that has a library of this level.
Why invest in DHA Lahore?
You have many choices for investment in real estate. But there is something special that attracts you to invest in DHA Lahore. Indeed, it is the most secure housing societies among all other societies. Time and again, you have heard about many incidents like thefts, mobile phone snatching, street crimes, and road incidents.
However, DHA has managed to cope with all these types of vulgar incidents. It has committed to providing the best security to its residents. Some other reasons like green atmosphere, beautiful parks, wide roads, and developed master plan also caused people to invest in DHA, Lahore. Once you go through the facilities and features of the Society, you would barely step back from investing in this Society.
The benefit to remember is that Society does not charge extra for your security. If you want to gain profit from the real estate business, this Society gives you the best opportunities for investing. The Society has fruitful outcomes against your investment. If you are a government servant and willing to live the rest of your life peacefully and luxuriously, the DHA societies must be the first option for you. You would not regret your decision to book a plot in this Society.
Development status
Society is getting developed very rapidly. It has started underground electrification for phase 9, and construction work on phase 8 is in full swing. The construction and development of housing units and commercial plazas are in process in DHA phase 6. The work has been completed on sectors Q,R,S,T,U, and work is under process sectors P,V,W,X,Y,Z. Furthermore, phase 9 is in starting position. The developers are trying to complete the work on all phases as soon as possible. They are trying to make it unique and matchless. A Giga mall is under construction. This will have a unique and charming design.
Documents required for booking a plot in DHA, Lahore
You need to have the following documents if you want to buy a plot.
Your authority letter if you are an army person
Booking fee deposit slip
2 copies of your CNIC
2 copies of CNIC of your next kin
Application for plot
The booking form filled in correctly
Pros and cons
Pros
DHA projects are renowned around the country.
Investment can give you a good return in the future.
Your investment in DHA Lahore is secure.
An outstanding and spectacular site to live on.
You can have easy access to many facilities like schools, hospitals, parks, etc.
Wide and clean roads are adding much significance.
There is also a lot of entertainment facilities.
Developed by high-class professionals.
Cons
The development work is yet to be completed in some phases and sectors.
Many opportunities are available for servants of the armed forces.
Conclusion
You have read the complete article. Invest your money in a society that can come true on your expectations. DHA Lahore is a society where you can start living in standard Society with your family. You can also start your business career by investing in DHA, Lahore.
FAQs
Q1: How to get DHA senior citizen card?
A1: You can take the file from the DHA office and then submit the form with the required documents after filing.
Q2: How to buy a plot in DHA Lahore?
A2: For buying a plot in DHA, visit sigma properties.
Q3: Is the work on phase 9 completed?
A3: No, it's not completed yet.
Q4: Is there any backup plan for electricity shortfall?
A4: Yes, there is a system of installation of power generators.
Q5: How can I receive a duplicate copy of the water bill?
A5: Visit DHA main office to request a duplicate water bill.
Q6: Are there commercial plots available in Society?
A6: Yes, commercial plots are available for sale at very easy instalment plans.
Q7: What is the fee for verification of the property?
A7: You have to pay Rs2000 to verify your property.
Q8: Can I buy 5 marla residential plots?
A8: Yes, you can buy 5 marla residential plots.
Q9: Is there available 10 marla commercial plots?
A9: No, there are only 4 marla and 8 marla commercial plots.
Q10: Can I expect to earn more from investment in DHA?
A10: Yes, the Society has the potentials to return you a handsome profit.