DHA Bahawalpur
This is the second DHA project for south Punjab. DHA Bahawalpur aims to provide its residents with all the facilities that other societies failed to deliver. You are well aware of the DHA project that how it has overcome the problems of people regarding real estate. Similarly, this society is also taking numerous steps to add something to the lives of the people and raise their standard of life.
Owners and developers
DHA Bahawalpur, like others, carries out its management under armed forces. The senior and retired officers control the ups and downs of the project.  
NOC
All the DHA projects are regularly approved by the government. The provincial government, however, gives its approval.
DHA projects
DHA has many other projects in many cities. Each project is a stereotype of different projects. The projects include DHA Karachi, DHA Lahore, DHA Multan, DHA Quetta, and DHA Peshawar.
Location map
 The society is easily accessible from the airport. It is located on a south bypass, and you can reach it from all sides of Bahawalpur very easily. The society is located in a prime location. People always like the best place for their homes and businesses. This society's location is like a dream location for its investors.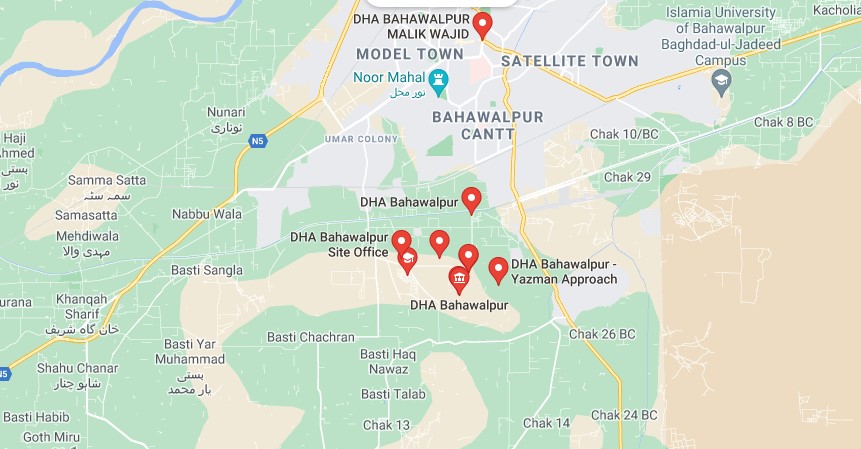 Master plan
DHA Bahawalpur has many blocks with name of A, B, C,D,E,F,G,H,J,N. the developers has designed each block very skillfully and had given the equal importance to all blocks. Residential plots of 5, 8, 10 marla and 1 and 2 kanals are available, and commercial plots of 2, 4, and 8 marla are available. There are also villas of 6, 9, and 12 marla.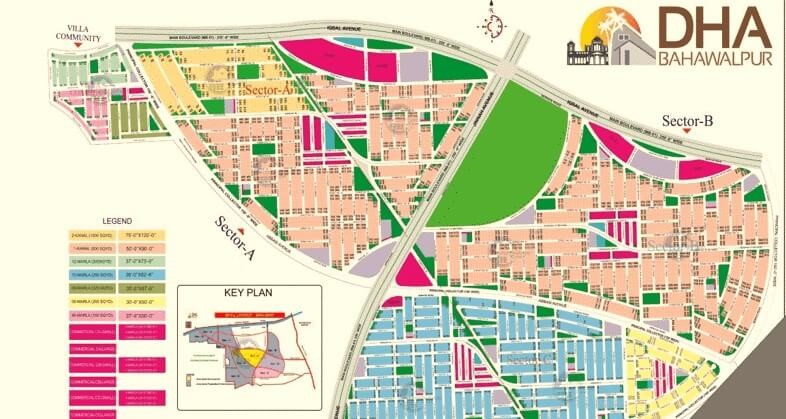 DHA Villas
You read in the former paragraph about DHA Bahawalpur Villas. In addition, the master plan of DHA Bahawalpur, includes the construction of Villas. 6, 9, and 12 marla villas are under construction in society. The developers would find skilled designers and architects to design the villas beautifully to provide its residents the glows of luxurious and standard life. The villas are said to have the best security system and sewerage system. As a result, the residents would face no hurdles while living here. They are doing their best for the satisfaction of its inhabitants.
Development status of Villas
In September 2019, work on these villas was started. First, the work on blocks A,B,C was started. The authorities gave the contract to the developers and expected that the work would be completed on its given time. They asked them to avoid any compromise related to the quality of the material. Now, the contractors are using modern machines for the development process. Additionally, work on block D is also being started. It is good news for you that development work is carried out by professional engineers who are known among other contemporaries. They use their high skill to do their best to improve the value of Villas.
Payment plan  
Plots in many blocks are available for sale. 
Commercial plots Payment Plan
| | | | |
| --- | --- | --- | --- |
| Size | Down payment | 12 quarterly installments | Total price |
| 4 marla | 750000 | 1395900 | 17500000 |
| 8 marla | 1000000 | 2833400 | 35000000 |
Residential plots Payment Plan
| | | | |
| --- | --- | --- | --- |
| Size | Down payment | 12 quarterly installments | Total price |
| 2 kanal | 500000 | 791700 | 10000000 |
| 8 marla | 150000 | 195900 | 2500000 |
| 5 marla | 100000 | 125000 | 1600000 |
Farmhouse Payment Plan
| | | | |
| --- | --- | --- | --- |
| Size | Down payment | 12 quarterly installments | Total price |
| 4 kanal | 1000000 | 1583400 | 20000000 |
| 8 kanal | 1500000 | 3000000 | 37500000 |
Features
24 hours underground electricity

Standard education institute

Wide network of roads

High-class health facilities

Standard status of living

High security available 24/7

Golf course

Theme parks
Facilities
Society offers you all the facilities you are looking for. This is not a stop to the services and privileges that DHA provides. However, its developers are dealing in high-class standard amenities for its residents.
Basic facilities
To live without the basic facilities is a hard thing to do. Society gives you basic facilities of water, sui gas, and electricity. Pure water is necessary for good health. There is a fantastic system of purifying water. The society aims to facilitate its residents with pure drinking water.
Today's life is incomplete without the use of electricity and sui gas. There is underground electricity and a strong and particular system of electricity back-up. Many societies claim to provide sui gas facility but sometimes fail. The DHA society never breaks the trust of its customers and doing its best to provide sui gas with full pressure and make its residents privileged.
Education institutions
You can provide your children and youngsters with a quality education while residing in DHA Bahawalpur. Being a member of this society, you can also suggest it to your relatives as it can satisfy your queries regarding education standards. Society has developed many schools, colleges, and even universities. There are reputed universities like National Development University and National University of Modern Languages.
Mosques
Religion is an important institution of any society. In that term, no one can deny the importance of a mosque in society. People from all fields of life living in society gather 5 times a day and offer their prayers. They also share problems of life with each other. Society has artfully constructed mosques in the society. The mosques are designed to give comfort to residents in both seasons, either in summer or winter.
Security
As you hear about DHA, you have no doubt then about security. People wholly trust in authorities who are governing DHA projects. DHA Bahawalpur has the best security system like other DHA projects. Unlike other societies, this society primarily aims to provide extra fine security to its occupants.
Commercial zone
Society has commercial zones. There are many shopping malls, stores, and restaurants in the commercial area. All the ingredients of daily life are available easily. The supermarkets also have launched apps allowing their customers to shop online, and also, there is a systematic delivery system.
Parks and playgrounds
If any society fails to manage the availability of parks and playgrounds, then it has no value. This society aims to provide a peaceful and smooth environment to its residents. There are many green parks where you can spend some moments to relax your mind. The playgrounds in the society give many opportunities to youngsters to showcase their abilities and struggle to play for the national level. You can also play just to keep fit your body at any time of the day. The parks and playgrounds are borders with beautiful flowers and fences.
Golf course
Golf is an international level and luxurious game. Many societies cannot afford the providing of the golf course. However, DHA is not behind in this step. The society has a golf course where skilled and adept trainers are available to instruct you about the game.
Best location
Sometimes a society has all the features, but its access points and location make it a bit hard to invest in. but this society has a very prominent location. The distance from the airport is only 5 minutes. It is 22 minutes away from the railway station. It has only 5 minutes away from the University of Central Punjab.
Cancer treatment
Though there are many health centers, treating cancer is something extra effort by any society. The society has included in its master plan to develop a cancer hospital in the area of 50 acres. The hospital would give easiness to middle-class families. The developers would install high technological equipment in the hospital.
Electronic system
You can pay your bill online if you are a resident of the society. It will save you time, and you don't have to struggle to stand in lines to pay your bills. The electronic system of society allows you to do many things like shopping, utility bill payment, etc.
Development status  
The work is in progress on some blocks. However, in block F, some plots are available for balloting, while block E will take time to reach its completion. Plots in A,B, C blocks are already presented for balloting, and people are curious about booking their plots. Although in block E, 10 marla plots can be added to the balloting process. The DHA management is taking steps towards the completion of the project. DHA Bahawalpur will soon be a unique society among other DHA projects.
Why invest in DHA Bahawalpur?
This is not a difficult job to do. You always find a firm for investment that has the potentials to come true on your expectations. Similarly, if you want to invest in DHA Bahawalpur, you should be well aware of the thicks and thins of society. The society has a lot of features and gives many other facilities. The developers of the society are expected to make it unique and standard. They are going to install modern technologies to give their residents a happy life.
 In addition, they have a keen interest in upgrading the society and make it stand first among other housing societies. Society gives its residents the chance to live a luxurious life. Furthermore, you don't have to worry about possession or verification. It gives you instant possession. To sum up, all that matters is trust and security. DHA is a reputed and well-known authority. The security of the DHA projects is matchless. None of the other societies can compete in terms of security.
Pros and cons
Pros
DHA Bahawalpur is in the best location

All the facilities in the society are specially designed for its residents

The health facilities in the society are of international standard

Security cameras are installed on many corners of the sectors.

Each individual has equal access to the amenities

24 hours electricity availability is only of this society's feature

The development work is in full swing

The high and profitable outcome of the investment
Cons
There is nothing much in the cons. However, some blocks are yet to be developed.

All the projects of DHA have more facilities only for its own employees.
FAQs
Q1: What is the transfer fee for the Allocation of Exemption File?
A1: The transfer fee for allocation of the Exemption File is Rs51250.
Q2: How can I get a payment plan for different sizes of plots?
A2: The detailed payment plan is available; just read the above payment plan section.
Q3: How can I apply for a Job in DHA?
A3: You should wait for the advertisement. After the advertisement, submit your cv. If you are eligible for the job, the HR department will call you.
Q4: Is DHA government department?
A4: This is an organization working under the supervision of GHQ. 
Q5: In case I am successful in the balloting, will I be able to sell my file?
A5: Yes, you can sell your file then if you are successful. 
Q6: In how many days instalment will update on the website?
A6: The instalments get updated in 5 to 7 days.
Q7: What is the late payment surcharge on defaulters for each day of default?
A7: Payment charges are 18% per year in case of late payment. 
Q8: Is there any relaxation in the cancellation of the plot?
A8: The authorities have the power to decide.
 Q9: Is it a Gated Society or opened?
A9: It is a gated society.
Q10: Is there any separate block/ sector for Overseas communities?
A10: Yes.
Q11: What is the date for balloting of Plot Numbers?
A11: The date for balloting and plot numbers is not clear yet. We will inform you soon.
Conclusion
You are now just a step back from having your own plot in DHA Bahawalpur. The society aims to provide a better place for living to its residents and provide a better chance of earning profit to its investors. Furthermore, if you come early, you can have your desired plot. If you want to book your own plot, you must visit sigma properties. There are many other societies, too, like the capital smart city, Lahore smart city, and Taj Residentia, where you can invest your money.