Citi Housing Scheme Gujranwala
The Citi Scheme Gujranwala is a brilliant housing society in the seventh most populous city of Pakistan. It stands out from all the other housing schemes due to its perfect lifestyle and lavish amenities. A talented team of professionals has joined hands to bring this endeavour into existence.
Owners and Developers
Citi Housing Pvt. Ltd. is the owner and developer of Citi Housing Gujranwala. The developers have long been involved in the real estate development industry. The construction of legal housing societies throughout Pakistan at cost-effective rates, even for small investors, with a range of opulent features used globally, has contributed to their appeal.
The majority of the houses and plots for sale have already been sold, with various residential and commercial properties available. The owners have already erected many homes, and families have relocated to these residences, leading a magnificent lifestyle that they could never have dreamed of before developing this lodging society in Gujranwala.
Citi Housing Private Ltd
In a time of eight years, Citi Housing Private Ltd. has earned a reputation for providing high-quality properties, which catapulted them to the forefront of real estate development. Citi Housing Private Ltd. has established itself as one of the most inventive, diverse, and dependable real estate developers since its inception.
Amer Malik is the chairman, while M. Zoraiz Malik is the CEO of the company. His goal has always been to develop residential complexes that provide the inhabitants with unique and exciting lifestyle choices. Their portfolio comprises some of the most recognizable projects, all designed to improve the quality of life for the residents.
Citi Housing has become a leader in providing a lavish lifestyle, world-class amenities, and gold standard living through a strong customer focus, new concepts, superior development standards, and persistent achievement of objectives by empowered people.
The current cities where the Citi Housing Private Ltd. has developed excellent projects are as follows,
Sialkot
Jhelum
Faisalabad
Multan
NOC and Planning Permission
The Gujranwala Development Authority (GDA) has approved the Citi Housing Gujranwala's No Objection Certificate. Phases 1 and 2 have received full permission from the relevant government, allowing investors to put their faith in Citi Housing Scheme Gujranwala.
Location Map
Citi Housing Gujranwala is conveniently located near the N-5 National Highway (GT Road), Sheikhupura Road, and Gujranwala Road. The developers have picked an ideal site to give a focal point from which residents may access any notable place or landmark in Gujranwala.
Access Points
The lodging society is easily accessible from the following routes:
The GT Road is just next to it.
Gujranwala Road is about an 11-minute drive away.
Sheikhupura Road is about a 13-minute drive away.
Sialkot Eminabad Road is about a 15-minute drive away.
Ghumanwala Road is about an 18-minute drive from Kamoke.
Nearby Landmarks and Places
Following are the nearby landmarks & places from Citi Housing Gujranwala:
Bilal Housing Scheme
Eimanabad
Maqbool Shaheedabad
WAPDA Town
Kamonke
Attawa
Kotli Mughlan, Gujranwala
Civil Lines
Satellite Town
Master Plan
The venture designers created Citi Housing Scheme Gujranwala's master plan to support a team of specialists with years of expertise and suitable qualifications. The developers have recently introduced a new phase called Wafi Citi, which includes theme parks and other amenities. The master plan beautifully specifies the housing society's existing and planned expansion, as well as its vision for the future. It enables the interested investors to determine how valuable the project is. Existing residents and businesses can better foresee things and strategize because of the master plan shown below.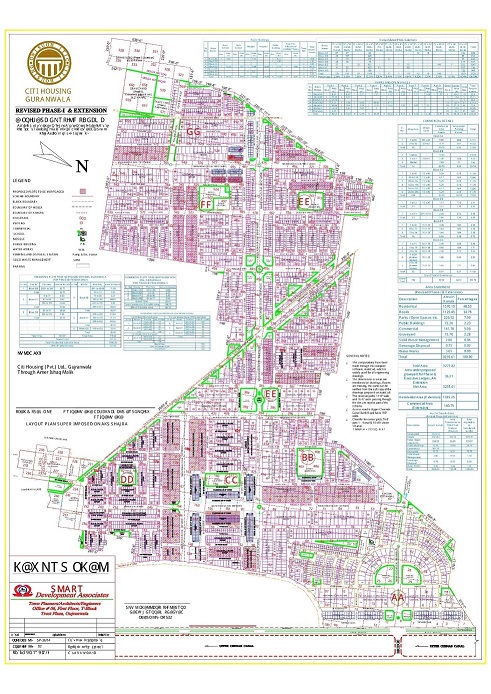 Blocks
The various blocks in the lodging society are as follows,
Block A
Block B
Block BB
Block C
Block CC
Block D
Block DD
Block E
Residential Plots
The residential plots available in the lodging society are as follows,
5 Marla (R)
10 Marla (R)
1 Kanal (R)
2 Kanal (R)
5 Marla (C)
Payment Plans
Citi Housing Gujranwala offers a payment plan with flexible instalment schedules at the most inexpensive costs imaginable. We strongly advise you to request current prices from the lodging society's administration to stay informed about any recent changes in the residential and commercial plot costs. The following is the payment schedule:

Amenities
The amenities provided by the lodging society are as follows:
Canal View
The country's water availability per capita has decreased from 5260 m3 in 1951 to less than 1100 m3 in 2010. As a result, effective management of current water supplies is critical. Chenab originated in Himachal Pradesh (India), known as Chandrabhaga, after the two tributaries Chandra and Bhaga. It enters Jammu and Kashmir around Kishtwar, where it is given the name Chenab.
It enters Pakistan's Sialkot District after cutting through the Pir Panjal Range. The Marala Barrage, which spans the river and has a maximum discharge of 1.1 million ft3/s (31,000 m3/s), was erected in 1968. The Ravi Link Canal and the Upper Chenab Canal are two extensive waterways from the Marala headworks.
Citi Housing Scheme Gujranwala, located on both banks of the Upper Chenab Canal, represents the true definition of beautiful living in a gated community where aesthetics, convenience, and practicality are combined to produce the most modern, world-class housing complex.
Citi Marquee 
With over 1500 people, Citi Marquee is one of the largest and most opulent wedding venues in the region. The marquee takes pride in having a high-roof, pillar-less hall that exudes magnificence and space. From an engagement through the "Big Day," the Citi Marquee team creates custom themes for each event. You may personalize every part of your wedding and enjoy that one-of-a-kind moment you have always imagined.
Wedding planners are the most experienced in the industry. You can sit back, relax, and watch the magic unfold on your big day precisely as you imagined. Two bridal suites with in-suite washrooms are provided, both decorated in a Royal-Mughal setting.
These extravagantly constructed wedding suites, complete with regal and elegant décor, will make your bride feel like a true princess. There are several highly qualified chefs in the staff, each of whom is a master in their respective disciplines.
Citi Mart 
Citi Mart is a multipurpose shopping center that meets the same high standards as the most prominent malls. For Mart's customers, shopping has taken on a whole new meaning. The retail store proudly showcases a wide range and diversity of products available to meet the needs of a diverse clientele. It gives Citi residents and the surrounding community preferential access to the best products at the best prices.
The convenience of a supermarket is combined with the services of a speciality store at Citi Mart. Freshness, quality, and a wide choice of foods and products are also crucial to our clients. Citi MART offers a polished shopping experience for the entire family, combining retail, leisure, and entertainment activities. The mart is easily accessible to residents, transit riders, pedestrians, and the surrounding neighborhood. It guarantees that there are enough parking spaces.
Citi Medicare 
Citi Medicare is a private hospital that provides a wide range of medical services, including cutting-edge medical technology, an operating theatre, and patient rooms, among other things. The physical infrastructure of Citi Medicare Hospitals was custom-built based on the most acceptable practices of leading medical centers around the world.
The patients and visitors will appreciate the big lobbies, waiting spaces, properly equipped patient rooms, and ample parking. Citi Medicare is known for its empathy and sense of humanity. It provides free OPD and medicine to eligible patients who live near the Citi housing project.
Main Characteristics
The main characteristics of the housing scheme are given below,
Boundary wall
Mosques
School
Citi Medicare
Citi Parlor
Head office
Administrative office
24/7 Power Supply
Banks
Beaconhouse Citi Campus
Citi Medicare Hospital
Petrol pump
Citi Shopping MART
Monuments of Greek pillars
China Citi Restaurant
The Opera Cinema
Parking spaces
Zoo
Wide Road Network
11 KV grid station
Shopping mart
Commercial Zone
24/7 Security
Town Monuments
Landscaped parks
Trafalgar Square replica
Streetscapes
How to Book a Plot?
The booking procedure is straightforward. You need only follow the guidelines given below,
Fill out your reservation request form completely.
Pay a down payment in the form of a check or money order made payable to "Citi Housing Gujranwala," but double-check the management process if there are any changes.
Payment can is also acceptable in cash.
Submit the relevant documentation, pay, and receive a receipt.
Documents Required
Two passport size photos
National Identity Card in two copies
Two copies of your next of kin's identification card
NICOP for an international clientele
Why Citi Housing Scheme Gujranwala?
The Citi Housing Scheme Gujranwala is a perfect opportunity. Throughout all of Citi Housing's projects, the residents have access to unique amenities. From mosques' classic architectural design to educational excellence, from immaculate security philosophy and strategy to 24/7 uninterrupted power supply, from opulent parlors to cutting-edge weight-loss and body-shaping fitness centers, from wildlife inspiration and cinematic indulgence in world-class films to the exquisite tastes of China Citi Restaurant, the lodging society is an all-encompassing package.
Educational Institutions
The Citi Housing Scheme Gujranwala aims to instil character in the personalities of tomorrow's leaders. It has painstakingly constructed a school set up for this aim and gathered the best team of educators to focus on educational excellence.
Every Citi Housing project comes with an international standard school, where highly educated teachers provide quality education to pupils in a world-class setting. The lodging society has built majestic school buildings, furnished them with stylish furnishings, and provided the necessary amenities. Roots Millennium and Beaconhouse, two well-known worldwide school networks, have been hired to transform these facilities into centers for excellence in education.
Mosques 
Mosques have been built in all of Citi housing's projects. These Mosques are classic examples of Islamic architecture and art. The interior of the mosques in Citi Housing Scheme Gujranwala is stunning, with beautiful vistas that show the blend of traditional Islamic architecture with Pakistani culture.
On the walls of the mosques, there is Islamic calligraphy and Quranic passages to let worshippers focus on the beauty of religion and its holiest book, the Quran, and decoration. The mosques can accommodate a total of 2000 prayers.
Four tall, slender minarets are located at each of the mosque's four corners. The Grand Dome in the center, which is shaped like a hemisphere and is typical of the Arabic architectural type of dome, is situated directly over the main prayer hall.
Wafi Citi Theme Park
Citi Housing Scheme Gujranwala's star project, WAFI Citi, boasts a grand and majestic entrance gate that draws the attention of both inhabitants and visitors. The region has become a popular picnic destination for Gujranwala residents. Aside from other attractions, Wafi Citi has a theme park. Residents and visitors to the theme park have a wide range of fun and entertainment options.
Wafi theme park has a comprehensive choice of thrilling and exciting rides in addition to the conventional amusement park attractions. It has towering swings, an electrifying train, a huge castle, a giant bird's cage, thrilling rides, exhilarating bumper cars, a top-class restaurant, a lot more.
Pros and Cons
Pros 
Uninterrupted Power Supply 
The lodging society has devised a complex plan to ensure the uninterrupted supply of energy for home use, giving tenants peace of mind and improving their quality of life.
Comprehensive Security 
The lodging society is dedicated to offering a comprehensive security solution that includes static security, access control, key-holding response, mobile patrols, Citi risk management, electronic security systems, and emergency response management. Citi's security philosophy and approach encourage the integration of electronic and physical safeguards.
Brilliant Architecture 
The villas are modern architectural marvels that combine comfort and elegance. Citi Villas consists of the planners' and designers' ambitious concepts to maximize the quality of life, clever design, social equality, and long-range, comprehensive plans to accommodate future growth.
Cons 
Perception of Distance 
Some of our clients state that the lodging society is too farther away from the central city. Yet this is subjective, as some require accommodation away from the busy city life.
Conclusion
The Citi Housing Scheme Gujranwala is a fantastic housing scheme with a fully-developed residential and commercial phase. It strives to give residents a healthy level of diversity. So, Sigma Properties highly recommends an investment in the lodging society to reap the benefits of a lifetime.
You may also like Nova City Islamabad, Taj Residencia and Lahore Smart City. 
FAQs
1-What is Citi Housing Scheme Gujranwala?
It is a housing society in Gujranwala.
2-Where is it located? 
It is located on GT Road.
3-Who are the developers and owners? 
Citi Housing Pvt. Ltd. is the owner and developer of Citi Housing Gujranwala.
4-Is it an approved housing society? 
Yes, it is approved by GDA.
5-What are the residential plot sizes? 
The residential plot sizes are,
5 Marla (R)
10 Marla (R)
1 Kanal (R)
2 Kanal (R)
5 Marla (C)
6-Is it an affordable housing society? 
Yes, it is pretty affordable.
7-How far is Sheikhupura Road from the housing society?
Sheikhupura Road is about a 13-minute drive away.
8-How far is the Sialkot Eminabad Road from the housing society?
Sialkot Eminabad Road is about a 15-minute drive away.
 9-Is there a gas supply in the housing society?
Yes, there is an underground supply of Sui gas.
 10-Is there a constant electricity supply in the housing society?
Yes, there is an uninterrupted power supply.