Bahria Enclave Islamabad
Bahria enclave is a project owned by Bahria Town. It is a special and notable project for people who want to enjoy the moments of a luxurious life. In terms of the development status and facilities which the enclave provides, there is no match of the society in the vicinity of Islamabad. The project was launched in 2011 with the aim to facilitate its residents with advance and matchless amenities.
NOC
The surety of legality for every society is necessary. However, the Capital development authority CDA completely approved Bahria enclave . The society is having a land area of 12543.11 Kanal. CDA had approved the legal status of the society on 29 December 2020. You know well that the official approval from a recognized authority would increase the value of the land affiliated with the Bahria enclave in the near future. Bahria enclave 2 got its approval from the authorities on 11 February 2021. In addition, it covers 1180.04 Kanal land.
Owners and developers
Housing societies in Lahore, Islamabad, and Rawalpindi are projects of Bahria town, and it has condensed its branches. Similarly, the Bahria enclave is also a project of Bahria Town. The developers of this society are well known in the whole of Asia. Since 1996, this firm is developing lands and areas to provide outstanding folk opportunities for investment.
 Bahria town is considered one of the best firms of the era. There are 25000 employees in the firm and delivering USD 5 billion of developments, driving leadership, pioneering innovation, and creating a legacy for a generation. Bahria town is a known figure in the real estate industry and has a distinguished name in Pakistan. The projects that the firm has delivered are Mall of Islamabad, Bahria Heights 7, Bahria garden city zone-v, Palisades Apartments, Bahria Garden city, Safari Villas, Executive lodges, meadows, Awami Villas, Overseas Enclave, Rafi block, Safari Mall, River View commercial and civic center. In short, when it comes to real estate, you will find ahead a name as Bahria town ltd.
Location map
The society is located at 10 minutes' drive from the western side of Chak Shehzad. Kashmir highway, Islamabad highway, and Lehtar road connect it with Islamabad and Rawalpindi. Furthermore, the serina hotel is only 15 minutes drive from the society.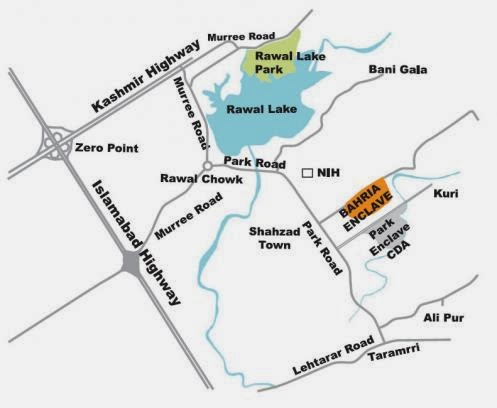 Nearby places
Bahria enclave location is very notable due to places nearby.
Islamabad model town

Green Enclave

FIA park enclave

Chak Shehzad

CDA Park Avenue

PTV colony

Bani Gala

Alhamra Avenue
Master plan
There are two phases in Bahria enclave. Phase 1 covers 836 Kanal o land, and phase 2 covers 1180 Kanal of land. It also has an Agro Farming Scheme, which covers an area of 2047 Kanal. Verities of plots are available in society. Residential plots of 5, 8, 10 marlas, and 1 and 2 Kanal are available for its residents. Furthermore, commercial plots of 4 marla and 10 marlas are available. In addition, it also provides developed and constructed villas. There are 600 residential plots in phase 1 and 400 residential plots in phase 2. The society has 15 sectors and also sub-sectors. The sectors have names ranging from A to P. all sectors have residential and commercial plots. However, the villas which we discussed above are going to be constructed soon. Society aims to showcase the true potential of the project. Then, the residents might have their dream houses.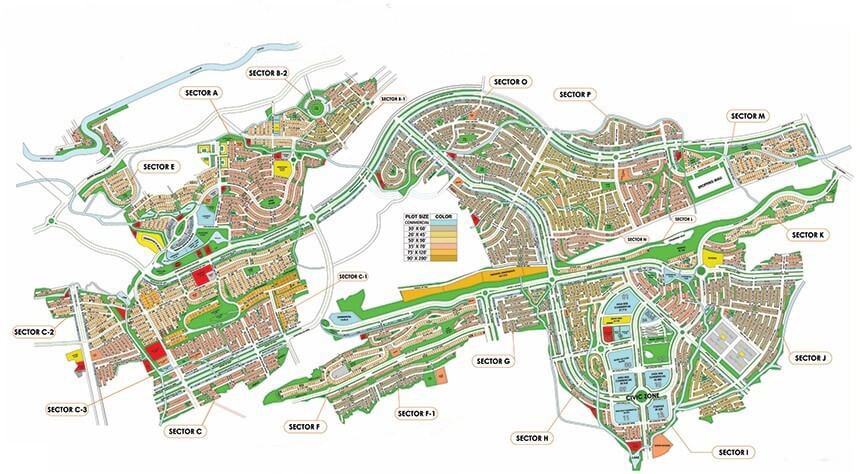 Sectors 
There are many sectors in society. Each sector has equal importance and amenities. 
Sector A
Sector A has completed its development which is why it has set the price plan very high. The developers have achieved 100% of work in this sector and given possessions of plots. It is located at the entry point of Bahria Enclave. Sector A has a variety of residential and commercial plots. For your interest, Blok A is taking steps to provide you with outstanding and modern facilities.
Sector b  
There is no con in this sector, but some plots are available below the road level. However, sector B has full developement, and owners of the plots had received possession of their plots.
Sector C
90% of the development work is near to completion in this sector, and plots are available for possession.
Sector E
Sector E is a fully developed sector situated next to Sector A. the plot owners have possessions against their plots. The sector provides its residents with many matchless facilities and amenities.
Sectors F
There are two sectors further as F1 and F2. These are located at a distance on top of a hill and present an impressive environment. The surrounding of these sectors presents beautiful and soothing views. Prices in these sectors are low due to rocky terrain, which slows the pace of development and construction. However, 60% of the work has been completed.
Sector G
Land in sector G does not require any filling as it is leveled. 5 and 8 marla plots have 100% completed, and they have delivered to their owners. G sector also gives you opportunities for investment as it has commercial plots.
Sector H
 H sector is once again a developed and delivered sector, with commercial plots seeing a major increase in investment.
Sector I
I sector of Bahria Enclave is low and needs filling. In this section, the owners have received half of the plots.
Sector J
J sector is in high demand because of its prime location in the community, which attracted buyers to invest in the area. The majority of owners have received their files. 8 Marla plots are currently under construction, whereas 10 Marla plots are available for booking.
Sector K
 K sector presents plots for allocation; the cost of plots in this sector is higher than in the rest of the society. Possession of 10 Marla plots remains pending, despite the fact that they have full construction.
Sector L
 L sector is still under construction, and plots in this area are not available for immediate possession.
Sector M
Because of the presence of Bahria Town City Center, the M sector is the most appealing. Because the city center is society's principal commercial project, demand is substantially higher in this area. The plots sizes of 10 Marla and 1 Kanal have some delay in completion.
Sector N
The most beautiful scenery and views are in Sector N. it needs no extra filling. The sector's 5 Marla plots are near to finishing, and half of the schemes have taken possession. 8 Marla plots are available with possession and are 40% developed. In this sector, 10 Marla plots are still incomplete.
Sector O
 O Sector is a non-developed sector. 
Sector P
The developers completed 20% work in this sector. However, did not give any possession yet. 
Payment plan

Features 
There are some distinct features in society. 

Luxurious lifestyle

Braches of beacon house school system

Parks in every sector and children playing area

Standard hospitals 

Hotel and restaurants

Birds aviary 

National zoo

Cinema 

Best security system

Green belts
Facilities 
The society offers the following facilities to its residents.
Hospitals 
Health comes first. The developers of the society have designed state-of-the-art hospitals for its residents to give them advanced health facilities. Health centers in society are equipped with high technology machinery, and skilled doctors are available 24 hours.
Cinema 
After a work-full day, in the evening, you can go to the cinema that society has arranged for you and watch your favorite movie.
National zoo
For you and for the entertainment of your children, society is making hard efforts. It has a zoo where all the animals are kept to amuse you.
Educational institutions
Wherever you reside, you first look there for education facilities. In society, there are braches of the reputed school system like beacon house where your children can get standard education under the supervisor of skilled teachers.
Restaurants
Hotels and restaurants are an essential part of daily life. Sometimes if you want to spend some time with your friends, you can go to the restaurants and enjoy yourself there. 
Security
Indeed, security is very necessary for every society to provide. This society has the best security system among all. 
Parks
Parks are the best source of amusement. The society has structured outstanding green parks for its residents where they can breathe in the fresh air.  
Development status 
You may have curiosity about the completion of the project. However, we cannot say that all the work in the project is 100% done. Although there are some sectors or some factors in that sector that are yet to be developed or completed. 70% of the earth's work has been completed. Importantly, services and utilities are 30% done. 25% of the sewerage system is workable. In short, new bookings are closed, but plots are available for resale. It is good news for the residents of the Bahria enclave that it would become the 6th region in Pakistan to install fiber optics. To provide high internet speed, the society had signed an agreement with PTCL to deploy fiber optics within the duration of three months. 
Why invest in Bahria enclave
There are countless factors that show the significance of the Bahria enclave. It would be hard for you to find even a single reason that why shouldn't you invest in the enclave. There are many sectors in the housing society for your convenience to select the plot of your own choice. Each sector provides you with extraordinary facilities and amenities. The developers have determined to make the society outstanding and make it a leading infrastructure among other contemporary societies. Bahria enclave has the potential to overcome the economic goals that you had set while investing in society.
Pros and cons
Pros 
This is one of the topmost prestigious societies in Pakistan.   

It has world-class design and infrastructure

You can easily resell your plot.

The place is very safe and secure for its residents.

Long term and short term investment opportunity

Agreeable terms and conditions for investments

Beautiful place and surrounding 
Cons
Plots in some sectors are very expensive 

The development work in some sectors is incomplete 

Bahria town has a larger size of housing society, but this is smaller as compared to other societies. 
Conclusion
We have discussed in detail the Bahria enclave. Your own plot and house in a remarkable housing society are waiting for your arrival. If you want a luxurious life in a unique and outstanding society, this society is the best option for you.  
FAQs 
Q1: What is Bahria enclave?
A1: Bahria enclave is a housing project. 
Q2: What is its location?
A2: It is located near Chak Shehzad in zone iv of the capital city.
Q3: Who are the owners and developers of this society?
A3: It is a project of Bahria town Pvt ltd.
Q4: What is the total area in this project?
A4: The area of 836 Kanal in phase 1 and in phase 2 the area is 1180 Kanal. 
Q5: Is the society approved by the authorities?
A5: Yes, some sectors have received NOC from the authorities. However, for the rest, soon, the NOC will be issued. 
Q6: Why is society so expensive?
A6: The costs may appear to be a little high, but they are justified in terms of the high level of development and top-notch amenities provided by society, and they are an outstanding investment opportunity.
Q7: What kinds of plots are available in the society for sale?
A7: There are 5,8, 10 marla, and 1 and 2 Kanal residential plots available in the society.
Q8: Is there a commercial plot in society?
A8: Yes, 4, 5, and 8 marla commercial plots are available. 
Q9: Is society good for investment?
A9: Yes, society gives you your desired profit. That is why it is the best society for investment.
Q10: How to book a plot in society?
A10: If you want to book your plot, visit sigma properties.