Al Rehman Garden Lahore
Al Rehman Garden Lahore is a dream society in Lahore city, offering its residents a luxurious lifestyle at very affordable prices. If you have a low income but want to invest in a society that fulfills all your dreams, you adhere to it. While living in Lahore, you can also invest in Lahore smart city.
NOC
It is evident that before investment, one must look for the legal status of a society. However, Al Rehman garden received its NOC from Lahore development Authority LDA. You might know that previously the LDA had issued a list that showed the name of illegal societies in Lahore city. Indeed, there was no inclusion of the Al Rehman garden. So, you don't have to worry about the legality of this society.
Owners and developers
Whenever you want to buy a property in different cities of Pakistan in several societies like taj residencia, capital smart city, Ruden enclave, etc, you must have some knowledge about the owners and developers of the societies. The excellent and known reputation of the developers brings more investors to the societies they own. So, the owners and developers of this society are Al Rehman developers. Let us give you some information about the developers. Al Rehman developers are chasing the goal to provide an immense and luxurious lifestyle to the localities of Pakistan. They have a prominent name in the real estate industry of Pakistan. Indeed, they have plans to produce a state of the art architecture. They aim to facilitate the residents with high-class facilities with affordable expenses.
People from all walks of life get benefits from their efforts. The matchless struggles of developers made it stand in the frontline of other renowned developers. They are known for developing dream projects. They intensely devoted themselves to structure world-class infrastructure.
Location map
The location map of this society plays a vital role in its fame. It has a connection with prominent landmarks in Lahore, and residents of this society are not facing any hurdle in corresponding with other areas.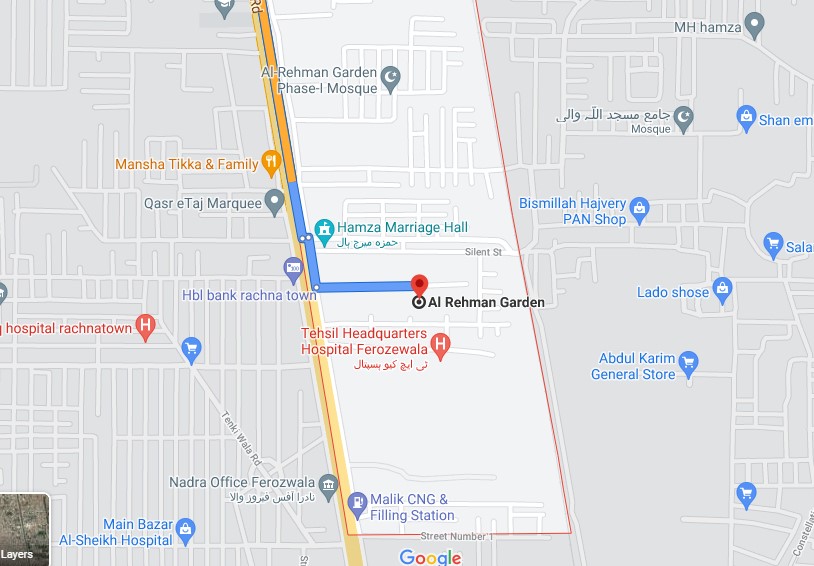 Access points
The place is more acceptable to people who have too many access points. Similarly, a wide range of impressions of this society is its multiple access points. We can say,

The N5 national highway is approximately a 1-minute drive from the society.

You would have to travel approximately 15 minutes to reach the society from UET's new campus, Lahore bypass, and Kala Shah Kaku Punjab.

Only 15 minutes drive to Shahdara Town railway station, Lahore,Punjab

It would take at least 25 minutes to reach Badami Bagh, Qila Lachman Singh, Lahore, Punjab from the society.
Nearby housing societies
Don't worry about thinking that you would live here alone. Ultimately, society is among other well-developed institutions. You will feel like you are living in a different city within the city, Lahore. However, the nearby housing societies are:
Rachna town

Al Rahim town

Shahdara town

Rana town

Barkat town

People colony

Mehmood colony

Sher-r-Bangal Labour colony

Imamia colony

Sikandarabad

Al Noor orchard Lahore

Al Jalil garden housing scheme

Omega villas Lahore

Lahore garden housing scheme

SAREMCO Pak valley housing society

Smart city Lahore
Master plan
The developers of the Al Rehman garden very carefully designed the master plan of the society. If you don't know have knowledge about the area of the society, let us make you understand that the society is spread over 900 acres. Furthermore, for understanding the master plan, society is divided into phases.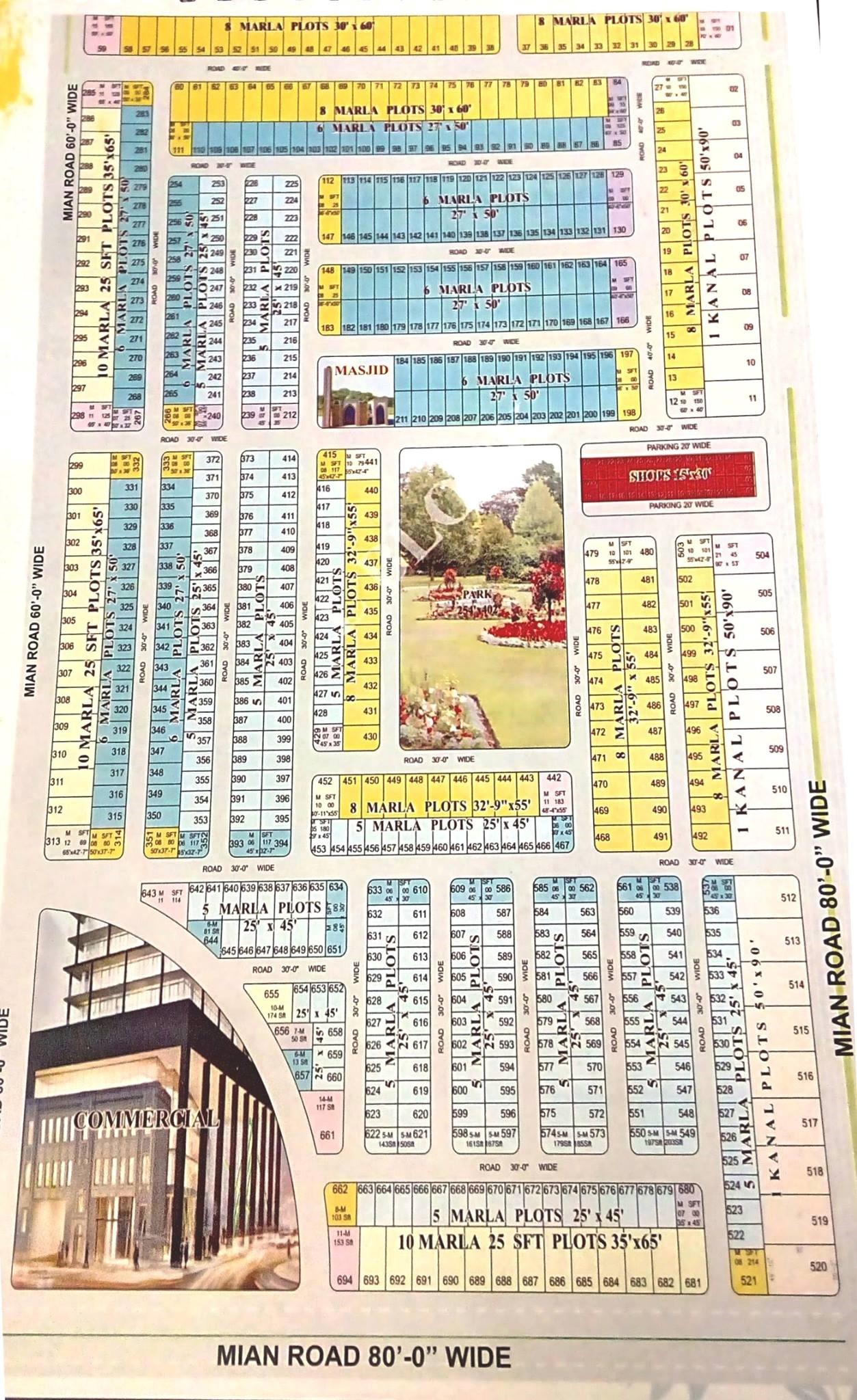 Phases
Society has seven phases. These phases are fully developed phases.
Al Rehman garden phase 1
Phase one is located on the main GT road Lahore near Ferozwala Rachna Town. The phase is also close to Lahore Bypass and Kala khatie Narang Mandi Road. Some other essential roads that are closed to society are Lahore ring road, Lahore shekhupura road, and Sialkot Motorway.
Phase 2
Al Rehman phase 2 is located on main Jaranwala Road Lahore, and also near to Lahore-Islamabad motorway.
Phase 3
Phase 3 is located on GT road Lahore. Another important thing about this phase is that it is also very close to Lahore ring road. This factor of phase 3 highlights it to investors. The phase is a bit significant as compared to other phases in contemporary societies.
Phase 4
The developers of Al Rehman placed this phase on critical locations. The residents in this phase can have the opportunity to entertain themselves by going to the nearby Sozo waterpark, canal bank road Lahore.
Phase 5
Phase 5 of Al Rehman is located on Lahore bypass road and also close to the University of engineering and technology Kala shah Kahu. Moreover, the Lahore Islamabad motorway is also in the close circle to phase 5.
Phase 6
Al Rehman garden phase 6 is located near Ferozwala Rachna town on the main GT road. You should know that Lahore bypass and Kala Katie Narang mandi road are also close to this phase. Some other notable locations and roads close to phase 6 are the motorway, Lahore-sheikupura Faisalabad road, and the part of Lahore ring road is also near to phase 6.
Phase 7
Al Rehman phase 7 is the center of all activities in society. It is the most active phase in society. It is located in the center of Al Jalil garden and al Noor orchard. You should also know about the sectors of the blue world city.
Residential plots
There are residential are plots are available in different sizes in society.
3 marla

5 marla

7 marla

10 marla

1 kanal

2 kanal
Payment plan 
Plot are available for sale in this society on easy instalment plan.
Residential plots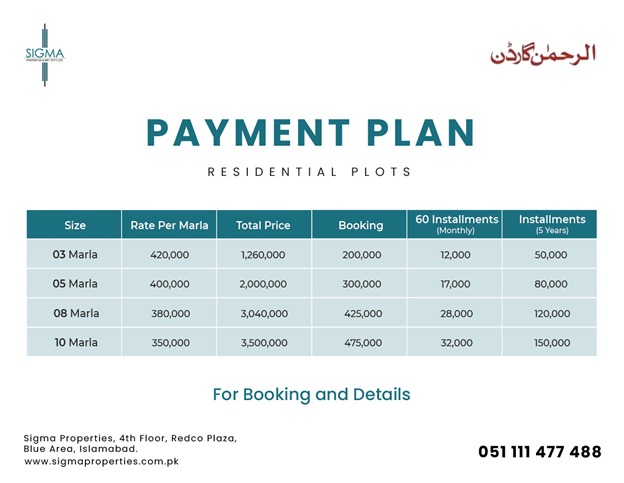 Commercial plots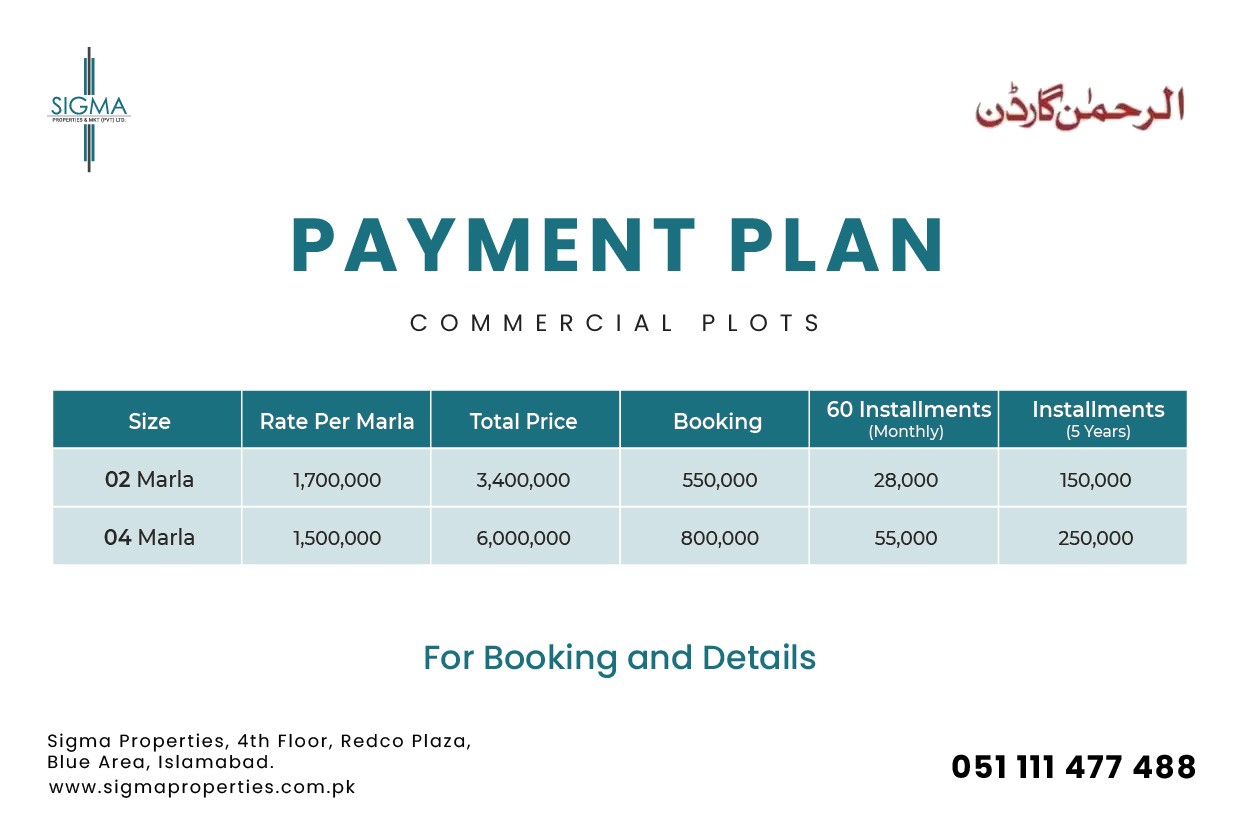 Features
You always choose a place for residency where you can have all the features that would furnish your personality. However, the elements in Al Rehman garden Lahore are:
Gate community

Security

Parks

School

Power plant

Mosque

Water supply system

Swimming pool

Jogging tracks

Playground

Graveyard

Community centers
Facilities
Al Rehman garden Lahore offers its residents outstanding facilities. It is human nature to prefer a society that has more excellent facilities and amenities than others. So, Al Rehman provides the following facilities.
Wide network of road
You cannot deny the importance of a wide road. The society has managed to provide its residents the facility of flawless and smooth traffic. All the phases in society are connected to each other through smooth, wide, paved, and carpeted roads. The wide network of roads allows you to travel without being stuck in a rush or wait in hot summer. Each house in each phase has an attachment with the road.
Sewerage system
You must take great care of the environment in which you live. The society provides its people with a place to live where they do not have to worry about rainwater or used water ejected from residential drainage systems. A society designed the sewerage system thus that even days after the heavy rainfall, you would hardly find dirty water ditches. The sewerage system is so regulated that it carry that dirty water with a smooth flow.
Parks
Why would you go somewhere else to refresh and maintain your mental and physical health when Al Rehman garden offers you the best opportunity of spending some leisure time in outstanding and lush green parks? Indeed, society is all for you where the developers have structured organic parks for you. While returning from a full, tiring day of work you could have a better time to spend in the gardens in the evening. You can also take your family to these parks to make your moments memorable.
Educational institutions
After all, education has matchless importance among other facilities. It is apparent that you would try to find a better place for your children and family member to get a quality education. You might want to know where to find that standard education institution to fulfill your dream. The answer is obvious. You should step toward the Al Rehman garden to carry out your aim of giving quality education to your children. However, society offers the best education in the presence of highly skilled and qualified teachers.
Jamia Mosque
The society offers its residents a well-constructed Jamia mosque to offer their prayers five times a day. If you are a resident of this society, you don't have to go long for offering Jumma prayer because Jamia Mosque has the capacity of more than 1000 people to offer prayers at once.
Water supply system
Pure water is the need of life. There are many societies which claim to have all the facilities. But, sometimes they failed to deliver the facility of pure water. This society has the arrangement for the supply of pure drinking water. Water tanks are installed on the sides of phases to facilitate the resident of the society with clean and purified water.
Development status
This is not necessary that every society should complete development work on all its projects. HoweverHowever, in this society, the main gate is still under construction, but the development work is ongoing. Other roads in the community are under construction and not completed yet. Furthermore, the construction of houses is not started yet. For your information, all plots in A block are sold out. Don't worry about the development process? The work is in full bloom.
Why invest in Al Rehman garden Lahore?
You should ask the plot holders and residents of Al Rehman garden Lahore how was their experience in society. You will find a positive answer that they are not regretting their decision of investment in the society. You would also find it the best decision of your life.
This is a society that has the potential to give you the best outcome against your capital. The society offers you unique features and facilities at your doorstep. It is hard to find in other societies the services that society provides. The developers of this city have managed to install a power plant that enables the society's residents to have full-time electricity. As you know, Lahore city is sweltering in June and July many numbers of hour load shedding is expected, but if you are living in this society, then you have the opportunity of 24 hours non-stop electricity. The other important thing to remember is its legal status. The society that has received its NOC from LDA earlier than other societies did. So, it is the best opportunity to invest in Al Rehman Garden.
Pros and cons
Pros
The society has a unique and standard infrastructure.

There is a flawless system of roads.

A secure community adds much more to the significance of society.

Hospitals, schools, and other essential utilities are the first priority of society.

Residents of this society have no problem in getting pure water.

Regulated sewerage systems allow residents to lead tension free life.

There are many modern shopping malls in society, enabling its residents to buy anything they need in their daily lives.

In society, a lot of opportunities for enjoyment are available for its residents.
Cons
The development work on some phases is still incomplete

Some phases are not attractive as compared to other phases in the society
Conclusion
Al Rehman society offers you to invest in the best residential and commercial plots. If you have intentions to invest in a society that can give you your desire profit or want to live in a place where you can enjoy the real happiness of life, step in sigma properties and book your plot.
FAQs
Q1: What is Al Rehman garden?
A1: Al Rehman Garden is a unique and outstanding housing society.
Q2: Where is it located?
A2: The society is located in Lahore and covers an area of 900 acres.
Q3: Who are the developers of this society?
A3: The developers of this society are Al Rehman developers.
Q4: Does it have NOC?
A4: Yes, the society has received its NOC from Lahore development authority LDA.
Q5: What are the sizes of plots in society?
A5: The following plots are available in society.  
3 marla

5 marla

7 marla

10 marla

1 kanal

2 kanal
Q6: Does society have all the essential facilities?
A6: Yes, you can have all the essential facilities while living in this society.
Q7: How many phases are there in society?
A7: There are seven phases in society.
Q8: Which is the most developed phase in society?
A8: Phase 7 is the most developed in society.
Q9: How to book a plot in Al Rehman's garden?
A9: If you want to book a plot in society, then visit sigma properties.
Q10: Does society have an easy payment plan?
A10: Yes, society has an easy payment plan where you can buy your favorite plot very quickly.