Al Makkah City Islamabad 
Al Makkah City Islamabad is an unparalleled housing scheme with impeccable features and contemporary technological developments. The Federal Capital is famed for its scenic beauty, and that is where this housing scheme lies. The housing society offers various residences and plots for your dream home, where you can enjoy all of the basic but modern amenities for your future livelihood.
Owners and Developers 
The housing society is a brilliant venture of the Y-K Group of Companies. It is a well-known corporation that has worked hard to provide citizens with the chance to live in a modern, innovative, and comfortable environment. It has specifically designed its residential and commercial developments using proactive urban planning, advancement, and sustainability principles.
Y-K Group of Companies
The Y-K Group of Companies was created in 1976 by its Chairman, Sardar Muhammad Yaqoob Khan, a celebrated businessman, and global figure. It is a private limited real estate company. The Y-K Group offers services in polypropylene manufacturing, construction, land development, human resource services, hotels, and power generation. Their endeavors have gone a long way to represent dedication, distinction, and professional achievement for the company. Currently, they are also working on another housing project named Al-Madinah City.
Other notable projects by Y-K Group of Companies are the following,
Kashmir Overseas
Brothers Construction
Kashmir Propylene
Saani Power
NOC and Planning Permission 
Al Makkah City housing scheme was provisionally approved on 15-12-2020 by the Capital Development Authority (CDA) to draft comprehensive engineering plans, transfer deed, mortgage deed, and subsequent NOC.
Location 
Al Makkah City is located in CDA Zone V, Islamabad, on the Mahfouz Shaheed/Japan Road. Gulberg Town, DHA Valley, Jammu Kashmir Co-Operation Society, Jinnah Garden, Navel Anchorage, Parliamentarian Enclave, Uswa Cadet College, Lahore University Islamabad Campus, and OPF Valley are all near the housing society. Blue World City and Capital Smart City are about a 15-minute drive away. In addition, the Rawalpindi Ring Road would shorten the distance from Rawalpindi and Islamabad.
It is at the best location of the twin cities, with urban roadways connecting to the Islamabad Highway and being just a short walk away from Kahuta/Sehala Road. Furthermore, the location is convenient for commuting. These advantages of its prime location offer Al-Makkah City a competitive advantage over other housing developments and a high commercial value.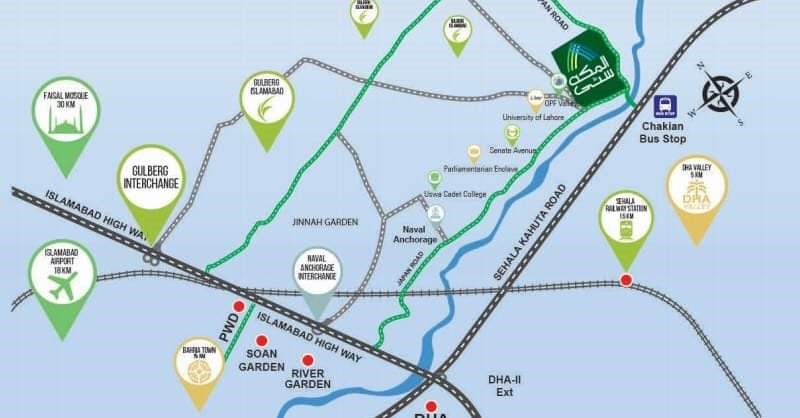 Nearby Landmarks
The landmarks close by the housing society are as follows,
Gulberg Green and the Overseas Pakistan Foundation are nearby.
Jammu and Kashmir Housing Society is located 8 kilometers away
The Islamabad Highway is 9 kilometers away
5 km away from Naval Anchorage
1.5 kilometers from the University of Lahore
OPF Valley is adjacent
Master Plan 
The housing society has the most meticulously designed master plan. It is a well-planned residential area. Al Makkah City's Master Plan is categorized into two phases containing blocks. Each block has its amenities, such as public parks, greenways, schools, and a commercial district.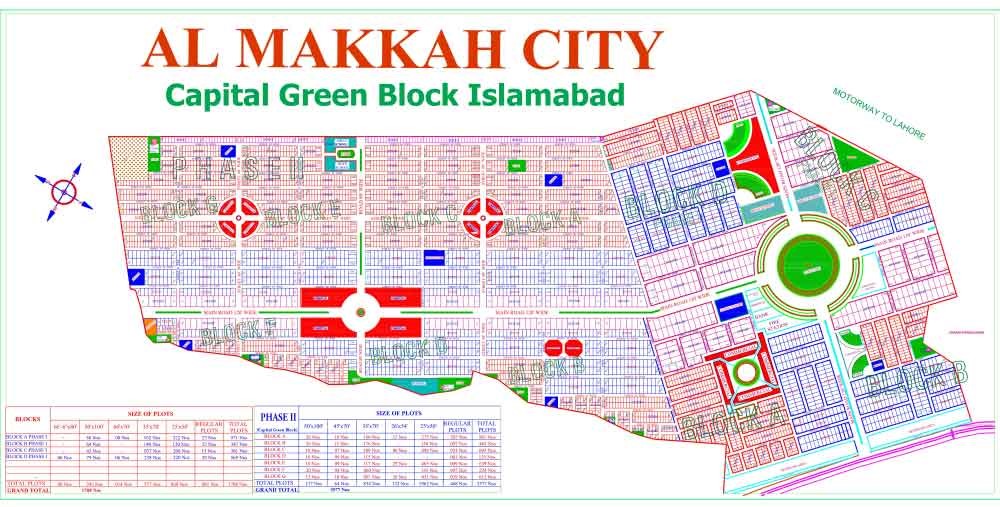 Residential Blocks 
Each block offers over 5000 plots and has its business district. Shopping malls, banks, and markets have been planned well in advance. The entire lodging society is covered with 60-foot-wide roadways. The main road is 120 feet wide, while the side roads are 100 feet wide. In addition, a graveyard, playgrounds, mosques, theme parks, and other amenities have been set aside for society.
The residential blocks in this lodging society are as follows,
Block A
Block B
Block C
Block D
Block E
Block F
Block G
Residential Plots 
The sizes of the residential plots are enumerated below,
Commercial Plots 
The sizes of the commercial plots are as follows,
Farmhouses 
The sizes of plots for farmhouses are as follows,
2 Kanal
4 Kanal
5 Kanal
6 Kanal
8 Kanal
Amenities Provided 
The housing society is undoubtedly a high-end residential development. It aspires to raise living standards to meet modern-day expectations, focusing on providing an advanced lifestyle that your heart has always desired. Every aspect is maintained at an international level, from master planning to execution.
The following are some of the most sought-after amenities:
Well-Paved Roads 
Road transport is a basic need of the citizens, and it is beneficial in fire or police protection. Therefore, the housing society has constructed carpeted roads for men's quick and easy transportation, pieces of machinery, materials, etc. These roads will be according to the requirements of the road quality indicator of the WEF or the World Economic Forum's annual Global Competitiveness Index.
Jogging Tracks 
For the energetic residents of the housing society, there are exceptional, breath-taking jogging tracks. The track cuts through the greenery but has the usual rubber track underfoot, making it a truly distinctive picture. Allow the fantastic views to take your breath away. The scenery will so enthrall you that running will seem effortless.
World-Class Education 
The housing society is laying the foundation of extraordinary educational institutes fit for enriching young minds. The residents will be at peace knowing that they are providing their children with the best education.
Restaurants and Hotels 
The lodging society will contain all of the renowned restaurants and hotels for the convenience of the residents. Moreover, to serve the substantial percentage of diplomats and adventurous food lovers, the housing society has altered the local dining culture with many interesting new cafes and cool bars.
Graveyard
Al-Makkah City Islamabad consists of a graveyard as well for the burial of the residents' dears. It will have a capacity of more than six thousand graves. The portion of land for the graveyard has already been set aside.
Water Treatment Plant 
Wastewater treatment is a growing necessity, so the venture designers of the lodging society have included a water treatment plant in the master plan. The venture designers believe in protecting the environment instead of damaging it, and thus we must tackle the environmental issues as fiercely as necessary to secure a cleaner, greener tomorrow.
Petrol Pumps 
There are also petrol pumps being constructed at the nearest access points. The fuel from the leading names in the petrol industry like PSO, Shell, Caltex. These stations shall provide high-quality fuel and carwash services.
Salient Features 
The salient features of this lodging society are as follows,
E-tag for the entrance gate
High-quality infrastructure Development
Replica of Babri Mosque
Golf Clubs
Surveillance and security
CCTV surveillance is available 24/7
Petrol pumps
Utility services are provided underground
Sewerage system in the subsurface
A water treatment plant
Waste disposal system
A commercial setting
Street Lights & Green Spaces
Graveyard
Playgrounds and Theme Parks
Standard hospitals and medical facilities
Supermarkets that meet international standards
Restaurants & Hotels
Shopping malls
Cinemas
Payment Plans 
Al Makkah City's price plan lasts for four years. It offers a monthly payments plan as an option. A ten percent deposit is needed to secure a reservation. Let us go through the payment plans for residential, commercial, and farmhouse plots.
Residential Plots Payment Plan 
The residential plots of the lodging society are obtainable at the following payment plan: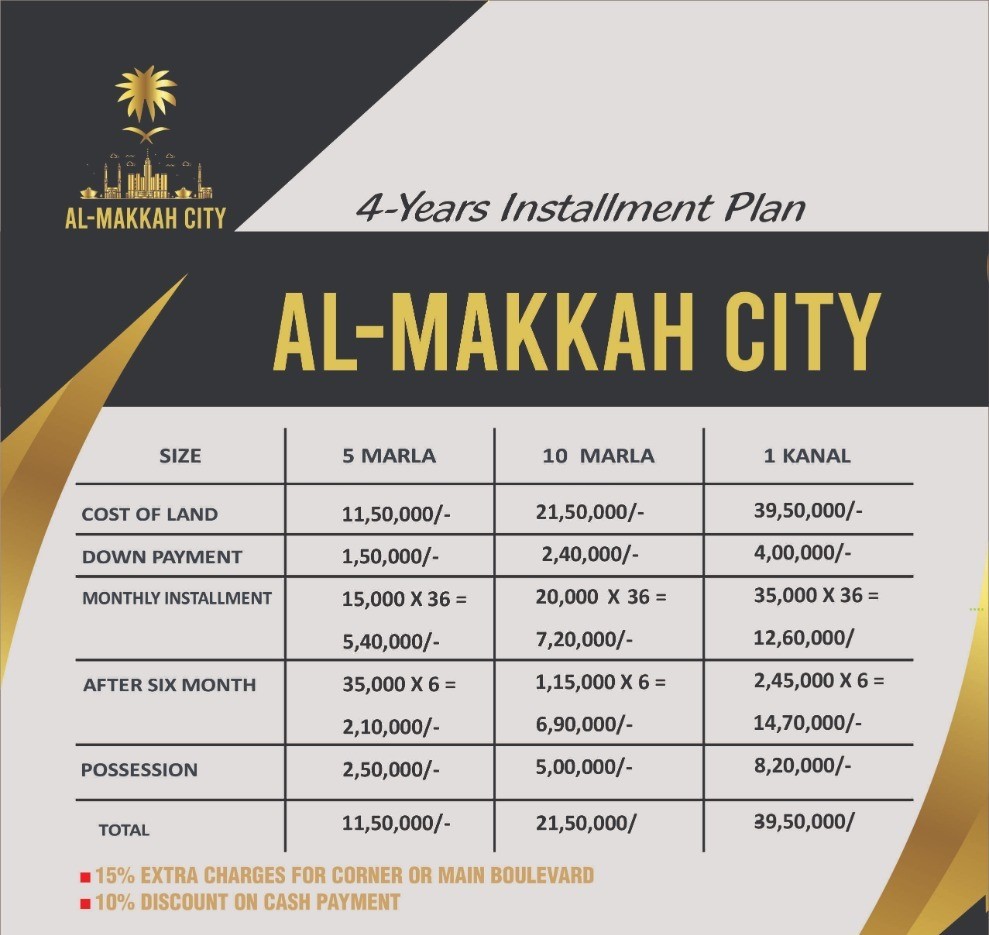 Commercial Plots Payment Plan 
The commercial plots of the lodging society are obtainable at the following payment plan:
| | | | | |
| --- | --- | --- | --- | --- |
| Plot Category | Total Price | Down Payment | Monthly Instalment | Every 6 Months |
| 5 Marla | 6,000,000 | 600,000 | 75,000 | 225,000 |
| 10 Marla | 12,000,000 | 1,200,000 | 150,000 | 450,000 |
Farmhouses Payment Plan 
The plots for the farmhouses of the lodging society are obtainable at the following payment plan:
| | | | | |
| --- | --- | --- | --- | --- |
| Plot Category | Total Price | Down Payment | Monthly Instalment | Every 6 Months |
| 2 Kanal | 4,650,000 | 930,000 | 50,000 | 165,000 |
| 4 Kanal | 6,650,000 | 1,330,000 | 65,000 | 275,000 |
| 5 Kanal | 8,400,000 | 1,680,000 | 85,000 | 330,000 |
| 6 Kanal | 10,000,000 | 2,000,000 | 100,000 | 400,000 |
| 8 Kanal | 13,600,000 | 2,720,000 | 135,000 | 550,000 |
Development Status 
The development work on the site has been effectuated. The sewerage system, street lights, and boundary walls are all in the process of construction. In addition, the construction of schools is about to begin soon.
Additionally, to meet the needs of commuters, the developing team has made roads a top priority and is actively working on them. The developer appears to be committed to delivering Block A and Block B by the deadline at the end of 2021.
How to Book a Plot?
To acquire the plot that you wish for, contact our team at Sigma Properties. The documents you will require are given below,
Two passport-style photos
Copy of your CNIC
Copy of your CNIC of your next to kin
The booking cost is payable using a payment order, cash, or a direct cash transfer into the company's account.
Booking Procedure 
The booking procedure is painless and straightforward, you need to:
Fill out your reservation request form.
You must attach copies of the Applicant's and Nominee's CNICs to the application.
Send a check or money order to "Al-Makkah City Islamabad" for a down payment.
You may also pay in cash.
Complete all relevant documents, pay and receive a receipt.
You can pick up your file within 8 to 10 working days.
Why Al-Makkah City Islamabad? 
The lodging society is a one-of-a-kind housing project that combines modernity, aesthetics, and practicality. This emerging project will serve as a hub for the amenities of worldwide standards. This lodging society is a recent addition to the town. Still, it possesses such dazzling amenities and affordable rates that you will be compelled to get a key position in it.
Ambiance of Peace 
The residential community will be encircled with an environment of tranquility. It will be completely suitable for raising your family. It is necessary to take a break and reconnect with nature if you're feeling overwhelmed, pressured, or burned out. People have to travel far and wide for such breaks, unlike the residents of the Al-Makkah City Islamabad.
Unique Infrastructure 
The housing society is strict on providing excellent infrastructure, including a vast network of roads, underground telecommunication network, underground drainage & sewerage network, underground gas pipelines, and underground electricity distribution network. Along with all this, there will be an underground water supply and a network of tube wells.
Specialized Medical Care
Numerous clinics and hospitals are being built in the lodging society so that in case of an emergency, the lodging society can proffer the necessary medical aid. These medical centers will contain a well-trained medical staff along with contemporary technology to facilitate the patients properly.
Speedy Development 
The development of the lodging society is taking place at a rapid pace due to the brilliant team of urban planners, educationalists, recreation specialists, sports experts, and practitioners from a variety of professions, all striving to help you get the most out of life. But, of course, there is a difference between merely building houses and delivering valuable master-planned communities. The team is focusing on precisely that difference to cater to a wide range of lifestyle requirements.
Pros and Cons 
Pros 
High Level of Security 
The housing society is a gated community with high boundary walls and barbed wires. The developers shall hire a large body of armed guards to protect the dwellers; there will also be a body behind the CCTV Cameras that would be monitoring the housing society 24/7.
Replica of Babri Mosque
The grandest religious and historical mosque in the subcontinent, the Babri mosque, is to be built right in the heart of the lodging society to experience the memory of religious, historical events of the subcontinent. The mosque shall be a truly captivating sight to behold. It will be a masjid built according to the specifications of the Muslim architect who designed the Babri Mosque, with two ablution rooms and 50 wheelchairs for the elderly.
Vicinity to Islamabad and Rawalpindi 
The housing society is conveniently close to the twin cities of Rawalpindi and the Federal Capital. It will prove to be highly beneficial for the residents in terms of the daily commute.
Family-Friendly Neighborhood 
Every father wishes to give his children the right circumstances and environment to grow, so the lodging society has aimed to create a living atmosphere perfect for that. Your children will be secure within the walls of the lodging society; they will get to study while they breathe in the air of technological marvels and nature's thralls side by side productively.
Cons 
Period of Waiting 
Investors who find the immediate payment difficult can opt for the instalment plan. But the instalment plan at the housing society includes a four-year system. Such investors find the waiting period unsuitable, but this is subjective, as some spare their time.
FAQS
What is Al-Makkah City Islamabad?
It is a luxurious residential scheme in the vicinity of the Twin Cities.
Who are the owners and developers?
The Y-K Group of Companies are the developers of this housing project.
Where is it located?
Al-Makkah City is located near Gulberg Green Islamabad and is accessible via the Islamabad Highway. This housing project is located next to OPF Valley.
Are there underground utilities in the housing society? 
Yes, there are underground utilities of electricity, water, and gas.
Is it an approved housing society? 
Yes, it is approved by the Capital Development Authority (CDA).
Is there Sui gas in the housing society?
Yes, there is Sui gas in the housing society.
What are the residential plot sizes?
The sizes of the residential plots are as follows,
What are the commercial plot sizes?
The sizes of the commercial plots are as follows,
What is the period of the instalment plan? 
The instalment plan is for four years.
Conclusion 
Al-Makkah City Islamabad is a CDA approved residential project with a lot of potentials. An investment in the lodging society would be very wise, especially in a commercial plot or farmhouse. There is indeed nothing that could go wrong with such a befitting payment plan, unique amenities, and world-class living standards.