Al Kabir Town Platinum Homes
Al Kabir Town Platinum Homes is one of Al-Kabir Developers' LDA-approved residential developments. The project is taking place at Al-Kabir Town's Phase II. The esteemed developers first introduced Platinum Homes in February of this year.
Several well-known residential neighbourhoods are close. The Platinum Homes offer a luxurious and pleasant lifestyle. Al-Kabir Platinum Homes are offered in a variety of sizes and at reasonable prices. It also comes with all of the fundamental and other essentials of living.
Owners and Developers 
The Al-Kabir Developers is working on the fantastic project of Al-Kabir Town Platinum Homes. The developers have introduced a new scheme in which they have opted to build exquisite residences in Phase II of Al-Kabir Town, following the successful launch of Phase I and Phase II. The developers are a team of planners, designers, architects, builders, and highly professional, efficient, diligent, and capable engineers.
Al-Kabir Developers 
The AL-Kabir Developers have successfully established a market-leading position. They have stayed at the leading edge of innovation since its foundation in 2016, catering to the demands of investors and home consumers across the country and increasingly owing to Pakistan's real estate victory.
Their successful projects are as follows,
Al-Kabir Town Phase I
Al-Kabir Town Phase II
Al-Kabir Town Phase III (King's Town)
Apartments
Homes
The developers are constructing the residential project in line with the policies and regulations provided by the relevant authorities. The developers launched Platinum Homes Project in February 2018. The launching of Phase II of Al-Kabir Town took place in May 2017.
The head office of Al-Kabir Developers is at Al-Kabir Town Phase I Adjacent BNU, 1KM off the Raiwand Road, Lahore.
 NOC And Approval
The LDA or Lahore Development Authority has approved the NOC for Al-Kabir Town Platinum Homes. All of the developments in Al-Kabir Town, including Al-Kabir Homes, are legal. They have done all construction of Al-Kabir Town Platinum Homes by the standards and restrictions of the different authorities.
Location 
Al Kabir Town Platinum Homes is located across the street from Lake City, on Main Raiwand Road. It is placed explicitly in Al-Kabir Town's Phase II, and some well-known residential societies are also near the Al-Kabir Platinum Homes.
Nearby Landmarks and Places
The significant places near the Al-Kabir Platinum Homes are the following,
Allama Iqbal international Airport
Lake City
Bahria Orchard Lahore
Bahria Town
Adda Plot Jati Umrah
Cancer Care Hospital & Research Center
Ashrafi Town
LUMS
Beacon House Housing Society
Chinar Bagh
COMSATS University, Lahore Campus
Daewoo Bus Terminal, Thokar Niaz Baig
Defence Housing Authority (DHA) Lahore
LDA Avenue
Kahna Railway Station
Valencia
Superior University
The University of Lahore
Safari Zoo Lahore
Al-Kabir Homes is close to several hospitals and health care facilities, including:
Aadil Hospital
Shadman General Hospital
Lahore General Hospital
Services Hospital
Amanat Eye Hospital
Bahria International Hospital
Sheikh Zain Hospital
Citi Hospital
Horizon Hospital
DHA Medical Center, Phase III
Banks and ATMs 
Platinum Homes is close to the following banks and ATMs:
Allied Bank Limited
Soneri Bank
Askari Bank
Bank Al-Habib
Bank of Punjab (BOP)
Bank of Khyber
Habib Bank Limited (HBL)
Faysal Bank Limited
Meezan Bank
Access Points 
The housing scheme is accessible from the following places,
Sharif Medical City Road is only around an 8-minute drive away.
Rohi Nala Bypass is about a ten-minute drive away.
Sunder Road is around a 13-minute trip.
Paijan Manik Road is about a 14-minute drive away.
Sue-e-Asal Road is about a 15-minute drive away.
Lahore Ring Road is around a 25-minute drive away.
LDA Avenue is about a 27-minute drive away.
Canal Bank Road is around a 30-minute drive.
Ferozepur Road is 35 minutes away.
Lahore Multan Motorway (M-3) is an almost 50-minute drive.
Payment Plans 
Al-Kabir Homes has 3 Marla plots for sale at an affordable price. Furthermore, these plots are available on easy 1-year and 2-year payment plans: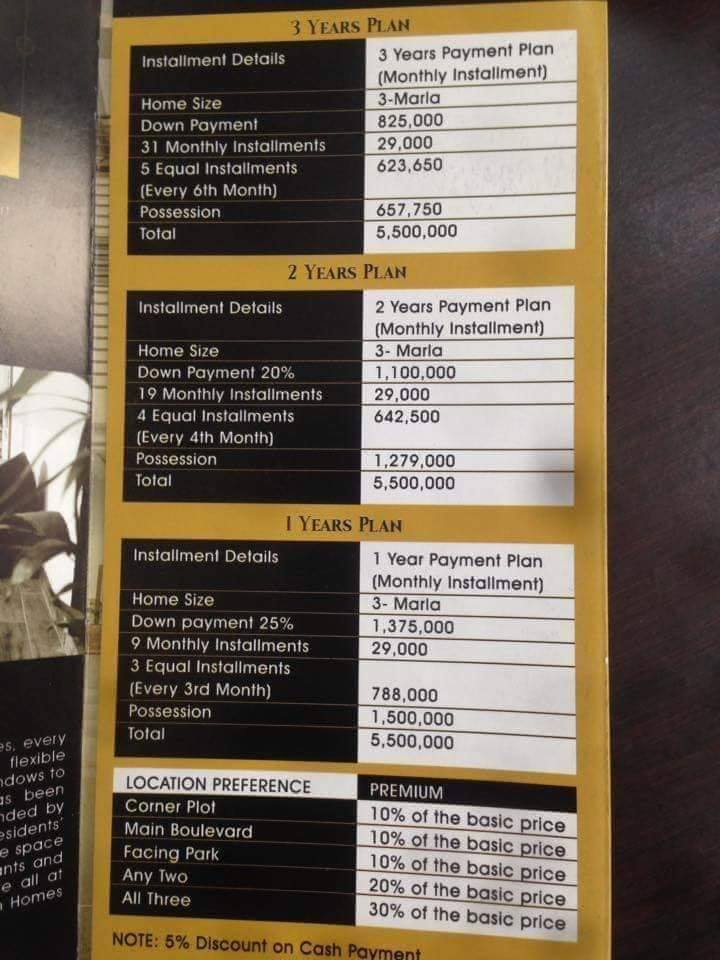 Main Characteristics
The main characteristics of the lodging society are as follows,
24/7 Electricity supply
Electricity Backup
Electricity Wiring Underground
Consistent Water and Gas Supply
Filtration Plant for Water
24/7 Security
Gymnasiums and Health Clubs
System of Drainage
Waste Disposal
Surveillance Cameras (CCTV)
Sewage Treatment System
Space for Parking
Educational Institutes
Healthcare Centres
Petrol Pump
Nearby Mosque
Lush Green Parks and Spaces
Wide Roads and Boulevards
How to Book a Plot in Al-Kabir Platinum Homes?
If you are interested in getting a plot in this housing scheme, get in touch with our consultants at Sigma Properties. The documents you need are,
Two passport size pictures
A copy of your ID card
A copy of the Next of Kin or nominee's CNIC
You can pay the booking amount in the form of a payment order, cash, or a direct deposit in the company's account.
Why Invest in Al-Kabir Platinum Homes? 
The location of Platinum Homes is on Main Raiwand Road in Phase II of Al-Kabir Town. The surrounding neighborhoods of Al-Kabir Homes are home to several well-known housing societies. The residential complex is close to the Cancer Care Hospital & Research Center and the Allama Iqbal International Airport.
The prices of Platinum Homes come in a variety of sizes. It also gives excellent investment prospects for individuals looking to purchase the plots. The LDA has approved the NOC.
The developers have created numerous parks and playgrounds nearby. They aim to build a few more in Phase II of Al-Kabir Town, ensuring that Al-Kabir Homes is environmentally responsible. The Platinum Homes offer a wide range of services and amenities to their residents. They also provide an extremely safe and secure atmosphere.
Conclusion 
Al-Kabir Town is a respected name in Lahore's real estate sector, and it has built a strong reputation in the market in a short period through massive development. The Al-Kabir Developers are launching Al-Kabir Town Platinum Homes in Phase II to broaden the limits to the satisfaction of the luxurious and ever-flourishing. The company is also opening Al-Kabir Town Phase 3 in Islamabad near the CPEC route on Fateh Jang Road, following the successful launch of Al-Kabir Town Phase I and Phase II in Lahore.