Al-Hamra Avenue Islamabad 
Al-Hamra Avenue Islamabad is an ultimate paragon of eminence especially presented for the officers of the Pakistan Air Force (PAF). The rest of the citizens are also allowed to live in the fine lodgings provided here. The lodging society is an additional complement to the beauty of the Federal Capital. The developers laid the foundation of this brilliant project in 2005, and since then, it has excelled tremendously.
Owners and Developers 
The Shaheen Foundation has established the Al-Hamra Avenue Islamabad. Their primary objective is to offer PAF employees high-quality accommodation at a reasonable cost. It aims to acquire its members' entire trust and faith in its high-quality development work by building strong client relationships, increasing revenue, improving quality, and increasing return on investment.
The scheme's master planning has been left to well-known Spanish and Swiss architects and town developers. The lodging society also contains the contribution of the Habib Rafiq Private Limited. The master planning and development are the responsibility of Habib Rafiq Pvt. Limited. The scope of work under Habib Rafiq Pvt. Limited is as follows,
Main Entryway at Lethrar Road
Roads that are carpeted
Drainage system for storm water
Plant for sewage treatment
Grand Mosque
U/G and O/H tanks for 24/7 Water Supply
Boundary walls and fences
Underground Electrification System
Lighting for parks and streets
Security systems
Underground gas supply system
Satellite cable network
Telephone network
Hospitals with ambulance facilities
Post office
Police station
Educational Institutes
There is a group of financial institutions and developers led by the Habib Rafiq Priv. Limited and Faysal Bank Limited that are involved as well, they are as follows:
Lead Advisor Faysal Bank Limited
Bank Al-Falah Limited
Saudi Pak Industrial and Agricultural Investment Co. Ltd.
Bank of Khyber
Pak Libya Holding Co. (Pvt.) Ltd.
Crescent Standard Investment Bank Limited
AKD Group
Arif Habib Group
Jahangir Siddiqui Group
Shaheen Foundation
Under the Charitable Endowment Act 1890, the Pakistan Air Force formed the Shaheen Foundation in 1977 to promote welfare activities for serving the retired PAF personnel, including civilians and their dependents, by raising funds through industrial and commercial enterprises.
The Shaheen Foundation assists in employment, education, healthcare, engineering, commerce, production, construction, advertising, and housing, among other areas. It employs around three thousand people, with 700 of them being ex-PAF members. The foundation assists retired PAF officers in finding positions in the civil sector both within and outside of the country. The other housing schemes supervised by Shaheen Foundation are the following,
Al-Hamra Hills Farmhouse Scheme
Shaheen Housing Scheme in Peshawar
Shaheen Complex in Lahore
Shaheen Complex in Karachi
Habib Rafiq Private Limited 
Habib Rafiq is a renowned name in the Pakistani real estate industry. They are a symbol of quality and trust. Habib Rafiq is Pakistan's most well-known developer enterprises, having built Bahria Town Islamabad, DHA, Royal Orchard Multan and Sargodha, and Islamabad Airport. The Capital Smart City and Lahore Smart City are also the brilliant endeavours of Habib Rafiq Priv. Limited.
NOC and Planning Permission 
The Al-Hamra Avenue Capital Development Authority has approved Islamabad, CDA. On March 15, 2008, the CDA issued a NOC and clearance for this project. It is a critical point for the investors as they look for approved housing projects in the Federal Capital. The sponsors have requested the CDA that the project be renamed Eden Life. The request is currently pending owing to a lack of claim settlement.
Location 
The housing scheme enjoys a significant location in the Zone-V of the Federal Capital. It is located on Lethrar Road, which leads to PINSTEC, and is about a 20-minute drive from the Serena Hotel in Islamabad. The CDA is planning a new dual highway called Khanna Bridge that will connect Islamabad Highway with Nilore. The bridge will also make it convenient to go to Al-Hamra Avenue. The government will extend the bridge to all zones. However, the Lehtrar Road entrance will be the primary access.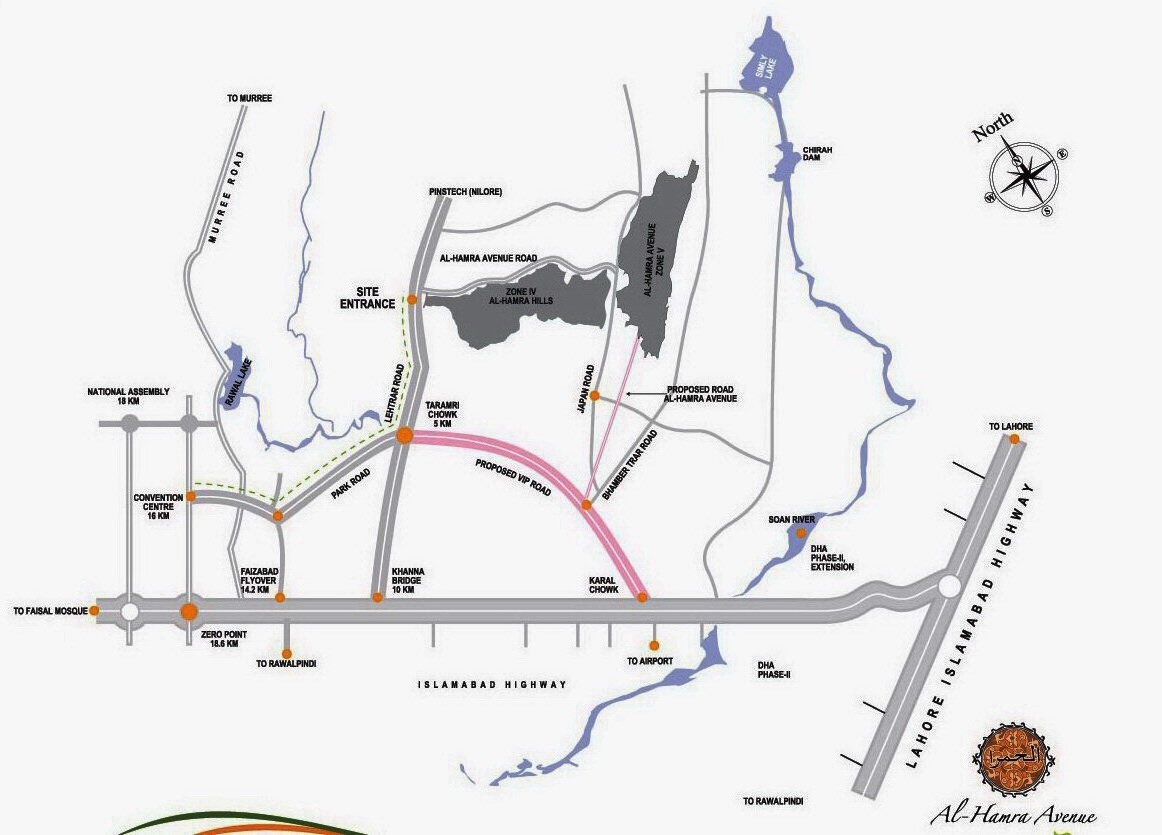 Access Points 
The crucial locations nearby are as follows,
The Pakistan Institute of Engineering and Applied Sciences is only 20 minutes away from Lehtrar Road.
Neela Sandh Picnic Point is only a half-hour drive away from locals.
Lake View Park on Murree Road is 30 to 35 minutes away by car.
By driving, it takes 45 to 50 minutes to get to Jungle World – Ayub National Park.
Master Plan 
Local planners and architects will carry out the precise engineering in compliance with CDA regulations. The proposed land has a beautiful topography. Small hillocks make up the vast majority of the terrain. The backdrop is a 4-6-kilometre-long mountain range with a top peak of 600 feet and a general elevation of 200 feet above Constitution Avenue.

The entire 6,500 Kanal site will be developed and landscaped scientifically. In the middle of the scheme, a commercial area is planned to be erected. The developers have built a boundary wall around the entire project to safeguard it.
Blocks
The lodging society is divided into the following blocks, each of which has plots of various sizes:
Fountain block
Shaheen block
Capital Block
Residential Plots 
The sizes of the residential plots in the lodging society are as follows,
5 Marla
7 Marla
10 Marla
12 Marla
1 Kanal
Commercial Plots 
The sizes of the residential plots in the lodging society are as follows,
Payment Plan 
The lodging society's official booking and instalment plan are no longer available, but we have drafted an estimate of the prices for your convenience.
Residential Plots Payment Plan 
You can purchase the residential plots at the following prices:
| | | |
| --- | --- | --- |
| Serial Number | Plot Category | Estimated Price |
| 1 | 5 Marla | PKR 14 to 15 lakh |
| 2 | 7 Marla | PKR 19 to 20 lakh |
| 3 | 10 Marla | PKR 2 to 3 crore |
| 4 | 12 Marla | PKR 2.5 to 3 crore |
| 5 | 1 Kanal | PKR 4 to 5 crore |
Commercial Plots Payment Plan
You can purchase the commercial plots at the following prices:
| | | |
| --- | --- | --- |
| Serial Number | Plot Category | Estimated Price |
| 1 | 4 Marla | PKR 10 to 14 lakh |
| 2 | 10 Marla | PKR 30 to 32 lakh |
Amenities Provided 
The Al-Hamra Avenue Islamabad contains every amenity you could think of, including the following:
Educational Institutes 
Reputable schools are one of the essential amenities in any residential development. Parents and investors alike choose properties that are close to good schools. However, the presence of numerous well-known schools in the Al-Hamra Avenue area of Islamabad is another aspect that attracts many investors.
The Human Development Foundation (HDF) Secondary School was established in 2003, and it is one of the finest schools in Islamabad. It takes 11 minutes to drive to HDF School Islamabad, located near Kalyah Village Road, at a reasonable distance from the housing society.
Another school at an 11 minutes' distance from the housing society is the Students at Mission Educational School, prepared to contribute and achieve in a rapidly changing society. The school ensures that pupils acquire the required skills and abilities to succeed. The school was founded in 2005 and is located on Kalyah Village Road.
There are also many noteworthy colleges near Al-Hamra Avenue, including the following,
The Prince Salman College of Professional Education is 7 kilometers from Jhang Syedan.
Al-Hamra Avenue is only 20 minutes from Muslim Girls Degree College on Lehtrar Road near Pakistan Banquet Hall.
In 30 minutes, you may get to Allama Iqbal School and College on Tamma Road.
Commercial Markets 
A housing society's capacity to have commercial markets within reasonable distances is an essential aspect. It attracts a broad audience, including families and investors. In terms of e-commerce platforms, Al-Hamra Avenue is planning a large commercial central market that will serve all of the housing community's needs.
The residents will not need to leave the lodging society for anything, but the lodging society has many markets in the vicinity, even if they do. For a 10 minutes' drive by car, the residents can go to Ahmed Javaid Khokhar Store, situated adjacent to Masjid and Imambargah Sakhi Syed Karim Haider Shah Bukhari. In 14 minutes, you can get to Zafar Market near Tabarak Shaheed-Chirah Link Road, and in 18 minutes, you can get to Raja Jahangir Market on Chirah Link Road.
Kirpa Market is near Kahuta on the Lehtrar Link Road, which is only 10 to 15 minutes away by car. Furthermore, Changez Market, located near Shinwari Hotel, is only 7 minutes away by car. The market sells various things, including jewelry, toys, sandals, bangles, and local and independent clothing brands. It is one of the region's most frequented markets.
Mosques 
Residents will find it incredibly helpful if mosques and other places of worship are located near, if not within, the lodging society. Al-Hamra society designers made sure that people didn't have to go far to fulfil their religious commitments. For this aim, a large and beautiful mosque is being built within the lodging society by the Habib Rafiq Pvt. Limited.
Residents can visit the mosques listed below till the mosque in the housing society is operating.
It takes 10 minutes to drive to Jamia Masjid Satala.
It takes about 8 minutes to get to Jamia Masjid Kirpa.
Masjid O Imambargah Sakhi Syed Karim Haider Shah Bukhari is only 9 minutes away by automobile.
In about 10 to 15 minutes, you can be at Kalyah Jamia Masjid near Pora Chirah Link Road.
It takes 14 minutes to drive to the Shaheen Mosque near White House English School.
Al-Hamra Avenue is 13 minutes distant by car from Jamia Masjid Tiali.
Banks
One of the most valuable aspects that draw people to a project or locale is its convenience. Additionally, having banks in the neighborhood provides inhabitants with a great deal of comfort. Fortunately, those residing in Al-Hamra Avenue have access to several banks within the lodging society and near it. For example, Allied Bank Ltd. (ABL) is located near the Rose Garden Petrol Pump Station and is only 15 minutes away by car.
The HBL Bank Lehtrar Road Branch is only 6 minutes away, and the National Bank of Pakistan (NBP) at Lehtrar Road is only 24 minutes away by car. The Bank of Punjab Alipur Branch on Lehtrar Road is at a distance of 20 minutes. Also, 25 minutes distant is an Al-Falah Bank branch on Lehtrar Road in Tramri. There is a branch of Bank Al-Falah in the housing society as well.
Hospitals
Proper healthcare amenities are also a vital provision by a lodging society. The developers have built many clinics and hospitals in the housing society that provide medical assistance 24/7. This feature also adds an element to the housing project's appeal.
Furthermore, you can seek guidance from the following general practitioners and hospitals in the region:
It takes 25 minutes to get to Kiran Clinic, which is located near Tramri Commercial Centre.
Bilal Clinic in Tramri is about 8 minutes away.
Begum Jan Hospital on Lehtrar Road, Tramri
HBS General Hospital close to the Alipur Colony.
Salient Features 
The salient features of the lodging society are as follows,
Gated community
Underground utilities
Commercial zones
Beautiful parks
Leisure clubs
Roads are carpeted (main roads are 80 feet wide, more minor roads are 60 / 40 feet wide).
Lines of communication
Network of satellite cable
The commercial district and the community club
Grand Mosque
Postal service
Petrol pump
How to Book a Plot ? 
Make a reservation with our team at Sigma Properties. Online reservations are also accepted.
The housing society's official website has the booking form.
Complete the booking form.
Make a check, cash, or purchase order deposit with Sigma Properties.
Submit your reservation form, along with any supporting documents and a review.
Important Documents
The documents needed for booking are the following,
2 Copies of CNIC of Applicant
2 Photos of Applicant
2 Copies of CNIC of Nominee
Why Al-Hamra Avenue Islamabad?
The Al-Hamra Avenue Housing Scheme combines a diverse infrastructure mix with breathtaking natural scenery. It is a planned housing development with constructed plots and other amenities and features, including street lighting, power, carpeted roads, and proper gas, water, and sewerage systems.
Perfect Lifestyle 
The lifestyle of comfort is the right of every citizen. And so, the lodging society offers a life of unequalled amenities. You would feel a big difference between the city life and life at Al-Hamra because of the serenity in the air. You will have access to leisure clubs, green parks and recreational spots along with places of need like hospitals, schools and banks. It is indeed the perfect lifestyle.
Family-Friendly Neighborhood
The lodging society contains a family-friendly environment with proper security, recreation centers and no traffic conditions. It will be a pollution-free community with lush greenery to enjoy. The venture planners have also ensured continuous sidewalks for kids who may want to learn how to ride their bikes or go for long walks.
Uninterrupted Supply of Utilities
The housing society does not have the load shedding problems of electricity, gas and water. It is always a winning point for lodging societies such as this, like Rude Enclave, Taj Residencia and Nova City Islamabad, all of which provide utilities 24/7.
Long-Term Investment 
An investment in Al-Hamra will prove to be beneficial in the years to come. It will get you high returns on your investment due to its ideal location, serene atmosphere and technological development. Those who have bought houses on sale or a plot already reap huge returns due to increased property values.
Pros and Cons
Pros
Approved Lodging Society 
The NOC approval is significant for housing schemes. The housing society not only has an approved NOC, but it also has the documentation approved by the CDA. Just like the cars having plate numbers of the Federal Capital have a different feel, so do the housing societies having the approval of CDA.
Beneficial for PAF Personnel
The retired officers are living a life of contentment at the housing society. They have lavish amenities to choose from, perfect accommodations, beautiful sceneries and all else required for the peaceful life of retirement. The housing society has catered to the needs of retired PAF officers since its inception and continues to do so.
Supreme Location
The lodging society has a favorable location as it is in the heart of the Federal Capital. The project is close to Lehtrar Road, and thriving societies like PINSTEC and PCSIR border it. It is accessible via Japan Road and Palm Street in Islamabad.
Cons 
No Instalment Plan
The plots and houses in the lodging society can be bought by direct payment. The instalment plan was accessible during the days of its foundation. Yet, this is subjective as our clients wish for the immediate purchase of a property.
Conclusion 
The Al-Hamra Avenue Islamabad is a prestigious work of the Shaheen Foundation awaiting to give you the best. They provide outstanding amenities, security and comfort. An investment in this housing project will be the wisest move you ever made.
If you are interested in property in the twin cities, take a look at Park View City Islamabad, Nova City Islamabad and Taj Residencia.
FAQs
What is Al-Hamra Avenue Islamabad?
It is a modest housing scheme by the Shaheen Foundation.
Where is it located?
It is located in the Zone 5 of Islamabad. The project is located near Lehtrar Road and is surrounded by developed societies such as PINSTEC and PCSIR. You may reach it via Islamabad's Japan Road and Palm Street.
Is it an approved lodging society?
Yes, it is approved by the CDA.
Is there a payment plan?
No, the plots and houses are available for immediate payment.
What are the residential plot sizes?
The residential plot sizes are,
5 Marla
7 Marla
10 Marla
12 Marla
1 Kanal
What are the commercial plot sizes?
The commercial plot sizes are,
Are there underground utilities?
Yes, the utilities of gas, water and electricity are available 24/7.
Is it only for PAF officers?
No, civilians can acquire accommodation there as well.