DHA Multan
DHA has a long chain of development projects. This time, in the city of saints Multan, DHA announced the project as DHA Multan. This is the second project in south Punjab after DHA Bahawalpur. The housing society offers a community where everyone will have a peaceful place to live in. this society is for people from all walks of life. If you have the potential to live a luxurious life, society is for you. You can also buy a plot if you have a low income. It will provide you all the facilities with the comfort of a lush green environment. There are many housing societies where people gladly ready to invest in. All the DHA projects are matchless among all other projects. The first project which DHA launched was DHA Lahore. Now, it spread its wings in the whole country. it has its projects in many big cities, for example, Karachi, Lahore, Peshawar, Bahawalpur, and Quetta. When DHA started its aim was only to facilitate the armed forces but now common citizens can also avail the facilities and opportunities which DHA offers.
NOC
DHA is a housing authority. It does not need an NOC, however the concerned government allowed the authorities to form the project.
Owners and developers
DHA has no specific owner. Senior officers or retired armed forces officers handle the management of all the projects. similarly, DHA Multan is also run by armed forces persons. The chairman of the  housing society project is Lt General Muhammad Naeem Ashraf. The developers of this society are proMag. The official made a contract with the development company to carry out development work in the society.
Location map
housing society is located at Bosan Road, Multan. DHA, Multan covers a very wide area. Bahauddin Zakariya University is also close to the project. There is a gate at either end of this society.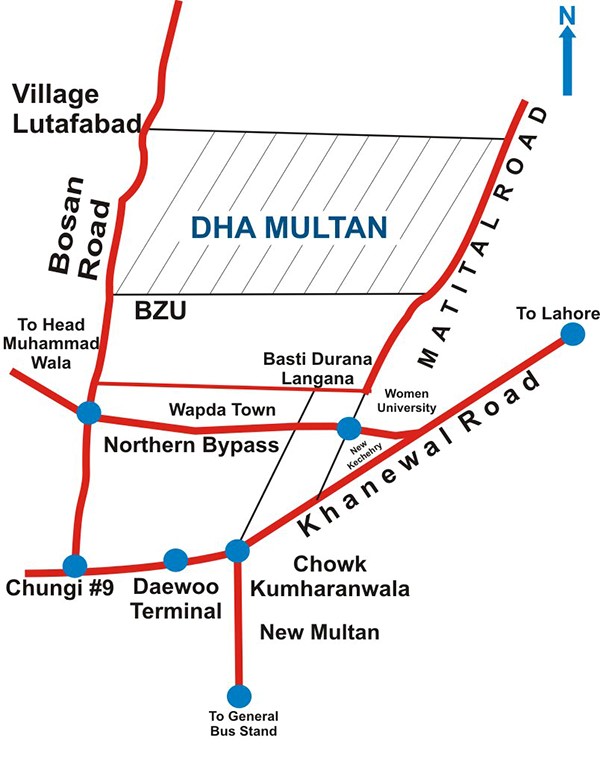 Nearby famous housing societies
Buch villas
Gulistan homes
Al Falah Modern city
MDA officers colony
PIA employees colony
Wapda town
Master plan
Mastern plan of  housing society has many phase 1 and then many sectors in that phase, i.e. A,B1,B2,C,D,E,F,G,H,I,J,K,L,M,N,O,P,Q,R,S,T,U,V,W1,W2,X. It has covered the area of 9000 acres.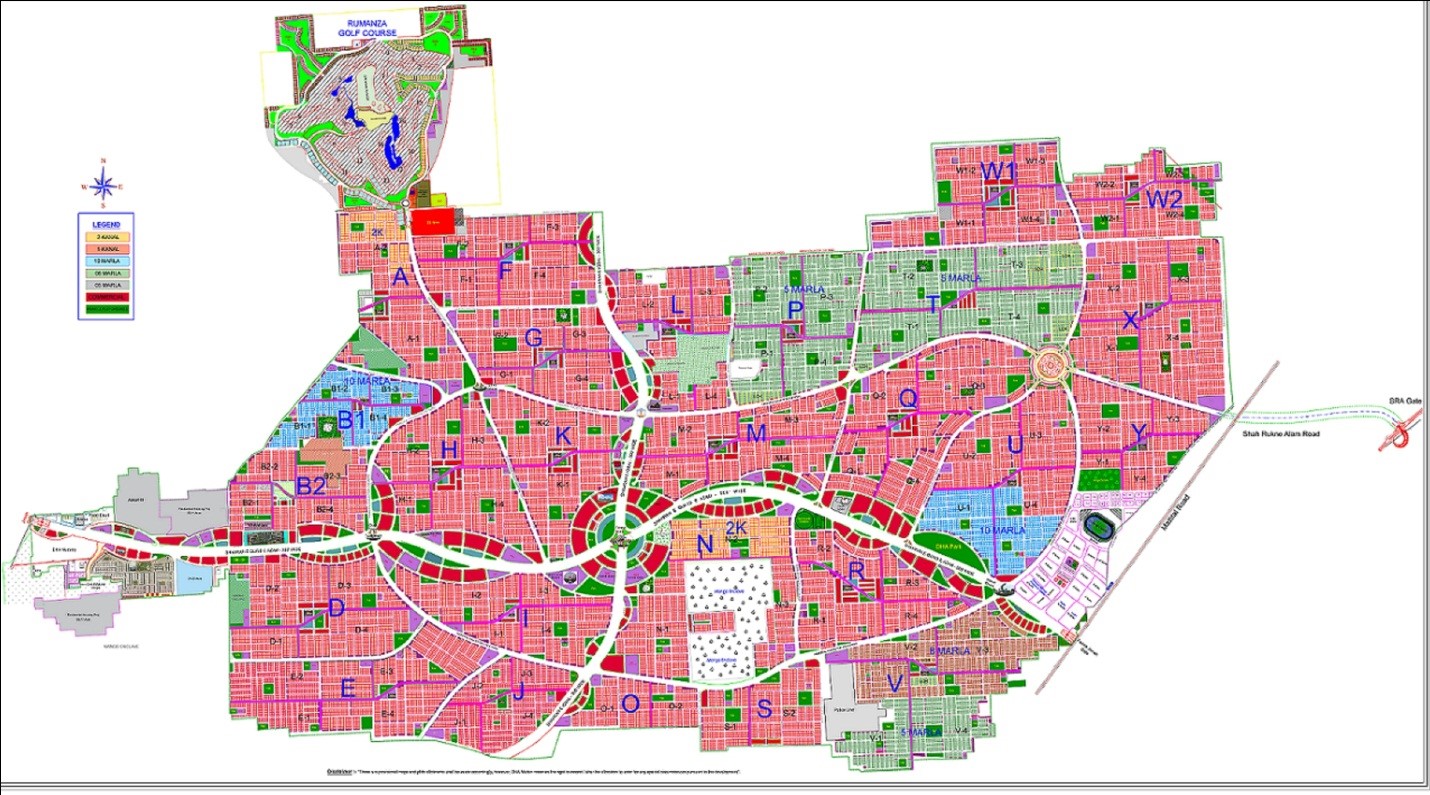 DHA Villas Multan
housing society has announced DHA villas in addition to residential and commercial sites. They are the ideal pre-designed cottages for happy family life. The available villas are 6, 9, and 12 marlas in size. The privacy and reservation of those who live in villas are likewise strictly protected. The following is the payment plan for villas.
Plots size
Commercial plots
Commercial plots of 5 marla and 8 marla are available
Residential plots
Residential plots of 5 marla, 8 marla, 10 marla, 1 kanal,and 2 kanal are available.
Payment plan
DHA, Multan offers you residential and commercial plans on easy instalment plans.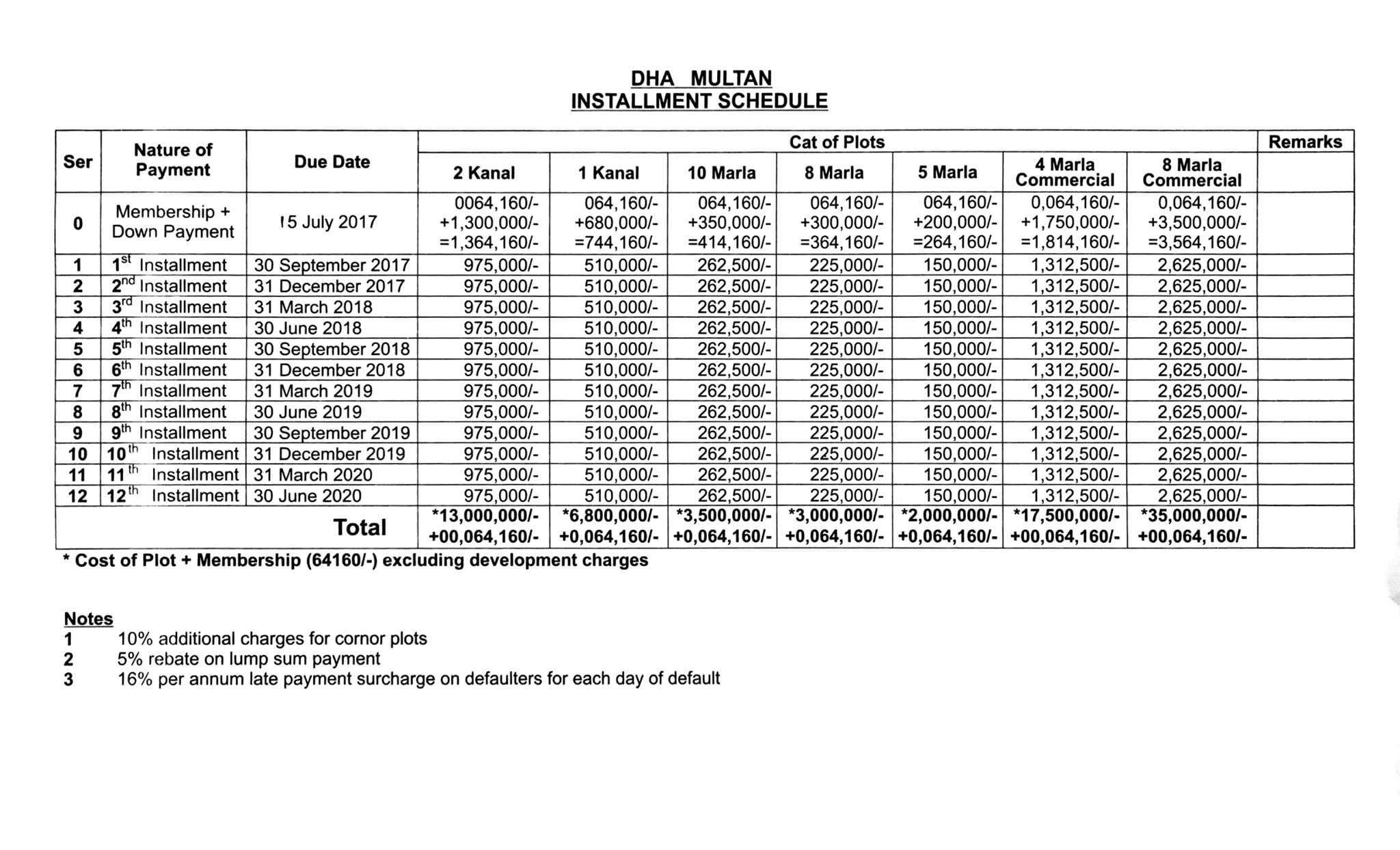 Salient Features
Clubs
Plant nursery
Clean and green environment
Grand mosque
Green belts on the roadsides
International golf
Entertainment opportunities
5 star hotel
Best security
Easy instalment plan
International standard gym
Commercial zone
Green parks
Gated community
Underground electricity
24 hours Supply of gas ,
24 hours supply of water
Facilities
Green atmosphere
To breathe in fresh air bestows everlastings to sound health. If you want to live in a place where the environment is clean and green, you must choose DHA, Multan. The society has modern facilities of standard life but also focused extremely on providing a natural green atmosphere for its residents. It has some extraordinary opportunities for nature lovers. If you want to build your home in such an atmosphere, book your residential plot today.
Proper management
DHA has hired a team of skilled and adept professionals and workmen. For each sector, there is a proper team for the management of that particular resident. They are monitoring and everything related to society. The authorities gave the contract for proper management to reputed developers, Promag.
Commercial property
The society offers the best opportunities to its residents and outsiders of the society, too, to invest in commercial areas and earn their livelihood. There are certain places reserved for commercial markets. From those markets, residents of the society can buy anything of their need.
Safe surrounding
DHA is famous for its most current security measures, and providing the safest location in town has always been a top focus for the firm. They put the safety of each resident first, which is why this home project is regarded as Pakistan's safest home initiative.
Health centers
health is your most important resource, which is why it is so important to the social authorities.  housing society is putting a lot of effort into providing the best health centres for its residents. You can take advantage of all of the emergency medical services as well as the best doctors available.
Education institution
Planning in society Inside  DHA, Multan, there are university campuses, schools, and colleges. There are also the best schools for education and a college-level education centre. It ensures that your children's futures are in safe hands within society. The residents of  DHA, Multan will benefit from outstanding educational possibilities as a result of this.
Parks
Another goal of  DHA, Multan is to provide healthy entertainment inside its bounds. To achieve this goal, developers are aiming to construct a large number of open themed parks for the city's residents. You'll also have access to the facilities of a theme park, where you can spend quality time with your family. Overall, the atmosphere is open and healthy.
Golf course
DHA in Multan will build the first golf course of its sort. . Sir Nick Faldo, a six-time major champion, is the firm's owner. He promises to send one of his signature golfers to the event. The Area is, of course, a 7,500-yard stretch of land.
Gym facility
There is a world-class gym centre where you may stay in shape and stay healthy.  DHA, Multan will be able to live a healthy lifestyle thanks to these gyms. Professional gym coaches will soon be on hand to assist you in practising and adopting a healthy lifestyle while using the most up-to-date exercise equipment.
Electricity facility
The DHA will be a community free of electricity lines and sticks are strewn about. The entire power system will most likely be underground, allowing you to take in the beautiful scenery. Internet, phone, and other wire-based services will also be underground. All of the basic utilities are adequately coated and wired underground, including gas, electricity, phone, web, internet, and sewerage.
Network of wide roads
Due to the well-organized road infrastructure, the network of roads within the home project will be flawless. Because there will be less traffic and wider roads, you will be able to get to your desired area in less time.
Why invest in DHA Multan?
DHA is making its mark on the historic spectrum of Multan, the city of saints and the hub of south Punjab. DHA Multan is expanding, and DHA Multan is taking shape to become what it will be once the project is done. Multan, being the capital of south Punjab, receives a steady stream of migrants from all over the country, yet there is still plenty of potential for growth and expansion. In addition, This housing society is in a fantastic position, and the surrounding societies are well-established. This housing society has a lot to offer in terms of investment and for a long time.
This housing society is a good alternative for people searching for a long-term investment. In terms of safety, amenities, and modernity, This housing society is a superbly built housing society. Defence Housing Authority, Pakistan's most reputable and profitable full-service real estate developer, is behind this project. The project has been beautifully planned with all of the current living conveniences, including schools, colleges, universities, lush green parks, world-class amusement parks, zoos, and a variety of other amenities. This is why the members of this housing complex place their trust in it. In a nutshell, This housing society is the ideal place to live, offering all of the latest amenities and attractions at an affordable price.
Development status
As previously stated, development work in DHA Multan is progressing quickly. In 2014, management started working on the housing society. Almost 10 sectors have now been completed, and preliminary work on society's view has also been accomplished.Many plots have been handed over to their rightful owners so that they can begin construction on their homes in DHA Multan. Water, sui gas, and electricity are all supplied through wires and pipelines.
Balloting
DHA Multan proves to be an instant hit with potential clients. People from all across Pakistan and the world are interested in purchasing a plot in this society. This housing society began collecting applications in January 2017 and held a fortunate draw in June 2017 to determine the winner. Then these allottees began paying instalments, and in 2019, a balloting ceremony was held, and owners were awarded possession of their plots. These applicants came from a variety of backgrounds, including citizens and military personnel.
How to book a plot?
You need the following documents to have while booking a plot
DHA application form
DHA Multan challan
Instalment form
2 copies of your CNIC
2 copies of your next kin's CNIC
Affidavit
Booking amount
Also, keep in mind the following points
The first processing of the file and issuing of the Intimation Letter in the buyer's name takes 5 to 7 working days.
A photocopy of the Intimation Letter will be mailed or given to you for your records, with DHA Multan verifying its authenticity to your satisfaction.
Once the buyer has verified the legitimacy of the Intimation Letter, the remaining balance of the file must be paid, together with payment of Rs.10,000 for the Intimation Letter and Rs.69,160 for the Allocation Letter.
Until the Intimation Letter is issued, the buyer can either validate the legitimacy of the file over the phone or in-person at the DHA, Multan Office.
Allocation Letters are issued in 5-7 working days, and the buyer must be physically present at DHA, Multan to get them.
Verification of property
You need to submit the following documents
Copy of allocation/intimation/allotment/transfer letter
Copy of CNIC
Copy of CNIC of authority holder
Original voucher of verification fee of Rs1000
Copy of property dealer's registration card
Procedure
The verification form is available at the DHA office or you can also download it online.
Submit the verification form
The authority holder will collect the verification form the next day from the DHA office
Pros and cons
Pros
The housing society offers you the best commercial and residential plots.
DHA, Multan has your desired facilities
DHA villas add more significance to the project
The health facilities available in the society are of the international standard.
The safest environment is another factor to attract investors
Residential plots are available of even 2 Kanal where you can construct your dream house.
Society gives you instant possession.
The authorities give you complete securities and guidance.
Cons
Some plots are at very high prices.
DHA mainly focuses on Armed forces employees.
Conclusion
A complete map is now in front of you. We have discussed in detail DHA Multan. The only society where you can have plots in many categories like commercial, residential, and villas. Even you don't need to hire a designer if you book your plot in DHA, Multan Villas. Furthermore, if you want to book your own plot, visit sigma properties. 
FAQs
Q1: What are the names of banks where we can make payments for DHA?
A1: The names of banks are:
Alied bank ltd.
Askari bank ltd.
Bank Alfalah ltd.
Meezan bank ltd.
Fysal bank limited
Q2: How much rebate is given for full payment?
A2: A rebate of Rs 5% shall be given in case of full payment till 31st December 2021.
Q3: What are charges for defaulter as per day?
A3: A surcharge of 16% per annum for each day will be charged.
Q4: Are there any additional charges?
A4: Additional charges of 10% shall be applicable in case of a corner plot.
Q5: Are there any hidden charges?
A5: No there are no hidden charges.
Q6: What is the location of 2 marla commercial plots?
A6: 2 marla commercial plots are available in all sectors but balloting occurred for commercial plots in sectors M,Q,R,U,H only.
Q7: What are the different sizes of DHA villas Multan?
A7: DHA, Multan has villas of 6 marla, 9 marla and 12 marla.
Q8: Is the villa transfer facility available at the DHA Islamabad office?
A8: Yes, it is available.
Q9: What are plot sizes in DHA, Multan?
A9: DHA, Multan has commercial plots of 2, 4, and 8 marla and residencial plots of 5, 8, 10 marlas and 1, and 2 Kanal.
Q10: Can my allocation be cancelled in case of non-payment?
A10: If applicants fail to pay any three instalments the allocation shall be cancelled.