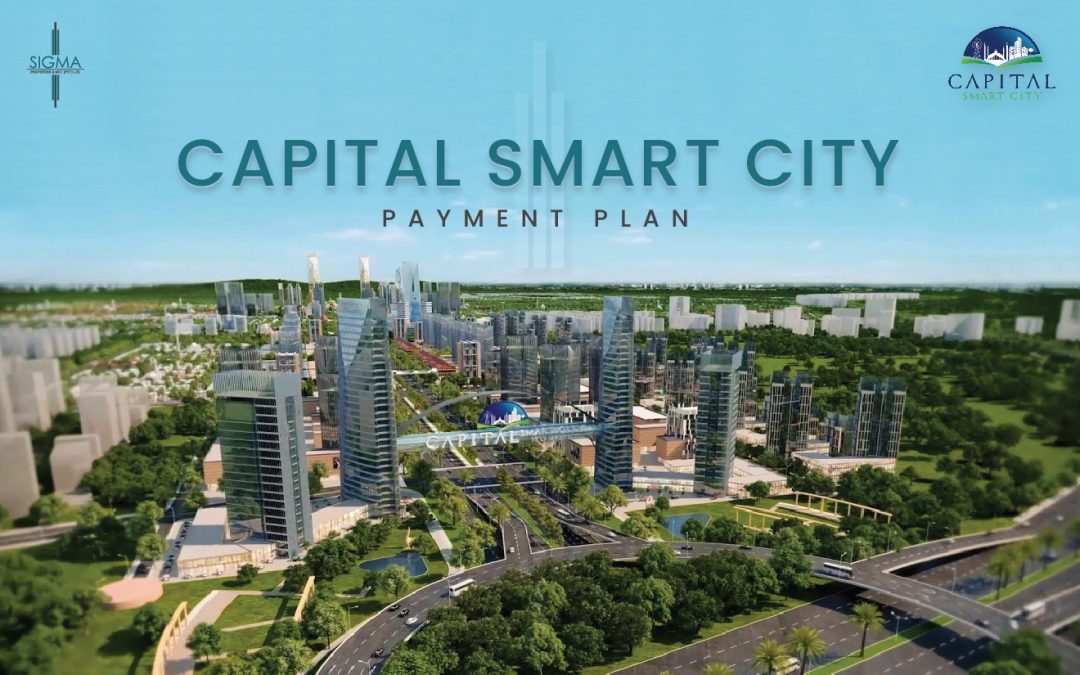 Payment Plan of the Capital Smart City Pakistan
Capital Smart City is the most prominent gated community in Islamabad attracting investors, nestled about 10 kilometers from the Thalian Interchange on the Lahore-Islamabad Motorway (M-2). The most requested knowledge about the community is the Capital Smart City payment plan. Moreover, because most files are currently exchanged for profit on the market, the most recent market prices of various plots are critical data when selecting an investment. Capital Smart City's most recent market prices will provide you with an overview of the market, either you are a current or prospective investment. You can find all of Capital Smart City's payment plans on this blog.
Capital Smart City provides various items, ranging from housing and business plots to ultimately finished luxury homes. The plot sizes range from 2.5 marlas to 2 Kanal and are offered on a three-year quarterly installment plan. Capital Smart City serves all income ranges and preferences with its varied portfolio.
Payment Plan for Residential Plots
The housing plots are separated into four blocks: Overseas Prime, Overseas, Executive, and Harmony Park, and range in size from 3.5 marlas to 2 Kanal.
Overseas Prime
Overseas Prime, which will open in October 2020, is a unique combination of high-end community & beautiful scenery. With 40-foot-wide streets, a 300-foot-wide main boulevard, and rare views thanks to its distinctive and elevated setting, it aspires to provide its residents an international level of life. Housing plots of 7, 10, and 12 marlas and 1 and 2 Kanal are available in the block.
Overseas Prime block's map has been released, and plot allocation has begun. Participants who choose to pick their plots before balloting should contact their consultants as quickly as practicable to reserve the most delicate places.
Market Values
The initial pricing for these properties was relatively affordable, but the corporation raised the prices due to overwhelming demand! Furthermore, to match the need and unique facilities, the revenue on such files is projected to skyrocket. Overseas Prime is already in the works for development. In 2-3 months, they should complete the master plan. The choice of plot choosing will be pretty helpful, as plots in ideal locations are always more valuable, easier to sell, and more suitable for habitation.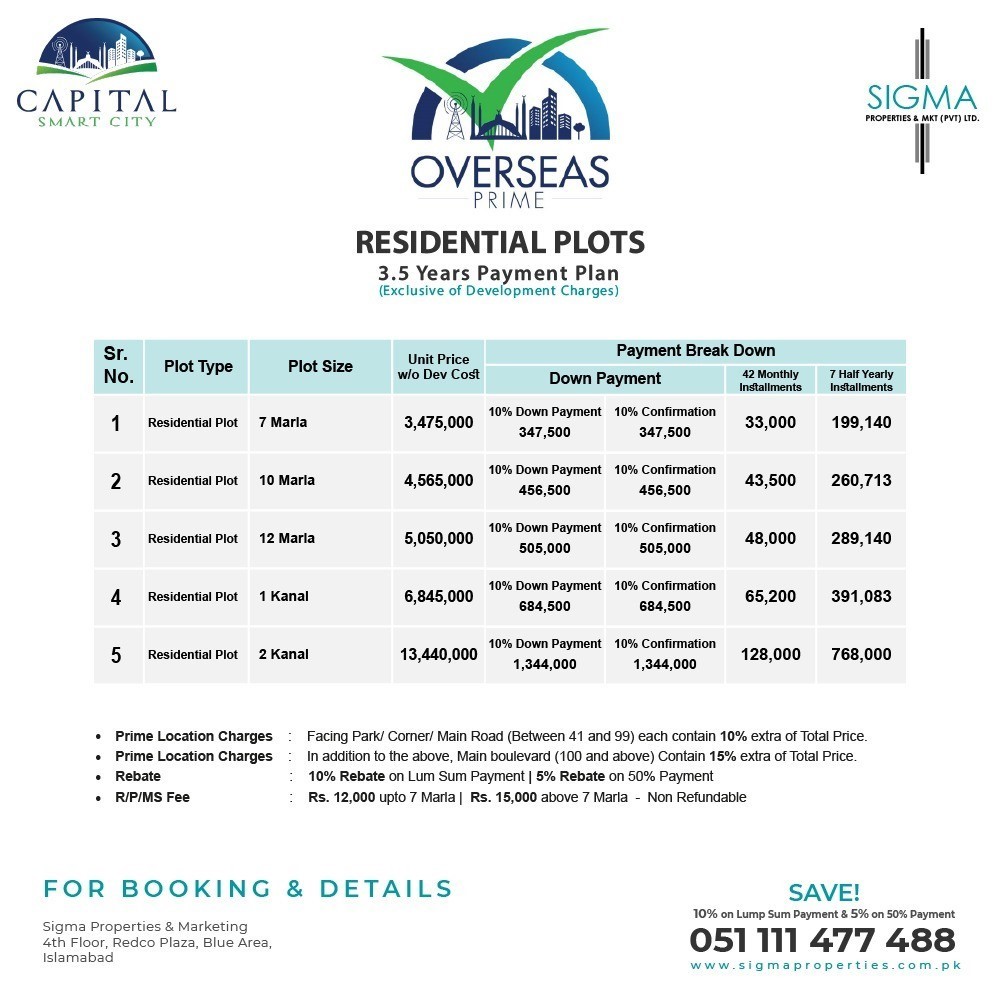 Executive Block and Overseas
Housing plots of 5, 7, 10, 12 marlas or 1, 2 Kanal are available in the Overseas and Executive blocks. The upscale residential project's vast choice of plot sizes assures that it can accommodate everyone. Because of its prominent position, quick construction work, and exceptional facilities, the Overseas block of Capital Smart City has succeeded in staying in the limelight since its introduction. The Overseas block is currently closed for bookings, but the plots are being resold at a profit. Also, residential properties in the Executive blocks are running out quickly, but reservations are still available. These plots are offered for purchase with a 10% to 20% down payment and the remainder paid in monthly or quarterly installments.
Harmony Park
Capital Smart City established the Harmony Park area in April 2020, intending to provide more diversity and accessibility. It has 3.5 marla housing units that are 20′ x 40′ in size. The demand for these plots skyrocketed immediately after they were released, and they were bought out at a profit inside the first week. These plots are very reasonably priced, which do not include developing fees. On the other hand, the residential blocks are no longer accepting new reservations and are only offered for resale.
Commercial Plots – Payment Plan and Market Prices
Business plots in Capital Smart City range in size between 2.5 marlas to 8 marlas. Commercial plots of 4 and 8 marlas are offered in the Overseas Prime, Overseas, and Executive blocks. In the Harmony Park block, a 2.5 marla property is provided.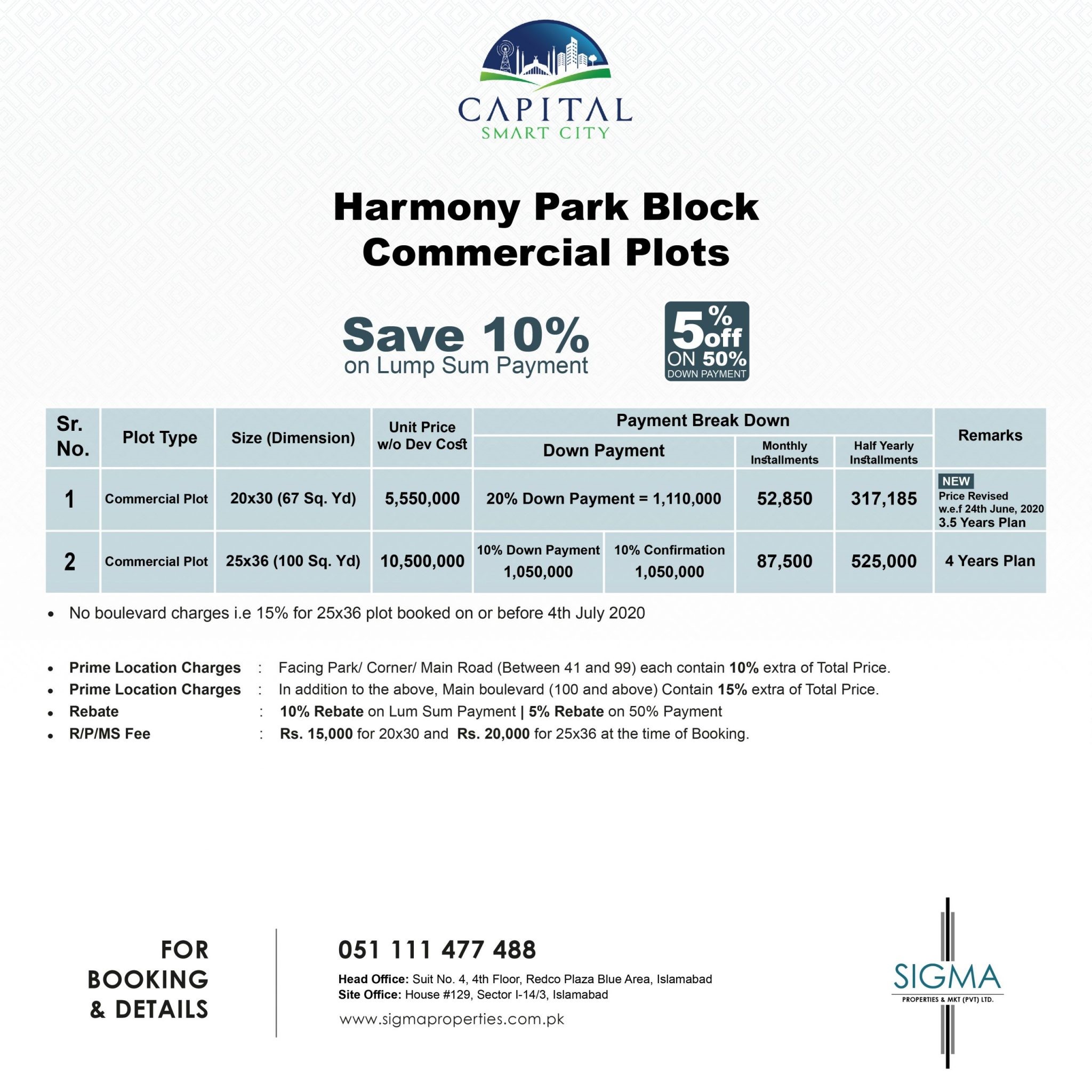 The business plots of 2.5 marlas, four marlas, and 8 marlas in Capital Smart City have sparked interest in Islamabad's real estate market. The enthusiasm for offering modest 2.5 marla commercial plots in Harmony block was astounding, as they sold for a profit of Rs. Three hundred thousand just a few hours following their launch. These plots are more affordable, but they also give a significant return on investment. Since their debut, the Overseas block's 4 and 8 marla business plots have attracted much attention from property investors and have been in great demand. The profit margins on these plots demonstrate the market's belief that these plots will be the most valuable investment in Capital Smart City. The table below analyses the current market prices for business properties in Capital Smart City.