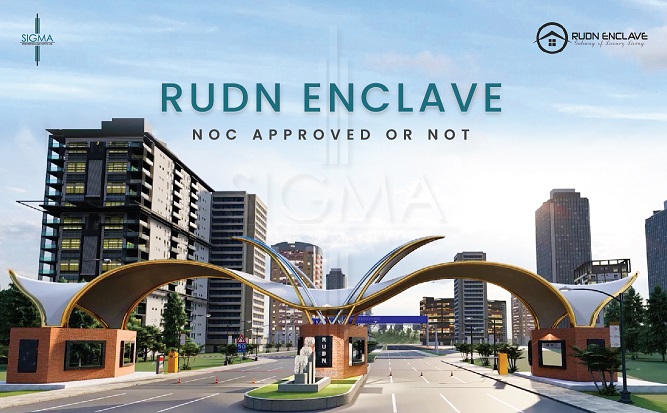 Rudn Enclave: NOC Approved or Not? 
Rudn Enclave Rawalpindi 
Are you wondering about the NOC information of Rudn Enclave Rawalpindi? Then, let us learn about it.
The Rudn Enclave Rawalpindi is a modernistic housing scheme with beautiful Khasala Dam and Jawa Dam views. It provides you with a dream lifestyle in such magnificent vistas, set amidst natural topography.
Furthermore, it is a perfect blend of residential, commercial, and tourism all at once. It uses modern technologies to optimize efficiency.
The developers are building it with a new and outstanding approach. Therefore, a desirable experience awaits you.
NOC Approval 
Before the building can begin, the authorities or a former owner must provide a No Objection Certificate (NOC). The NOC certifies that the property is free of encroachments and legal complications. As a result, a NOC is requested or issued, whether you submit a proposal, sign a commercial contract, or do business.
Any housing society, as well as investors, should be concerned about the NOC. But, on the other hand, receiving a NOC establishes a housing society's legitimacy and develops a trusting relationship between the community and developers.
Thankfully, this housing society has already applied for the NOC approval, and it is expected soon.
Rudn Enclave Rawalpindi NOC Update 
Rudn Enclave Rawalpindi is not an illegal society, although it is awaiting its NOC. They do not have an official NOC yet, but they have asked RDA for permission. So we are hopeful that it will be released soon.
Even at this early stage, the reaction of the investors has been extraordinary. It is because of their faith in the developers. Moreover, in the coming months, it is expected that Enclave will obtain the NOC from RDA.
The NOC approval process takes some time because it involves a dozen different approvals, such as gas, electricity, water, and land transfer/ownership. The company is to require these from the appropriate departments. As a result, the entire procedure takes several months.
You may also like Ten Reasons to Invest in Rudn Enclave Rawalpindi.
Conclusion
Rudn Enclave Rawalpindi's NOC will be approved considerably sooner than you expect. Indeed, Rudn Enclave Rawalpindi is an amazing housing project that excels at providing a luxurious lifestyle. It is close to the twin cities of Rawalpindi and Islamabad. The lodging society is a precious gem in the process of polishing and refining, ready to entice its eager investors.
Sigma Properties and Marketing assure that Rudn Enclave is the best investment you can make because it will pay off for the rest of your life.