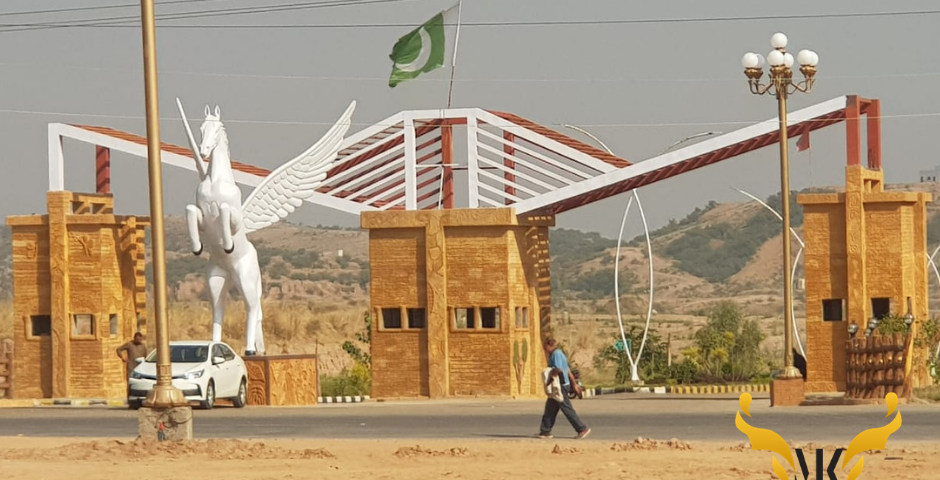 Khanial Homes Islamabad
Khanial Homes Islamabad is a magnificent house society by Khanial Builders. This project is fantastic, with a variety of living areas and investment opportunities to choose from. There are various sizes of residential and business plots for sale in this society. Furthermore, it is a fantastic housing design that includes both flats and farmhouses. Khanial Homes, in other words, is a place filled with enjoyment, relaxation, elegance, and accessibility. It's a well-thought-out housing development with lush green parkland, mosques, sports complexes, playgrounds, and more.
Developers
The Khanial Homes Islamabad project of Khanial Builders and Mividia Builders. Both developers are well-known in the international and Pakistan real estate development industries.
khanial builders
The Khanial Group of Companies has launched a project called Khanial Homes Islamabad. It is the top real estate firm with a wide range of developmental initiatives for the benefit of humanity, including Real Estate Projects, Design, Building, and Journalism. Developers offer the opportunity to purchase property at a low cost and profit lavishly in return.
Khanial Builders has a 15-year track record of success. With their amazing housing scheme Khanial Homes on Main Chakri Road, they are now setting new norms of success.
This project has been thoughtfully created to meet the demands of both end-users and investors. Khanial Builders' goal is to deliver the best properties, ideal residences, and commercial properties.
Project of khanial buildedrs
Khanial Builders has completed yet another project. This would be the most successful project in Islamabad. Mivida City is a brand-new development. This property has all of the amenities and features that a luxurious lifestyle requires. Khanial Builders is known for its amazing craftsmanship and world-class living space creation. Mivida City is a housing community that will soon be launched in Islamabad's perfect location. Mivida City Islamabad is situated between the Capital Smart City and the Blue World City in Islamabad.
NOC
The Rawalpindi Development Authority RDA approved the khanial homes.
Location
Khanial Homes Islamabad is located on Chakri Road, near Chakri Interchange, at a desirable location. Near Khanial Homes are a number of modern prospective housing societies. The society is also close to the Thalian Interchange and the recently developed Ring Road Rawalpindi (RRR).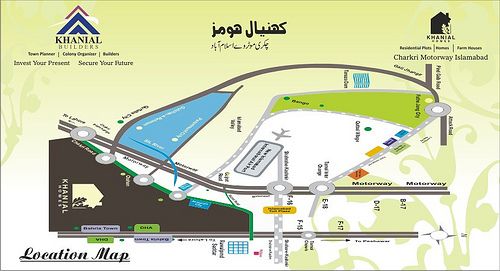 Master plan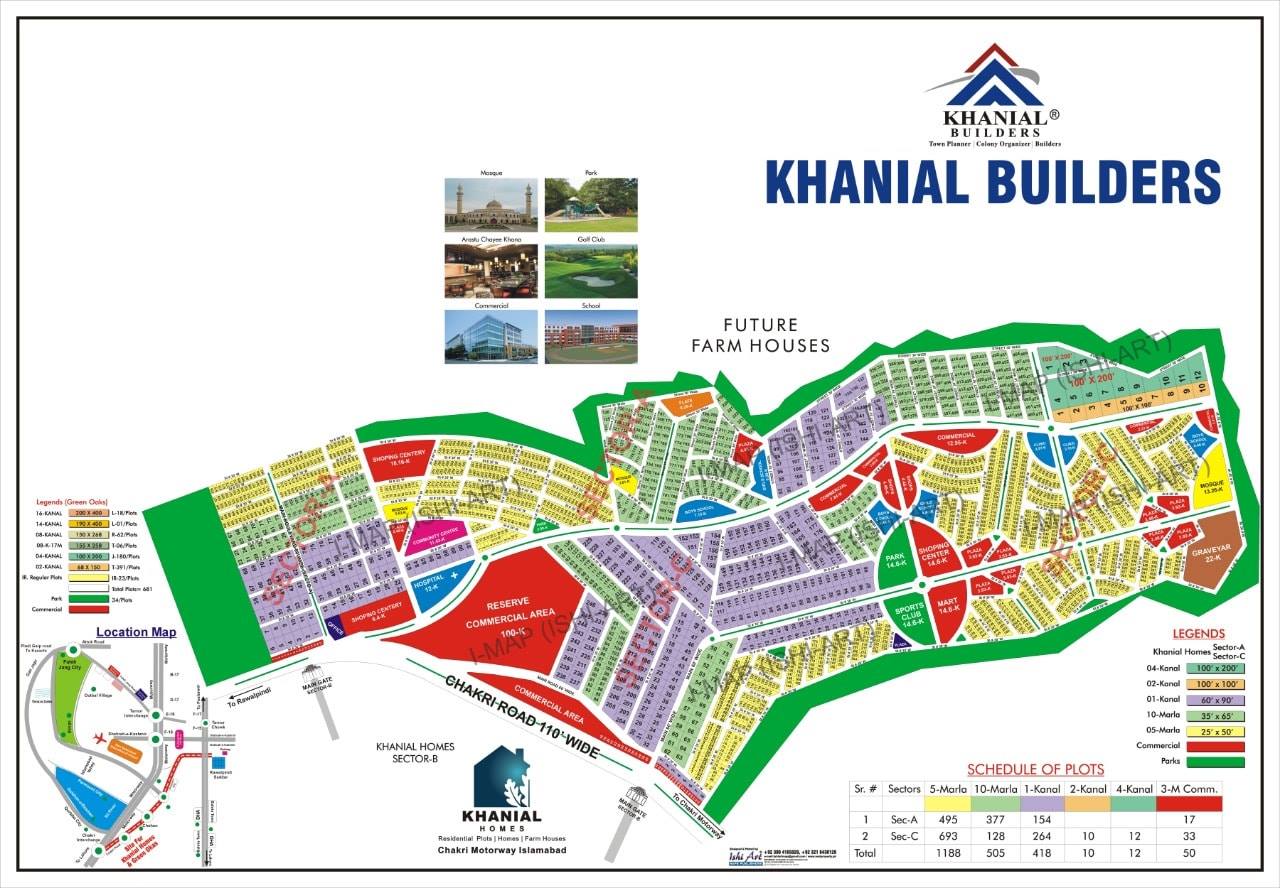 Features
Mosque
Infrastructure development
Affordability
Sport complex
Club house
Retail area
Boundary wall
Quality development
Underground electricity
Medical facilities
Maintenance service
Facilities
Clean water
We all want to drink or utilize pure water at all times. Because, while water is not a basic need, it is a requirement of life. The lake of pure water causes challenges in living because most habitation areas do not have an adequate water supply. This society has handled all water supply issues, whether for domestic use or drinking. You can even drink water from your own home. Because of the plentiful supply of pure water, the parks in front of your homes overflow with greenery.
Electricity
Some neighborhoods are on the list of unfavorable housing schemes. The main issue is an insufficient supply of electricity. People who are already residing in these places share a single connection. When most electronic products cannot function effectively owing to low units, a single electrical connection becomes a problem. Khanial Homes, on the other hand, is free of all of these issues because each plot and house has its electricity connection. You can use or appreciate any electronic product at any moment.
Telephone
Telephone lines are also available. If you desire a connection, you can place an order and, after paying the cost, you can communicate with people from all over the world. People who pay the whole sum of the property can acquire construction clearance right away.
Mosques
Regardless of the geography, we can see that each one has a special place for their prayers. Surprisingly, in Islam, we refer to our prayer space as a MASJID (Mosque). Muslims gather here to give their prayers. Society will have a dedicated prayer area with a clean environment. You are welcome to pray at the masjid at any time.
Peaceful environment
Islamabad is a beautiful city. This is a reality that no one can turn down. Because it has factories, businesses, and international level education facilities, Islamabad is regarded as Pakistan's most quiet city. However, there is no noise or disruption in Islamabad. People who want to acquire a house in Khanal are pleasant lovers.
Transport
When we need to use public transportation, we may easily approach public transportation right in front of the society. it gives you freedom from traffic jams and noise pollution.
Sui gas
Sui Gas connections are usually a problem in residential societies. However, each plot of land in Khanial has a suitable connection to Sui Gas. There's no need to be concerned about the Sui Gas shared connection; you may even request a separate connection for each floor of your home.
Wide roads
Malls and crowded streets are a problem not just from a living standpoint but also from a parking standpoint. When we go home, the majority of individuals park their car or motorcycle in the street. But how can you park and walk at the same time if your street is already small? This is the issue: how to solve these issues. Wide roadways are built in each corner of the housing development, according to this society map. You park your car and walk along the street at the same time.
Education facility
Education is a major difficulty for most Society residents, as they must spend so much of their time traveling for their education. In summary, their school and colleges are located a long distance away from their home. By arranging high school within society, society quietly solved this problem. Your children can enter and attend school within walking distance.
Health facilities
The developers have devoted special attention to society's health services. The developers plan to build state-of-the-art international hospitals and clinics for this reason. The emergency room will be open 24 hours a day, seven days a week, with staff and doctors on hand at all times.
Business opportunity
The developers have considered all of the residents' demands, including economic and commercial ones. As a result, society will create all commercial zone. Residents in these areas can meet all of their commercial needs from within the community.
Security
A housing society requires a sense of security. A gated complex provides security. People are protected by a security system that includes properly installed CCTV cameras and other spy cameras that is operational 24 hours a day, seven days a week.
To ensure a high level of safety, the society would be enclosed by a boundary wall with a flawless mechanism.
Commercial plots
Residential plots
3 marla
5 marla
6 marla
8 marla
10 marla
1 kanal
2 kanal
Payment plan for commercial plots
Size
Price
Down payment
Possession

 

6 half yearly installment
34 monthly installment
3 marla
3300000
990000
210000
180000
30000
5 marla
5000000
1500000
350000
270000
45000
8 marla
7600000
2280000
450000
415000
70000
Payment plan for residential plots
Size
Price
Down payment
Possession

 

6 half yearly installment
34 monthly installment
3 marla
1050000
315000
125000
45000
10000
5 marla
1230000
370000
135000
50000
12500
8 marla
1560000
470000
148000
55000
18000
10 marla
1850000
560000
182000
60000
22000
1 kanal
3500000
1050000
370000
120000
40000
2 kanal
6600000
1980000
800000
240000
70000
Why invest in Khanial homes?
Society's features and amenities are so useful and profitable that anyone would be willing to invest in it. The society's neighborhood is evergreen. Society would provide you with the profit you desire. If you choose to live here, you will not be sorry for your decision. You will be able to take advantage of all of society's amenities. It is constructed by reputable builders, which is another reason to invest in society. They have done an excellent job of developing society. Wide roads, a healthy environment, educational opportunities, and a plethora of other factors all favor investment in society.
How to buy and sell a plot?
To buy and sell a plot, keep in mind the following points.
Verify documents
To avoid any ambiguity or misunderstanding, please make sure to thoroughly check all of the paperwork. Before buying or selling a property, make sure to ask about the developers' NOC and approval documents, which have been officially approved by the authorities. As a result, your documentation will be valid in every way that could lead to client pleasure.
Check your financial position
Please be sure that your funds are in line with your buying strategy before finalizing any property sale or purchase. Your purchase or sale will go through without delay in this manner.
Pay a visit to the site
Visit the site before making any purchases and after confirming the validity of the documents to ensure that the written documents are compliant with the plot details.
Required documents
Two copies of CNIC
Two passport size pictures
Two copies of NIC of your next kin
NICOP for overseas residents
10% deposit in cash
Pros and Cons
Pros
The society has the facilities of water, sui gas, and electricity 24/7.
There are standard schools and colleges in society.
There are parks in the residential areas to amuse you and your family.
There are grocery shops, shopping malls and markets inside the society.
The peaceful and soothing environment adds more to the significance of society.
The society is close to other housing societies.
There is a police station to apply for law and order.
The waste disposal system is best.
Cons
The prices of some plots are very high.
They may go out of reach of your budget.
FAQs
Q1:What is khanial homes?
A1:Khanial homes is a housing society getting better day by day.
Q2:Does society give me an investment return?
A2:Yes, you can have a handsome profit in return for your investment.
Q3:What is the location of the society?
A3:The society is located on Chakri road.
Q4:Who are the developers of khanial homes?
A4:The khanial developers developed the society.
Q5:Does society have easy installment plans?
A5:Yes, society has easy installment plans. You can buy your plot without burdening yourself.
Conclusion:
I have discussed in detail the project. The khanial society is a future profit-generating society. Don't wait for tomorrow and step towards your better future today. Society offers you all the facilities and amenities you are searching for. If you want to book your plot, make us help you. Visit sigma properties.