10 billion uplift package for Gujrat in 2021-22 Annual development program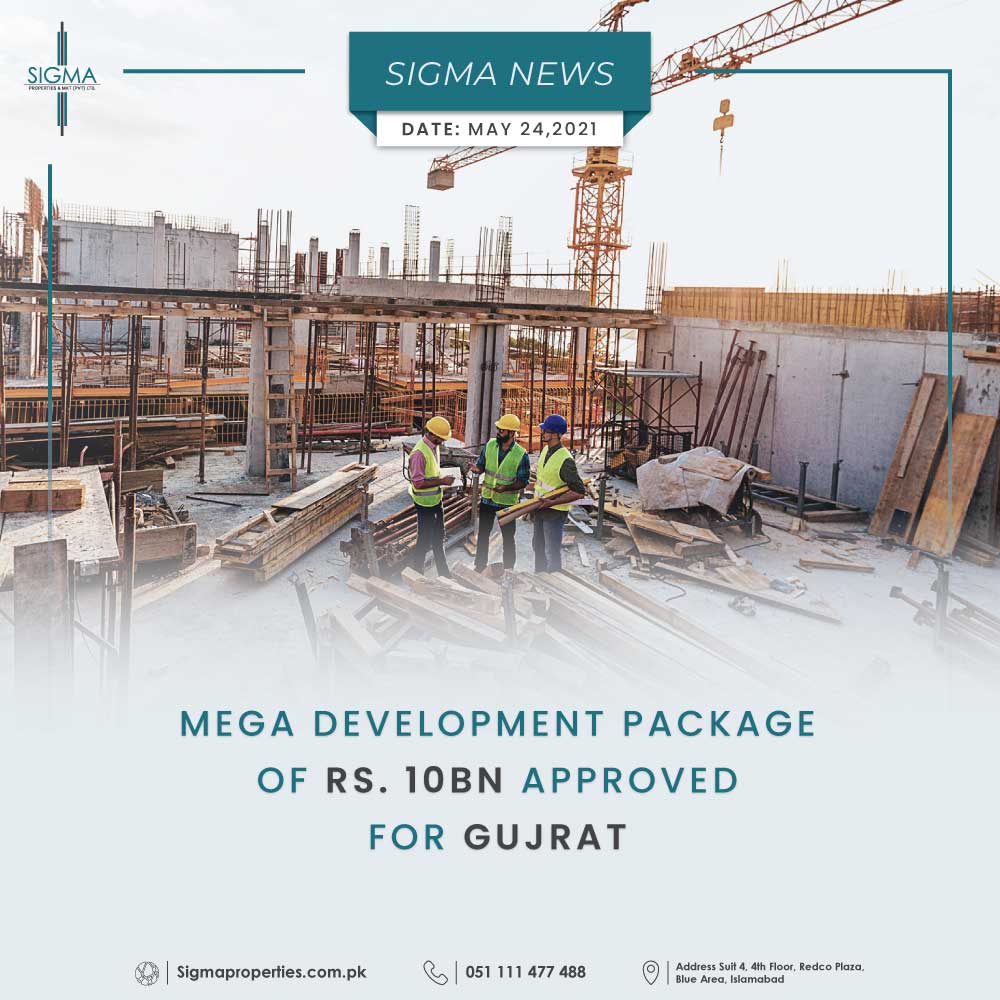 Sources added that a heavy portion of the package would be spent on the schemes which were proposed by the Chaudhary Moonis Elahi, MNA PML-Q. Other areas of the district would be included in the kit, which was proposed jointly by the PTI and the PML-Q.
Taking away the basic problems of the city, Gujrat, will be the primary focus of the package, sources added, including maintenance of sewerage and drainage system which had been unfocused since long, road restoration and the development of industrial state.
It is came to know that in a meeting among chief minister Usman Buzdar , MNA Moonis Elahi and Chaudhary Pervaiz Elahi(Punjab Assembly Speaker, PML-Q) which was held a few weeks ago, the mega project for district was demanded.
The PML-Q leaders had urged to have the equal part of the packages to the amount which were being consumed for the development of Dera Ghazi Khan and Mianwali, sources added further.
An assistant of Chaudhary said that the projects that were approved by the chief minister are, proposal for establishment of phase-2 of the small industrial estate area on 150 acres by Moonis Elahi, construction of 14-km long old GT road from Rehmannia bridge to Kathala Railway crossing, Track-2 of the Morr flyover connecting Rehman shaheed road to the GT road bypass an industrial area link road, and restoration of drainage and sewerage system of the city, Gujrat.
He said further about the proposal of 100-beds hospital proposed by MNA Chaudhary Hussain Elahi in Lakhanwal area of NA-68, and it was besides other execution of the funds.
It was learnt from the official sources that 400 million had been allotted for the construction of streets, roads, and small drains in the city.
In the package, proposals of Chaudhary Arshad, Mian Akhtar Hayat and Syed Faizul Hassan for the towns of Sara 1 Alamgir, dinga and Lalamusa would be given prominence, sources added.
1.5 billion has been allotted for overhead bridge on Rajjar Railway crossing in Sara 1 Alamgir city, a Trauma centre in Sara I Alamgir Tehsil Headquarters (THQ) Hospital and Dinga, construction of Kharian-Dinga and Lalamusa Dinga roads, and Rescue 1122 services for Lalamusa and a 10-bed dialysis centre in Kharian THQ Hospital.
It is confirmed from the sources that CM Buzdar is being expected to visit the district in the coming couple of weeks in which he would announce the package. Other uplift schemes like Shahbazpur bridge over the river Chenab meant to connect Gujrat with Sialkot, Newly-constructed District Police complex would also be inaugurate by CM, Usman Bozdar.